Lifestyle
Travelling with a baby has just become a lot EASIER!
Virgin Australia has announced they will be the first Australian airline to give infants a dedicated baggage allowance, FREE of charge. Hurrah!
Virgin Australia introduces a free baggage allowance for infants
You need to pack A LOT of stuff for your little one – prams, cots, car seat, change mat, baby carrier, nappies etc. – when you're going away. 
And it's not easy trying to stuff that all of that into your suitcase along with your own travel essentials!
Thankfully, Virgin Australia has announced that children under 23 months can check in an additional bag of up to 23kg.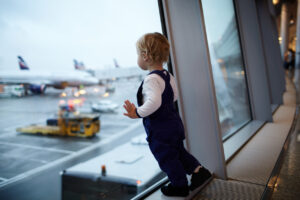 As well as their own baggage, parents can also check in two 'special infant items' which includes items such as prams, baby capsules or car seats.
And that's not it!
Parents are also now allowed an extra 7kg carry-on bag for 'essential baby products'.
"We know travelling with an infant can be incredibly stressful and we're pleased to make that journey a little more effortless by introducing an infant baggage allowance on domestic and international flights," says General Manager of Ground Operations, Paul Woosnam.
"We want to be the airline of choice for travelling families and we're proud to be the only carrier in Australia to recognise that travelling with an infant sometimes means packing far more than usual.
"We think parents will be pleased too, as they can now pack a little extra for themselves on their next."
The extra baggage applies to both domestic and International flights. Wahoo!
Family vacations just became sooooo much easier!
Scientists claim family holidays make kids SMARTER and HAPPIER
8 must have items to make family summer holidays easier!
Everything you need to know about flying and expressed breast milk
Don't forget to pack your Healthy Mummy Smoothie on your next trip!
The Healthy Mummy Smoothie offers an excellent source of essential vitamins, minerals, nutrients and important antioxidants. It does not contain caffeine, gluten and is also dairy free.
Plus, it's also a non Genetically Modified product!
Our smoothies have been created by leading nutritionists to be the perfect companion to a busy mum's life when trying to lose weight safely – and assists with a healthy breast milk supply.
If you would like to learn MORE about our smoothie range download our smoothie information fact sheet here OR you can download the smoothie label and ingredient list here.
You can also check out all of our delicious flavours HERE.