It's not often you might think of enjoying salads in winter but this beef salad recipe is as hearty as it is nutritious and is perfect for including on your healthy mummy weight loss plan.
These Mediterranean flavors compliment each other beautifully, with the welcome addition of Japanese soba noodles.
An excellent alternative to white pasta, soba noodles are made of buckwheat and have a mild, nutty flavor. They contain iron, calcium and zinc, as well being high in fibre and B vitamins. The texture is softer than wholemeal pasta and the cooking time is shorter. If you are unable to use soba noodles, quinoa is another great option.
Another key ingredient in this meal is olive oil. Well known for its heart-healthy benefits, it's also said to boost weight loss due to it's stabilizing effect on blood sugar and insulin levels. Healthy fats also assist with the absorption of vitamins from the other ingredients on the meal. Try also our  Thai beef salad recipe!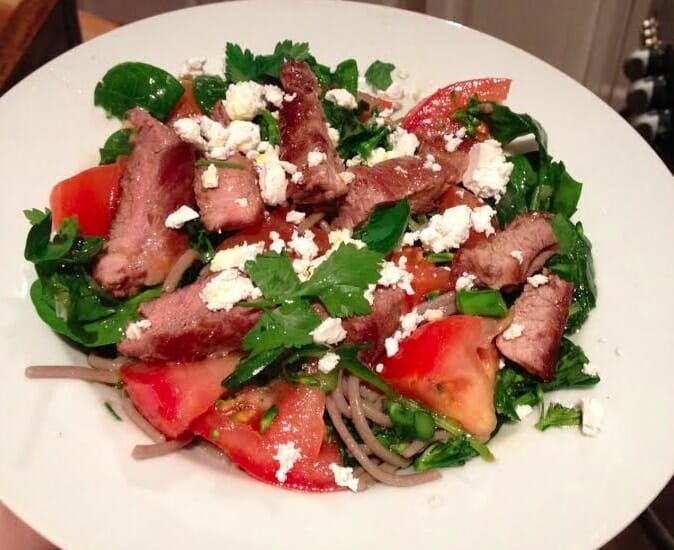 Warm Beef Salad
Ingredients
¼ cup extra virgin olive oil
3 cloves garlic, crushed
6 roma tomatoes, diced
85g baby broccolini, finely chopped
450g lean lamb leg
Black pepper to taste
200g buckwheat soba noodles
2 cups baby spinach leaves
60g reduced-fat feta
Method
Dice tomatoes and place in a large bowl with spinach leaves and broccolini. Combine Olive oil and crushed garlic and pour over the top. Set aside.
Boil water for noodles and cook as per packet instructions.
Season lamb with pepper and pan fry to taste (rare is recommended). Let stand for 5 minutes before slicing.
Stir noodles into tomato mixture and divide into bowls.
Place sliced lamb on top salad and crumble feta over to serve.
Serves 4
420 cal per serve