Wow, another week down! Another 7 days of healthy eating, exercising and blasting away tummy fat. Way to go mamas!
Today marks week 3 (so halfway) of the Belly Blaster 28 Day Weight Loss Challenge. By now you should of tried the new CORE WORKOUT videos in the Challenge App, found a nice routine that works for you (and around your fam), have a little more energy and feel your tummy begin to tighten up!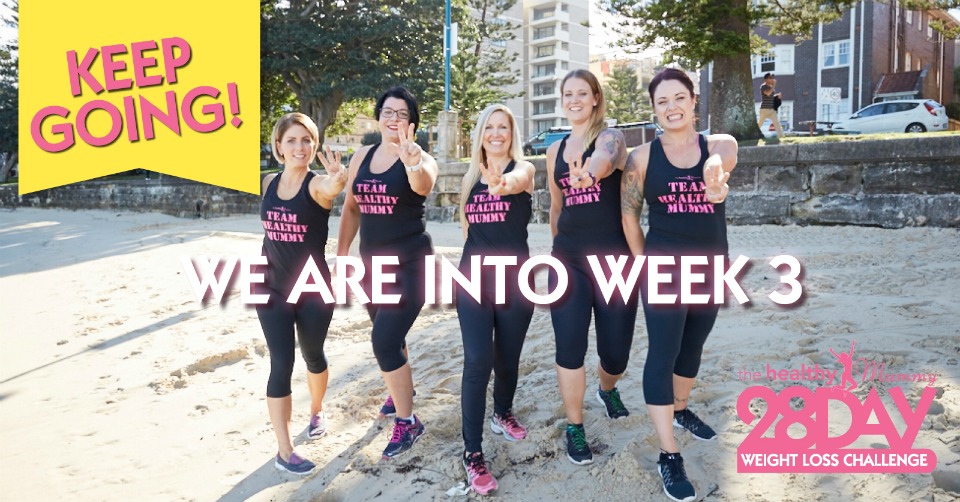 Your week 3 BELLY BUSTING Challenge Guide
In this week's Challenge guide we will:
Outline our top 3 recipe picks from this week's meal plan
It's FITNESS TEST DAY! Here's what you need to do
Throw in some additional belly busting tips
3 recipe picks from this week's meal plan
Our nutritionists work long and hard to create a 28 Day Weight Loss Challenge meal plan that not ONLY helps mums reach their weight loss goals…but gets them excited about their next meal (and what deliciousness they will tuck into next).
While this month's meal plan has been designed to specifically help blast belly fat, our tastebuds have been equally as pleased.
This week, we are particularly excited to try, make and eat:
Healthy Carrot Cake Slice – Carrot cake meets gingerbread in this delicious slice. The combination of carrots, nuts and spices will make for a delectable afternoon snack. 140 cals per serve, full of fat burning ingredients such as ginger and nutmeg.
Quinoa, Zucchini and Pumpkin Seed Muffins – Prepare these muffins ahead of time for a quick, healthy breakfast on the go. High in fibre and loaded with nutrients, these savoury muffins are a great, east way to start the day on the right foot. 325 cals, less than 1 gram of sugar and 11.1 grams of protein.
Chicken and Spring Veg Lettuce Cups – These Asian inspired lettuce cups are easy to prepare and make a delicious, light lunch. 319 cals per serve.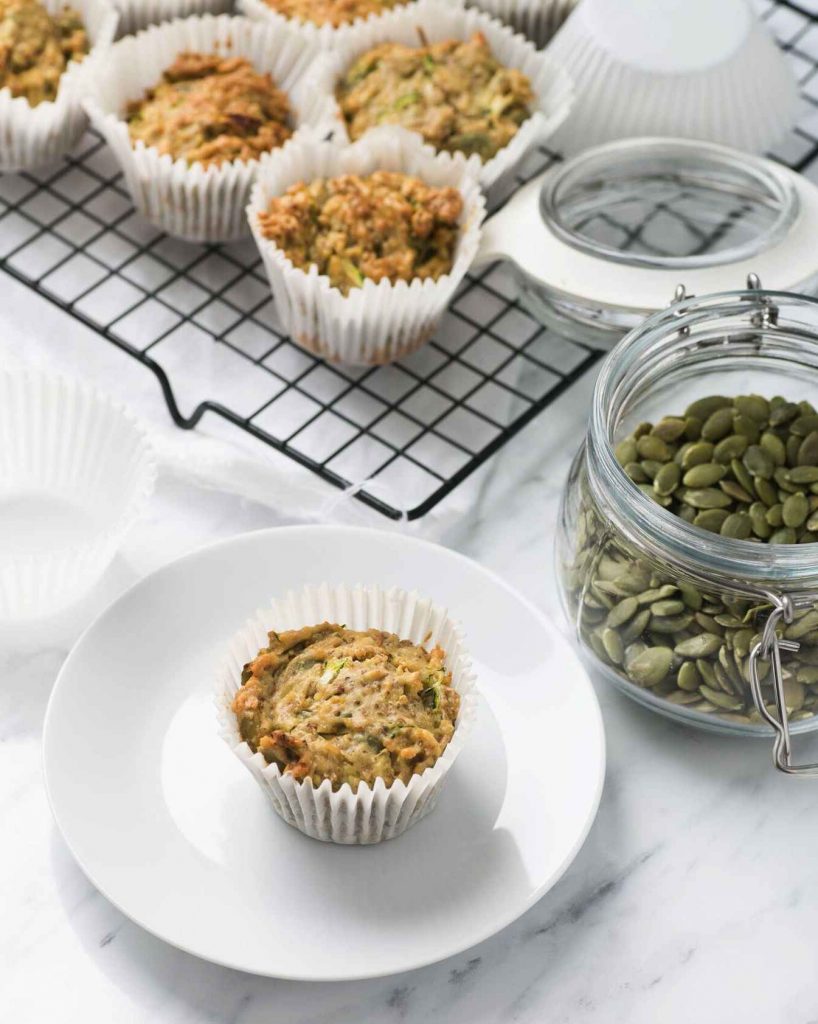 It's FITNESS Test Day … let's get ready to move!
It's Fitness Test Day Ladies!
The Fitness Test is designed to help you TRACK YOUR PROGRESS throughout the month. It allows you to record changes in your upper body, lower body, and core strength over the 28 days of the challenge.
To do the test you SIMPLY need to PERFORM each of the four fitness test exercises for 60 seconds and RECORD & COMPARE your RESULTS.
You can find the test in the exercise section of the Challenge Hub.
If you need some TIPS on how to complete the test, you can watch this AMAZING video as the gorgeous Jess and Jacqui take you through it.
Record your fitness results in the 28 Day Weight Loss Challenge Hub, or on the app so you can track your progress.
Elisha's top tips to beat belly fat
Nurtionist Elisha Danine reveals her TOP TIPS for banishing belly fat for good!
MAKE WATER YOUR NUMBER ONE DRINK OF CHOICE
Many people dont realise they drink a lot of their calories; 2 x 600ml bottles of soft drink contains as many as 500 calories this could be the difference between losing weight and hitting a plateau.
DRINK HOME MADE ICED GREEN TEA
The catechins in green tea called Epigallocatechin gallate (EGCG), have a proven effect on metabolism and weight loss. Make a pot of green tea and cool. Place in a jug with a squeeze of lemon and/or some mint leaves or fruit slices and refrigerate until cold. Then youll always have a healthy, refreshing drink on hand.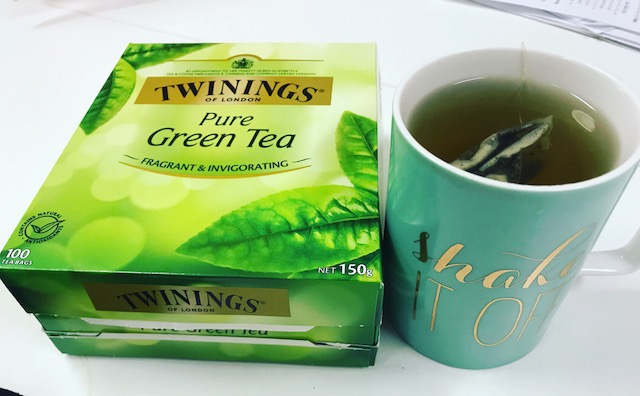 CHEW YOUR FOOD WELL BEFORE SWALLOWING
Your stomach doesnt have teeth so chewing your food better will reduce the amount of air you swallow with the food (a cause of bloating). It also makes you eat slower, which is helpful in reducing food intake – therefore helping you to eat smaller portion sizes.
Many people have a gluten allergy or intolerance and are unaware. Bloating, constipation and gas are all possible side effects caused by gluten containing foods. If you notice bloating or side effects after eating foods high in gluten then eliminating ingredients such as barley, rye, oats and wheat for a period of 4 weeks will help establish whether you have an intolerance or not. Speak to a medical practitioner or nutritionist to discuss the issue further
Like gluten, dairy can cause similar side effects such as bloating, gas and diarrhoea. If you have an intolerance to dairy, start by minimising cheese and milk from the diet, keeping in beneficial dairy such as yoghurt.
These foods have a probiotic effect on the gut, helping to produce more good bacteria. These good bacteria help keep our weight in check by preventing obesity. Some easy to make fermented foods include kombucha, kefir water and sauerkraut.
AVOID FOODS HIGH IN FRUCTOSE
Fructose is usually better tolerated in the presence of glucose. This means food containing at least as much glucose as fructose are often better tolerated by the body than just foods high in fructose. Fructose intolerance can lead to bloating immediately after eating. If you suspect you have an intolerance to fructose then seek medical advice or go to a nutritionist to confirm your suspicions. If you do have an intolerance, foods to avoid include: apples, dates, figs, blueberries, mango, watermelon and grapes.
These help when a deficiency in certain enzymes in the body prevent food from being broken down properly and absorbed. If you lack any of the important enzymes such as lactase, protease or lipase, you may encounter bloating soon after eating.Enzymes can be purchased in capsule form from a health food shop or naturopath and should be taking whilst eating each main meal.
Today is your day…REMEMBER THAT!
Well ladies, we are two weeks down…and have two amazing weeks to go!
Remember, you can do anything you put your mind to, and we will be BY YOUR SIDE the entire journey! For additional support (and connect with other mums on a similar journey)  join our Healthy Mummy Private Facebook Support Group HERE.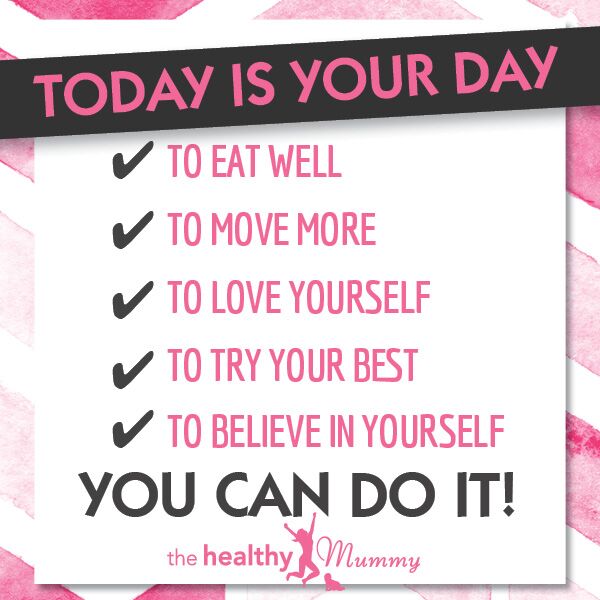 Not on the Challenge?
Not on the Challenge but want to take charge of your health and weight? Then be sure to sign up!
With more than 3,500 delicious (and healthy) recipes, 350 exercises & 24/7 support – the 28 Day Weight Loss Challenge  is designed (and proven) to help busy mums like you lose weight!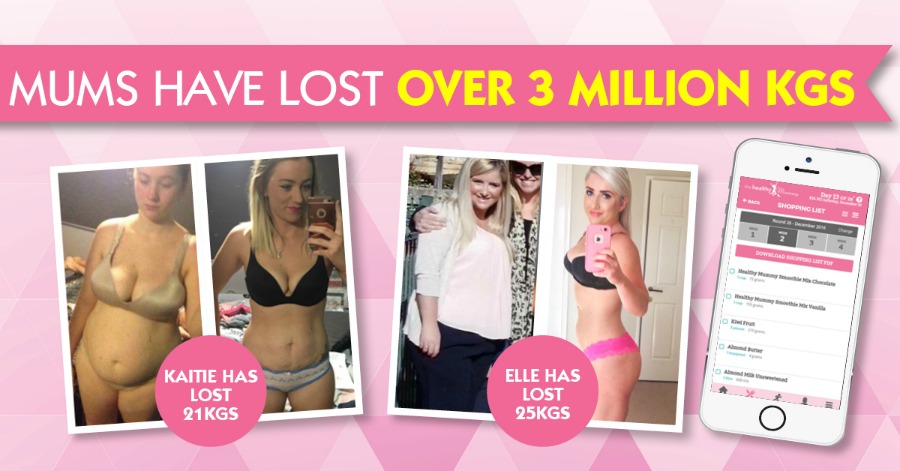 To learn more about our challenge OR to join – click here.