ONE WEEK TO GO: Hooray, you have reached Week 4 of the November Challenge!
Can you believe we are in the FINAL WEEK of the NOVEMBER  28 Day Weight Loss Challenge? 
Still, there is one week to go! So get ready to smash your weight loss goals ladies! We have loved seeing all the RESULTS that you've achieved so far!
Let's keep it up, you should be so proud of yourself, ladies!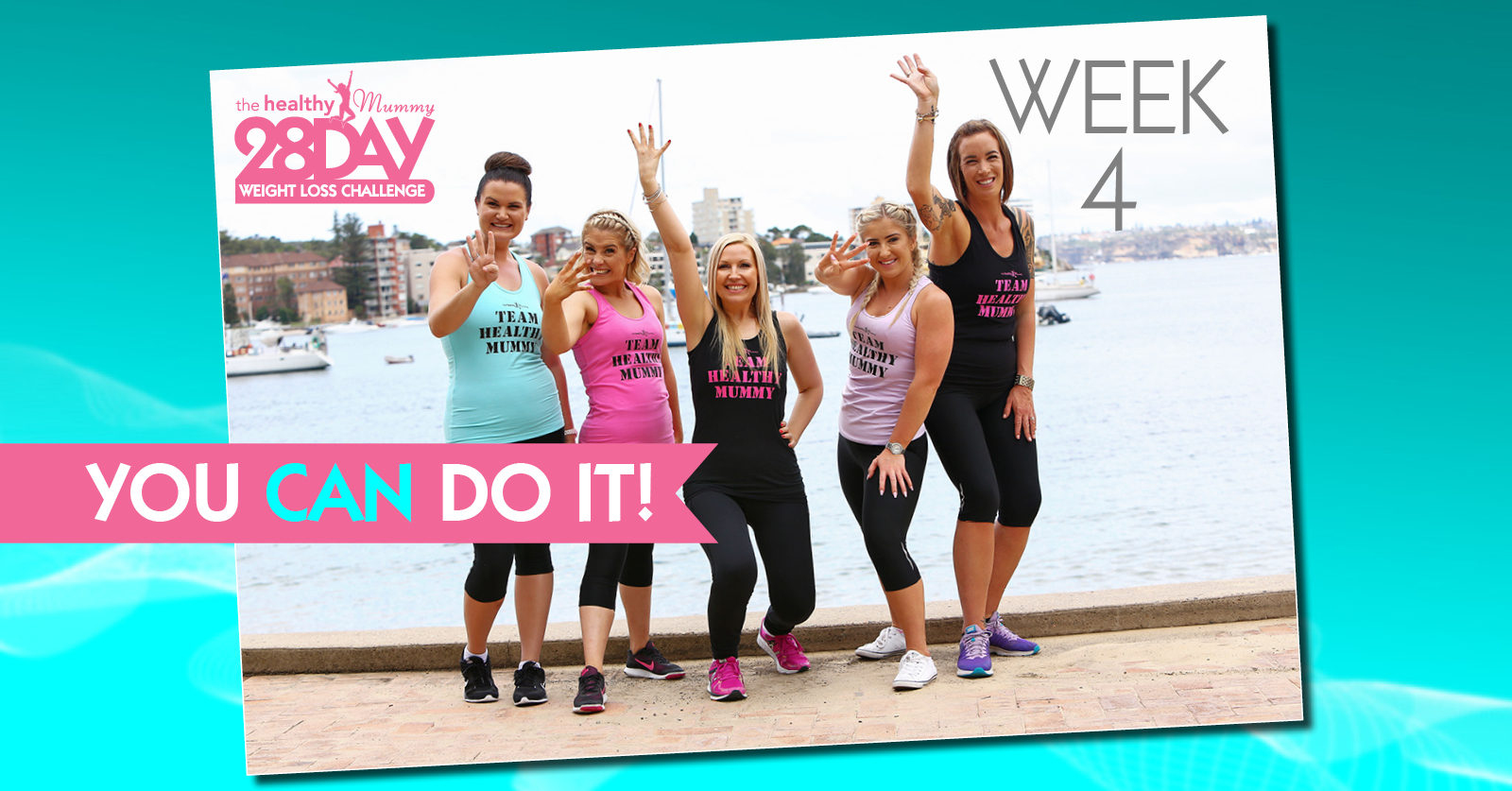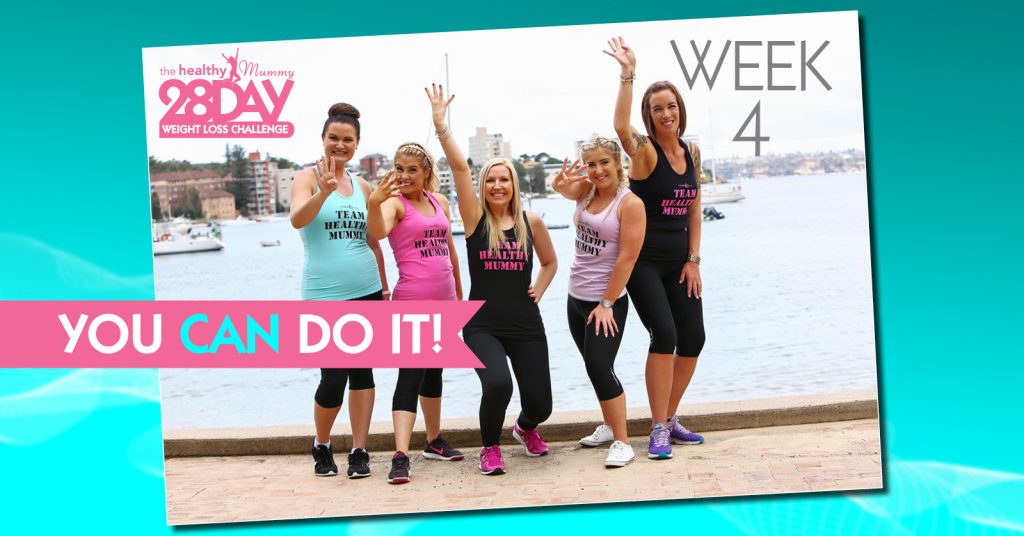 How to stay on track and SMASH week 4
You are almost there mummies and you are all doing a FABULOUS job!
1. Don't overwhelm yourself
If you try to change your whole lifestyle in a week you are much more likely to give up.
2. Drink lots of water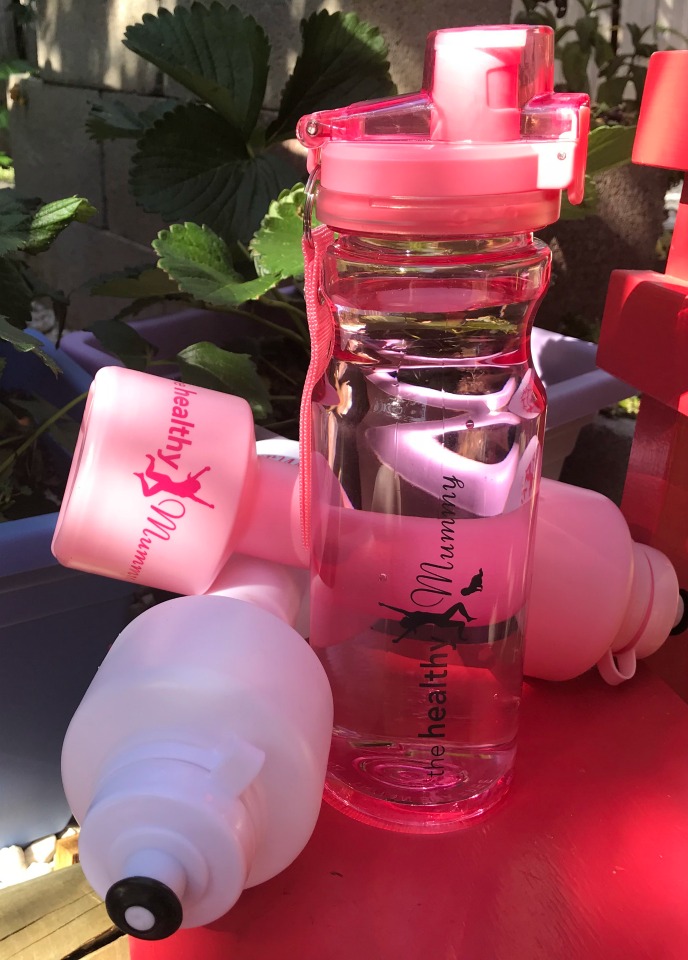 Water is so important for our bodies but we often easily forget to drink any. Keep on top of your water intake this week. Your body will thank you for it. Here are some ways to increase your water intake.
3. Customise your meal plan to suit you
Do you have certain nights with activities planned? Do you work late some nights? Choose something quick and easy for this nights or something you can prep ahead and have ready to heat and eat.
4. Choose snacks that are quick and easy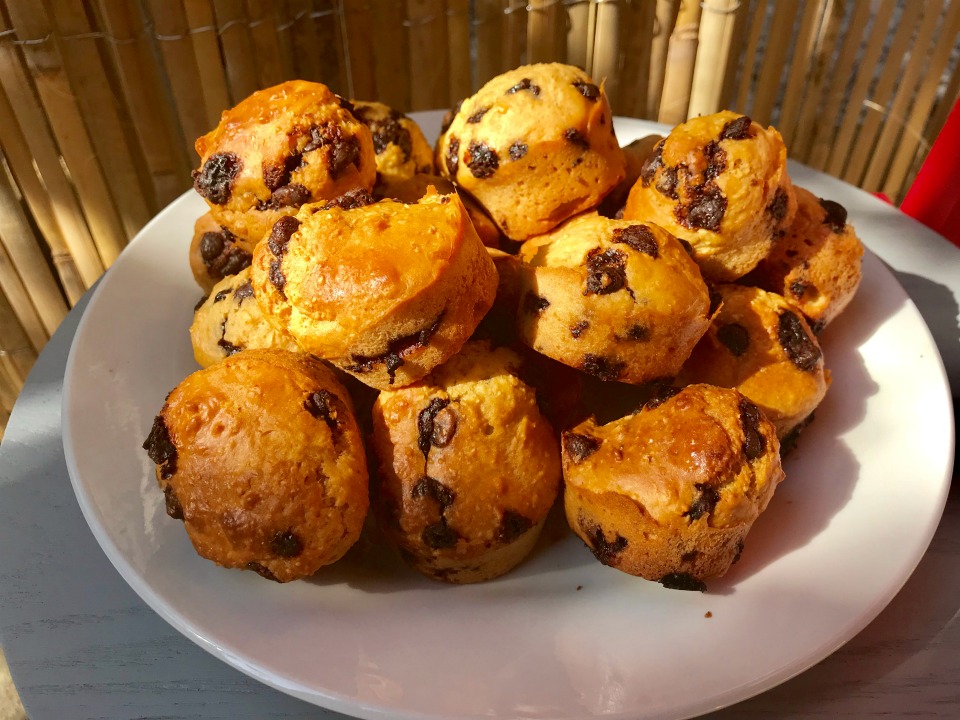 You can make a batch of muffins which will last more than the week. Kellie always has these yummy Healthy Choc Chip Muffins in my freezer.
5. Move your body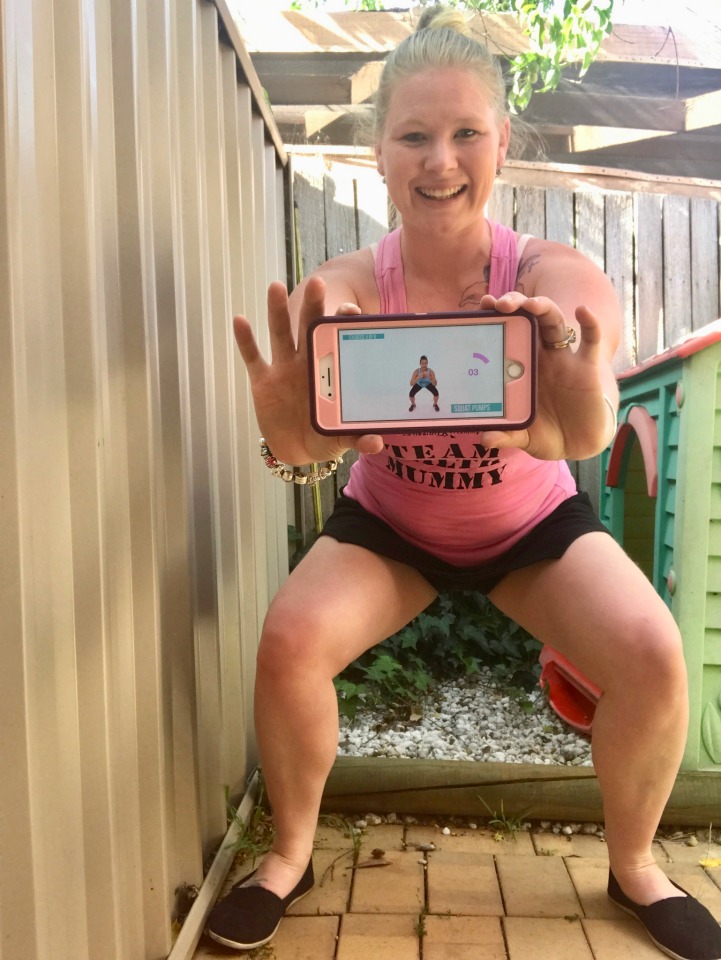 It doesn't have to be an hour at the gym everyday. The Challenge includes a great variety of exercises. You can mix and match which ones you want to do for the day. Shake it up with some DanceFit or sweat it out with some Tabata.
6. Get support
Use the Healthy Mummy Private Support Groups on Facebook to your advantage. Ask questions, posts pictures, use it for all the support you need.
Week 4 meal plan
This month, we have seen some AWESOME and DELICIOUS recipes from the 28 Day Weight Loss Challenge meal plan come our way. It's just a bonus they are designed to keep our tummy's feeling flat, healthy and happy!
This week however, we are particularly excited to tuck into:
Egg Breakfast Burrito – a great way to enjoy a gluten free burrito.
Fiery Beef Wrap – if you enjoy a bit of spice then you will love this tasty wrap.
Peanut Butter Rice Cups – peanut butter cups meet chocolate crackles in this recipe.
Pork and Peanut Salad – a quick and easy Asian inspired salad that is high in protein and low in carbs.
How Kylie is staying motivated in week 4
So you've made it through to the final week of the 28 Day Weight Loss Challenge, Week 4!  You've worked hard and you've stuck to your meal plan for 3 weeks, but you feel like your energy and motivation is slowly disappearing!
Well, no time to stop now!  It's time to step the energy up a notch and push through that final week. You have only one week left to give it all you've got.
Now is the time to re-assess your goals and make sure you're doing everything you can to reach them.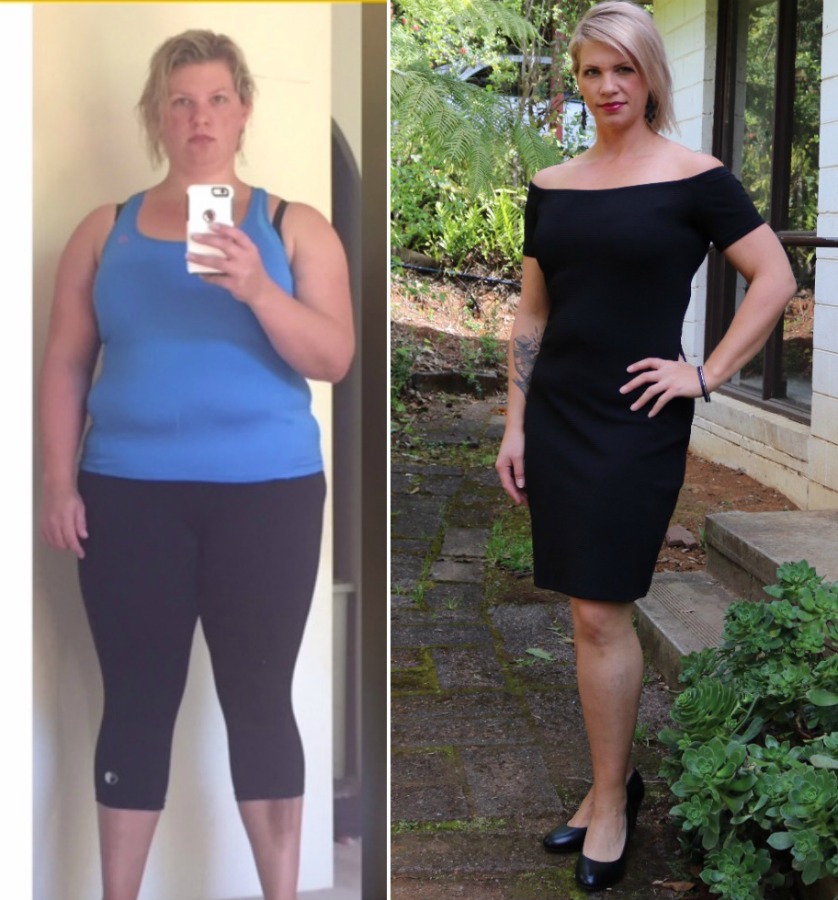 Kylie's top tips to stay on track and smash week 4:
1. Meal prep
Make sure you are still getting your meal plan and shopping organised before the start of week 4 so you are well prepared!
2. Lock in your non-negotiable exercise!
Think of it as making an appointment, you wouldn't miss a doctors appointment, so why miss an appointment that is good for your mind and body!
3. Stay hydrated
We all know how important this is in so many ways, but it also helps to keep you feeling full so you won't feel like snacking on anything unhealthy!
By Week 4 you're on the home stretch, push through and NEVER GIVE UP!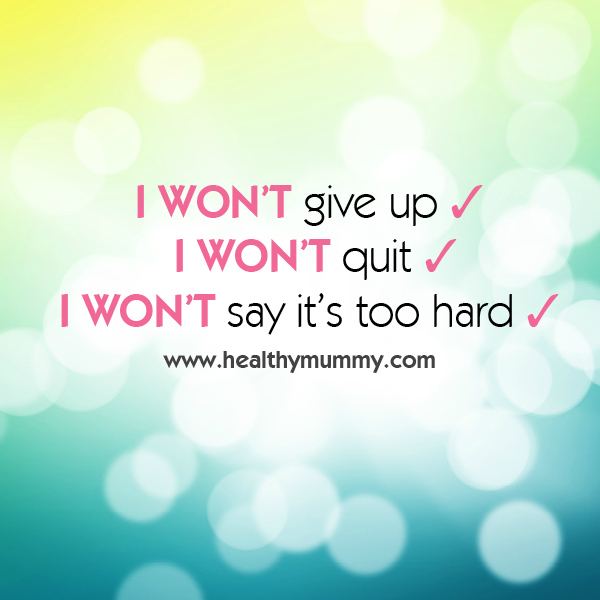 Comparing results
This week, make a promise to yourself to take a NEW progress pic!
Compare this pic to when you first joined The Healthy Mummy programs and the November Challenge! We all know that the scales don't always tell us how much our body composition has changed. Pics however are fabulous to keep track of physical changes (and to provide us the motivation to keep on keeping on).
And if you wanna share your incredible transformation WINS with the rest of the community – upload this pic to our Private Healthy Mummy Facebook Support Group. 
We also recommend having a squizz at your Fitness Test results. Have a look at how much you have improved over the last 28 days.
If you haven't improved your Fitness Test results as much as you would like, ponder on what you can do to help better your results. For example, to help with core strength you may want to include a Core Workout Video Workout every other day at the end of your typical daily exercises.
Almost there ladies – KEEP IT UP!
The Healthy Mummy Facebook Support Groups are another awesome way to find motivation, connect with other mums on a similar journey and share experiences! To learn more about our different support groups click here.
All you need to do is CLICK HERE. 
The Budget Challenge starts NEXT MONDAY
With Christmas fast approaching, most mums find themselves budgeting to ensure their kids have an awesome Christmas, which is why we're launching the Budget Challenge in December.
We're here to help you lose weight, get healthy, and get your whole family on board without spending a fortune.