Weight Loss Mum of the Year: Sally Stepniewski has lost 41kg and overcome many hurdles to get where she is today
Sally Stepniewski has had a rough year this year. Her mum was diagnosed with incurable cancer at the beginning of this year and has spent a good part of it in ICU. She has been given limited time. 
Sally has spent the most part of this year trying to enjoy every minute she can with her mum and it has been an emotional rollercoaster of scares, and actually losing her briefly.
On top of all this, this working mum of three young kids has also managed to lose an amazing 41kg and be named one of our 2018 Weight Loss Mums of the Year.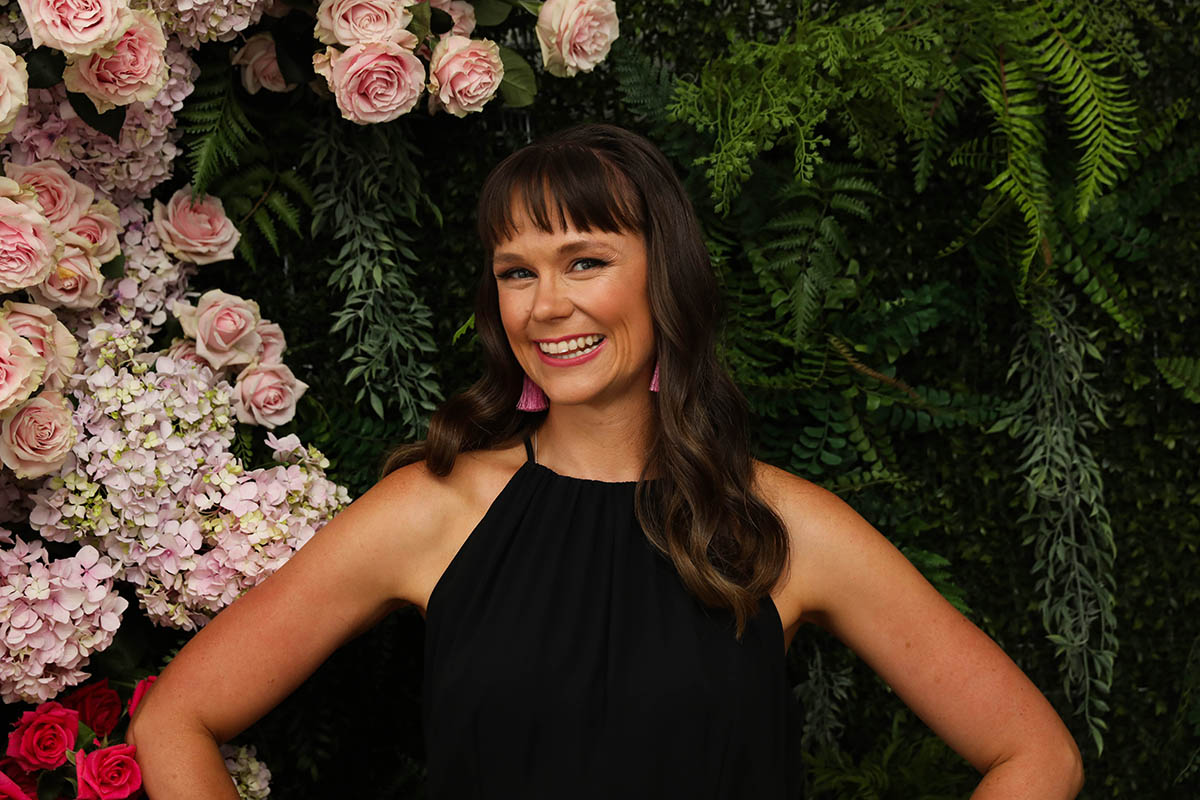 Sally's story
"My mum is my world," she says. "I raised $1500 earlier this year as part of Run Melbourne for the Olivia Newton-John Cancer and Wellness Centre because of the incredible work and support for not only my mum but my whole family."
Even though this has been so tough for Sally, she says "I am tougher! I have defied the odds and shed 41kgs forever, I am a PERFECT example of everything Healthy Mummy. I wanted to win to show mums out there that ANYTHING IS POSSIBLE. 2018 has been a tough year, but through it all, I haven't given up and my mum has assured me I need to go to Sydney."
"As a mum who works full-time and has young kids, so many think that they can't lose weight or exercise – I'm here to show it can be done for women from all walks of life with great success. I love to inspire and motivate women, helping them push themselves and try new things. I am so passionate about everything Healthy Mummy and all I have gained (and lost) over the last 18 months – from a physical, mental and confidence point of view."
Joining The Healthy Mummy
The mum-of-three says she never realised how big she'd become until her youngest was born in late 2016 and she reveals she ate her feelings after a bad day. "It's crazy now to look back on how much junk I ate," she says.

She says that she needed a weight loss plan that would her on a health journey and give her the tools to be a healthier version of herself. She also needed something easy as she says she isn't a good cook!
"When I joined I was heading back to work with an eight-month-old, I needed something easy to use because I wasn't a great cook and something that would allow for allergies as my son got diagnosed with cows milk protein intolerance – it ticked all the boxes."
"I first joined The Healthy Mummy in April 2017 when I realised how unhappy and unhealthy I had become; I was wearing size 20 maternity clothing and weighed 110kgs. It took a photo on a day surrounded by my best friends for me to actually realise how dark a place I'd found myself. Anxiety levels were out of control, and IBS was getting out of control, but I was so lost."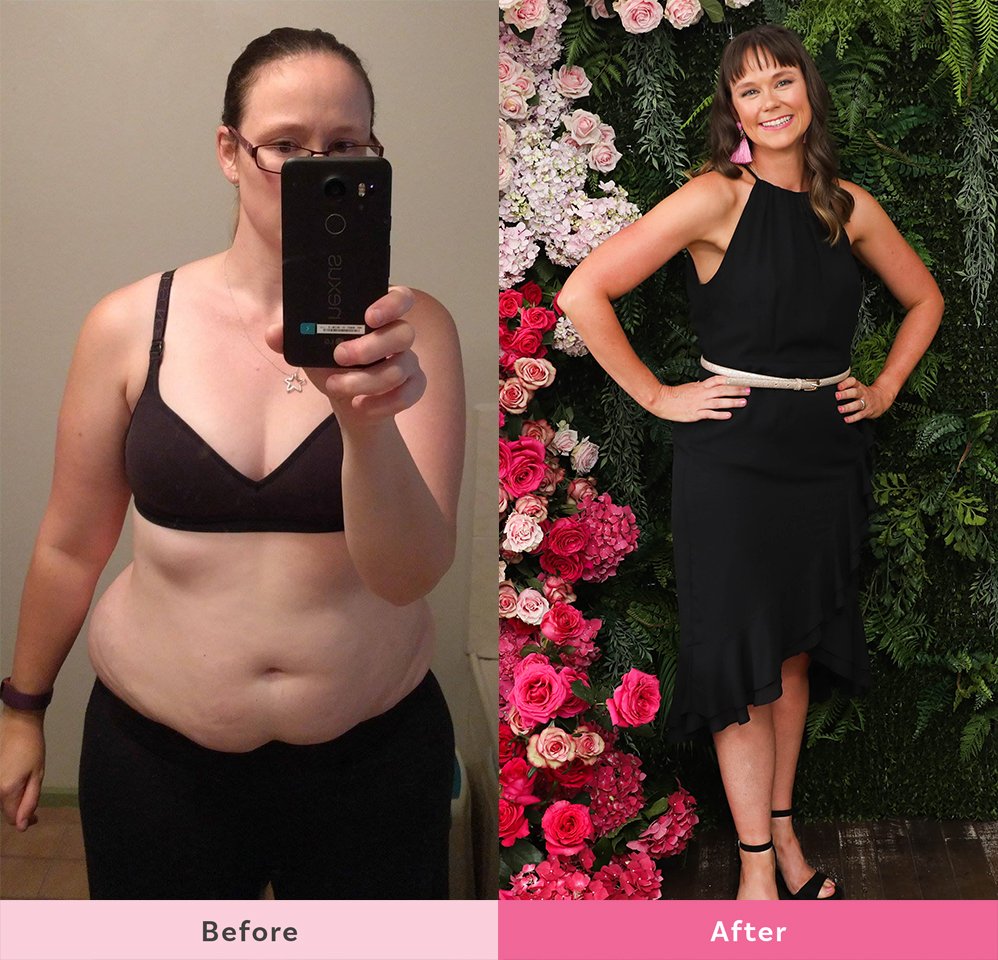 "It had been a long road to having a family with me going through menopause at 29, battling infertility and all the stresses attached to that – our littlest was the most amazing blessing and finally I felt complete but realised how far I'd strayed from healthy and knew it was time to find ME once more."

"In my first 12 months, I said goodbye to 37kgs and smashed my goal weight. Over the last six months, I've been focusing on my fitness and toning and have said goodbye to a further 4 kgs bringing my total weight loss to 41kgs and 178cms! I'm now happily rocking size 8-10 clothes and am feeling a confidence I never knew I had!"

"The Healthy Mummy has taught me so much, from understanding food and the value of water to the importance of exercise, to friendships made and confidence discovered, even self-love. Stepping outside my comfort zone is one of the things I'm most proud of along my journey. It's just over one year since I started running and I'm currently working towards my first half-marathon at Melbourne Mara in two weeks!"
"I remember seeing all the photoshoots with all the ladies of different shapes and sizes on their page and it is the reason why I decided to share my first underwear before and after. I mean I did a box jump in my underwear I don't even know who I am anymore!" Sally explains.
"I am also no longer a 'convenience' food addict, I'm fuelling my body properly and looking after it. Sure it has wobbly bits and cellulite, but it tells a beautiful story of how I became a mum and how I'm proud to be a mum to my three incredible kids. And for the first time in my life, I've found the confidence to embrace it and just be me."
"From carrying and bringing twins into the world five years ago (and little miss two years ago) to living the rollercoaster of life to standing here today at the lightest I have been in my adult life. My body has been through some incredible changes from 118kgs the day my youngest was born to 69kgs today."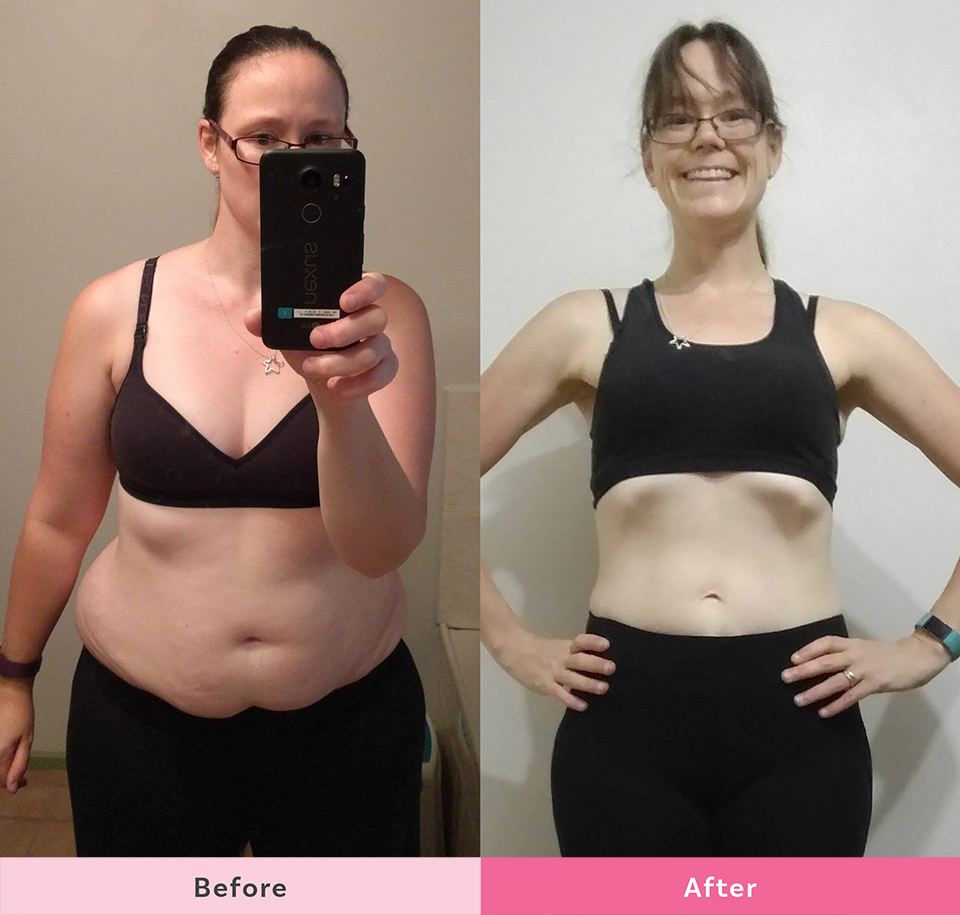 Sally is now a different person!
Sally is a different person inside and out.
Not only has she lost over 41kg and 155cm, but her whole outlook has changed!
"12 months ago I was tired, anxious and grumpy.
Today I am addicted to healthy, wholesome foods and chocolate (Healthy Mummy style).
Today I am making no excuses. 
Today I am a Healthy Mummy and I LOVE life and the positive impact it has on my health and family!"
This mummy is going to be a Healthy Mummy forever, and we are SO proud! Well done Sally on all your amazing achievements and thank you for embarking on The 28 Day Weight Loss Challenge with us!
You can join Sally on the 28 Day Weight Loss Challenge to kickstart your own health and weight loss goals!

Think of the 28 Day Weight Loss Challenge as the best value personal trainer, dietitian, meal planner, chef and motivational coach with DAILY support – that you have access to every day – without the high cost and all created JUST FOR MUMS.
Each month is DIFFERENT on the 28 Day Weight Loss Challenge. EVERY MONTH you receive NEW 28 Days of FAMILY FRIENDLY customisable meal plans, daily exercise plans with videos and daily support. It's also breastfeeding friendly.
The 28 Day Weight Loss Challenge has been able to help thousands of mums lose more than three million kilograms (combined).