What Are Your Health Goals?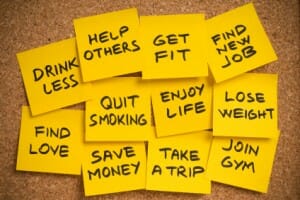 Healthy eating and a healthy lifestyle were my two main goals this year.
Making time for myself and becoming strong after my second daughter was born was my priority.
Now that it is officially Summer and December, I am reflecting on my past resolutions for 2012 and thinking about what my New year's resolutions for 2013 will be.
Health is often my main focus when it comes to resolutions, health for my family and for myself. Depending on what the current situation is, the theme of this health adventure is a little more focused.
When making New Year's resolutions it is important to make ones which are truthful to yourself and to the environment you will be in.
Make them realistic so that you can actually stick to them and achieve them.
Although you may have a general theme, say to benefit your health, it is also important to have specific achievement markers.
For example if you want to lose weight and enjoy a healthy eating plan, how will you achieve this and what will your focus markers be?
For some people it may be to:
Lose 10 kilos over the year
Achieve this by eating healthy and focusing on menu planning and Healthy Mummy Smoothies
Learn one new healthy recipe each week
Complete two strength training sessions per week
Walk three mornings a week
Each month weigh in and take measurements to chart the progress
Enjoy a Sunday family exercise session like cycling or swimming
For myself my 2012 resolutions were health and strength.
I am thrilled about the place in which I am now.
2013, my resolutions will be around health for myself, of course my family too and about getting some work moving. Since it has now been a year since my second baby has been born, the exercise goals will be a bit more fierce. Some specific personal health goals for 2013 will include:
Yoga classes weekly
Strength sessions twice weekly, increasing my lifting weight
Start running and run 10kms by the middle of the year
Continue with two exercise sessions with husband and kids present
Cook two new healthy meals each week and cook leftovers for my husband's lunch
Teach both my girls to swim
Continue to surf, even through Winter
Get some arm guns (I want some arm definition)
What are yours? What are you feeling for 2013? How do you plan your health goals or resolutions for the new year? And have you looked back on your past resolutions to see how you went?
If you are ready to lose weight then The Healthy Mummy plans offer a healthy and safe exercise and diet routine that are safe if you are breastfeeding.
And don't forget to check out our current promotions and discounts page to see what specials we have on this week on our Healthy Mummy product range