What To Stock In A Healthy Pantry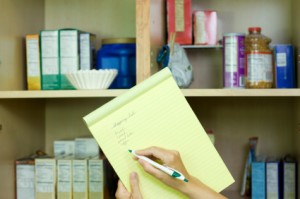 When you are trying to lead a healthy lifestyle or even stay on a weight loss plan to rid a few kilos or your pregnancy weight you need to create a positive environment for you to succeed.
Creating a healthy pantry is the best way to enable a healthy eating culture.
I have recently just moved house so I have been forced to re think my pantry which is great as I love to start fresh every now and then.
Here are 10 things I will stock in my pantry to keep it healthy and keep my eating on track.
Brown rice: I choose brown rice over white rice as the wholegrain carries a greater fibre load which is beneficial for my digestive system.
Canned fish: I tend to choose the brine or freshwater over the oil, but the oil can assist in the digestion and absorption of the Omega 3 fatty acids found in fish. Canned fish is an easy way to be able to eat fish regularly. Add it to a green salad,a frittata or easy pasta sauce.
Chickpeas: I often make hommus and if I have a bit of time I make it from scratch with fresh chickpeas. If I am in a rush then I use the canned chickpeas.
LSA: Linseed, sunflower and almonds crushed up. I use it a lot on yoghurt and also as a breaky option on toast with either banana or low fat ricotta. Also a great addition to your Healthy Mummy Smoothie.
Honey. I love honey and buy it from the fresh farmer's market as the taste of delicious honey straight from the farm is truly amazing. I often have honey on some natural yoghurt with berries as a snack.
Pepitas: These are pumpkin seeds roasted. I ADORE them on yoghurt or in a breakfast  medley or muffin. Nom nom. Pumpkin seeds are great for fibre. In fact pumpkin seed meal in a natural source of fibre in the Healthy Mummy Mix.
Green tea and ginger tea. I do love a tea (and am secretly hoping for some beautiful tea cups and saucers for Christmas!!) I love these two flavours the best as a digestive or an afternoon pick me up without the caffeine. I have also used cold green tea in a Healthy Mummy Smoothie before.
Wholegrain and seed bread. It is important to take the opportunity to increase your wholegrain intake. Rice is one way, bread is another. Make sure you choose a bread which is high in wholegrains rather than white refined bread. This will assist you in feeling full for longer and keeping your regular.
Baking powder. I have only recently discovered baking powder as I way of getting self-raising brown flour to actually rise! That is my hot tip. If you want to substitute white self-raising flour for brown, do so and add one teaspoon of baking powder to help the cake or baked good rise.
Olive oil. I love a salad and my husband has started requesting the salads to be pre-dressed. So I have discovered some different combinations of dressing which always have olive oil as a base.
If you are ready to lose weight then The Healthy Mummy plans offer a healthy and safe exercise and diet routine that are safe if you are breastfeeding.
And don't forget to check out our current promotions and discounts page to see what specials we have on this week on our Healthy Mummy product range