I went a little crazy with some recipe development today. I often see things on the internet and they stay in the back of my mind for months only to pop out when the sun is shining, and this is what happened here.
On the theme of protein (see post here) I became a little obsessed with yoghurt and how I could use it for some healthy eating options with the Healthy Mummy Smoothie mix.
And here they are:
Strawberry Delights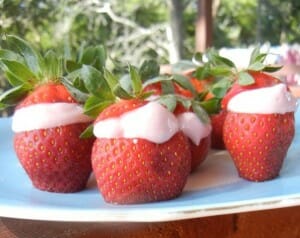 Ingredients
½ cup of reduced fat natural yoghurt
1 tb of Healthy Mummy Smoothie mix (I chose strawberry, but any of the three would work)
1 punnet of strawberries
Directions
Mix the yoghurt and Healthy Mummy Smoothie mix together until smooth
Cut the base of the strawberries so they can sit flat on a plate (eat these bits if you like)
Cut the tops off (keep the tops)
Put the yoghurt mixture into a piping bag and pipe a dollop onto the top end of the strawberry and then add the leaf top
Such a cute little dessert or snack.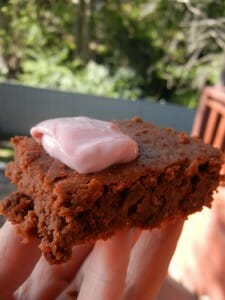 I used the excess Healthy Mummy Smoothie strawberry yoghurt mixture on one of my flourless chocolate cake bites. Wow, it really was delicious! You could use this mixture for multiple occasions, even as a better for you icing on a cake, or a yummy topping for a pancake. Mmmmmm.
Next up was a delicious kind of 'chocolate drop'. I use the word chocolate as I used the chocolate Healthy Mummy Smoothie mixture for this one and they were scrummy. The shape because of the piping insert, made them look like little chocolates too. My 3 year old loved them!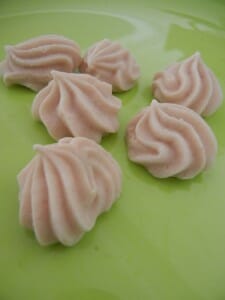 Chocolate drops
Ingredients
½ cup of reduced fat natural yoghurt
1 tbs of chocolate Healthy Mummy Smoothie mix
Directions
Mix together the yoghurt and smoothie mix
Put into a piping bag
Pipe onto a piece of baking paper and freeze
Voila…the cutest little morsels going around. These need to be kept frozen but I thought these would make a great little spring or summer treat in the afternoon. So cute.
For some other delicious snacking options have a look here.
I hope you enjoy these delights as much as I did making them!
And don't forget our amazing gift this week with all orders over $75, the gorgeous, decadent and natural Weleda Rose Cream.
Mandy dos Santos (BSc. Food Science and Nutrition, Grad. Cert. Human Nutrition)
Don't forget to post me a question on Facebook about food or nutrition so you can read more about what you want to read!