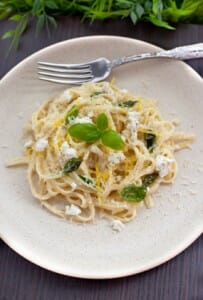 Sometimes in a Healthy Eating Plan you need to take some action to zest it up and freshen the flavours.
This dish is quick and easy for a weekend meal, light, healthy and flavour packed.
The added hit of feta means that you feel like you are indulging with the flavour and bursts of creaminess but not overdoing it.
Prep time: 5 minutes
Cook time: 10 minutes for pasta
Serves 4
Ingredients
200 grams of reduced fat feta cheese
1 lemon for juice and rind
4 tbs of grated parmesan cheese
4 tbs of good quality olive oil
Salt and pepper to season
Pasta to serve for 4 (experiment with wholemeal pasta for added fibre)
Directions
Cook the pasta as per the packet instructions. Once cooked, drain it and return it to a pan and place it over a medium heat.
Break up the feta, grate the lemon zest and squeeze in the lemon. Pour over the oil and add the parmesan cheese. Toss to combine and serve.
Super fast, super easy, super tasty and light and flavour packed. A perfect weeknight healthy eating meal.
450 calories per serve