Zucchini & Corn Muffins – Healthy Pregnancy Lunchbox Snacks
To avoid choosing unhealthy foods when you are hungry during your pregnancy or having a savoury craving, have snacks like these muffins on hand to add to your lunch box or snack on in between meals.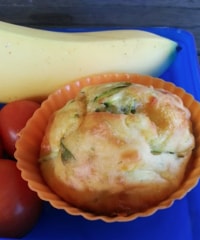 A healthy pregnancy includes following a healthy pregnancy eating plan to make it easy to get all the nutrients you and your baby need.
Recipe thanks to Nikki Boswell, Nutritionist.
Ingredients
cooking oil spray for greasing
½ cup tin corn (no added salt)
1 cup reduced fat plain yoghurt
2 eggs
1 zucchini, grated
1 cup self raising flour
¼ cup reduced fat tasty cheese
1 spring onion, finely chopped
Method
Pre-heat oven to 200C and lightly grease the holes of a muffin tray with cooking oil spray.
Place corn, eggs and yoghurt in a food processor on high until well combined and corn is roughly chopped.
Place corn mixture into a large mixing bowl and stir in zucchini, cheese and spring onion.
Fold through flour until well combined, but do not beat.
Spoon mixture evenly into greased muffin tray holes and bake in the oven for 20 – 30 minutes or until golden.
Perfect for lunchboxes and freezer suitable.
Makes approximately 12 muffins with 112 calories per muffin. For more Muffins recipes, try our delicious banana muffin recipe!
Click here to visit our pregnancy products shop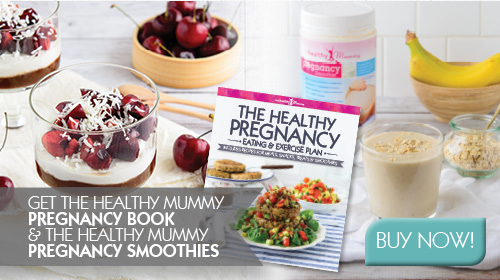 Disclaimer: Always speak to your doctor before changing your diet,taking any supplements or undertaking any exercise program in pregnancy. The information on this site is for reference only and is not medical advice and should not be treated as such, and is not intended in any way as a substitute for professional medical advice..
Our plans promote a health weight gain in pregnancy to benefit the mother & baby and you can read more on this here 
The owners of The Healthy Mummy do not make any representations or warranties, express or implied and shall have no liability or responsibility to any person or entity with respect to any loss or damage caused or alleged to be caused directly or indirectly by the information contained herein and nothing in this disclaimer will limit or exclude any liability for death or personal injury resulting from negligence, limit or exclude any liability for fraud or fraudulent misrepresentation, limit any liabilities in any way that is not permitted under applicable law or exclude any liabilities that may not be excluded under applicable law.