Parents are being told to remove the cords on their children's school hats, after an Adelaide girl was strangled in a frightening playground incident. It's prompted a call for a nation-wide ban on the popular hats, as more parents come forward with similar stories.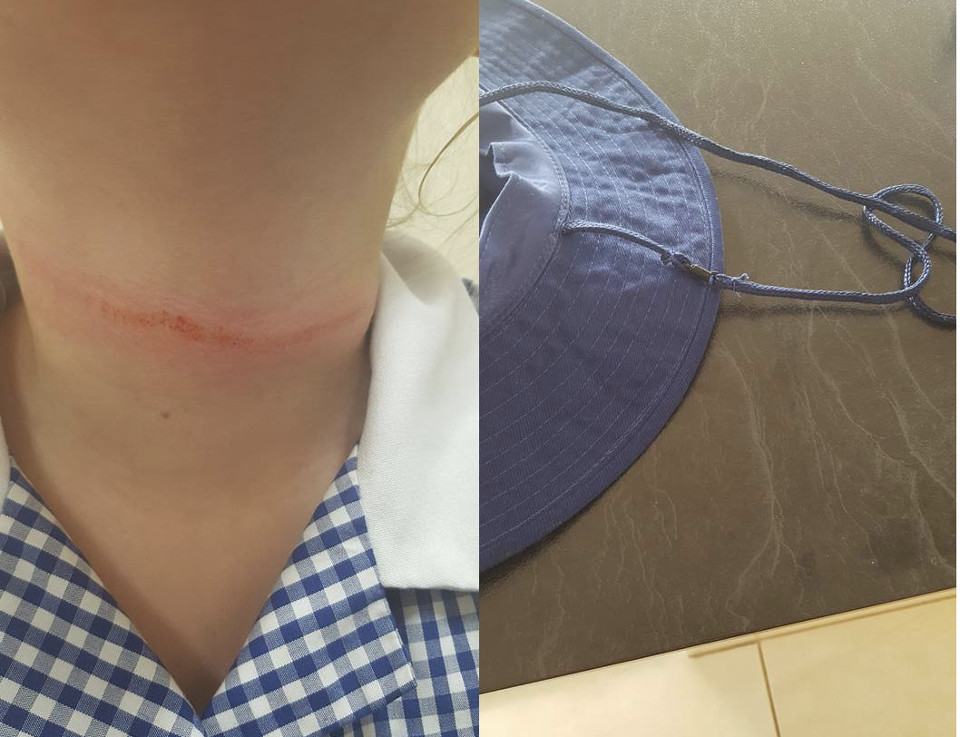 Six-year-old Marley Oster was saved by a fast-acting student who managed to free the petrified girl, after her hat cord got stuck in a slide.
The incident has triggered a 'hazard alert' from South Australia's Education Department, calling for all cords to be removed from hats worn by students.
Strangled On A Schoolyard Slide
The terrifying accident unfolded after Marley's hat cord became stuck in a section of a spiral slide at her Adelaide public primary school last week, leaving the girl gasping for air. Her mum Gail told The Healthy Mummy that eight-year-old student Madison Fleming saw Marley was in distress, and sprung into action.
"Madison slowly crawled down there (the slide) without falling on Marley, sat there and just persisted to get this cord out. She said it took a really long time to get it out, it wouldn't come out. Eventually she got Marley free."
Gail says she's now plagued by 'what-ifs', with doctors telling her that the incident could have been fatal if her daughter wasn't rescued, or another child had come down the slide.
"I didn't realise the severity of the injuries, the internal injuries until the doctor said to me, 'Do you realise that her windpipe was not far from collapsing.' Once your windpipe collapses if you don't get appropriate medical care, then you can't get air through, and then your brain starts to die."
Marley is now recovering, with doctors prescribing antibiotics and scar cream.
Not An Isolated Incident
The alarming incident has sparked a call for an Australia-wide ban on school hats with cords. Gail says she's been inundated with similar stories from other parents, and today a meeting was held with SA Education Minister Susan Close to push the issue.
"It's mind-blowing. It's all around Australia, it's Tasmania, Victoria, Queensland, Perth. I just didn't realise that it was such a major thing that's been happening. It's been happening for many years," Gail told The Healthy Mummy.
"I want people to be aware that just because a school has items of clothing from the school uniform shop that they expect you to buy – ask questions. If you think that something's not right, don't buy it."
In a statement to The Healthy Mummy, SA Education Department's Laura Schonfeldt said the state's schools have been advised to take the following steps:
 Inspect school hats worn by students and remove any cords.
Check their current stock of hats and clothing in their uniform shops and immediately remove any cords, including draw strings on hooded tops.
Review the design of their school hats and clothing to ensure that hats do not have chin straps, cords, drawstrings and toggles and hooded clothing has no draw string. Another option is to supply hats that can be adjusted at the crown.
Prohibit the wearing of any uniform or other hats that do not meet the above safety recommendations.
Ensure children are supervised appropriately for their age and the play equipment being used.
Ensure play equipment, particularly where there is a forced movement such as a slippery dip and fireman's pole, is free from pinch points, sharp edges or protrusions that may catch cords, drawstrings and toggles.
Marley's accident isn't isolated, with several other Australian children recently injured in similar ways.
A five-year-old Toowomba girl was left hanging by her neck earlier this month, after she jumped from a playground climbing net and her hat became stuck. The cord snapped after a few seconds, but she was still left with visible rope burn on her neck.
In September last year a Western Australian kinder student was almost hanged after the cord on his hat become caught on a climbing frame.
Absolutely frightening!
For more articles relating to children's health, click here.