During the 17th Century an English herbalist described asparagus as a vegetable which "stirs up lust in man and woman."
This Valentine's Day is the perfect opportunity to reap the 'rewards' of this healthy and delicious vegetable.
This tart is easy, delicious and lust-i-licious and you can eat it even if you are following a healthy eating plan.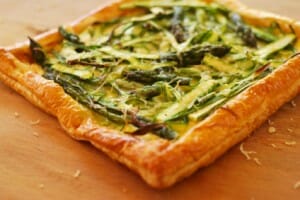 Aphrodisiac Asparagus Tart
Prep time: 10 minutes
Cook time: 30 minutes
Serves 4
Ingredients
300g reduced-fat ricotta cheese
100g reduced-fat feta cheese, crumbled
2 teaspoons finely grated lemon rind
2 teaspoons fresh parsley
2 spring onions, thinly sliced
2 bunches (400g) asparagus, trimmed
2 sheets ready-rolled reduced fat puff pastry, partially thawed
2 tablespoons milk
4 tablespoons of red wine vinegar.
Directions
Combine ricotta, feta, lemon rind, parsley and spring onions in a bowl.
Lightly steam the asparagus for a few minutes.
On two separate lined baking trays, place one sheet on each tray.
Spread ricotta mixture over the pastry leaving a border on an inch.
Top with the asparagus.
Fold up the edges and brush the edges with milk.
Bake for 30 minutes in a preheated oven at 180 degrees Celcius.
When ready, drizzle some red wine vinegar over the top.
470 calories per serve
If you are ready to lose weight then The Healthy Mummy plans offer a healthy and safe exercise and diet routine that are safe if you are breastfeeding