It's hard to believe that Christmas is just around the corner but then again this whole year has been a little hard to believe! Even the retailers seem to be scrambling to keep up if our recent shopping trip to buy and try every 'Make Your Gingerbread House Kit' we could get our hands on.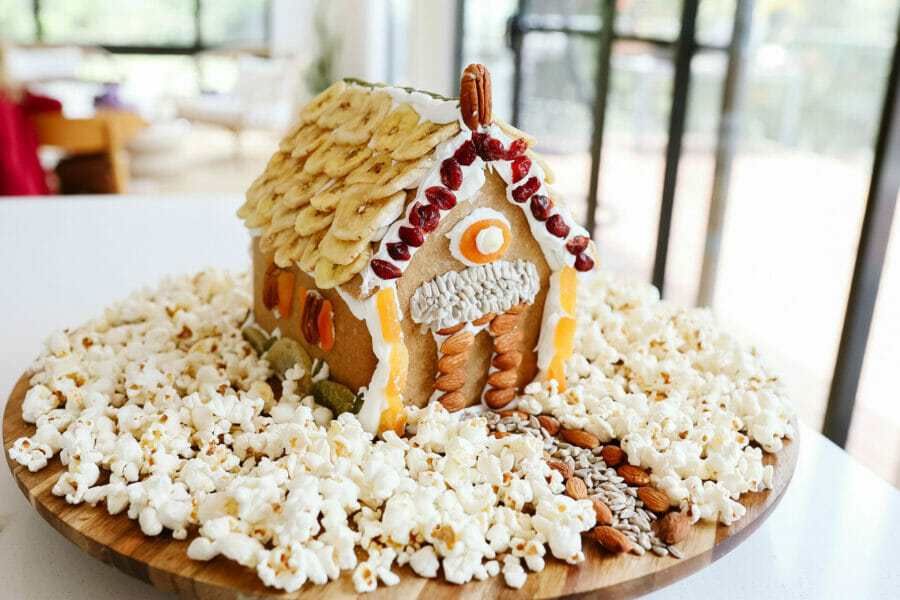 Festive Gingerbread Houses
The holiday season is filled with nostalgic traditions of baking and eating tasty desserts, and one of the most fun ways to get in the festive spirit is by building and decorating a gingerbread house. Well fun may not be the exact word that springs to mind for all we attempted, but certainly festive and the kids loved it.
Gingerbread houses are decorations and desserts all rolled into one, and they make a great activity for adults and kids alike. If you're not up to building one from scratch, enter the handy Gingerbread Kit! They have become quite popular of late as all you have to do is assemble. In theory it should be that simple!
There are gingerbread kits for all levels of bakers and decorators, including some houses that come completely pre-made. Some kits come with everything you might need and some involve a little more work on your end so it's worth reading the packages carefully! Gingerbread kits tend to sell out quickly each year, as we found this week, so be sure to get in early.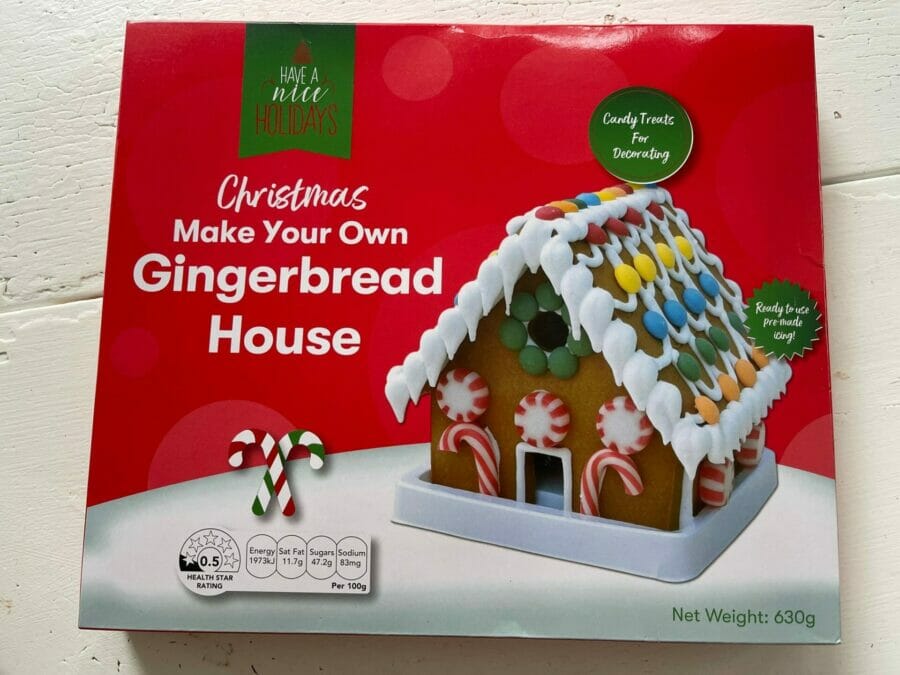 The Great Gingerbread House Test
To really get into the spirit of things, we tested some from the big supermarket chains and stores, and for consistency we used kits that required full assembly.
Actually the David Jones one threw a spanner in the works, as it was a kit we had to bake and the results weren't pretty. We made each out of the box and rated them all on ease of assembly, kit quality and taste.
For some added fun we noted whether they were child friendly or an adult only affair. On the plus side whether your house stays standing or not, or if you can even get it to that point (perhaps little hands have been stealing away all the icing), you have a delicious treat to eat at the end!
Getting our hands on the Gingerbread Houses!
We tried out all the main Supermarkets and independent grocery stores but were surprised at the lack of availability.
ALDI – none available
IGA – none available
Target – Sold out in-store and online
Harris Farm – none available as yet
Kmart – none available as yet
IKEA – out of stock
Where we found our Gingerbread Houses.
Coles – the last one in store $14.00
Woolworths – ordered online with click and collect with no problem. $10.00
BIG W – ordered online with click and collect with no problem $10.00
Myer – ordered online with click and collect and when we went to collect we were advised that it would be at least 2 days for collection and then we checked the floor and staff advised that they had been recalled due to an ingredient issue. We ended up with a Gluten Free Kit the next day. $39.99
David Jones – No stock instore and ordered online. $14.95
The Gingerbread Review
COLES –$14.00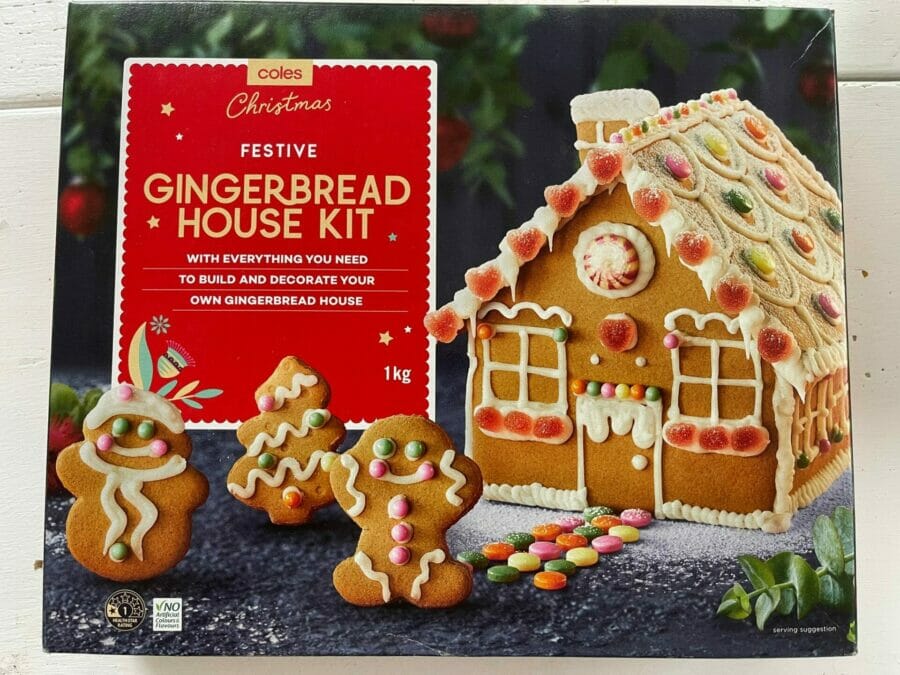 In a frenzied Gingerbread House bake off environment after school we left the Coles Gingerbread house in the most capable hands of two 8 year-old girls. The instructions were very small and a little unclear so adult intervention was required from the outset.
The icing required some manual labour in getting it into the right consistency with some kneading and massage which the kids enjoyed! Although I think a lot longer was needed than the suggested 1 min.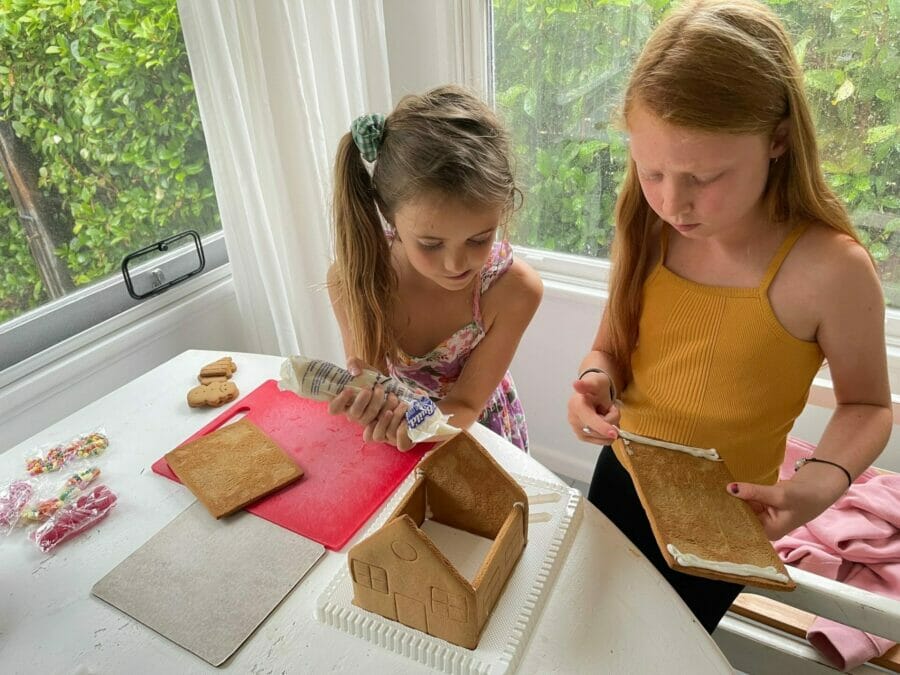 The icing bag had a plastic piping tip which was a good addition and the best stand out of the 3 that came with one (Coles, Woolies, BIG W). After assembly the instructions were to hold the roof panels for one minute to set and then wait a further 15 min before decorating. Arguably, 1 min was not enough time to set and patience certainly wore thin waiting the 15 min to decorate!
There were 4 types of lollies and certainly not enough. The lollies all began to slide off but this is hard to say whether it was due to lack of icing or patience! Overall a nice looking house and the biggest out of the lot. Taste was lacking, mild ginger flavour but kids enjoyed it.
EASE OF ASSEMBLY – 6
KIT QUALITY – 6
TASTE – 5
KID FRIENDLY – 5
TOTAL: 22/40
WOOLWORTHS – $10.00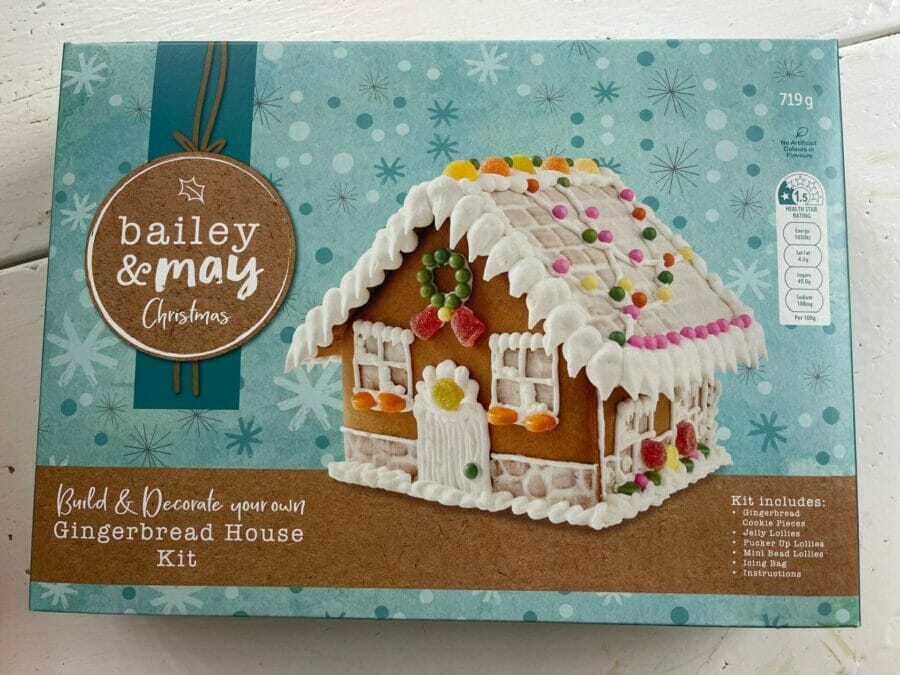 We left the Woolies house in the clunkier and less patient hands of the boys –aged 8, 6 & 5. Lucky for the boys the Woolies house came with very good instructions plus photo visuals.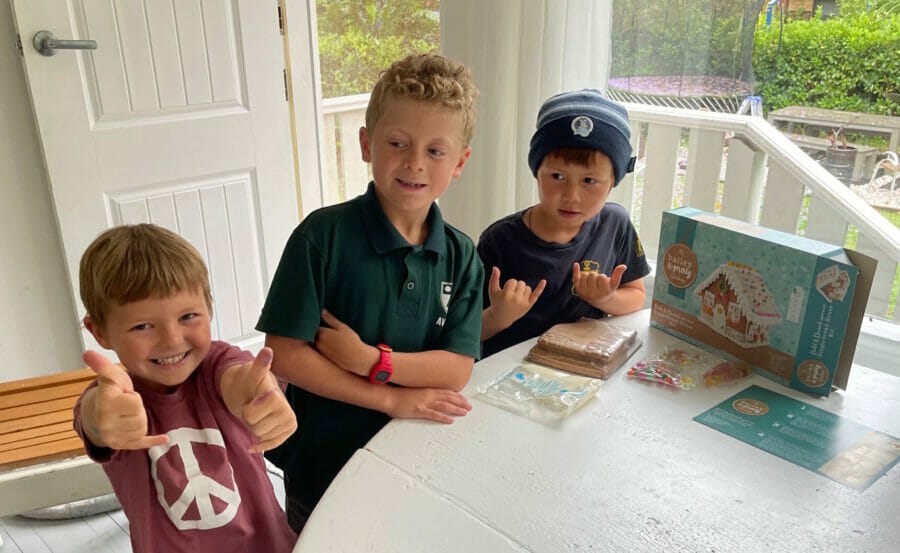 It quickly became a girls vs boys fight for baking prowess and many lollies were eaten before they made contact with the house.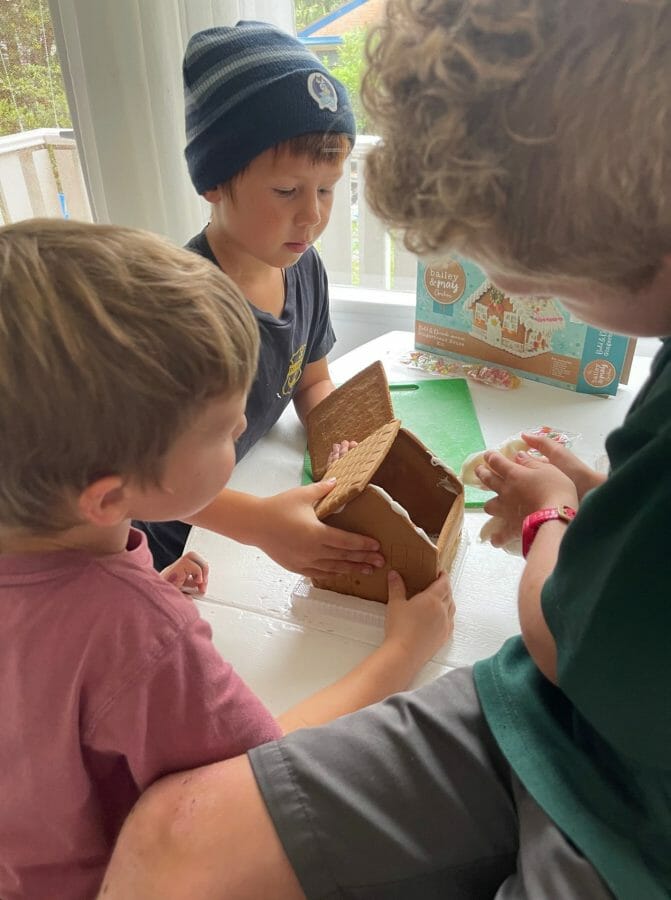 The icing was the same deal with the hands on preparation but the bag came with no tip. Again the connected edges took longer to set than suggestion of 1 min and the icing didn't hold. After being weighed down with the 3 types of lollies (possibly added earlier than the required 15 min wait) the lollies slowly slid southwards, followed shortly by the roof itself!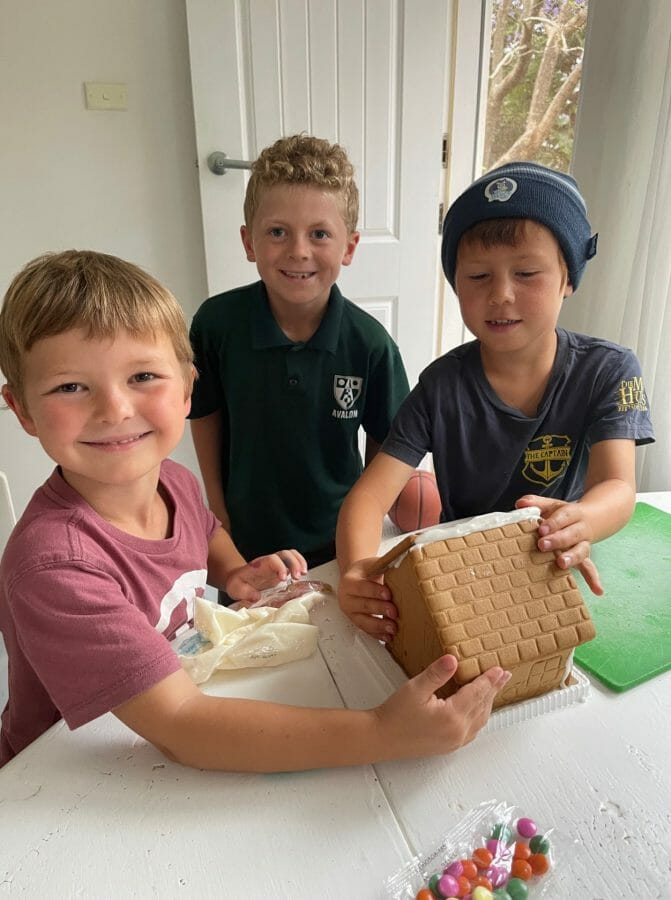 Slightly more flavoursome than the Coles house which was a plus. And the boys were entertained with the ruins by way of a food fight, and the crumbs were enjoyed by the local possums!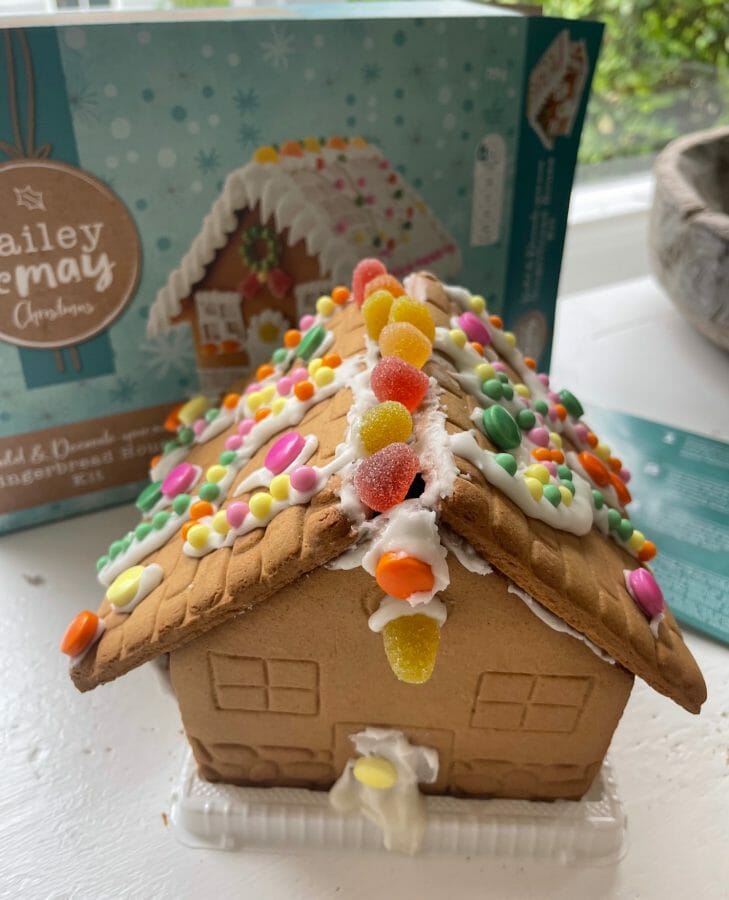 EASE OF ASSEMBLY – 5
KIT QUALITY – 6
TASTE – 6
KID FRIENDLY – 4
TOTAL: 21/40
BIG W – $10.00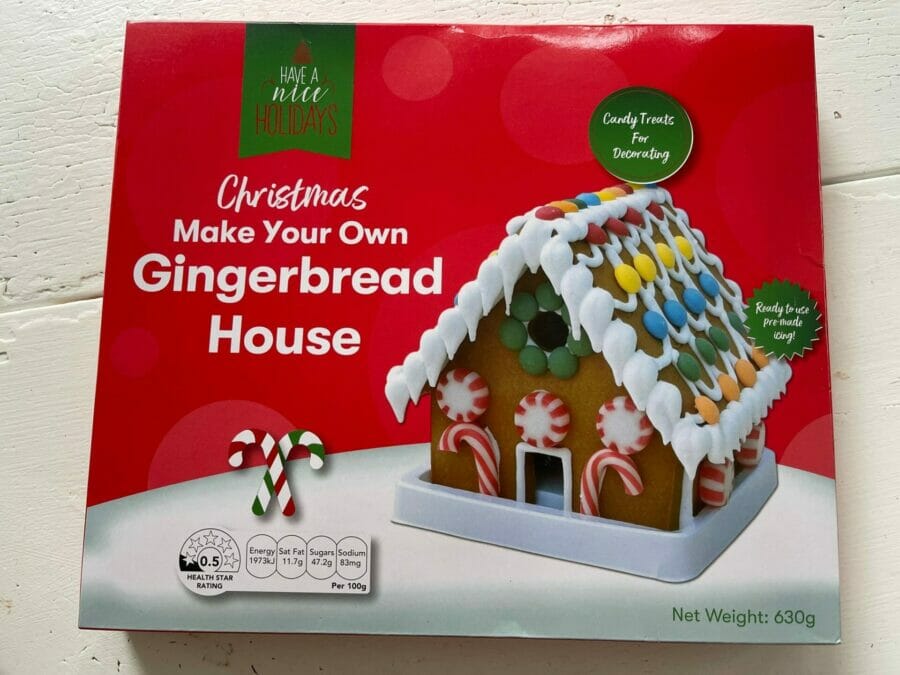 Whilst the most modest and basic of the lot, it could be said here that the best things come in the smallest packages. I attempted the BIG W version with my 3 year old and arguably she could have done this one all by herself.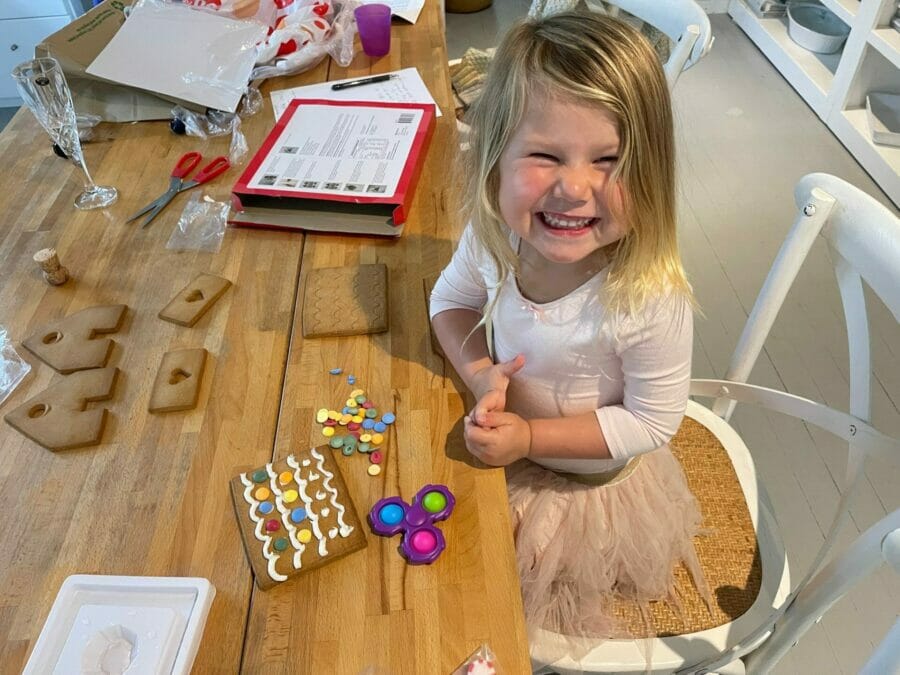 The icing reached optimal consistency with both warm water and some aggressive squishing. The bag had no icing tip but the icing held well. It was slightly thicker in consistency so some bigger hands came in handy when it came to actually getting it out of the bag. And I cut a slightly larger hole in the end than recommended. The best and most simple difference was that the panels were decorated BEFORE assembly. This felt like a revelation after the painstaking 15 min wait for the Coles and Woolies varieties, only to watch the lollies all slide off.
Once they panels were decorated to 3 year old perfection they were ready to assemble in the stand and set almost immediately. There was an abundance of icing left over and the gingerbread was quite nice to boot!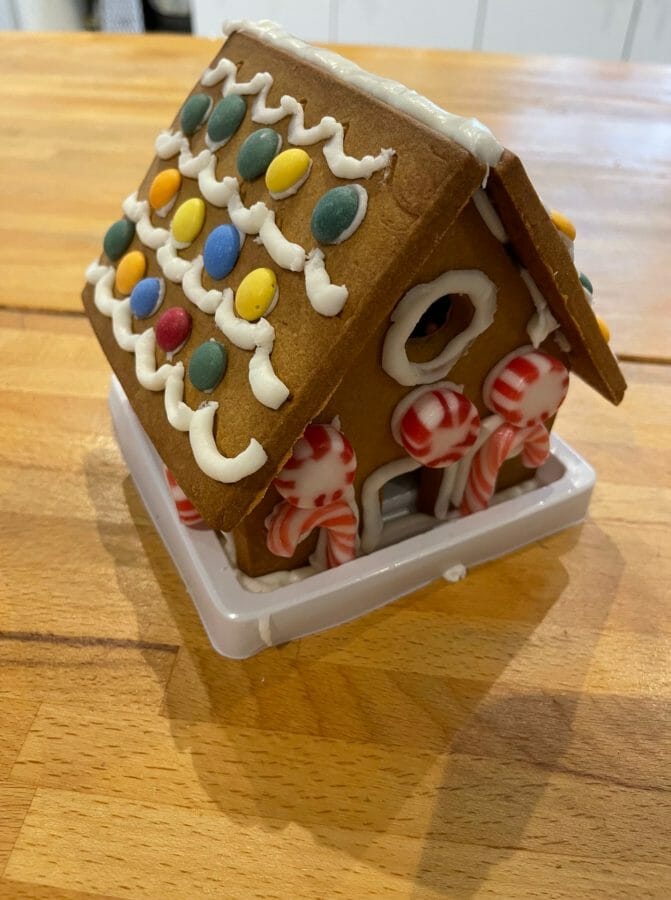 EASE OF ASSEMBLY – 8
KIT QUALITY – 6
TASTE – 7
KID FRIENDLY – 8
TOTAL: 29/40
MYER – $39.99
After finally getting my hands on the Myer kit after a bit of a run around and two trips to the Mall I was immediately struck by the price difference. A whopping $39.99. The box was quite pretty and it was Gluten Free and endorsed by Coeliac Australia but I was keen to see what the fuss was about. The kit claimed to be a
"creative and fun activity kit for young and old alike…easy to assemble…let the aroma embrace you and the taste transport you!" But wait for it…"Just add your favourite lollies…" WHAT?! 40 big ones and you have to add your own lollies! Strike one on the Myer front.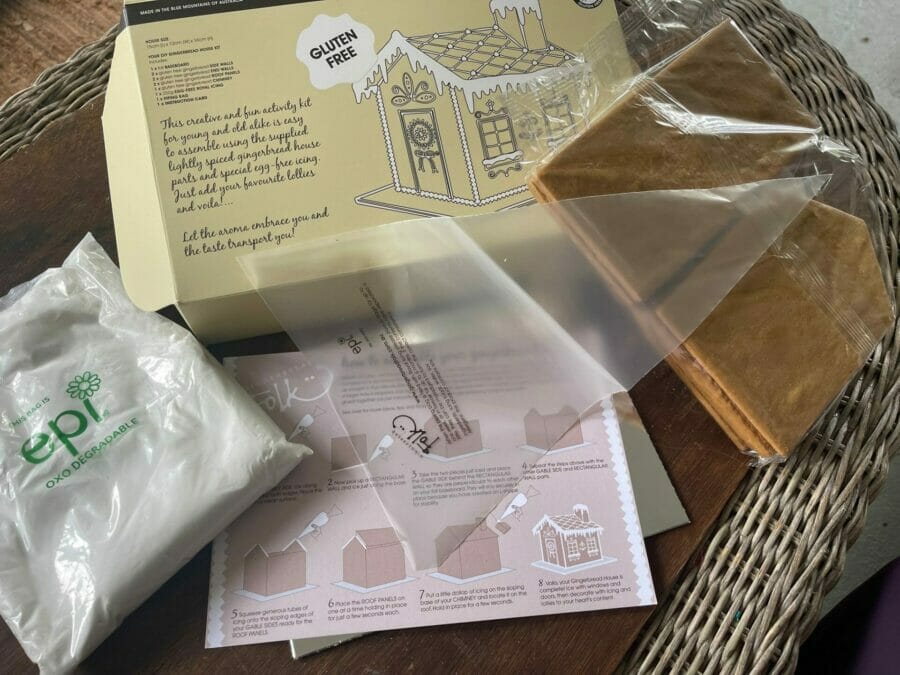 How was my house ever going to look like the one on the box without lollies! There was no stand inside and you also had to make your own icing which is always dangerous as only the slightest bit too much water and your icing is a runny mess! There was also no piping tip on the bag but in saying this, the kit was simple and easy as advertised. I managed the desired "toothpaste consistency" which was hard to squeeze out but had the desired cementing effect, so much so that no stand was required (lucky as they didn't provide one!) A child would have difficulty coaxing the icing out. The design was basic and small with no cut outs or detailing and was quite bland in flavour. Did beg the question of value for money.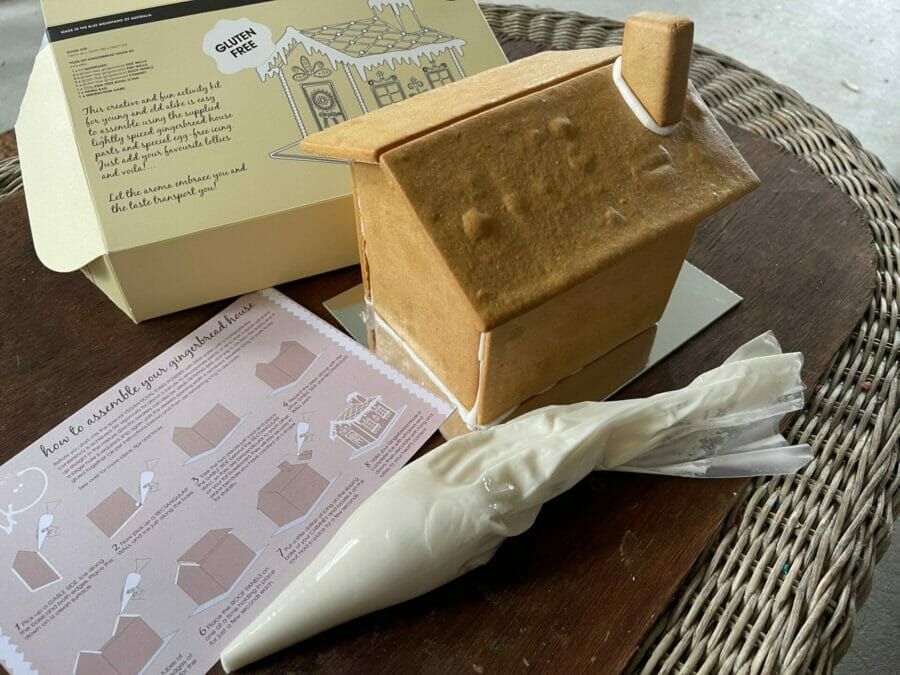 EASE OF ASSEMBLY – 8
KIT QUALITY – 7
TASTE – 5
KID FRIENDLY – 4
TOTAL: 24/40
DAVID JONES – $14.95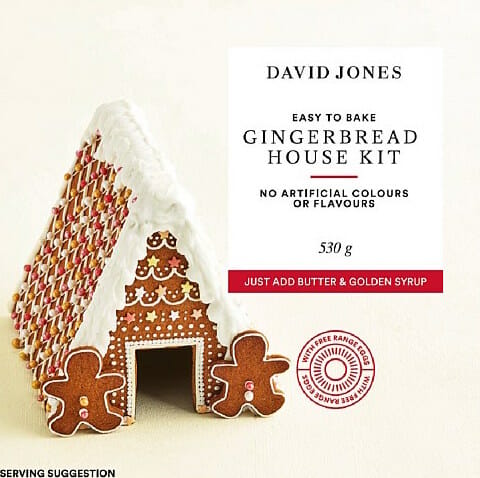 Last in line and the straw that broke the camels back – our house that never quite got off the ground from David Jones. The first surprise (and not the pleasant kind) was the fact that it wasn't pre made! "Kit" was really just like a packet mix for gingerbread houses. The horror! Another reminder to always check your package carefully as the mix required golden syrup, which I had to substitute for honey after a quick stock take of the pantry. The biscuit mix was easy enough and the dough made the required cut out shapes but what wasn't explained was spacing required between shapes on the trays.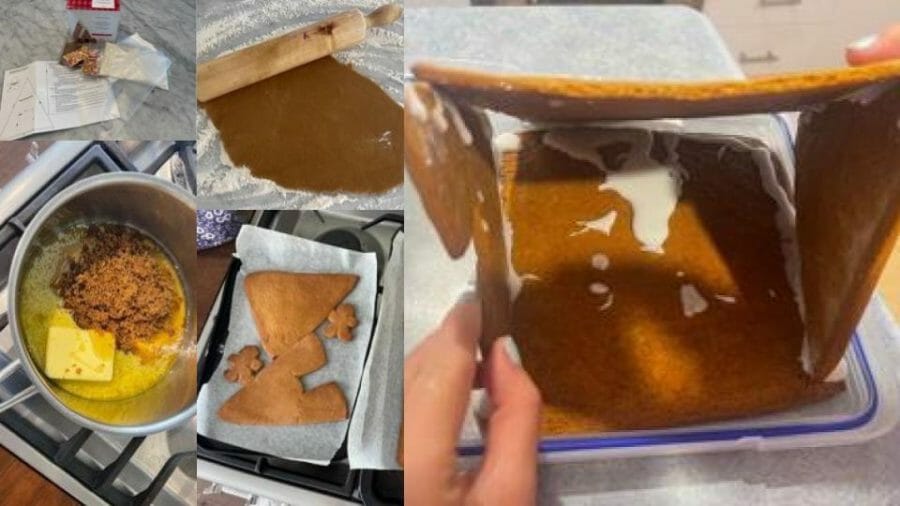 The shapes did spread more than I expected in the oven and they also warped which would prove disastrous come assembly time! The icing was extremely runny so I would recommend adding the 35 ml of cold water bit by bit when mixing to get a thicker consistency. There was no stand or base plate supplied and none of the shapes met with each other perfectly due to the warping during baking. The instructions suggested using the royal icing to hide any areas where the pieces didn't match but gaping holes were always going to be a stretch. Especially with icing that resembled water. So….we never got this one off the ground but the house walls and roof certainly had the best flavour!
EASE OF ASSEMBLY – 4
KIT QUALITY – 6
TASTE – 8
KID FRIENDLY – 4
TOTAL: 22/40
The Gingerbread RESULTS are in the House!
BIG W – 29/40, best kid friendliness
Myer – 24/40, best for ease (also most expensive and add your own lollies)
Coles – 22/40 worst for taste
David Jones – 22/40, bake yourself
Woolies – 21/40, cheapest with Big W at $10
In summary, while you can pay a little more for the best flavour but a lot more work, or pay a lot more for Gluten Free, you can pay a modest 10 dollars for some simple family fun and a lot less stress! In this case we say BIG W takes the cake!
Make your own Healthy Mummy Gingerbread House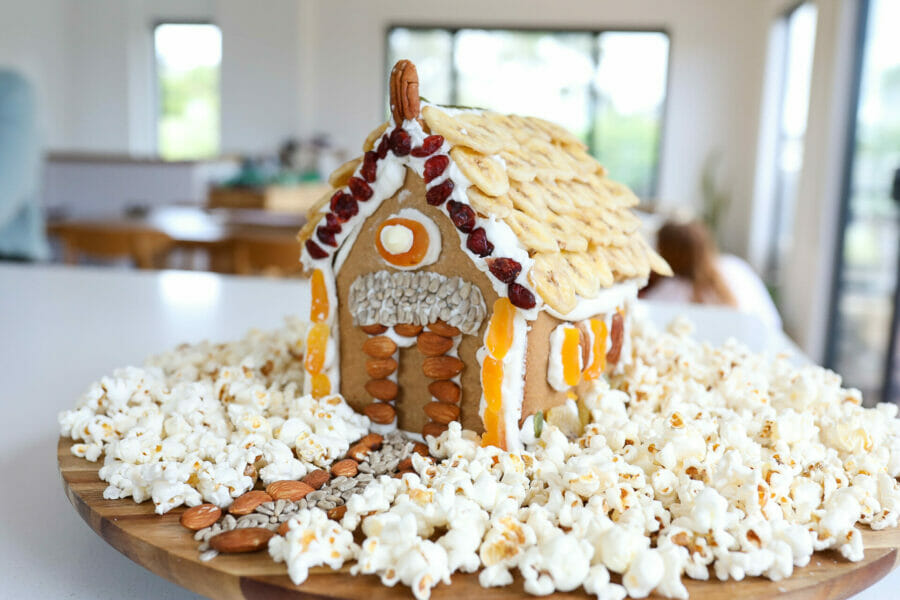 For a healthy spin on this festive classic, why not make your own Gingerbread House from scratch? Using coconut sugar, wholemeal flour, maple syrup, butter and eggs for the yummy gingerbread dough, you'll be building a healthy little home perfect for all the little gingerbread people in your house. Plus you'll be avoiding those sugar crashes by using fruit, seeds, nuts and popcorn for the decorating!
Get more healthy recipes on the 28 Day Weight Loss Challenge!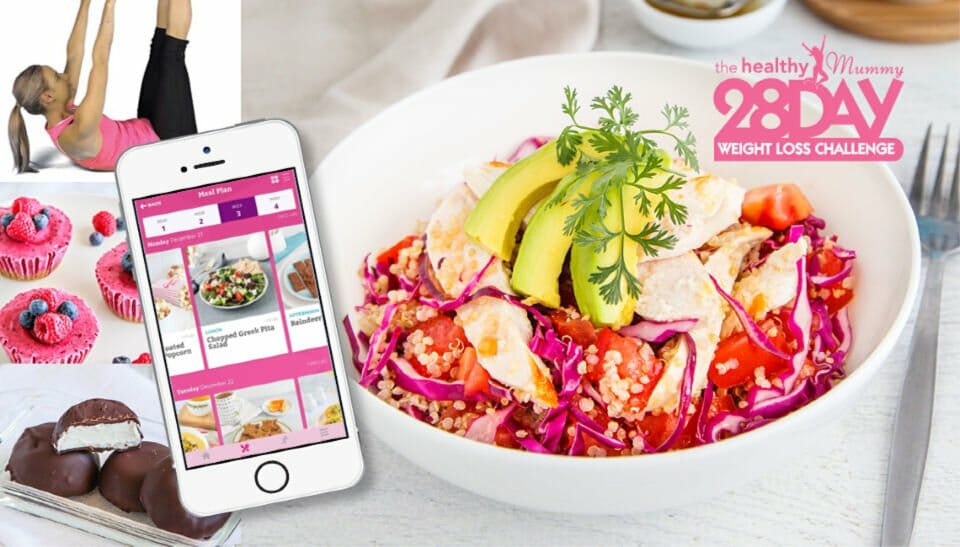 Join The Healthy Mummy's next 28 Day Weight Loss Challenge and get amazing community support, healthy meal plans, and more healthy dinner recipes. To lose weight, you'll find our community of healthy mums are just the support you're looking for. We'll see you on the inside!