The Happy Hour Playset For Toddlers That's Outraged Parents
There's been some hot debate about this one at The Healthy Mummy HQ – how would you feel about your toddler serving you up a cool beverage at their very own Fisher-Price bar?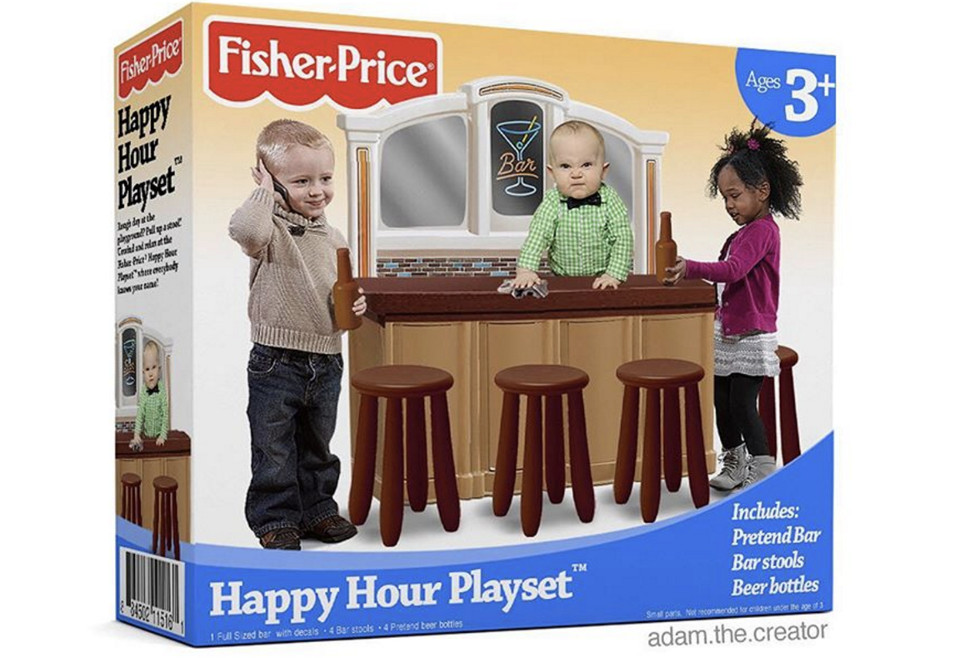 The truth is that while the packaging looks authentic, the Fisher-Price Happy Hour Playset doesn't actually exist. But that hasn't stopped parents being equal parts outraged and amused at this viral joke.
The prank playset was actually created by Adam Padilla, the owner of a New York branding agency. He posted an image of the playset on Instagram, complete with bar stools, plastic beer bottles and a rather surly looking barkeep.
Child's Play Turns Into Viral Post
He came up with the idea for a bogus bar while watching his daughter play.
"My 21 month-old daughter gave me the idea while playing on her kitchen playset at our apartment," Mr Padilla told Mashable.
"The next day I Photoshopped the package design and posted it on my Instagram with a caption that made it seem like it was an actual product…it really took off the next day when someone posted it on Facebook and Reddit."
And so was born the latest viral fakery, that had many parents genuinely upset and calling on an explanation from Fisher-Price.
"Fisher-Price even issued a release that recognised the humour and assured parents that they are not involved in the parody," Mr Padilla explained. "It's refreshing to see a major brand so hip to culture that it took the joke in stride and reacted in a very human way…with reason, humour and intelligence."
A Vital Lesson To Be Learned
The BrandFire co-founder says it's a warning for everyone not to take what they see on the internet as gospel.
"Use your judgement and be smart about what you read. A lot of this is just common sense."
What do you think, is this a great example of humour, or poor taste? Oh, and if you're searching for some genuine, last minute gifts for kids we've got a great list of the five must have toys this Christmas.