Healthy Spaghetti Bolognese
Spaghetti Bolognese can be a hearty and healthy meal check out this healthy spaghetti bolognese recipe the whole family will love.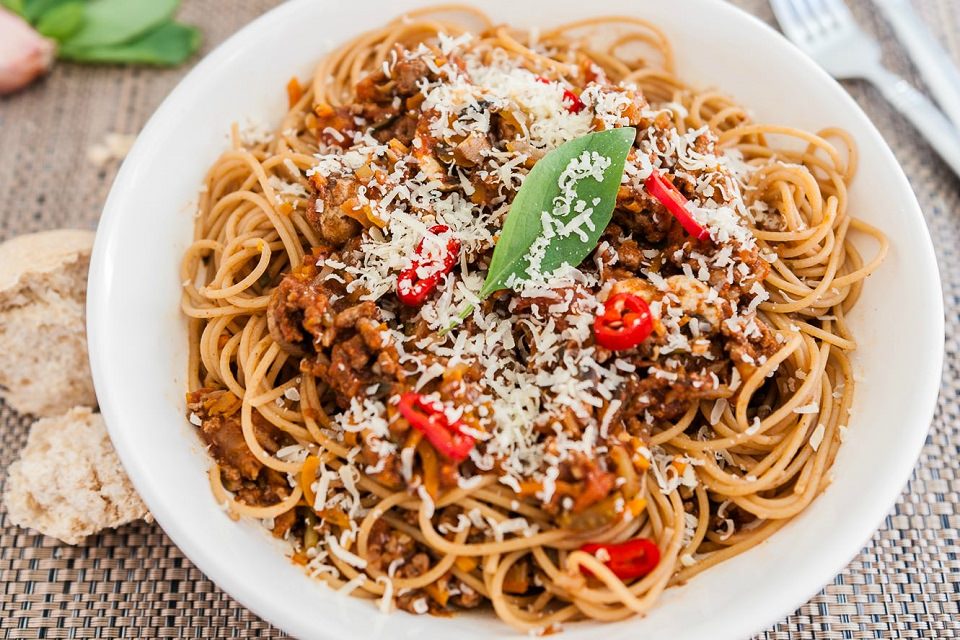 Healthy Spaghetti Bolognese recipe
This recipe is great for a weight loss diet as it helps you with portion control with the pasta and also has the addition of vegetables in the meal.
Healthy eating is about everyday choices.
Prep time:5 minutes
Cook time: 20 minutes
Serves 6
Ingredients
400g lean beef mince
1 onion diced
2 cloves garlic, crushed
½ cup button mushrooms finely diced
2 large carrots grated
1 400g tin diced tomatoes
1 tablespoon tomato paste
½ cup of water or salt reduced stock
1 handful of chopped parsley post cook
salt & pepper
oil spray
35g dried pasta per person (try brown pasta for a change)
1 tablespoon grated parmesan per person
Directions
Spray a pan with oil and panfry the onion and garlic until soft.
Add in your carrot and mushrooms and lightly panfry until the mushrooms leach their water.
Add in the mince meat and cook until brown on the outside.
Add in the diced tomatoes, tomato paste and water or stock and bring to a boil then reduce to a simmer for around 10-15 minutes (or until the liquid reduces back).
Cook the pasta as per the packet instructions.
Stir through the parsley into the Bolognese sauce and serve with the pasta.
Top with grated parmesan.
If you have additional sauce leftover, freeze it or refrigerate it for another meal.
320 calories per serve including the pasta.