RECALL: Hot Cross Buns have been recalled after calculator found inside
Australian Food Standards has issued a recall on Hot Cross Buns sold at Pasadena Foodland, owned by Chapley Group, after a customer reported finding a small calculator pieces inside some the buns over the weekend.
The Chapley Groups is conducting further investigations as to how the calculator go inside the buns. According to reports, most parts of the small calculator were found however SA Health issued a warning regarding possible consumption of the lithium battery from the calculator which was not found.
See the full details below.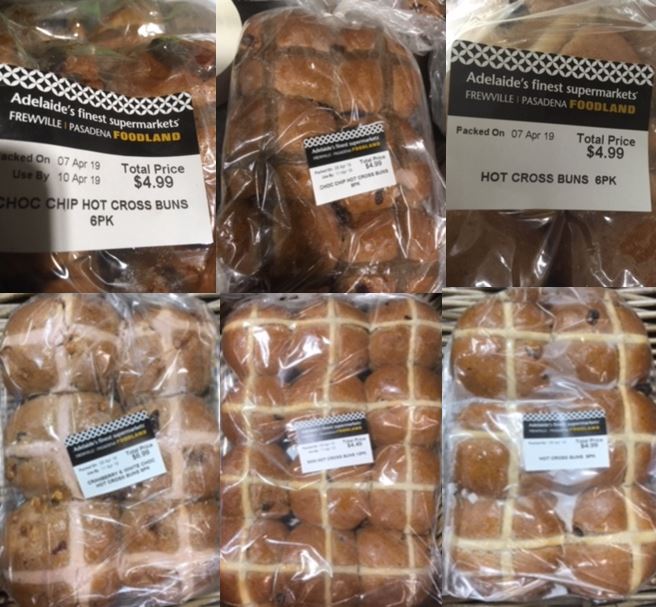 HEALTH UPDATE: PASADENA FOODLAND HOT CROSS BUNS RECALL
More info about button battery safety: https://t.co/qxcfhjsvtB pic.twitter.com/yikfN3aXu7

— SA Health (@SAHealth) April 9, 2019
Hot Cross Buns recalled after foreign objects found inside
Products that have been recalled:
Choc Chip Hot Cross Buns 6pk
Cranberry & White Choc Hot Cross Buns 6 PK
Hot Cross Buns 6PK
Hot Cross Buns LGE Loose
Hot Cross Buns Fruitless 6PK
Mini Hot Cross Buns 12 PK
Mini Choc Chip Hot Cross Buns 12PK
Premium Hot Cross Buns 500G
Various weights, 6 or 12 in a pack Packed on 07 April 2019.
The above products that were produced on 07 April only are the only products affected. Any products made prior to or after this date are not at risk.
Reason for recall:
The recall is due to the presence of foreign matter (plastic) that may cause injury if consumed.
Where they are sold:
The products have been available for sale at Pasadena Foodland in South Australia.
What to do if you have any?
Consumers should not eat this product and should return the products to the place of purchase for a full refund. For further information please contact:
Chapley Group
08 8374 5000
Read the full announcement from Food Standards Australia New Zealand here.
For more health stories click here or connect with other mums to exchange stories, tips and support in our judgment-free Facebook support groups.
Fisher and Price warn parents after popular Rock 'N Play Sleeper safety fears.
RECALL: Popular cot recalled over child safety fears.