Best&Less has issued a recall on their 10 pack of Baby Berry bibs in colours medium blue, light green and medium pink.
The care satin label is not securely stitched into the binding of the bib. If the care label becomes detached from the bib, it may pose a choking hazard to a baby if swallowed.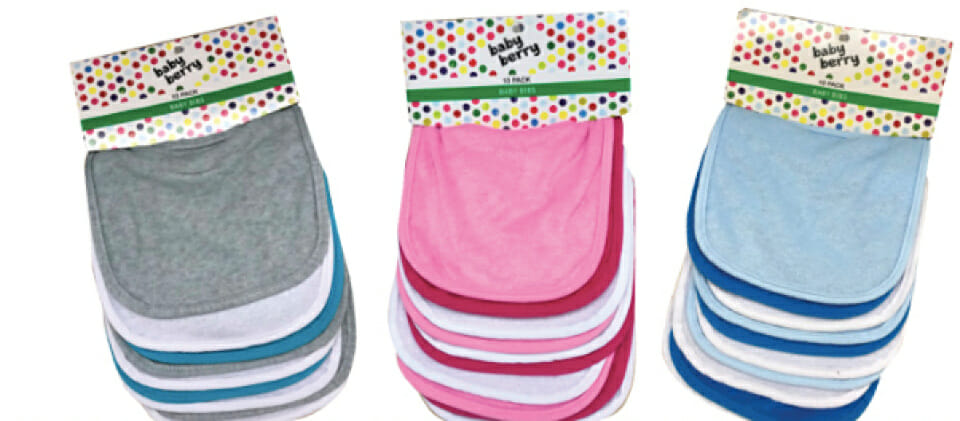 "At Best&Less the safety of our customers comes first. Therefore to avoid the risk of any possible harm, we are recalling the Baby Berry Bibs 10 pack sold in-store & online in the last 12 months," read a statement by the department store to customers.
To identify the product: The SKU is on the packaging as well as on the care label.
Medium Blue – Item# 299463
Light Green – Item# 299460
Medium Pink – Item# 299465
These items were on sale: 10 November 2017 – 10 November 2018
What to do if you have this item?
Customers should check if the labels are securely sewn onto the bibs and either cut out the care labels with scissors or return the bibs to a Best&Less store for a full refund or exchange.
For further information, consumers should contact Best&Less Customer Support on 1300 135 766 (Monday to Friday, 8.30am – 5pm) or visit http://www.bestandless.com.au
See productsafety.gov.au for Australia product recall information.
WARNING: Redsbaby is urging customers to check brake on stroller
A popular baby bassinet has been recalled
Healthy Kids and The Healthy Mummy
For more Healthy Mummy articles relating to children's health, you can read our archive of articles here.
To keep up to date with kiddie-related health news, kid-friendly recipes and general updates follow our Healthy Mummy Healthy Kids Facebook Page.