5 Tweets That Prove Ryan Reynolds Is The Funniest Celebrity Dad
We never knew how hilarious Ryan Reynolds was. I mean, we knew he had a little humour in him, but since becoming a father (and getting onto Twitter), he's really stepped it up a notch.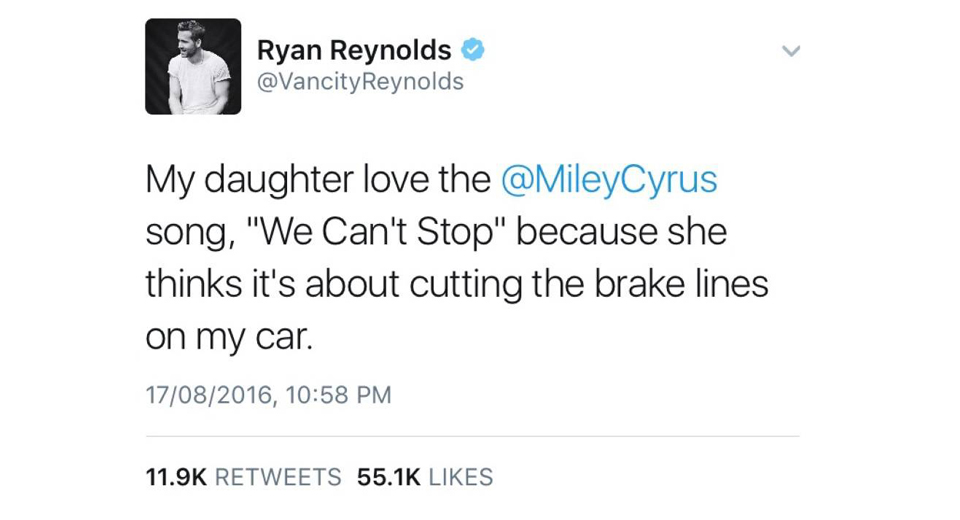 Parenting Advice?
Do not, under any circumstances, use Ryan Reynolds as your 'go to' for parenting advice.
Damn it's hard letting your infant daughter go somewhere alone for the first time. I was a total mess dropping her off at Burning Man.

— Ryan Reynolds (@VancityReynolds) September 7, 2016
I mean, who comes up with this stuff? Smart and absolutely hilarious!
I feel like I need to make it clear that he's obviously not serious.
On our 6am walk, my daughter asked where the moon goes each morning. I let her know it's in heaven, visiting daddy's freedom.

— Ryan Reynolds (@VancityReynolds) October 16, 2016
This guy definitely has a hold on the whole 'make parenting fun' situation. Even though he and wife Blake Lively are extremely private about their family life, he loves sharing these little gems.
Tinder isn't a babysitting app. Apologies to Crystal and Janine for the misunderstanding.

— Ryan Reynolds (@VancityReynolds) August 19, 2016
This one I find incredibly hilarious, mainly because he's used my name. PLUS, he tweeted it ON MY BIRTHDAY! How did he know??
Ask your doctor if you qualify for an extension. A 4th, possibly even 5th trimester can be very peaceful for the father. Congrats. https://t.co/CTdyI66in3

— Ryan Reynolds (@VancityReynolds) October 11, 2016
He even finds time, in his busy schedule, to hilariously reply to fans.
Ryan and Blake have a daughter, James, and recently welcomed their second child to the world. There are no details yet about the new bub, though we can't wait to hear both the name and gender. And also some more hilarious tweets. Plus, his Instagram account is pretty funny too.
https://www.instagram.com/p/BMApAOSh9Ty/?taken-by=vancityreynolds&hl=en
Keep them coming, Ryan. We love a good giggle.
Make sure to browse our archives for more reliable parenting advice.