Save Time AND Money with this ultimate bulk cooking guide
Cooking in bulk can be a great activity that will actually save you time and money further down the track.
If you're got any spare time on your hands, cooking in bulk can be a great activity that will actually save you time and money further down the track.
Just with a little bit of planning, you can stock your freezer with heaps of delicious and family-friendly meals ideal for when you're time poor or just don't fancy cooking.
The beauty of The Healthy Mummy's 28 Day Weight Loss Challenge is that it has a heap of recipes you can customise into a meal plan for the week, and use similar ingredients in order to keep the cost of your grocery shop down.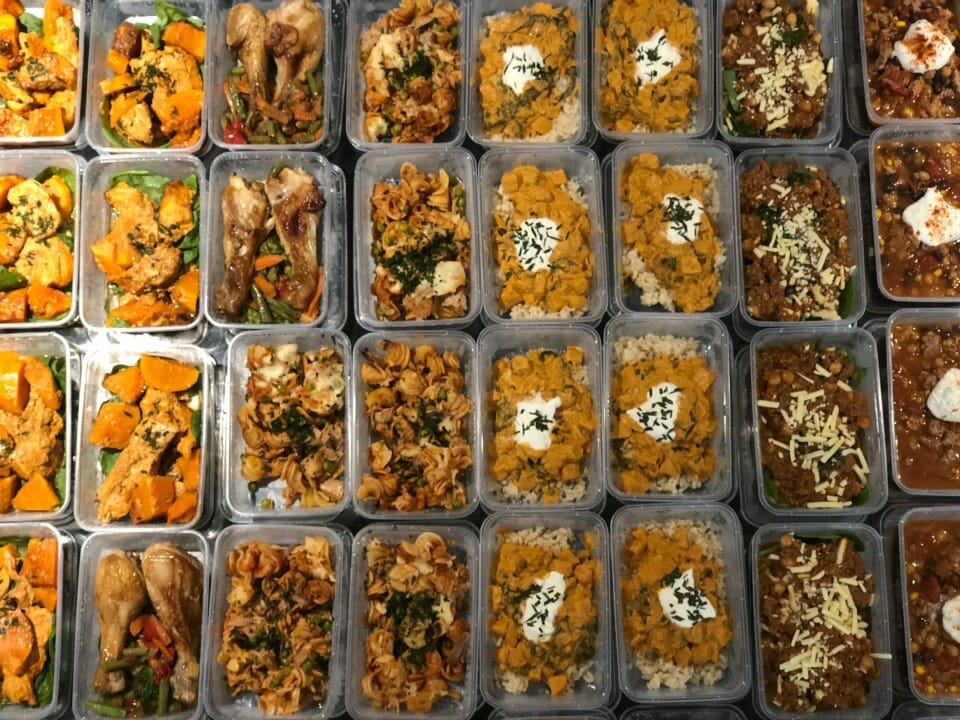 How to cook in bulk
Let's face it, when you're a busy mum finding time to cook 21 healthy meals each week can be tough.
Setting aside some time on the weekend to bulk cook meals the family loves, will not only save you heaps of time in the week, but it will also ensure you are staying on track with your health plans, and won't be tempted to opt for a takeaway or unhealthy options.
Initially, it may seem a little daunting to bulk cook lots of different meals, but you could start by just doubling or tripling your favourite family meal.
You're cooking anyway, why not just make extra for another day? When you get into the habit of planning and cooking big batches – you'll always be one step ahead (with a freezer full of healthy meals!)
6 one pot wonders to bulk cook and freeze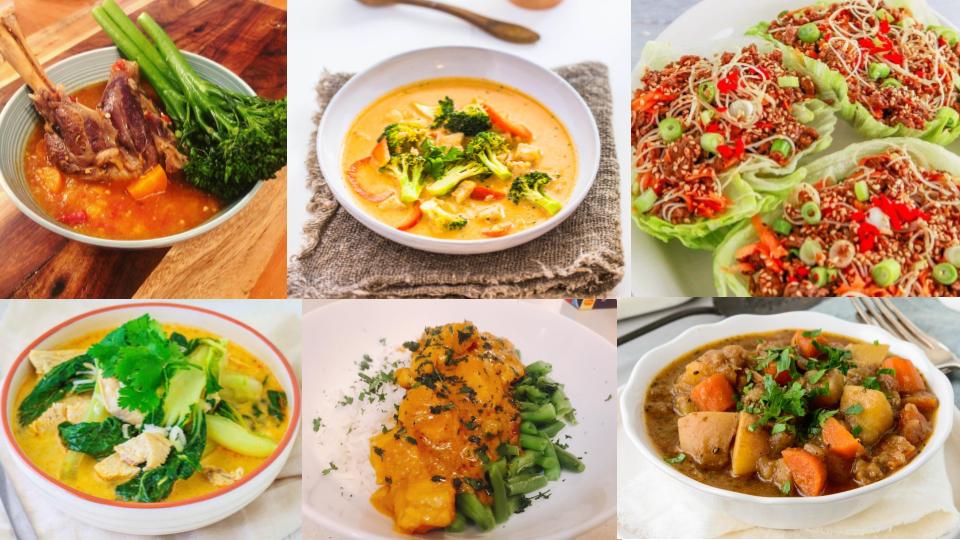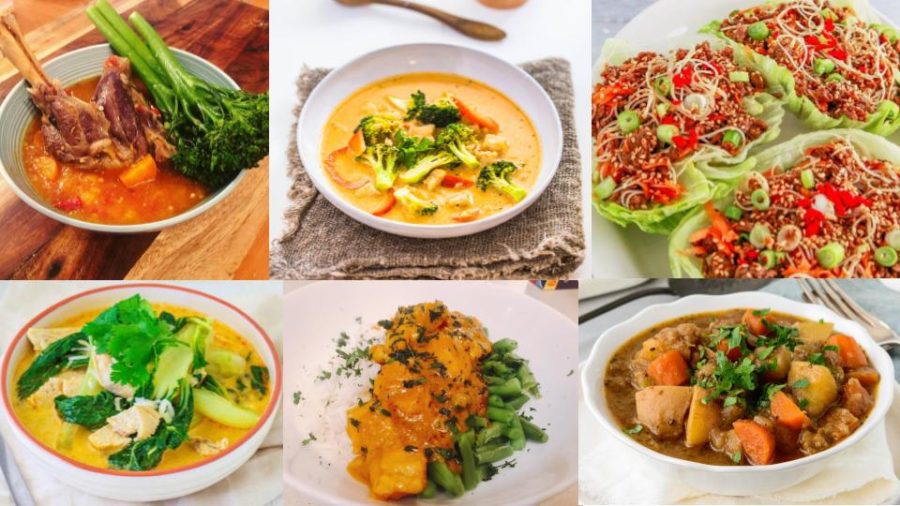 1.Healthy Chicken Laska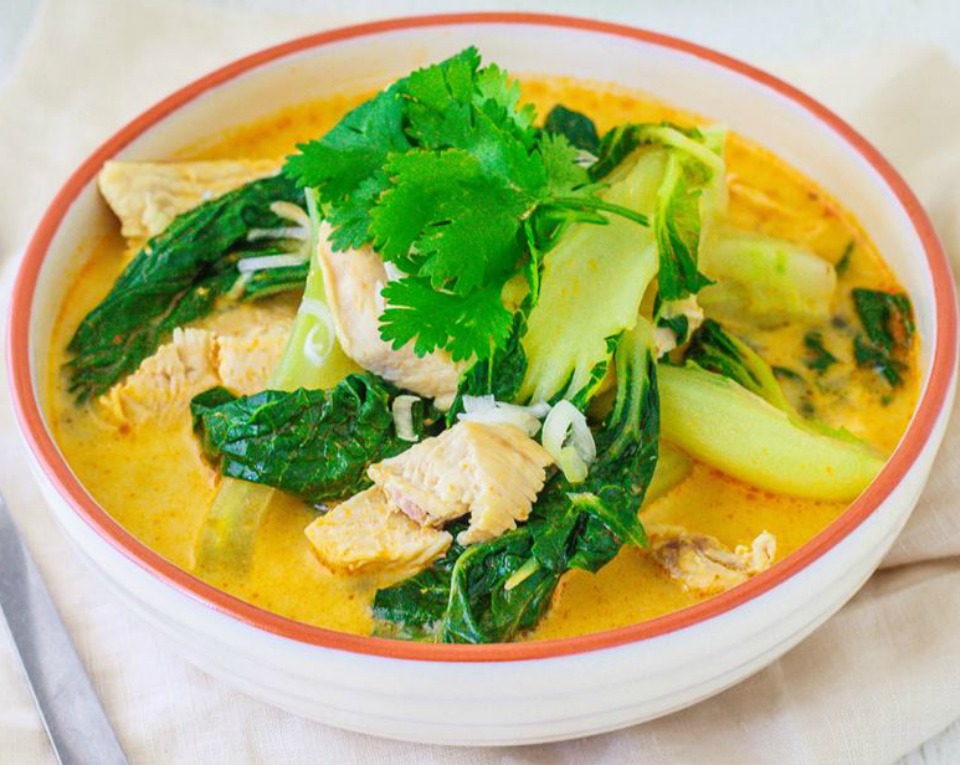 This healthy and weight loss friendly meal uses only 5 ingredients! If you're craving takeaway but don't want all those calories, this is a perfect alternative. It's super easy and quick to make too, so double the quantities and save a stash for your freezer.
2.Lamb Shanks with Parsnip Mash & Greens

This comforting and warming slow cooked lamb is a great recipe to make on the weekend when you're preparing for the week ahead. It just takes 15 minutes to prep, and then the oven does all the work.
Get this recipe on the 28 Day Weight Loss Challenge
3. Budget Beef Stew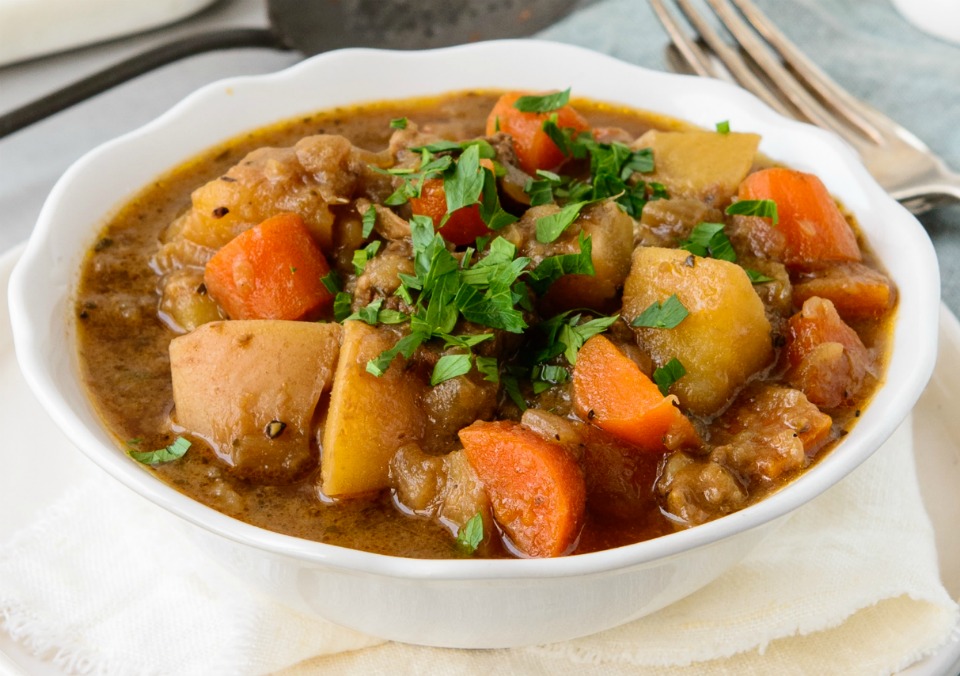 This is a great budget-friendly dinner to make for the whole family with the advantage that you can freeze portions for another meal.
This Budget Beef  Stew is comforting and nutritious and with only 356 cals per serve, it won't spoil your weight loss plans.
4. Fish and Vegetable Curry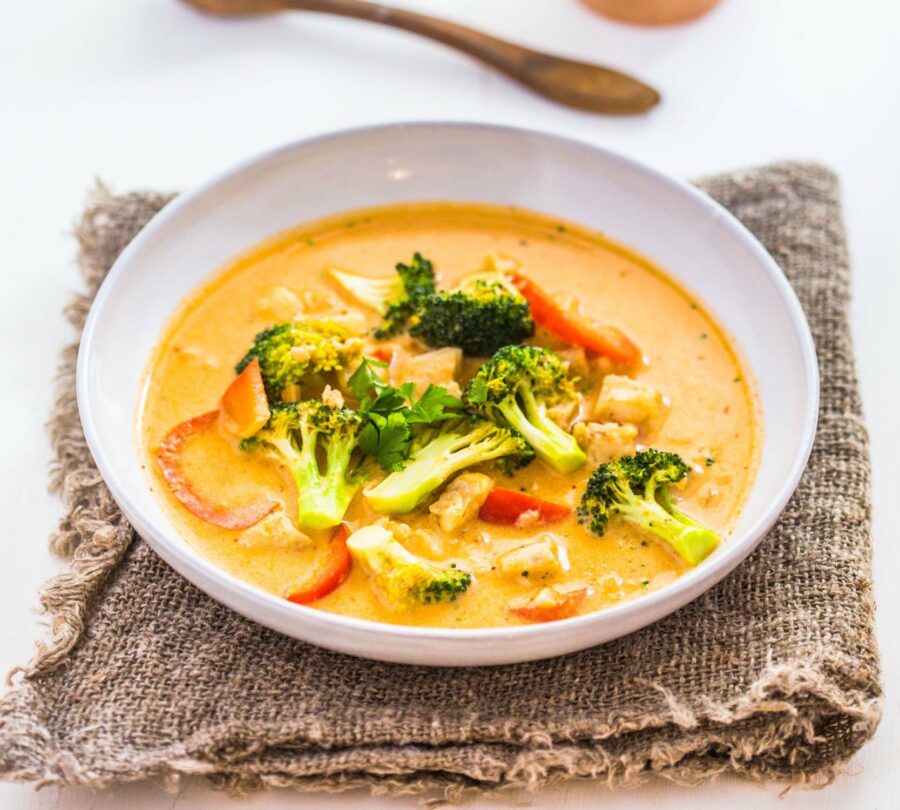 This yummy fish curry literally only takes 5 mins to prepare and 7 mins to cook! It's budget-friendly at only $2.57 per serve with heaps of flavour but only 318 cals. It's a win win! Please note the cost is calculated based on 2021 prices, which may vary over time!
Get this recipe on the 28 Day Weight Loss Challenge
5.Beef San Choy Bow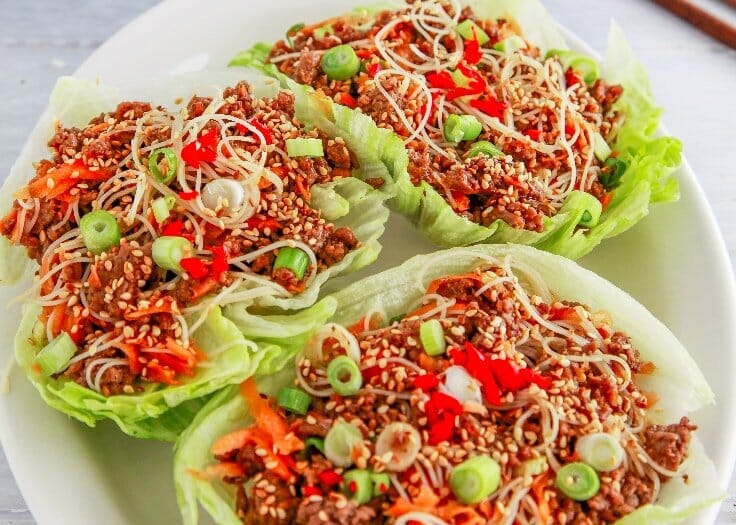 This is a great one to have on standby in the freezer. Beef San Choy Bow is a versatile dish you can enjoy in lettuce cups or with rice or even in a wholemeal wrap. Either way, it's delicious!
6. Easy Butter Chicken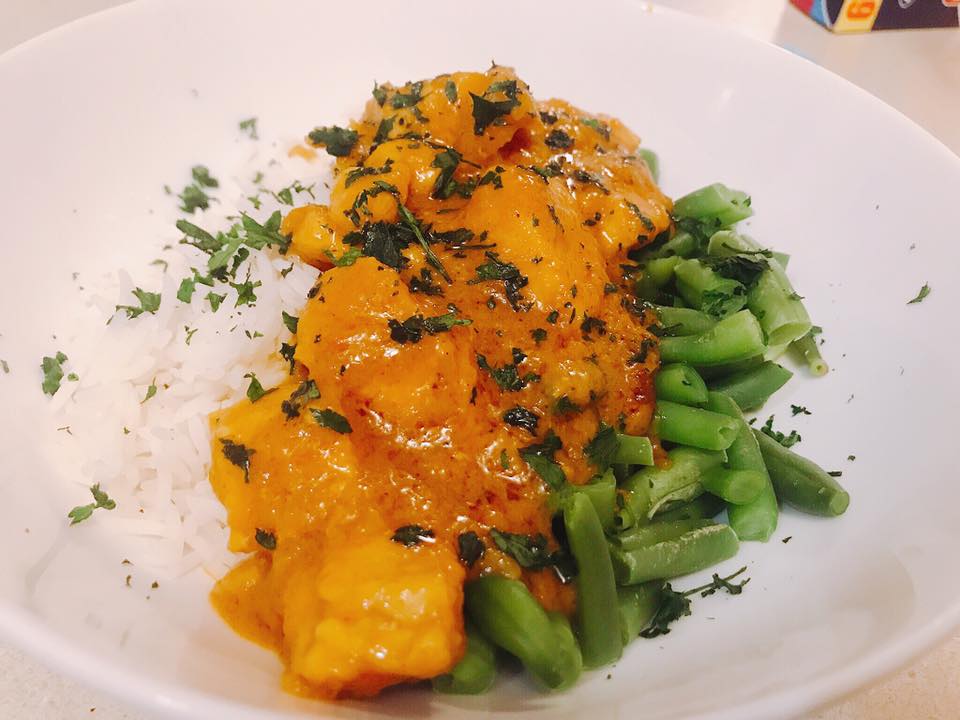 This is another super easy dish to cook in bulk to enjoy as a nutritious mid-week dinner or a weekend 'Fakeaway' meal!
7 EASY Family Friendly Meals that can be made in advance and won't break the budget!
1. Cowboy Chilli x 10 serves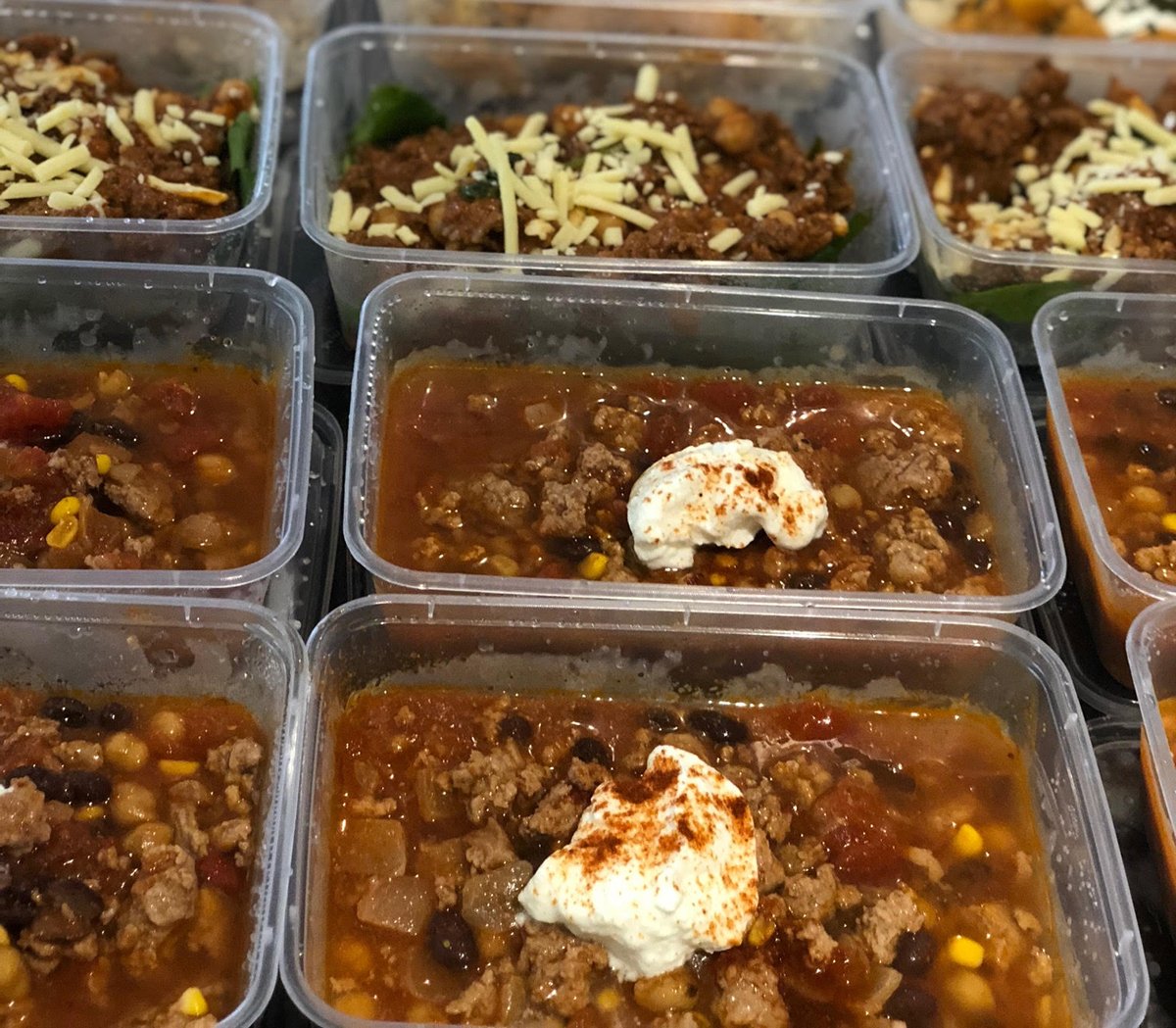 This recipe is available as part of the 28 Day Weight Loss Challenge.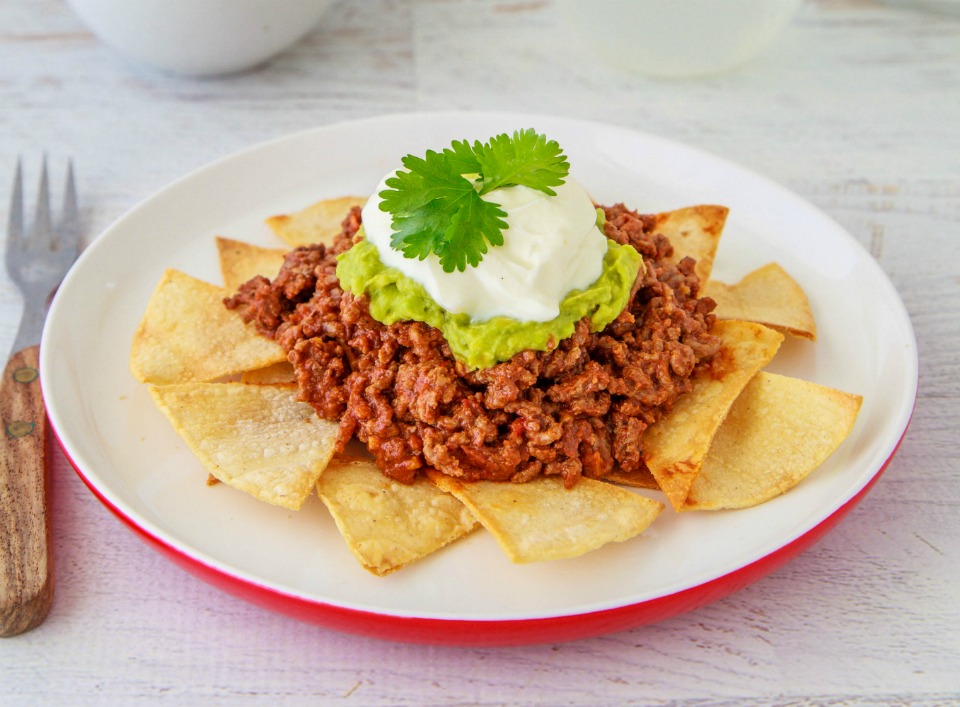 Get the Beef Nachos recipe here
3. Pumpkin and Spinach Curry x 10 serves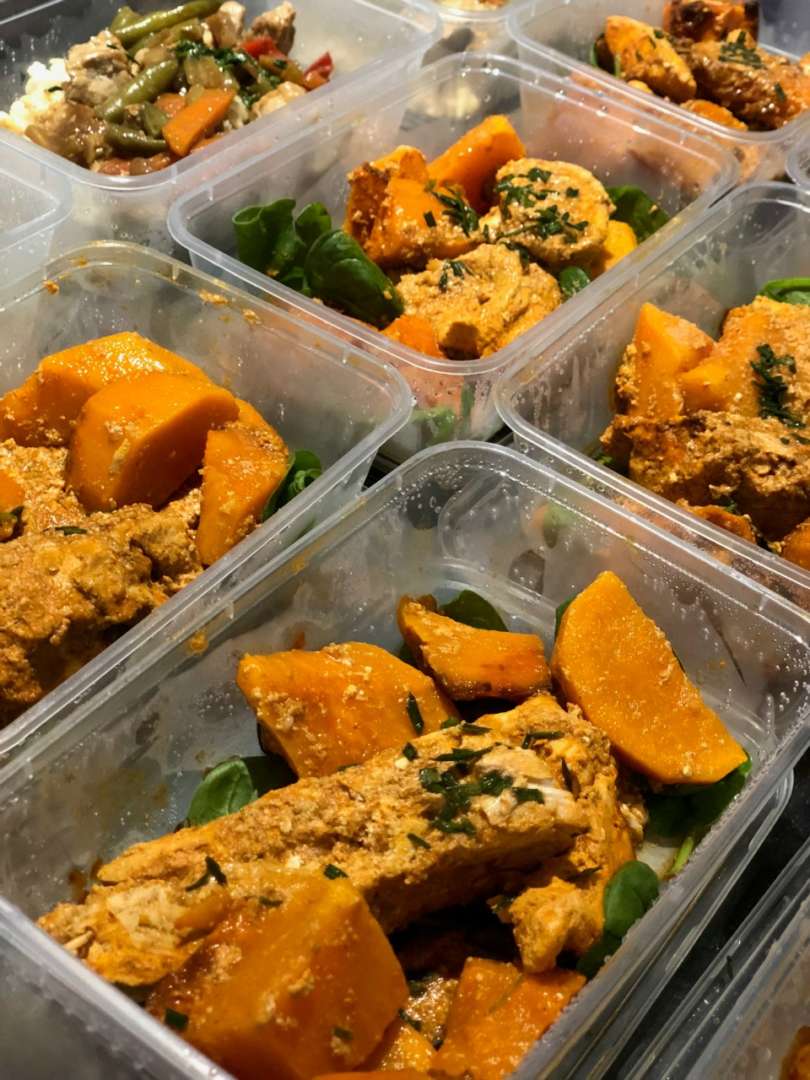 This recipe is available as part of the 28 Day Weight Loss Challenge.
4. Tuna Pasta Bake x 8 serves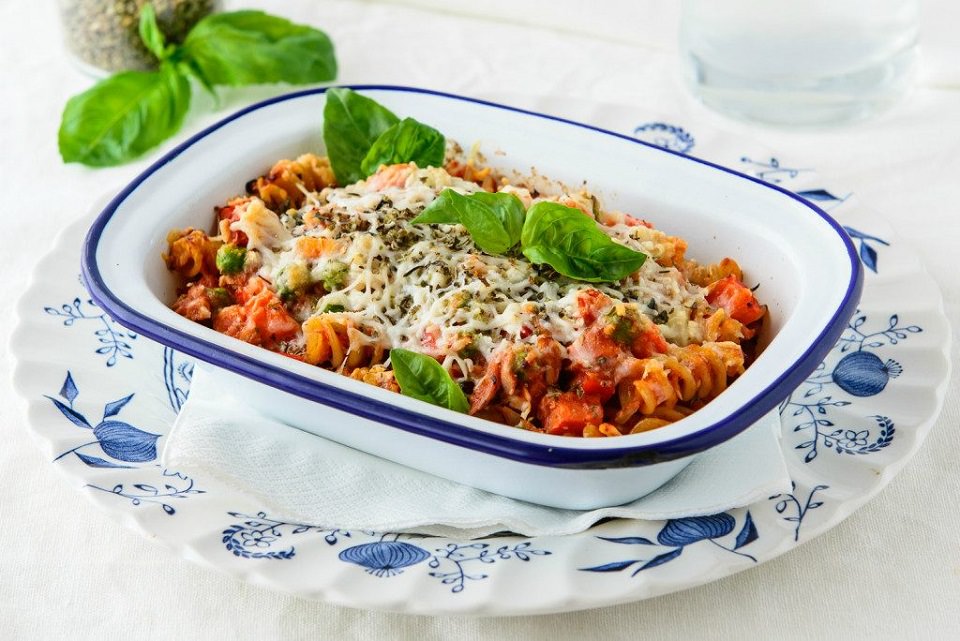 This recipe is available as part of the 28 Day Weight Loss Challenge.
5. Sticky Chicken Drumsticks x 5 serves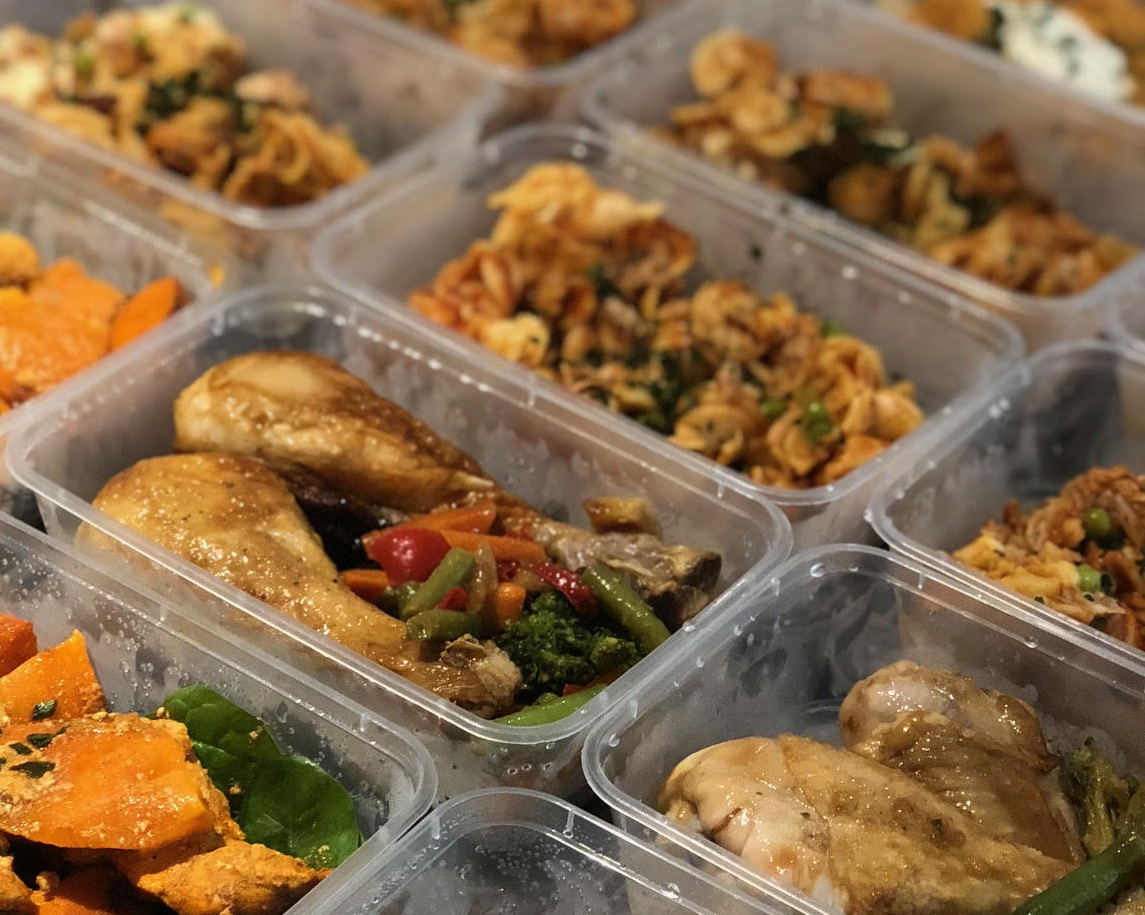 Get the sticky chicken drumsticks recipe here.
7 x Chicken Curry Potato Bake
This recipe is available as part of the 28 Day Weight Loss Challenge.
6 x Hoisin Pork Stir Fry
This recipe is available as part of the 28 Day Weight Loss Challenge.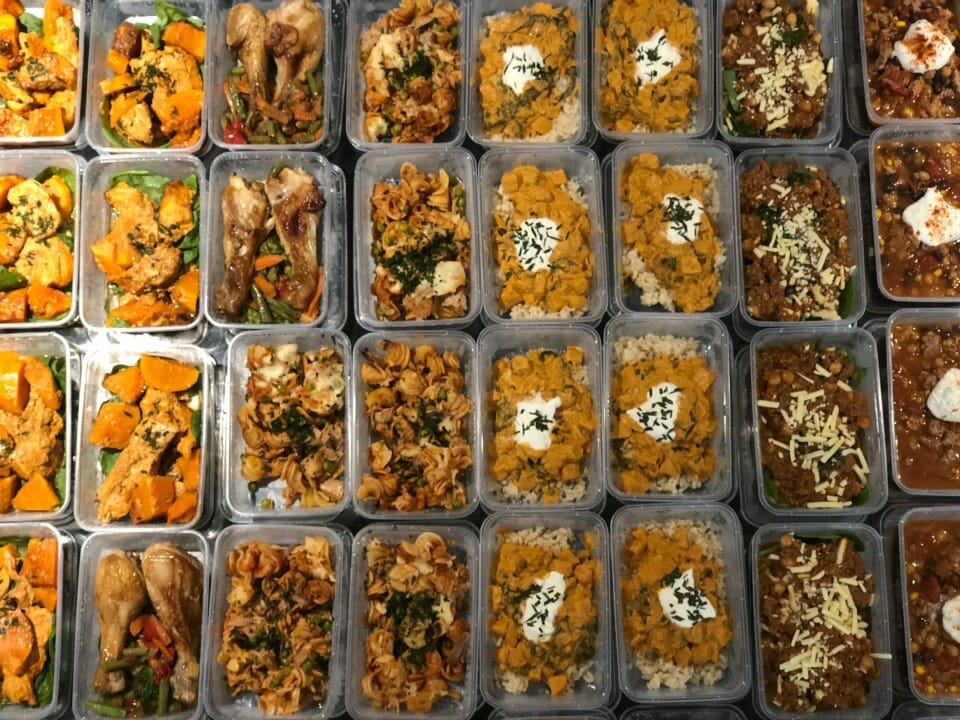 Top 5 Tips for Saving Money and Time in the kitchen
1. Buy frozen pre-cut vegetables for stir fry's and other meals that contain a variety of chopped veggies this saves time and cuts wastage. What you don't use can go straight back into the freezer.
2. Bulk Mince based meals out with tinned lentils this bulks out meals and works out a lot cheaper than using extra meat and honestly, you can barely tell!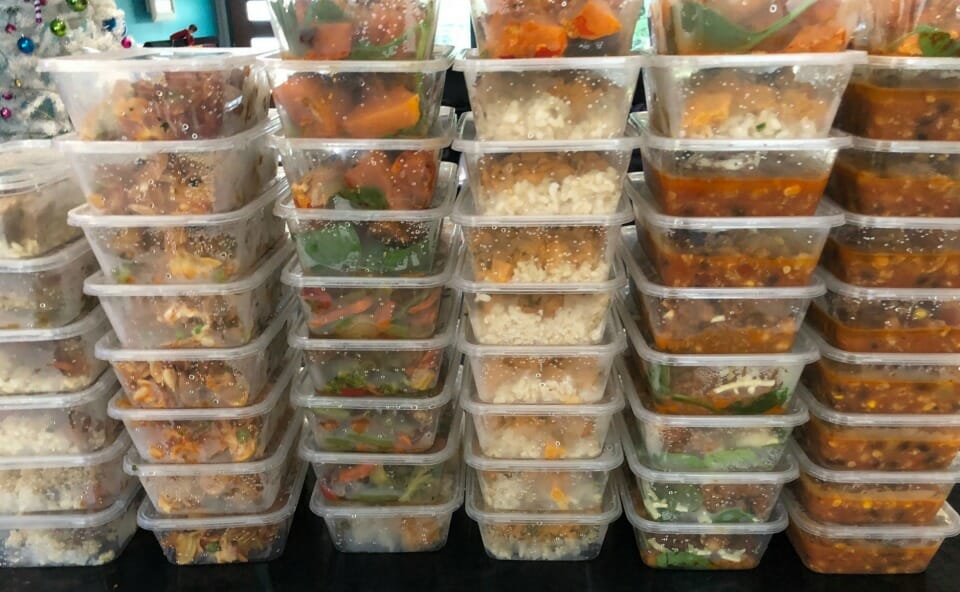 3. Try a vegetarian dish each week! Pumpkin and Spinach curry is a fave in our house.
4. Shop smart! Look at weekly sales, make a meal plan around them and do your best to stick to your shopping list- personally, this is why I love online shopping, there is less temptation!
5. Make dishes with similar ingredients!
Buying in bulk normally works out cheaper and it's easier to have multiple meals on the go at once.
Our top 10 hacks to get you bulk cooking and freezing!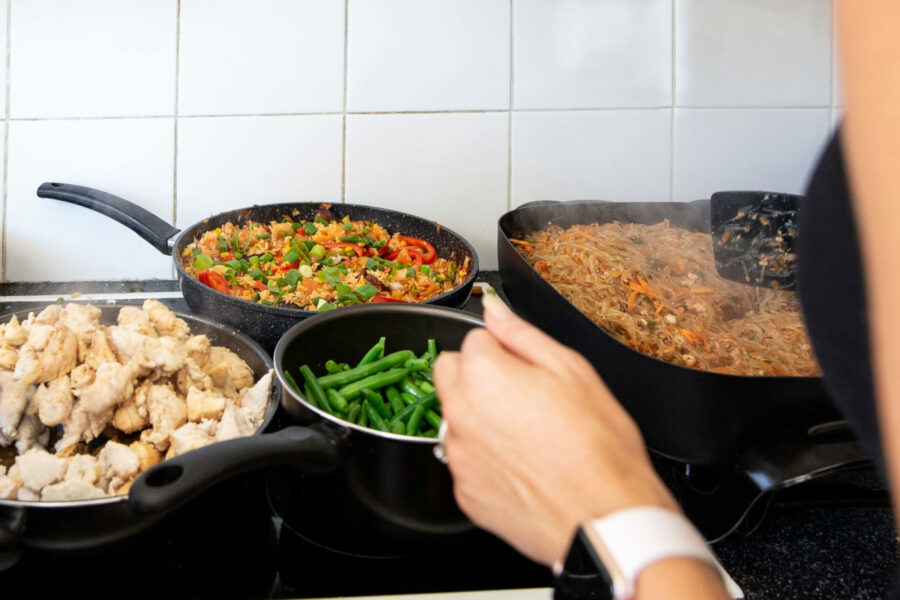 1.Plan Plan Plan
This is probably the most important Tip! Before you start, write out a list of what you're going to cook. Think about if you're preparing meals for the freezer or fridge as not all meals freeze well. Curries, stews and soups are perfect to portion up for the freezer, while you might make up a stir fry or chop up salad ingredients for the fridge to use that week.
2. Shop your pantry and fridge
Think about what you've already got in the fridge or pantry that you can use in recipes so you aren't wasting food and money. The Healthy Mummy App is great for this as you can search an ingredient and it will give you a heap of ideas of what to cook.

3. Reuse ingredients
Pick similar ingredients that can be used in a couple of different recipes. It'll save time on prepping lots of different ingredients and you may get a deal on buying in bulk.
4. Shop in season
It's a no brainer, but if you're cooking in bulk, always try and shop fruits and veggies that are in season. They're obviously going to be cheaper and you can really take advantage of deals and items on sale.
5. Prep before cook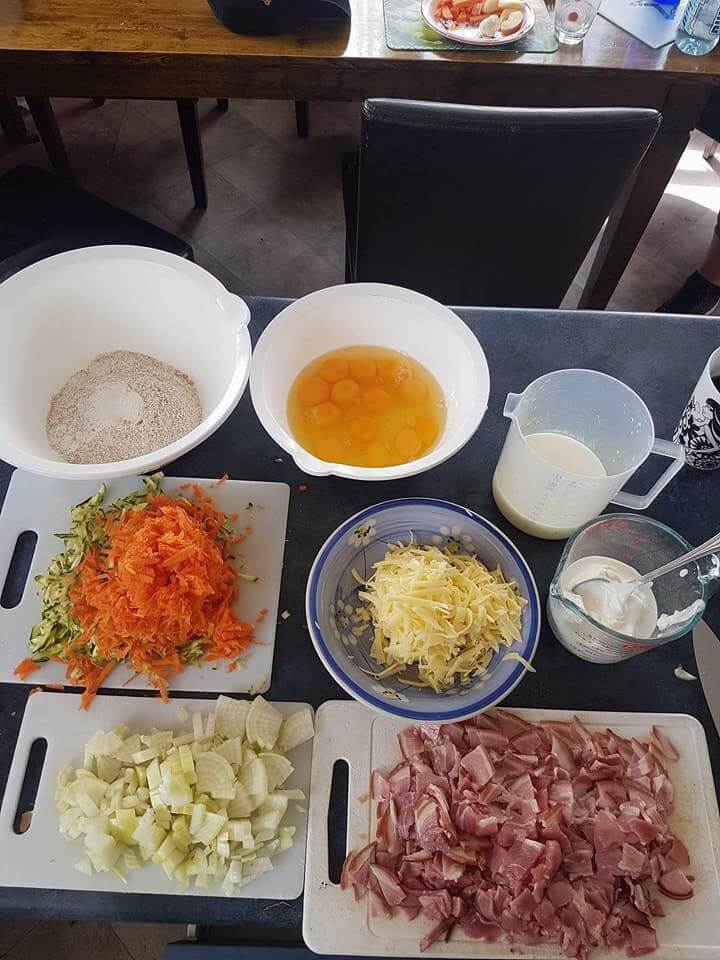 Before you start cooking, write out your plan of attack! Think about what you're going to cook first, how long everything is likely to take, and that you've got necessary containers!
Then prep all your ingredients. Chop everything you need first, as it will save time when you get going with the actual cooking!
6. Mix up cooking styles
If you are planning on getting lots of meals prepared in one go, choose recipes where you can use different kitchen aids.
If you've got lots of things going at once you'll get the job done quicker!
7. Don't forget snacks!
For many people who are on a weight loss journey, snacking on the wrong foods can be their downfall. When you get peckish in the middle of the day or just before bed, having healthy low calories snacks you can just grab will keep you on track, and stop you reaching for the Tim Tams! Snacks like Healthy Nutella Bliss Balls , and Easy Zuchinni Muffins are great to keep in the fridge or freezer.
8.Containers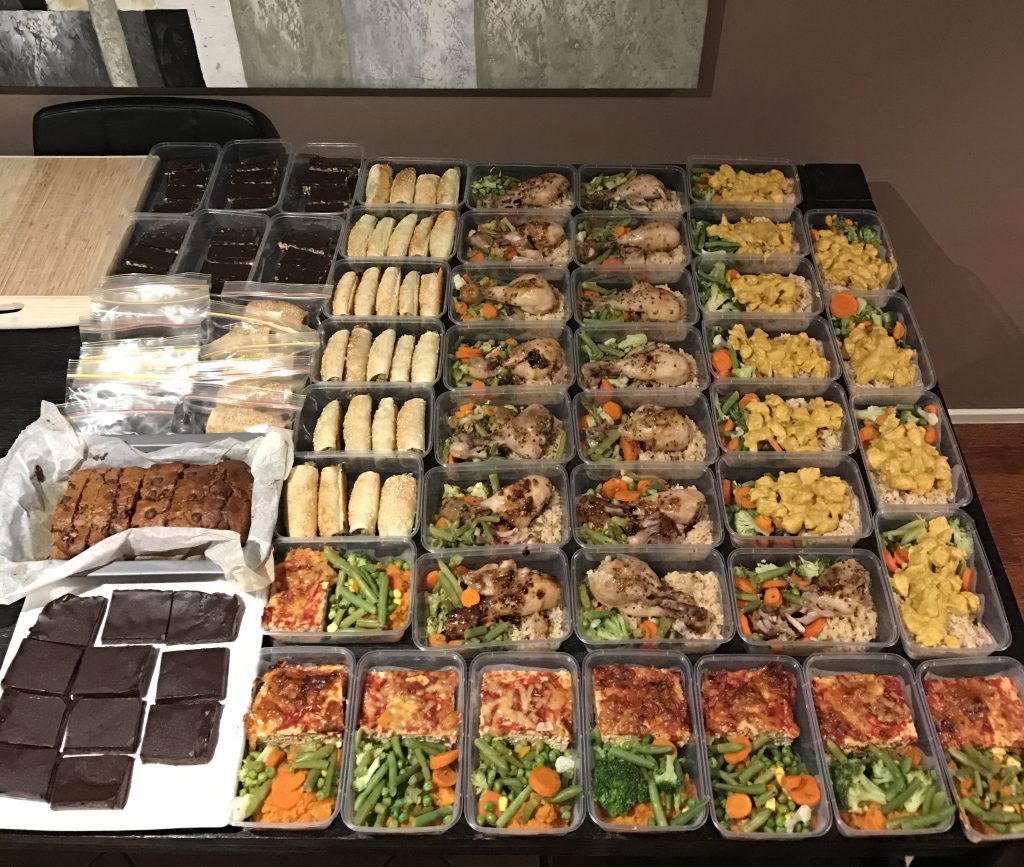 It's worth getting some good containers in different sizes to store all your healthy meals. Make sure everything is cooled properly and you've expelled as much air from your container or freezer bag to avoid freezer burn.
9.Portion up properly
If you are trying to lose weight and are watching your calorie intake, it's important that you portion your meals up correctly so you know what calories you have in your portions.
This can get a little tricky if you are portioning up for your whole family. Writing out how many portions are in each container will help you stay on track, (even if your partner has more portions that you!) Doing different size portions in different container sizes will give you extra options too.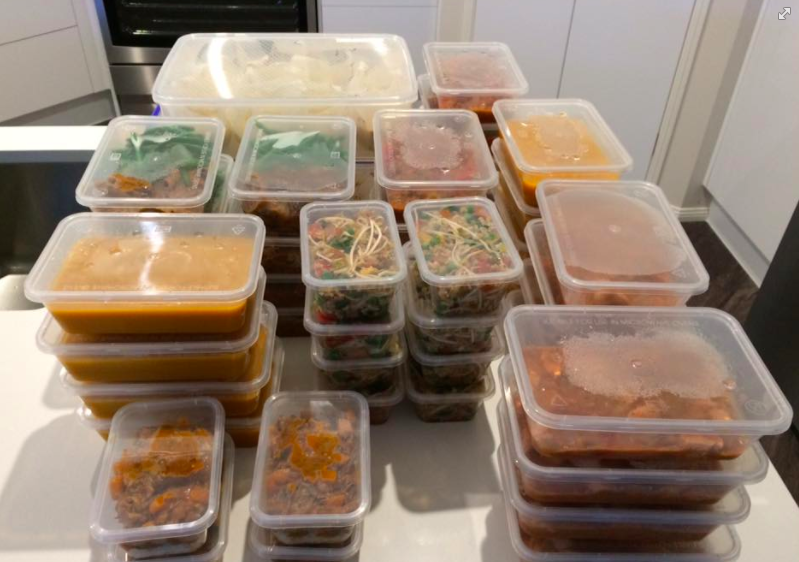 10. Label everything
When you've finished a big bulk cooking session, and you have all these awesome meals laid out on the kitchen bench and you're feeling very proud of yourself, it's easy to think you'll remember everything you've cooked! But it's amazing how similar everything begins to look once it's been in the freezer for a week or so. Always label exactly what you've made, how many portions in each container, and the date you made it.
*Bonus tip
Don't think of bulk cooking as a huge chore, enjoy it! Make that time, your time. Crank up the music, get the kids involved and use the time as a bit of therapy,  knowing that you're getting yourself super organised and ahead, ready to smash your health goals!
See how this mum made 282 serves of Healthy meals and snacks for under 80c per serve!
How to save TIME and MONEY by bulk cooking and freezing
1. WHY WOULD YOU WANT TO COOK IN LARGE BATCHES?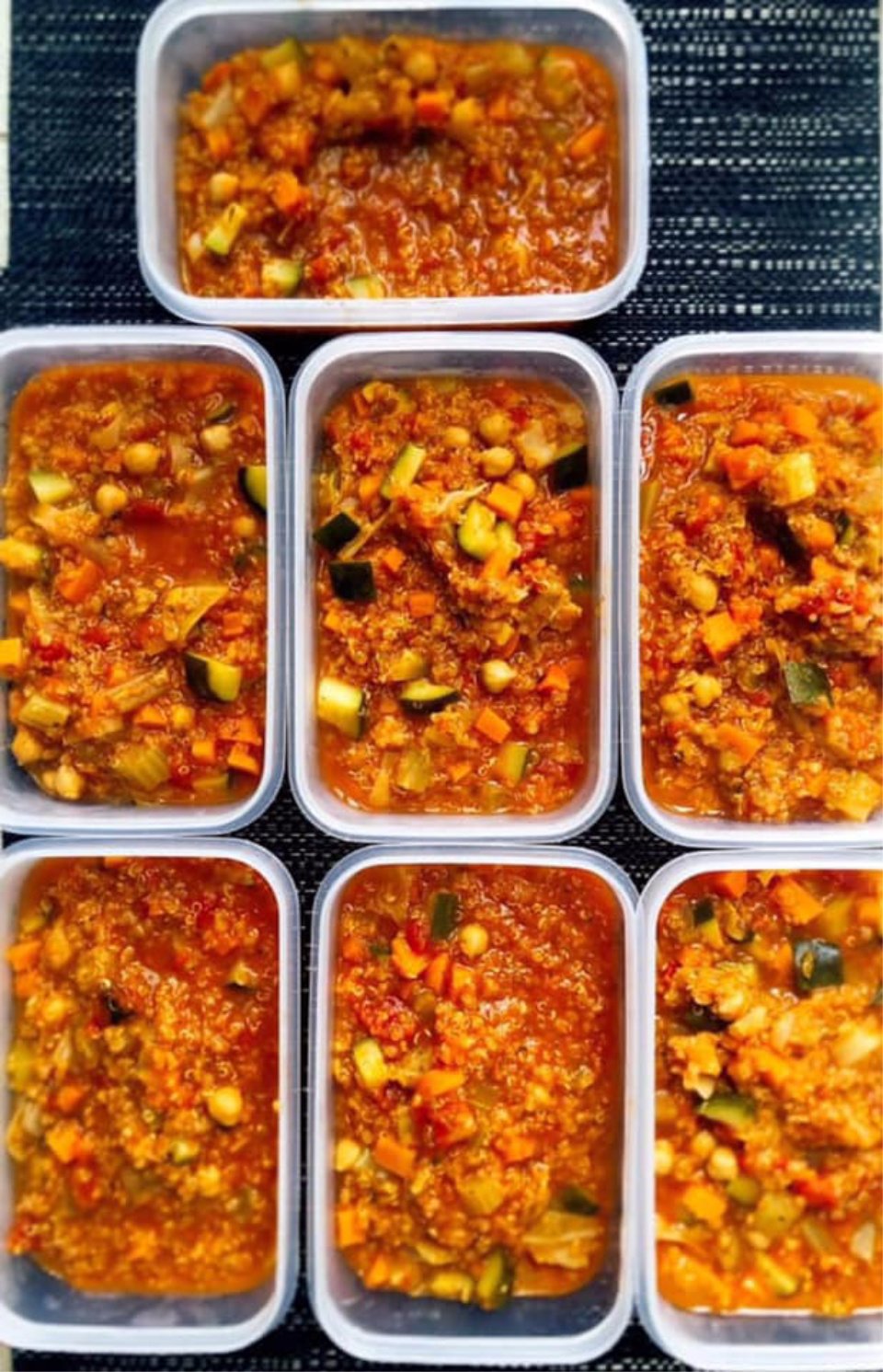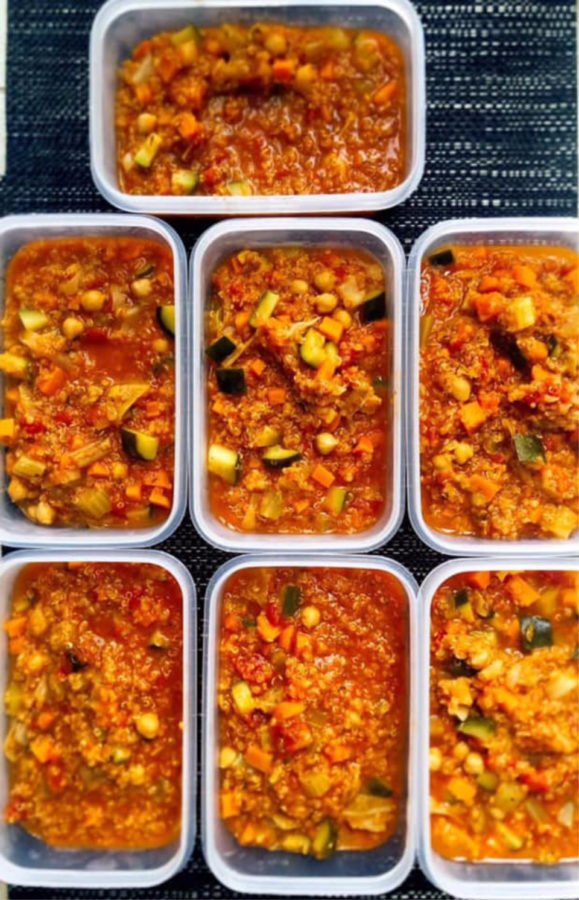 Cooking in bulk is preparing large amounts of food in one go then storing it in the fridge or freezer for later use. This type of prepping is a great way to save yourself a lot of time and energy, especially during chaotic and hectic weeks!
It can also be very cost-effective as you are buying in bulk, and there may be many significant discounts for purchasing food in larger quantities at your local grocer.
If you've never cooked in bulk before, getting started may seem a little daunting or even overwhelming. However, if you break down the cooking process into steps, allowing yourself proper time for each phase, you will be a pro in no time. It's all about practice and repetition.
2. BULK COOKING MEANS YOU COOK LESS OFTEN, SAVING TIME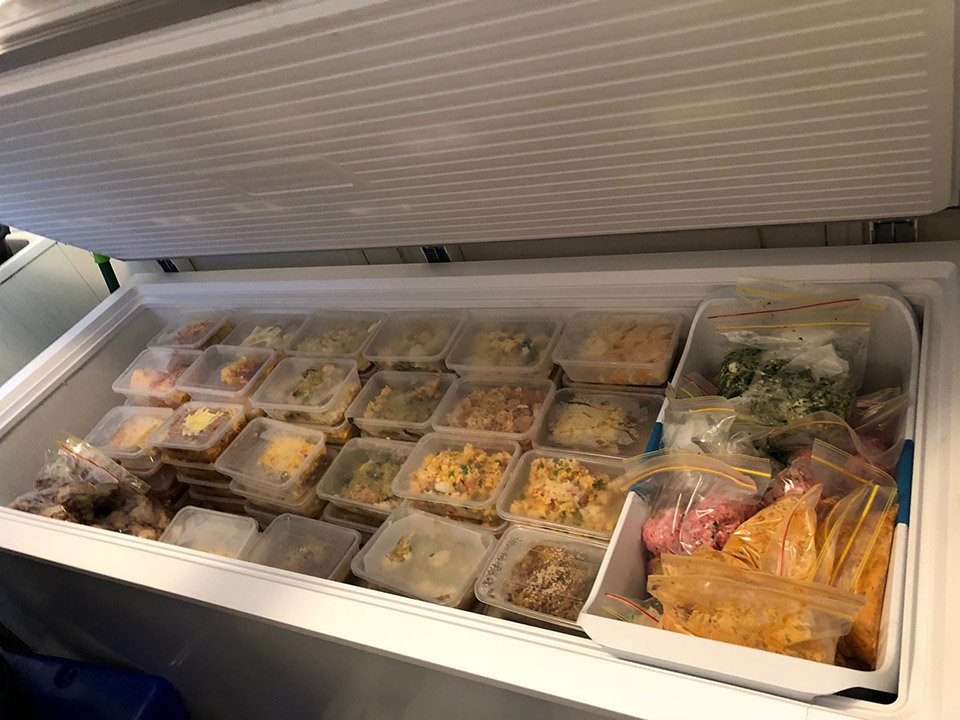 When you do bulk cooking and bulk freezing, you will always have a quick and easy meal at hand. Healthy and as convenient as they come – just heat and serve!
You can spend less time in the kitchen and more time with the family. You can even bulk cook breakfasts and freeze them. The 28 Day Weight Loss Challenge has heaps of delicious breakfast recipes for you such as slices, muffins and savoury bakes.
Try these:- 6 One Pot Wonders to Bulk Cook and Freeze
3. BULK COOKING HELPS SAVE MONEY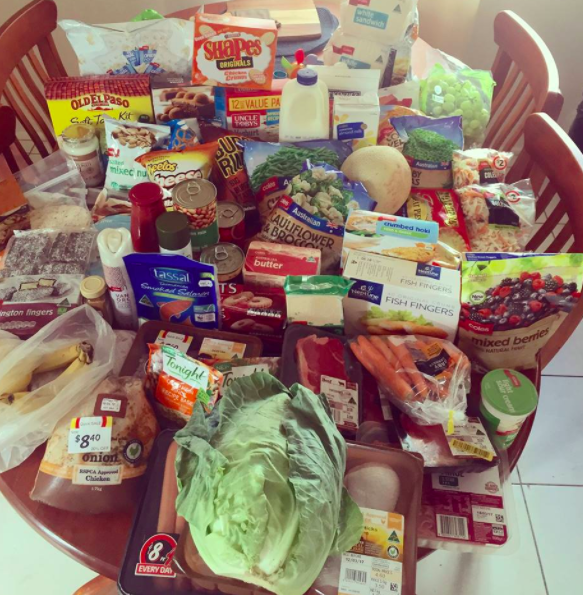 Now that you're cooking in bulk, it's time to buy in bulk. Decide where you will be shopping for your ingredients. Some stores offer a membership or points scheme which can give great savings for members.
For this purpose, membership at a bulk retailer is a sound investment. Choose from the recipes in the Healthy Mummy App which generates a shopping list, this will help you to keep on track and budget.
Mum makes 34 Winter Freezable Meals for under $100 – that's $2.90 per meal!  Please note the cost is calculated based on 2021 prices, which may vary over time!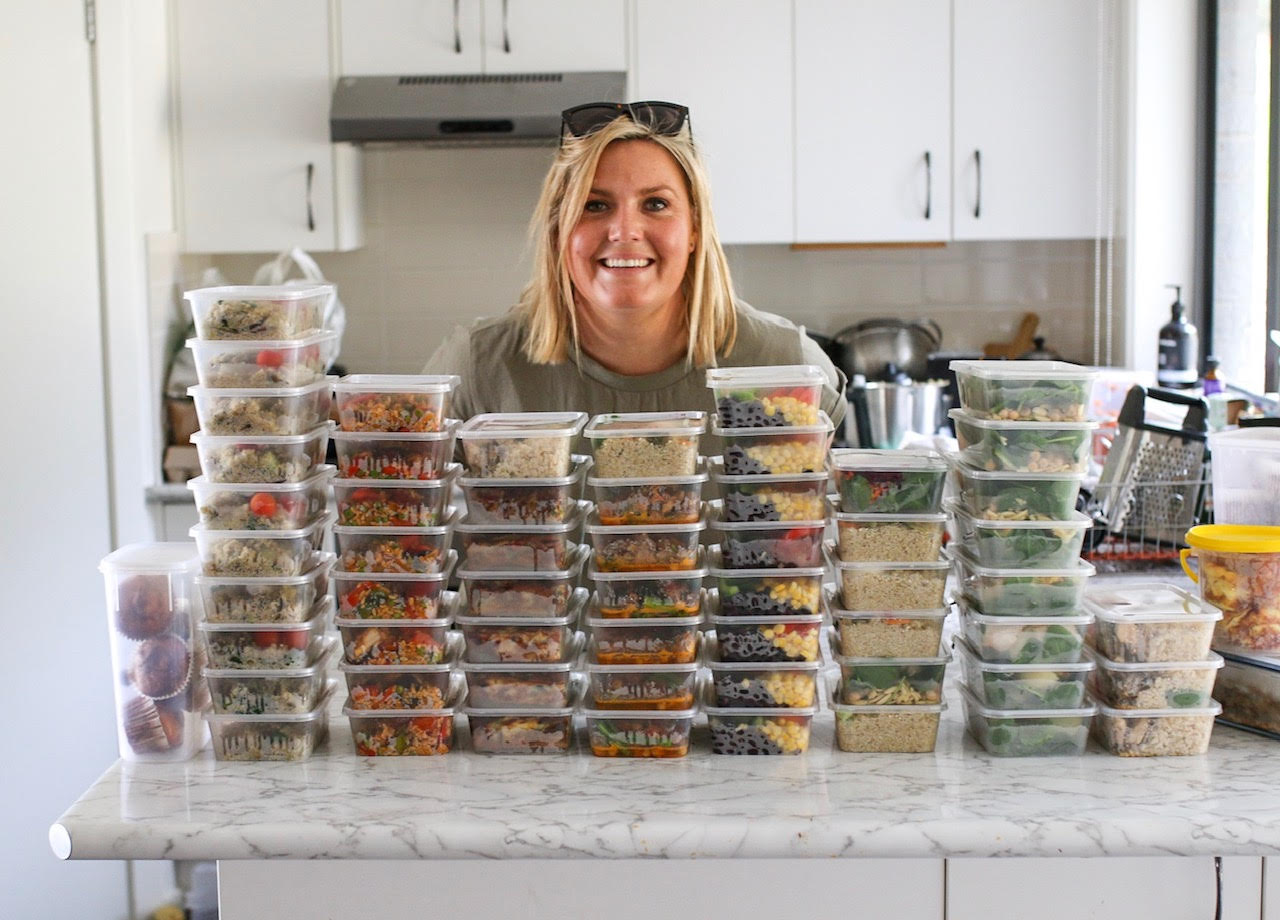 Set aside a full day for prepping, cooking and storing your meals, or do it over a few days. You can even enlist your children and/or partner to help you, making a fun all-day activity for the family.
Make sure you label everything you freeze (and store on pantry shelves, for dry and canned items) with the date it was made, as well as the expiration date.
4. SLOW COOKING IS A MASSIVE HELP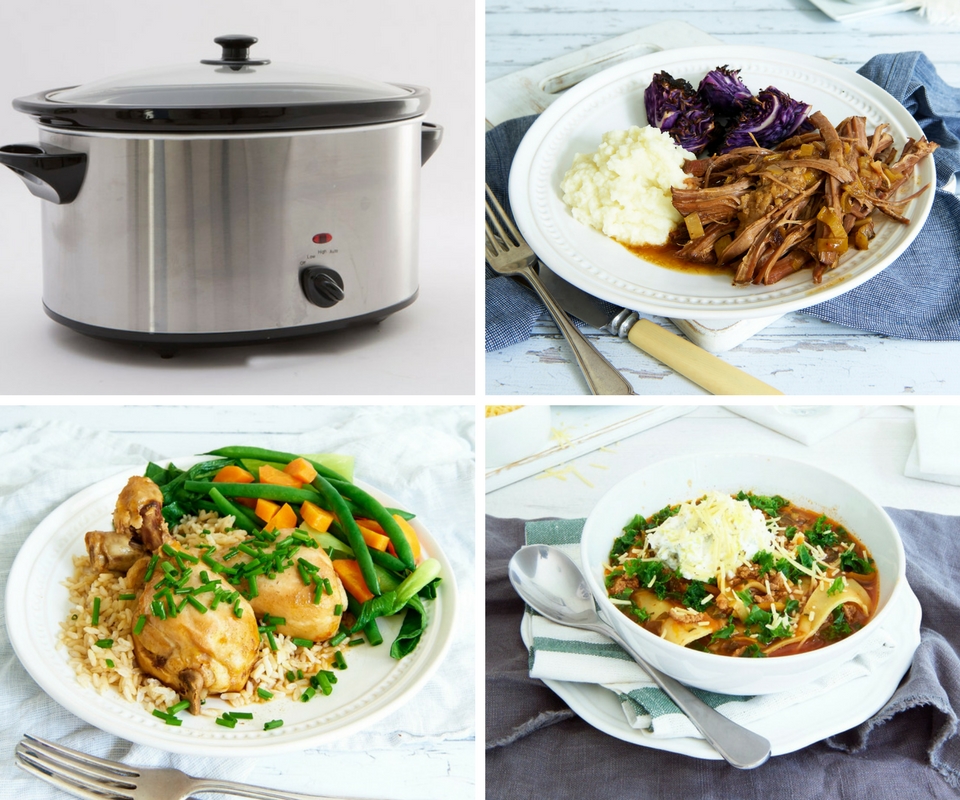 Your slow cooker can be your best friend when it comes to bulk cooking! It tends to lend a helping hand no matter what you're doing in the kitchen, but especially when it comes time to meal prep.
Not only does it do the cooking for you, it also makes batches of food for tons of lunches and dinners – and sometimes even breakfast! All of this in one little super-powered gadget… and an added bonus is that slow cooked meals are ideal for freezing!
Try these : 7 Budget Slow Cooker meals – perfect for your wallet and your waistline
FREEZING TIPS
Freezing the food you cook can be a very good use of time, especially if you're whipping up the variety of healthy recipes. Many meals and ingredients can be frozen which can help you have dishes on the dining table in no time.
Not only does it save you time, but it also can help to deter you from the infamous takeaway or 'bad for your health' bought convenience foods. You can also save money that you would otherwise spend on these things. And it's also important between meals. When you have healthy snacks in the freezer, there's no excuse for reaching for the unhealthy ones.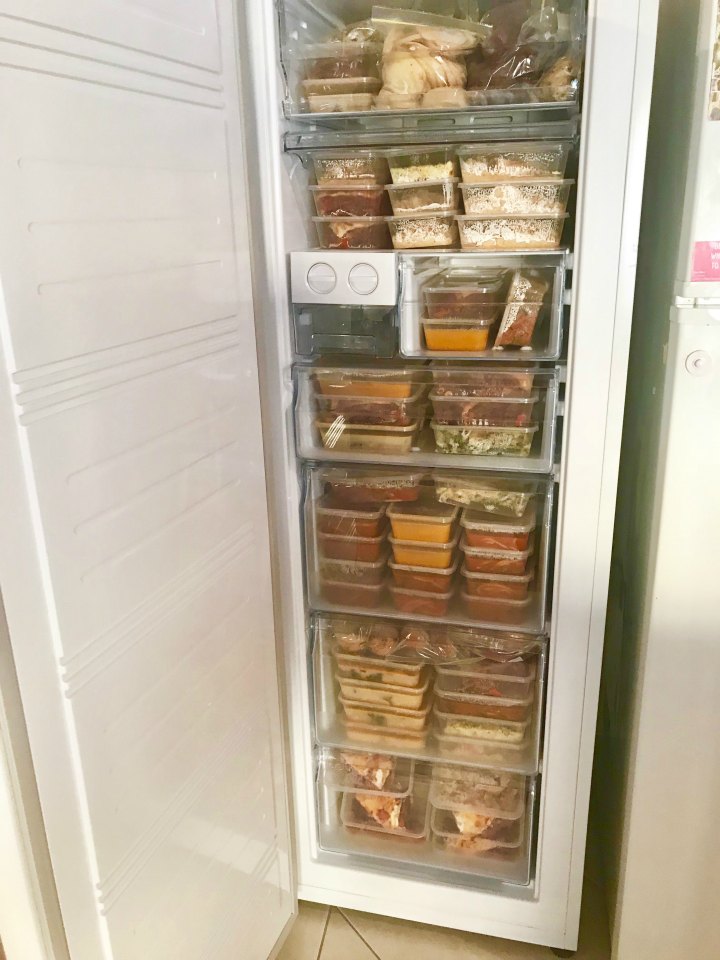 FREEZING YOUR FOOD
Once you have cooked your delicious food, let it cool down before you place it in an airtight container to be stored in the freezer.
Labelling
Prevent wasting frozen food by labelling it. On your labels, include what the meal is as well as the date it was cooked and frozen. Masking tape is very easy to write on, so a good tip is to stick it to the outside of the container.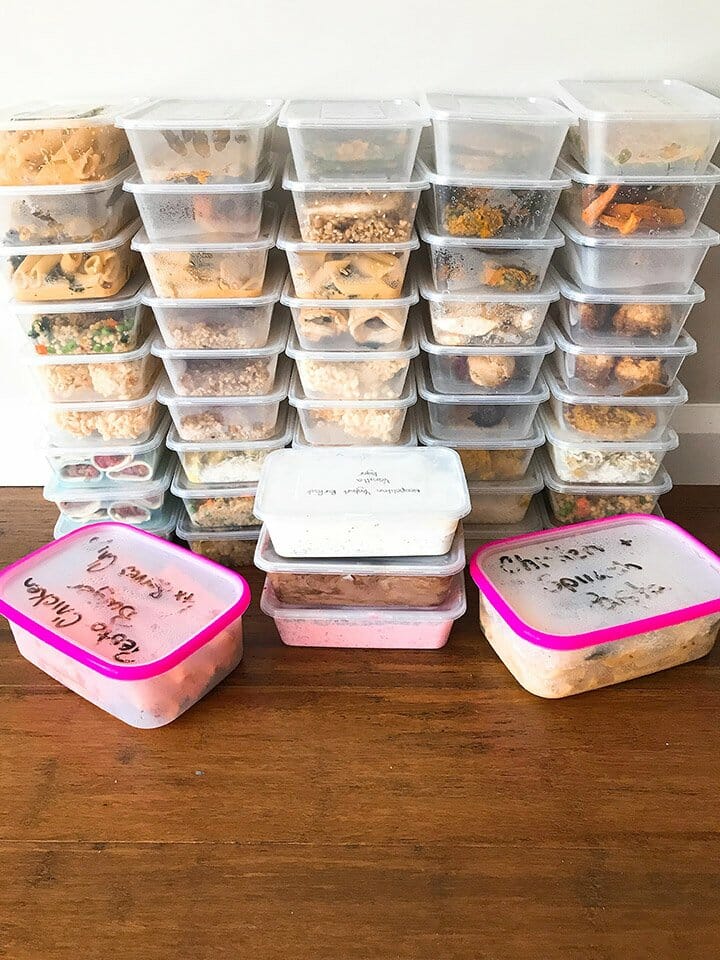 Packaging
Make sure that you are using containers that are specifically made for the freezer.
Thawing
The best method for thawing your food is the fridge. This is the easiest and safest method but it takes a long time, so it's important to plan ahead. You can thaw dinner during the day while you're at work. However, if you would like the food straight away, you could easily use the microwave. Be aware: microwaves thaw unevenly.
3 Mums share their 30 Top Tips to Meal Prep
11 ways to meal prep when you have a small freezer
If you want to meal prep but have VERY LITTLE freezer space, you have to get creative!
1. Make salads to last a week
Christine Jones shares her advice on making salad for the week – just keep anything 'wet' out of it and add it when ready to serve.
"I do salads in bulk for the week, I make about 7 and put them in separate containers. No tomato and no dressing and they would last the full week, just keep them at the back of the fridge."
2. Get breakfast sorted in one session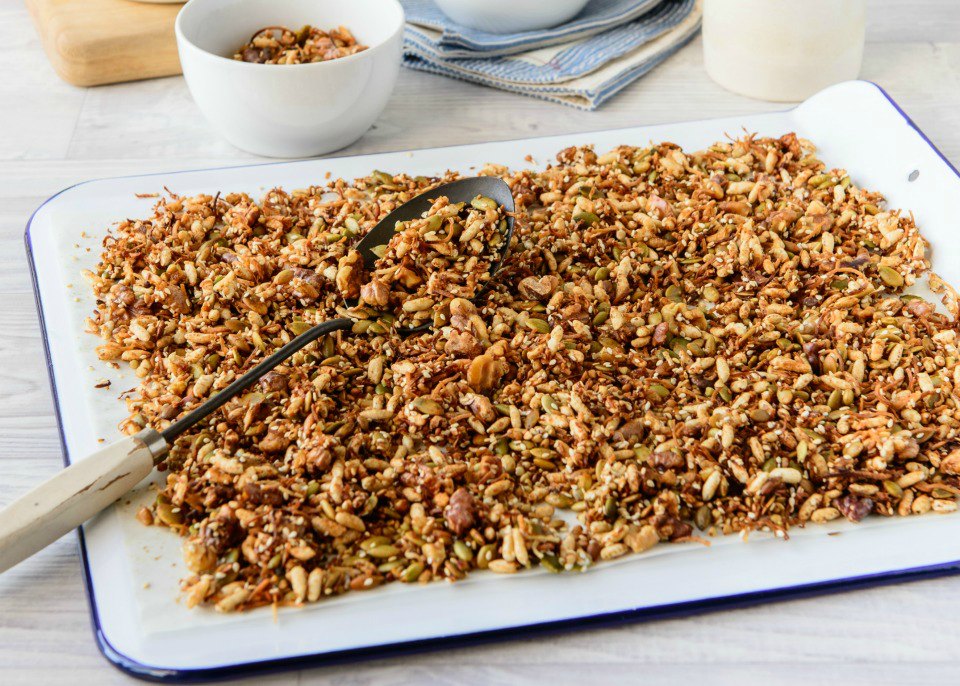 We often don't think of meal prepping for breakfast, but if mornings are busy it can be really helpful to ensure you don't miss a meal.
Try making a batch of Choc Berry Chia Pudding or a some of the Gluten Free Breakfast Granola (pictured above) to keep on hand for the week.
3. Meal prep lunch for the week and store in the fridge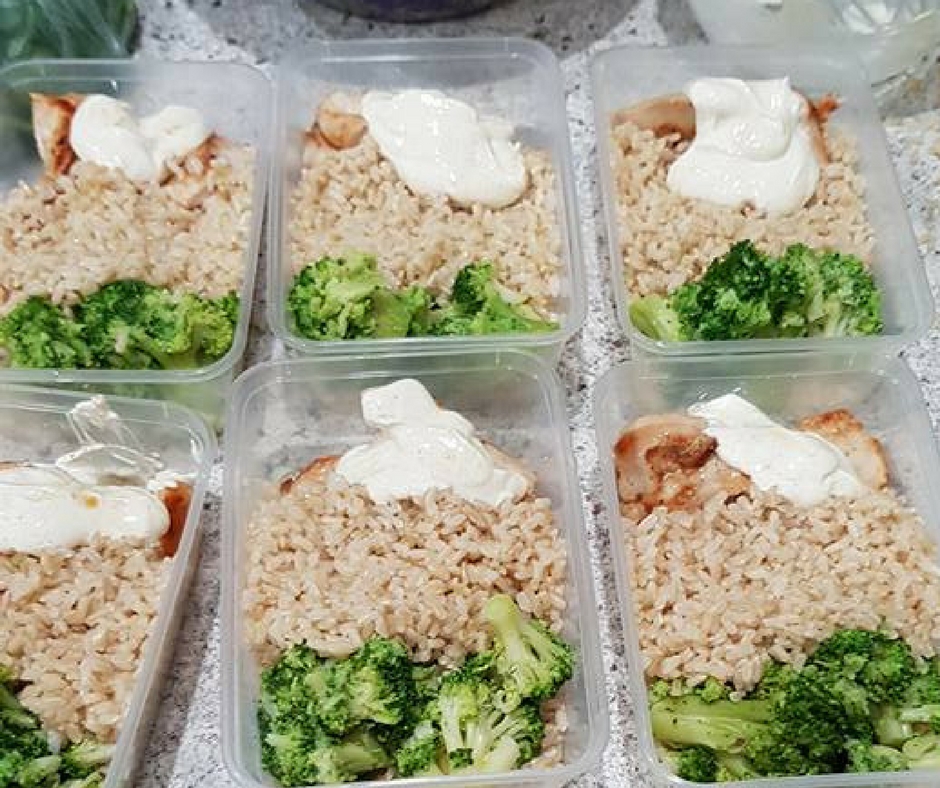 Ebony Featherstone does this, and doesn't it look tasty? You could make one meal for the week, or two and mix it up.
Ebony says, "This is chicken with brown rice cooked in coconut oil with steamed broccoli. The top is yoghurt mixed with cumin, paprika and curry powder."
4. Meal prep snacks for the week and store in the fridge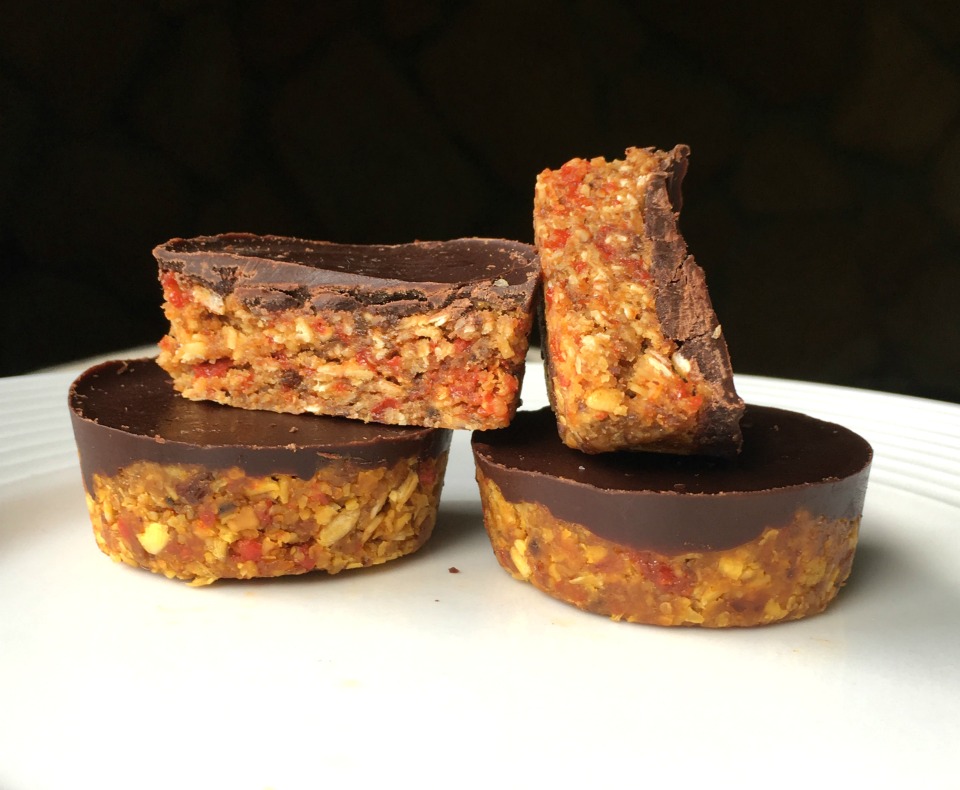 Samantha Lee Gaskin says, "I make Zucchini and Bacon Slice (recipe from the 28 Day Weight Loss Challenge) for my children's lunch boxes for the week."
And Stacey Beale agrees and says,  "‪I have found some of the Healthy Mummy recipes keep really well in the fridge, such as the healthy chocolate Weet-Bix Slice (pictured above) and the chocolate berry peanut bliss cups – these don't take up much room."
5. Meal prep your dry smoothie ingredients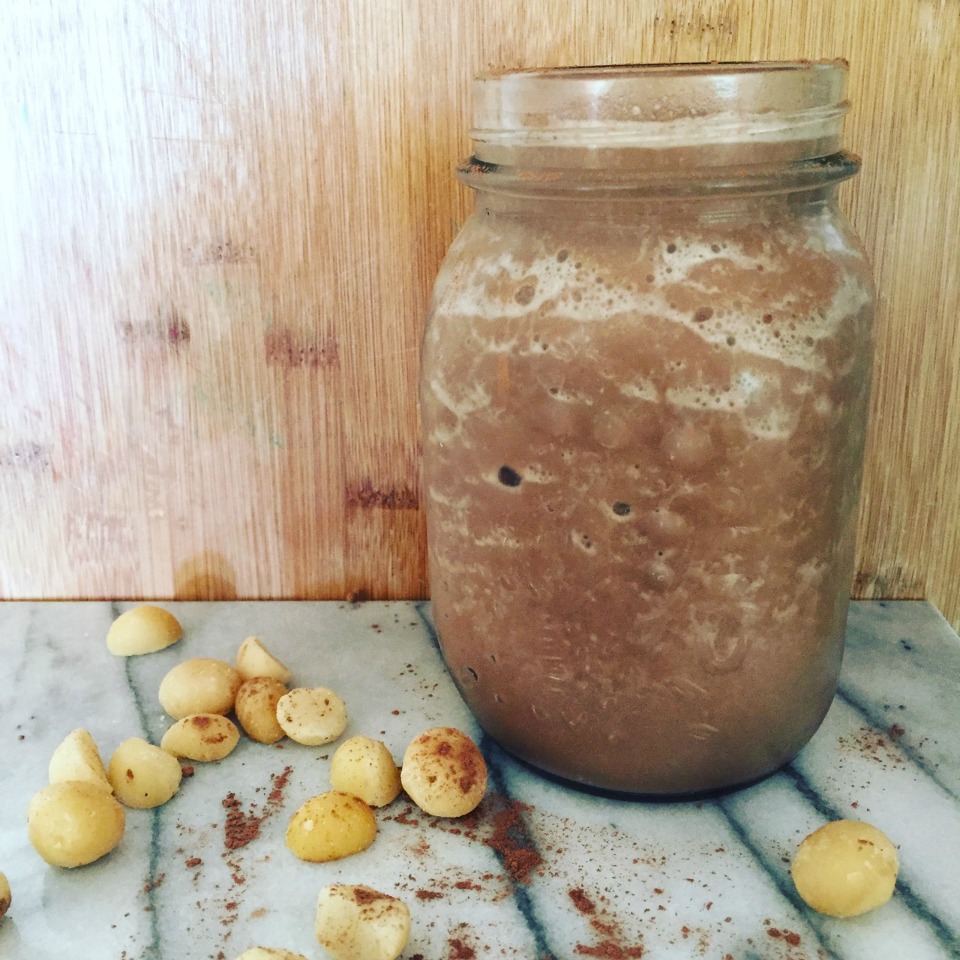 Cassy Browne knows how to make her Healthy Mummy Smoothie even faster.
"I make up ziplock bags of all my dry ingredients for my smoothies (smoothie mix, protein powder, nuts, chia seeds, coconut etc.) so that all I have to do in the mornings is empty it into my blender, then add the milk and fruit/veg."
6. Prep and squash your mince before freezing it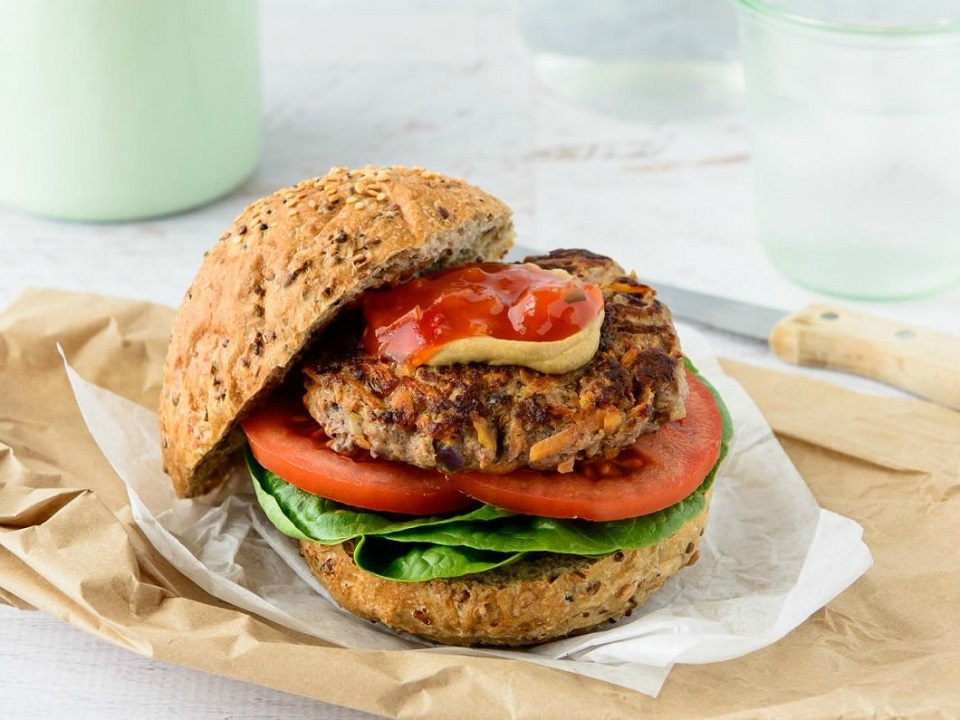 Cassy Browne has shared this great tip. Rather than freezing packets of mince, she takes the meat out of the container first.
'"I make ahead the mixture for burger patties, pop them in a ziplock bag and flatten it out before popping it in the freezer to save space. ‪And this has the added bonus of defrosting quicker too."
This burger is a recipe from the 28 Day Weight Loss Challenge.
7. Use glass jars in the freezer door for rice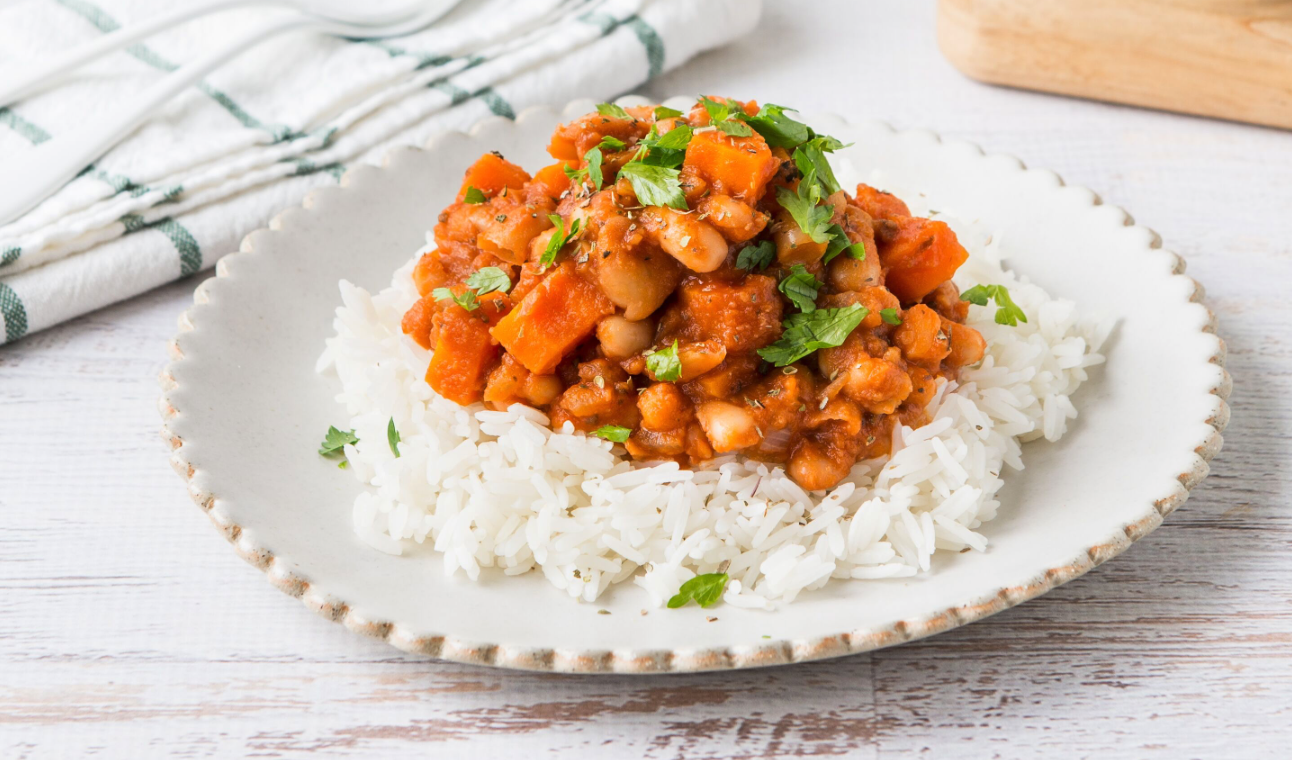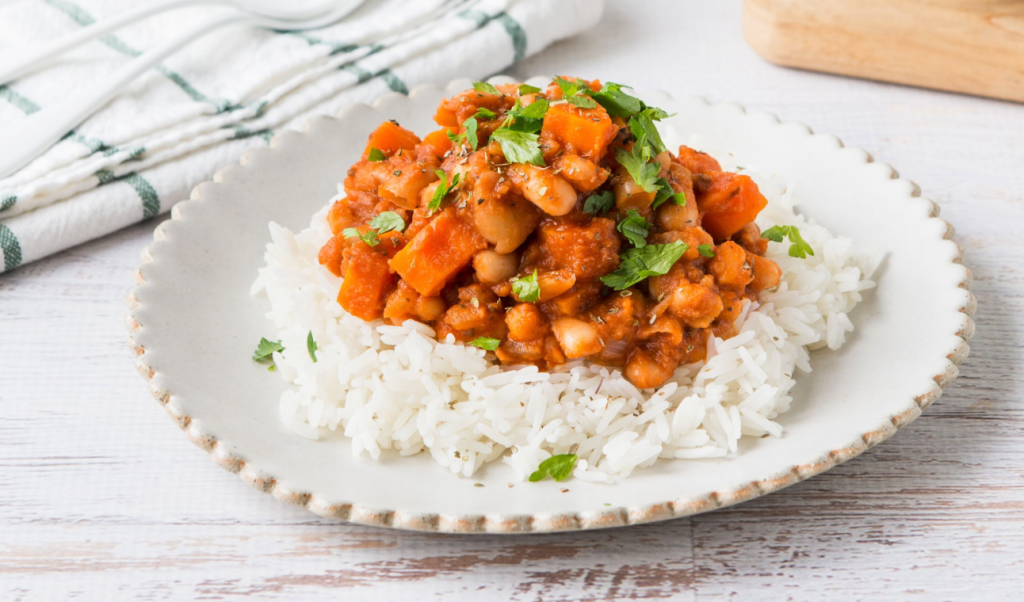 Utilise ALL the space in your freezer, including the door! Cassy Browne does this by cooking up rice and then freezing in individual portions in a jar.
Then you can just defrost in the microwave and reheat until steaming to serve.
8. Flatten your leftovers in ziplock bags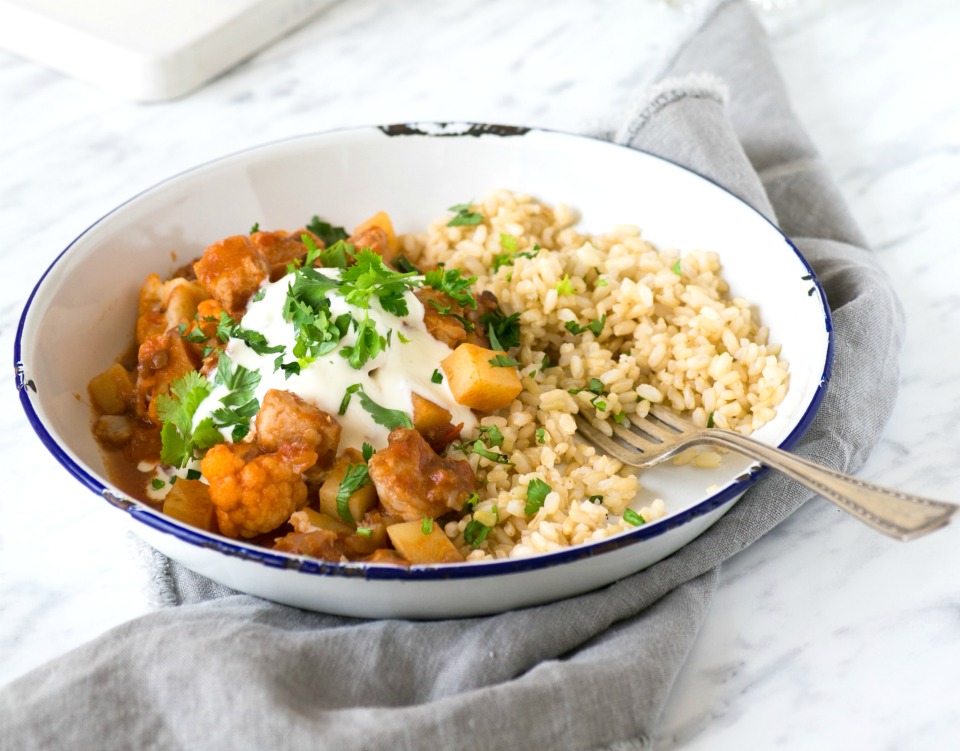 Michelle Scowen always makes double of her family meals so that she can freeze one to use later. But instead of using bulky containers that won't fit in a small freezer,
Michelle says, "I freeze the second one in a labelled ziplock bag, making sure it freezes flat so it stacks easily. I never use the plastic containers as you have all the wasted "air" space in each one, plus they're more expensive than bags."
This is the Red Fish Curry from the 28 Day Weight Loss Challenge.
9. Chop up your meat ready to go before freezing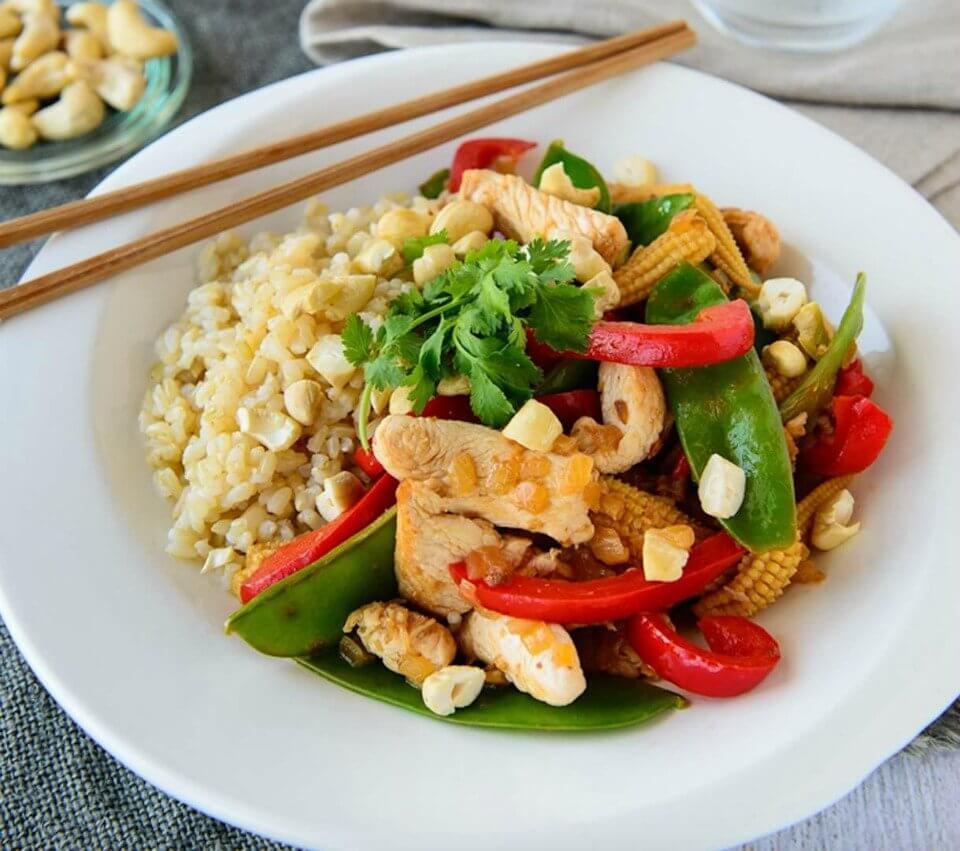 Instead of freezing the bulky packs of steak or chicken breast, try this.
Thea Gibb says, "I cut up all my meat in portions for meals and place them in labelled plastic ziplock bags. Not only does it save time on the night, but I don't have to wash a cutting board that has had raw meat on it every night. Then you can just grab a bag of chopped up chicken ready to make your healthy stir fry."
This one is a Lemon Chicken Stir Fry from the 28 Day Weight Loss Challenge.
10. Just cook and freeze the main component of the meal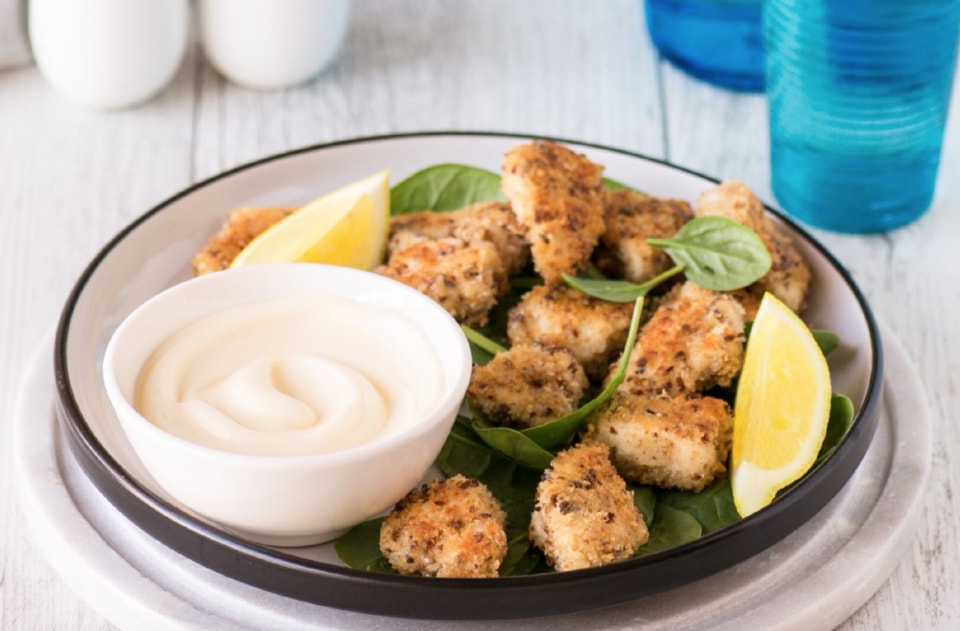 Haven't got space to freeze a whole meal? Why not just make and freeze the main element of it? Shayla Kuczer does this when she's making things like chicken schnitzels which can be frozen.
"Then they just need to be partly defrosted and placed straight into the oven for 30 mins or until cooked through, eat with quick salad or steamed veggies."
Try our Homemade Chicken Nuggets for this tip.
11. Make a triple batch of one key meal component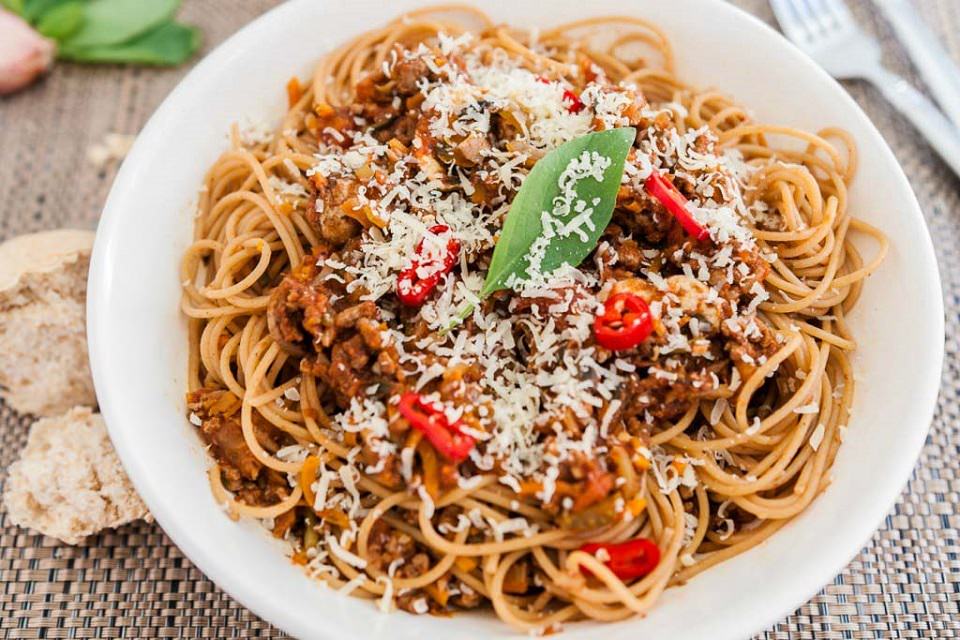 Us mums love a good bolognese (especially with all those hidden veggies), and it's so versatile to turn into other meals. Try making a huge portion of bolognese (the slow cooker is great for this) like Stacey Beale does.
Stacey says, "I make a kilo of mince into bolognese with lots of veggies and tomatoes and that is enough for 3 meals for 2 adults and 2 kids. 
"We have it with pasta one night, then next time I add peas and make a pumpkin and sweet potato mash to make it a shepherd's pie. Another time I'll use it as the base for a lasagne (adding some kidney beans to stretch it if needed) or it can also be made into a pasta bake."
As if this isn't enough ideas for your bolognese, we've got more HERE.
Healthy Mummy Meal Prep Queen cooks 298 main meals & 268 snacks in just 7 hours!
Mum's BIG meal prep success. 73 dinners for $2.10 per serve