The ultimate Christmas survival guide
Have a happy, healthy and stress-free Christmas this year with the Healthy Mummy ultimate Christmas survival guide for busy mums.
Christmas is a renowned for good times, fun, family and friends – and unfortunately weight gain due to all the food and drink regularly on offer.
It's common for most people to overeat at Christmas and then on Jan 1 get on the weight loss bandwagon to try and shed the weight they have gained over the festive period.
But what about when you are already on the weight loss campaign and have already done a fantastic job over the previous weeks? You don't want to undo all of your hard work!
This Christmas we want to give you as much support as possible for you to keep that weight off over the silly season and not let you undo all the good work and results you have already achieved.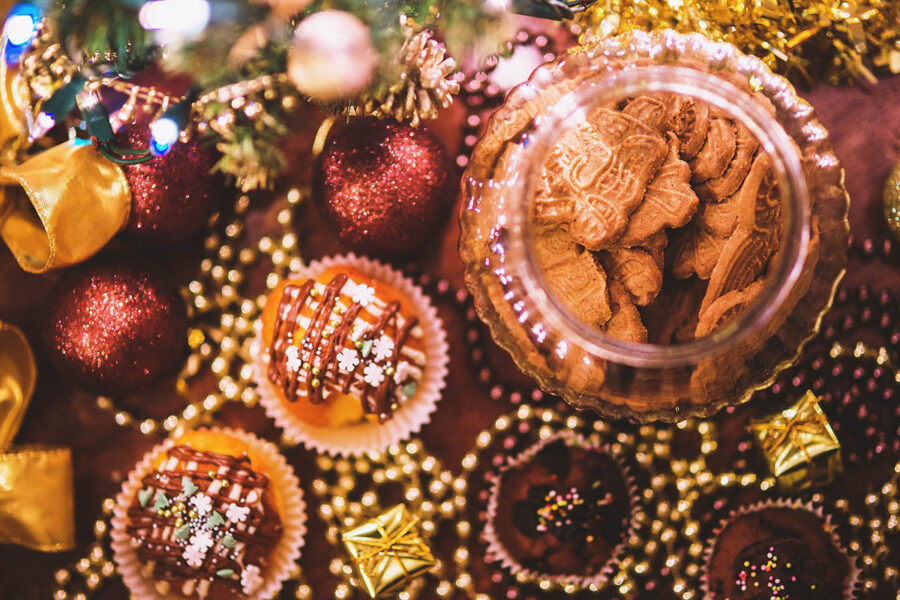 Weight loss survival
We are surrounded by food and drink over the Christmas period so if we are going to see off any weight gain we need to plan and be prepared for all of those moments of temptation.
Firstly – it is worth noting that not all foods at Christmas are unhealthy and there is usually a healthy and low fat alternative to every Christmas traditional food.
Secondly it is worth being realistic and accepting that it will be hard for you to lose weight over Christmas but with some planning and preparation maintaining your weight and your current weight loss will be easy to do.
Healthy snacking is common over Christmas and maintaining your weight will be all about making good snacking choices – here are some good ones over bad ones plus some other food tips!
Choose….
Unsalted nuts NOT dry roasted nuts
Skinny Cow ice cream NOT a Magnum or full fat ice cream
Baked pretzels NOT fried chips
Dark chocolate with mint or orange NOT full cream and full fat milk chocolate
Our Chocolate Almond or Mints NOT a mars bar or snickers
Bananas or strawberries dipped in dark chocolate NOT Roses or Quality Street
Low fat cheese NOT full fat Brie (Ricotta is the best)
A platter of fruit NOT a bag of lollies
Spritzer with 50% light white wine and 50% sparkling water NOT a straight white wine or champagne
Sorbet with raspberry coulis NOT full fat ice cream with chocolate sauce
Sticks of raw carrots, cucumber and cauliflower with hummus NOT full fat cheesy sauce
Slivers of fresh salmon on  rice cakes and Philadelphia light NOT slabs of salmon on normal crackers and sour cream.
Wholegrain and fibre carbohydrates NOT white processed carbohydrates
To add veggies to as many meals as possible NOT chips and breads
Adigestion soothing tea like peppermint tea or lemongrass tea NOT a full fat coffee
Smaller plates to serve your meals on NOT a stylish huge dinner plat (that you will fill and will eat!)
Choose to eat slowly NOT wolf down the food – it takes 20 minutes for the brain to signal to the tummy that it is full
A salad as your starter NOT a high fat starter
Vinaigrette dressing NOT mayonnaise – a tablespoon of mayo has more fat than a Mars bar!!
Get to know your favourite weight loss foods
Living a healthy lifestyle or monitoring your weight does not mean all enjoyable foods are out and it is very possible to make all the treats that are a normal part of Christmas festivities very healthy and not have you gain weight.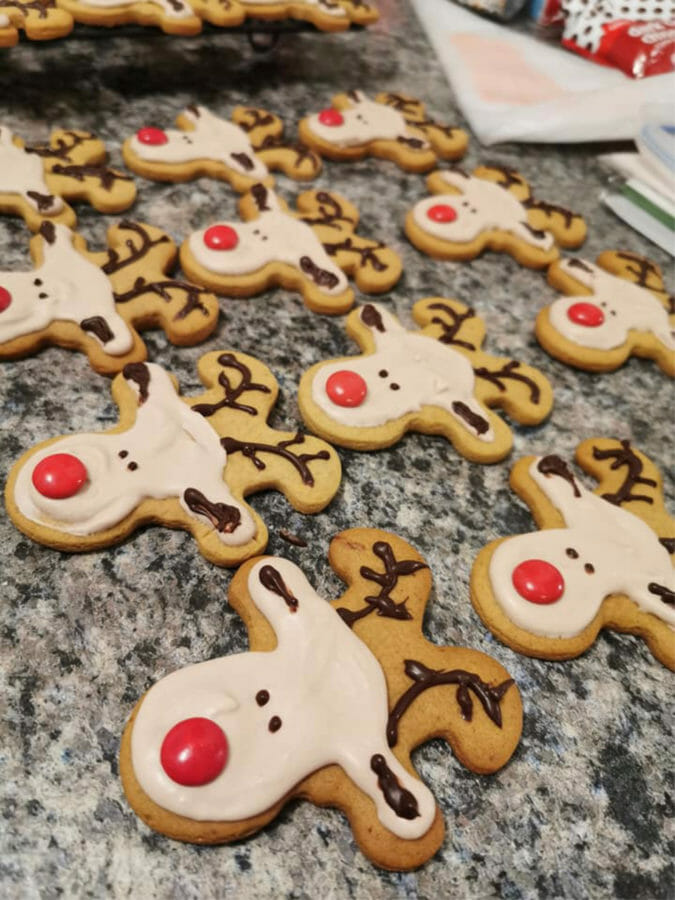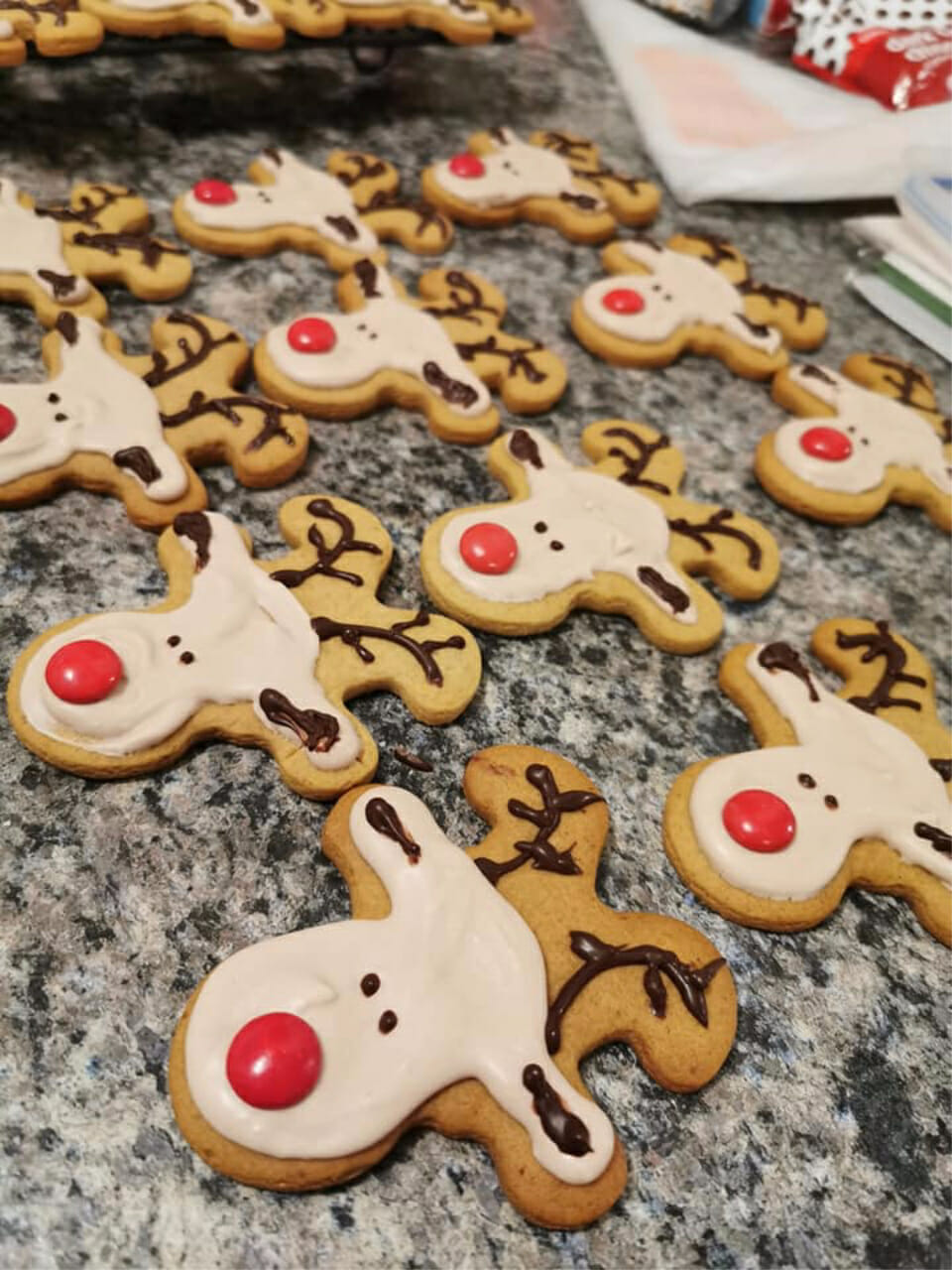 Here are some that come to mind:
1. That Christmas turkey is not off the menu in most cases; lean white meat is high in protein and very lean.
2. All the vegetables that go with the turkey can be delicious if you buy good quality and cook them well (i.e. don't over cook them or drench them in oil if roasting). Why not set your mind on organic vegetables only for the holiday season? That may seem an indulgence cost wise, but better to indulge in that than junk foods.
3. Fresh salmon is great for Christmas and provided you eat it in moderation it won't hinder your weight loss.  And if you want to try something different go for trout which has less calories and fat than salmon but the same goodness
4. Experiment with your own salad dressings, and try different olive oils. Salads with a difference can be healthy but still a treat.
5. Aim to have plenty of fruits around the house during the Christmas period. Want to indulge as it's Christmas? What about your favourite fruits dipped into a bit of melted dark chocolate?
6. There are a variety of nuts which make healthy and tasty snacks. Keep a stash of unsalted nuts in the cupboard – but remember they are high in fat so limit your consumption to a few at a time.
Healthy Christmas recipes
We've put together a selection of our favourite healthy Christmas recipes from the 28 Day Weight Loss Challenge  that you can prepare when you're asked to "bring a plate" or just to get everyone in a festive mood.
There's no need to worry about missing out on delicious food this Christmas as these healthy, tasty recipes will help you reach your weight loss goals.
1. Frozen Watermelon Trees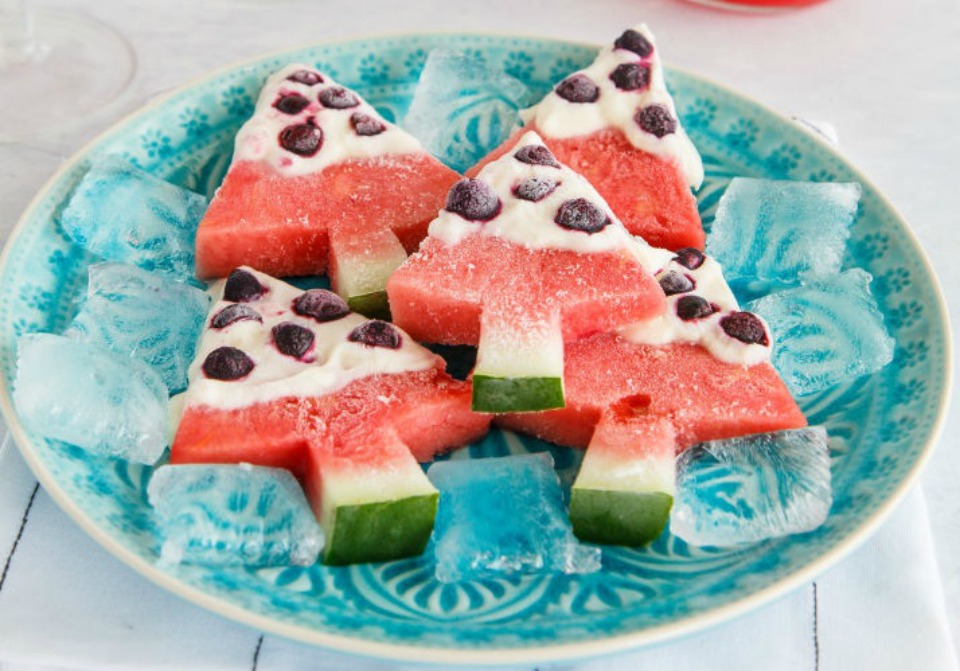 This delicious sweet recipe is not only good for you but also makes for a perfect table decoration.
Ingredients (makes 1 serve)
300 grams of watermelon
1 tablespoon reduced-fat Greek natural yoghurt
1 tablespoon blueberries, fresh or frozen
Method
Slice the watermelon into triangles. Keep the skin on the watermelon and create a 1-2 cm wide 'trunk' for your tree in the centre of the watermelon skin by removing the skin from either side of the 'trunk' in the centre.
Dip the top half of each triangle into yoghurt (to look like snow). Place on a tray lined with baking paper.
Cut the blueberries in half. Press blueberry halves into the yoghurt (cut side down) to look like decorations.
Place in the freezer until the yoghurt has set and then serve.
109 cal/458kj per serve
2. Strawberry Santas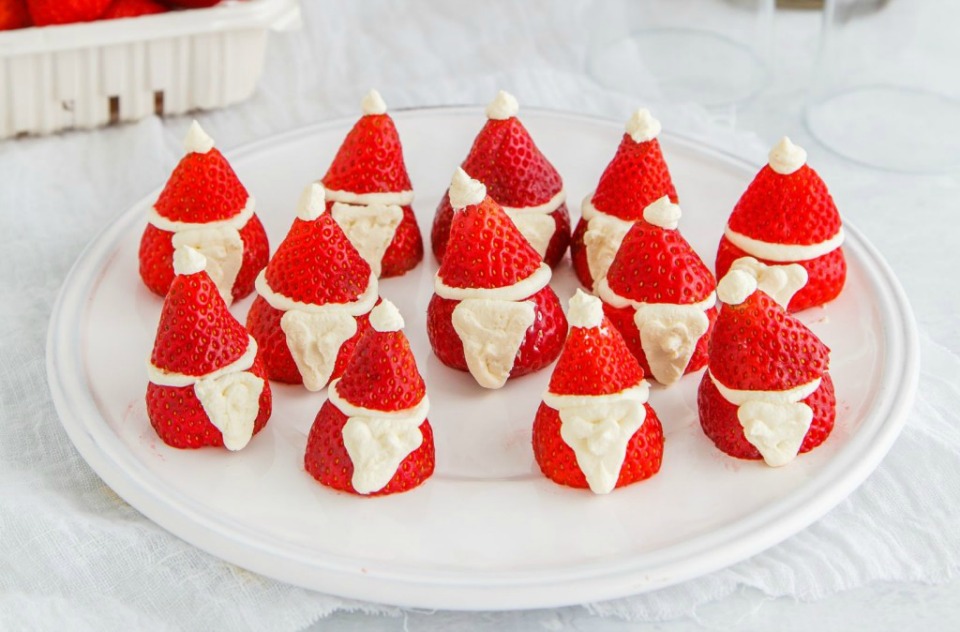 A great recipe to make when asked to bring a plate to an end of school or kindy break up party.
Ingredients (makes 2 serves)
1 punnet strawberries
1/2 cup light cream cheese
1 tablespoon lemon zest
Method
Wash and pat dry the strawberries. Cut the top off the strawberries removing the green leaves, so that the strawberries can stand up flat on a plate.
Cut the bottom 1/3 of the strawberries off and reserve for Santa's hat.
Combine the cream cheese and zest. Fill a piping bag with the cream cheese and carefully pipe a triangle shape onto the wide part of the strawberry to form Santa's beard. If you don't have a piping bag use a zip lock bag and fill with cream cheese mix then snip off a small corner to use instead.
Add a small dollop of the cream cheese at the small top of the strawberries and place the small pieces you cut off on top to represent Santa's hat.
Place in the fridge and chill for 10 minutes before serving.
This recipe makes 2 serves so divide equally to serve.
152 cals/630kj per serve
3. Gingerbread Stars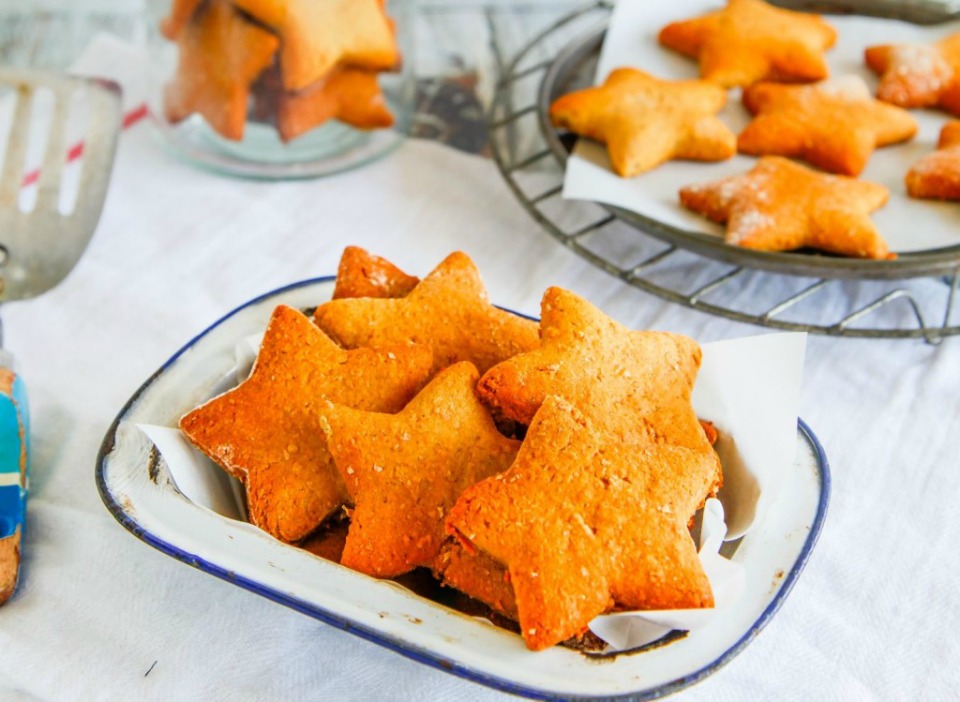 These are ideal to make in bulk and package up in cellophane bags to give to family and friends as healthy homemade Christmas gifts. Get the kids to help you with the preparations to show them that Christmas gifts don't always have to be bought at a shop.
Ingredients (makes 5 serves)
1/2 cup plain wholemeal flour
1/2 cup rice flour
1 level teaspoon bi-carbonate soda
1/2 teaspoon ground ginger
1/4 teaspoon mixed spice
1 teaspoon orange zest
2 tablespoons fresh orange juice
1/3 cup honey
2 tablespoons reduced-fat milk of choice
30 grams of butter
Method
Preheat oven to 160C and line a baking tray with baking paper.
Combine plain flour, rice flour and bi-carbonate soda in a bowl. Add spices and orange zest.
Place a saucepan over a low heat and add orange juice, honey, milk and butter. Stir until butter has dissolved. Set aside to cool.
Combine liquid mixture with dry mixture and combine well (dough will be quite firm). Once it comes together, turn dough out onto a clean surface dusted with some flour. Divide the dough in half and shape into 2 balls. Wrap each ball in cling wrap and place in the fridge for 15 minutes.
Remove from the fridge and roll out until 1cm thick. Using a small star-shaped cookie cutter, cut biscuits from dough and transfer to prepared baking tray (about 5cm apart). Combine leftover dough, roll out and cut out more biscuits until all dough is used. You should have enough dough for approximately 10 biscuits.
Bake for 6-7 minutes until golden. Biscuits will still be soft, but will harden as they cool. Cool on tray for 5 minutes then transfer to a wire rack. Store in an airtight container.
2 biscuits makes 1 serve.
194cal/970kj per serve
4. Cucumber S'Mores with Turkey, Parmesan & Cranberry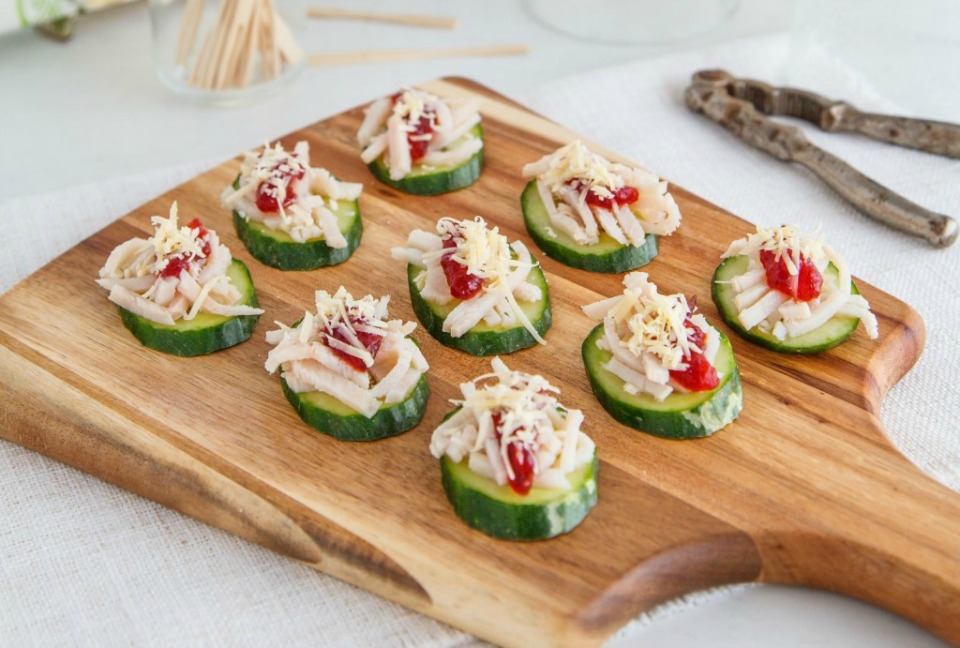 Such an easy to put together healthy, savoury canapé recipe that will impress your guests.
Ingredients (makes 1 serve)
1/2 Lebanese cucumber
2 slices lean smoked turkey
1 tablespoon cranberry sauce, store-bought
1 tablespoon grated Parmesan
 Method
Cut cucumber into 1cm rounds and arrange on a serving plate.
Slice turkey into small pieces and top each cucumber round with a small portion.
Top turkey with a small amount of cranberry sauce and grated Parmesan to serve.
202cal/847kj per serve
5. Blueberry Breeze Cocktail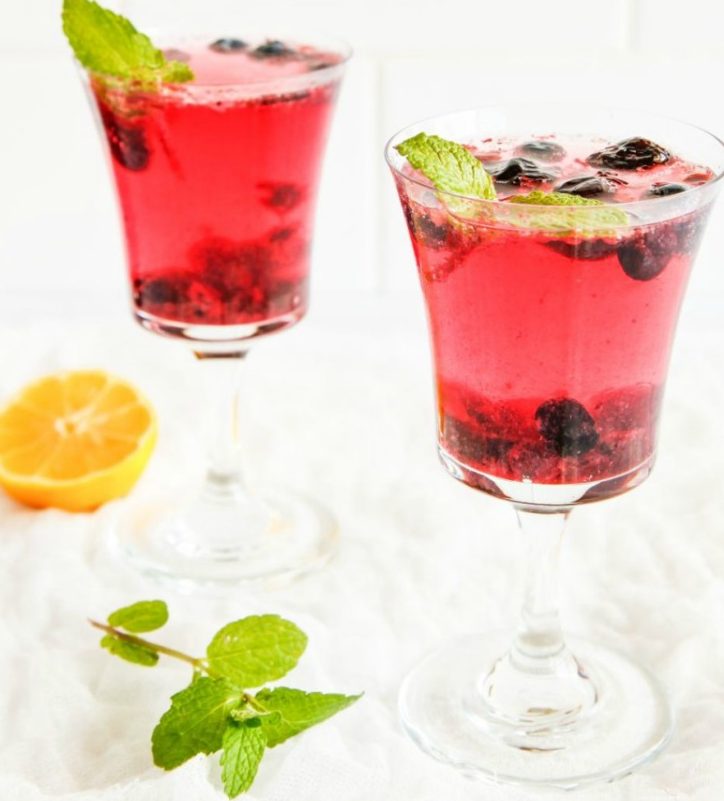 Christmas parties are often a time when you might celebrate with an alcoholic drink or two but be mindful of the extra calories alcohol can add to your daily totals. This cocktail recipe is a healthier option and great to make to share with friends.
Ingredients (makes 1 serve)
2 tablespoons blueberries, fresh or frozen
2 teaspoons lemon juice
1/2 cup soda water
150 mls of sparkling wine
Method
Muddle the blueberries by squashing with the back of a fork.
Combine with soda water and lemon juice in a serving glass.
Top with sparkling wine to serve.
86cal/360kj per serve
6. Christmas Tree Apple & Pear Platter
A great recipe to make as the centrepiece for a healthy Christmas lunch table.
Ingredients (makes 4 serves)
1 apple
1 pear
2 tablespoons peanut butter
1 slice watermelon
1 tablespoon dried cranberries
2 teaspoons shredded coconut
Method
Core the apple and pear and cut each into 8 slices. Slightly heat the peanut butter in the microwave so it is runny.
Use a star cookie cutter to cut a star shape from the slice of watermelon. Cut a rectangle shape from the watermelon slice to use as a trunk. Set aside.
Arrange apple and pear slices on a serving plate, into the shape of a Christmas tree, with the skin on the fruit forming the bottom side of each of the leaves.
Drizzle heated peanut butter across the tree to look like tinsel and arrange dried cranberries to look like decorations. Sprinkle over coconut to serve with the watermelon star at the top and trunk at the bottom of the tree.
123cal/492kj per serve
7. Chocolate Crackle Breakfast Pudding

Whether you're hosting a special Christmas breakfast or just want to treat the family with a festive start to the day, this healthy recipe will be sure to impress.
Ingredients (makes 1 serve)
1/2 mashed banana
1 teaspoon cacao/cocoa powder
1 teaspoon honey
1 teaspoon vanilla extract
1/4 cup fresh or frozen raspberries
1/3 cup puffed rice
1 tablespoon reduced-fat Greek natural yoghurt
Method
Combine mashed banana, cacao/cocoa powder, honey and vanilla until smooth. Add raspberries (keep one raspberry per serve aside for garnishing) and puffed rice and combine everything together.
To create a nice 'pudding' shape, line a small bowl or container with cling wrap (one per serve). Press mixture into the mould and chill in the fridge for several hours or until firm.
Remove the pudding from the mould by pulling the cling wrap out of the container. Place pudding onto a serving plate and remove the cling wrap.
To serve top with yoghurt and a raspberry as garnish.
203cal/851kj per serve
8. Healthy Fruit Trifle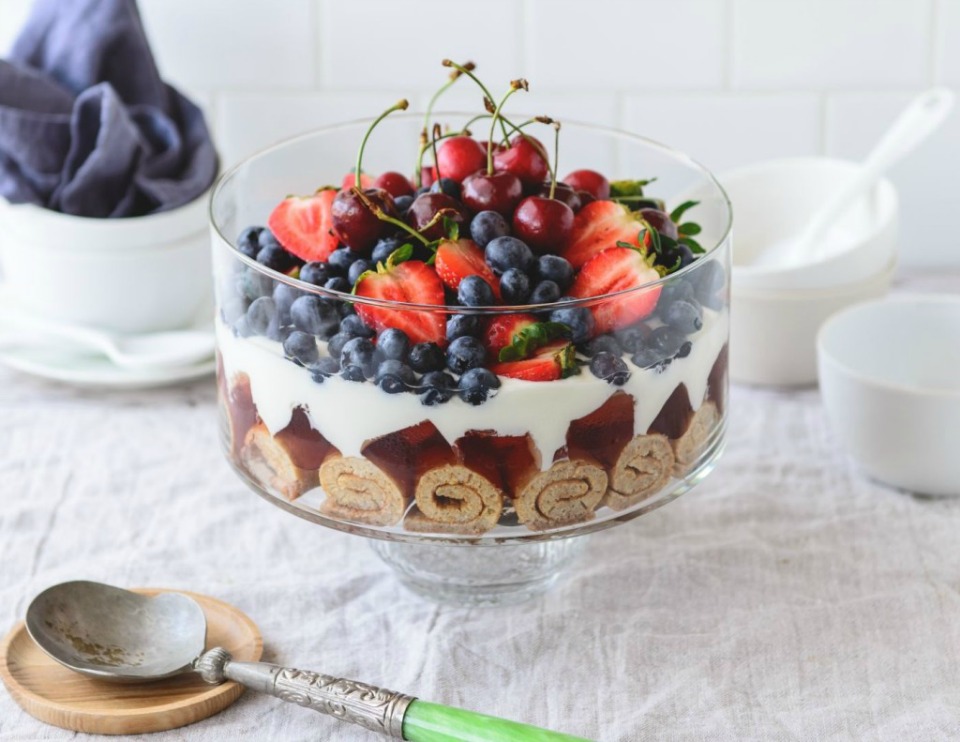 For a real show-stopper on the table at Christmas, prepare this healthy fruit trifle to treat everyone.
Ingredients (makes 8 serves)
1 tablespoon powdered gelatine
1 & 1/4 cups water
1 cup apple & blackcurrant juice, no added sugar
1 cup wholemeal self-raising flour
2 separated free-range eggs
1 cup reduced-fat milk of choice
1 teaspoon vanilla extract
2 cups reduced-fat Greek natural yoghurt
1 punnet strawberries
1 cup blueberries, fresh or frozen
1 cup fresh cherries
2 tablespoons crushed peanuts
Method
Start by making the jelly. In a large jug sprinkle gelatin over 1/4 cup of the cold water and leave for a minute or two to soften. Boil remaining cup of water and add to gelatin mix, stir until gelatin is dissolved and liquid is clear. Stir in 3/4 cup of the apple and blackcurrant juice, reserving remainder of juice for later. Pour jelly mixture into a shallow dish and refrigerate for several hours, or overnight, until firm.
When jelly has set make the pancake rolls. Place the flour in a mixing bowl and stir in milk, egg yolks and vanilla until smooth.
In a separate small mixing bowl beat egg whites with an electric mixer until soft peaks form. Fold small portions of the egg white through the pancake batter until well combined.
Heat a non-stick frying pan over a medium heat. Scoop batter into pan using a 1/3 cup measure. Cook pancake until just golden on both sides, place on a piece of paper towel, roll tightly and set aside to cool. Repeat with remaining batter and sheets of paper towel to make approx 6 pancake rolls.
To assemble trifle gently unroll pancakes to remove paper towels, pancakes will keep their rolled-up shape. Slice each roll into 4 or 5 rounds. Arrange around the base of a large bowl and drizzle with remaining 1/4 cup of apple and blackcurrant juice.
Cut jelly into cubes and spoon over the pancake rolls. Sprinkle with nuts.
Top jelly with yoghurt. Quarter strawberries and arrange with blueberries and cherries on top of yoghurt. Refrigerate for at least 30 minutes or until ready to serve.
185cal/773kj per serve
Exercising over Christmas
With all the extra food and drink on offer over Christmas it is essential to build as much exercise into your daily routine as possible to ensure that the energy output out is higher than the energy in from the food and drink we are eating.
But as per the Healthy Mummy philosophy this does not have to mean daily gym sessions and with the summer weather being so great and most of us having family and friends around the summer and Christmas period lends itself well to doing an increased amount of exercise.
Exercise is the real friend to you during this excessive holiday period, so don't be tempted to put off your regular exercise until after the holidays if you can help it.
We all have less time at Christmas but remember even if you only do a percentage of your normal exercise some is better than none, so do less or shorter sessions rather than knocking them off altogether.
You can also throw yourself whole heartedly into the dancing at any parties you attend and work off a few of those calories!
Here are our top ways to get exercise in over the Christmas holidays.
1. Take a walk!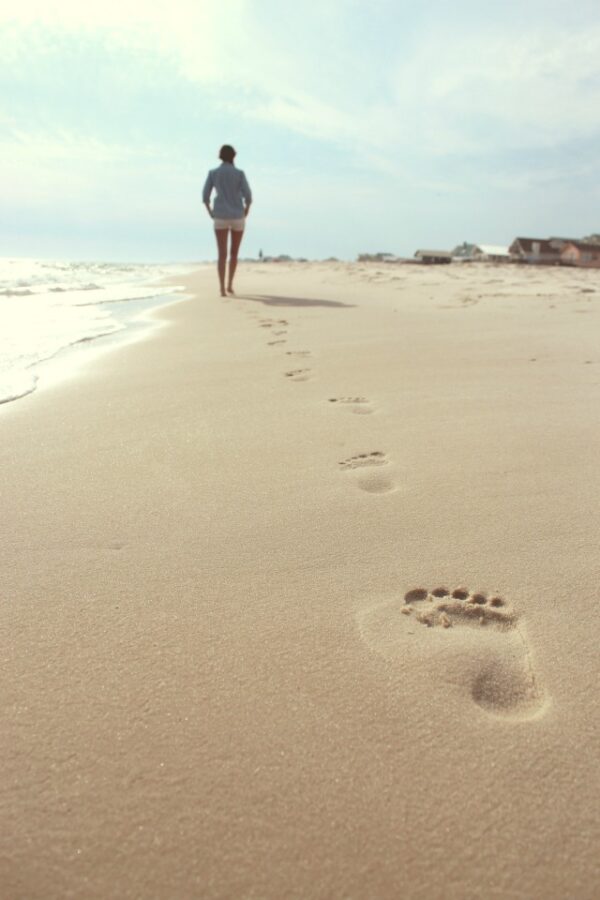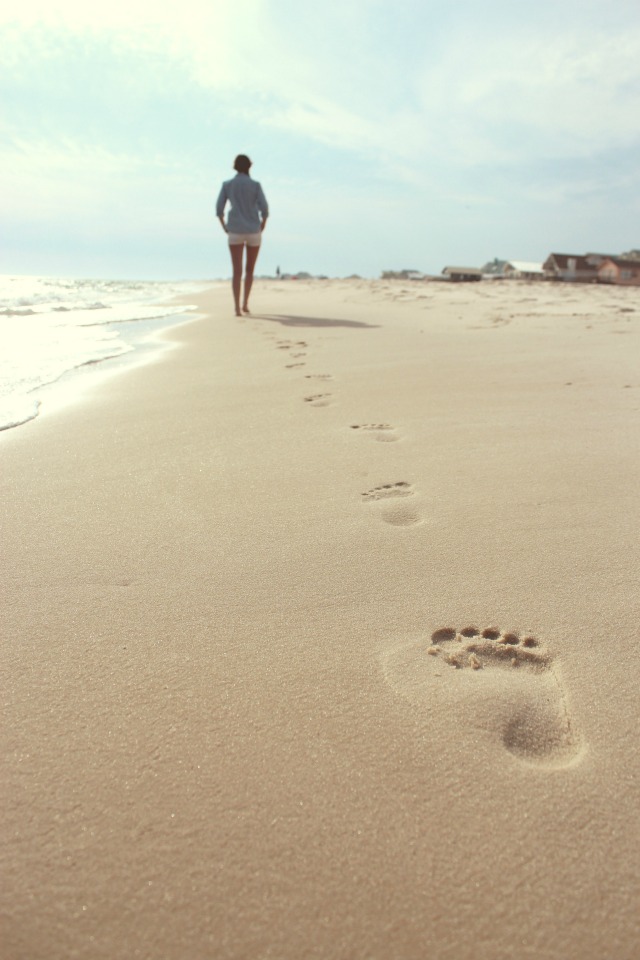 Build walking into your routines. Walking part of the way to the local stores, or taking the dogs on longer walks, walking with the family – all these things can contribute to your weight control, and make you feel better.
If you feel better, coupled with your mental strength, keeping your weight down over Christmas will not be as difficult as you might have thought.

2. Shop 'til You drop
Turn a leisurely cruise around the mall into a power-walk and you reap the same fitness benefits you would out on a hiking trail. Hit stores at off hours to avoid crowds (or else treat that zigging and zagging you're doing as extra aerobic output).
And don't forget to take the stairs and park in the far end of the lot. Those extra steps add up too. How about walking a lap around the parking lot before you go home? Extra points if you're carrying heavy bags!
3. Create family holiday fitness traditions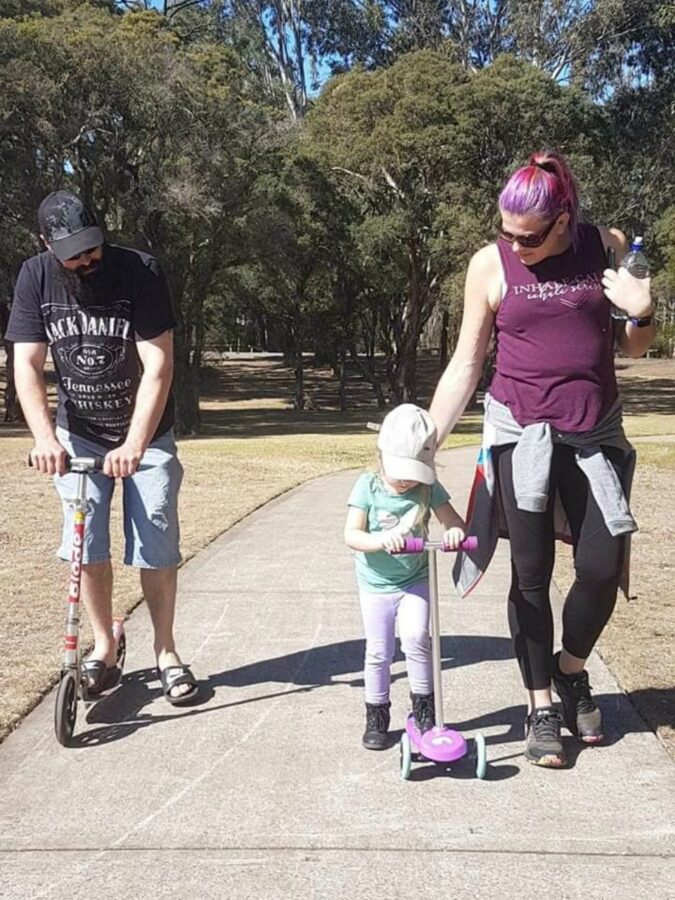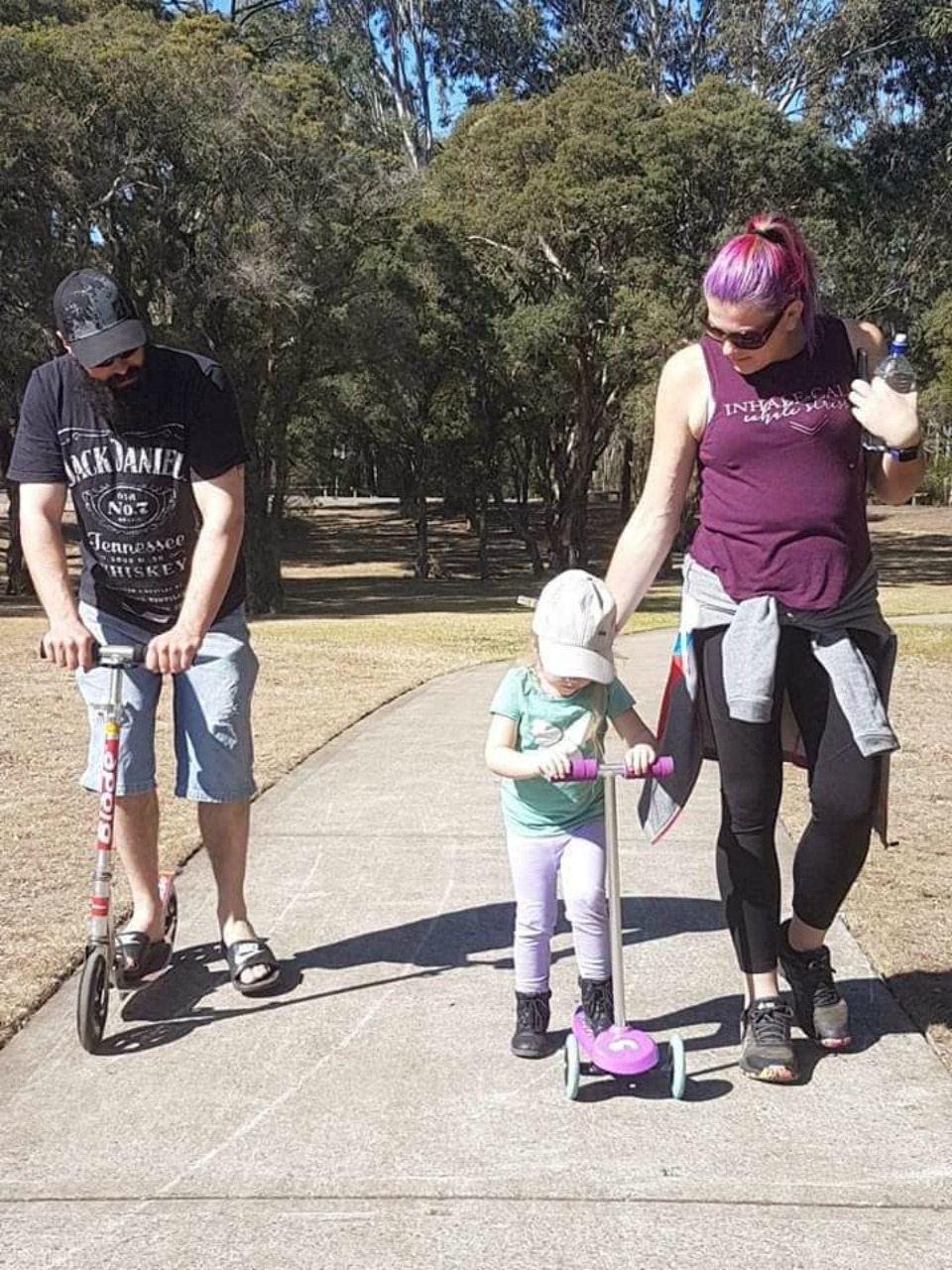 Treasured rituals are an important part of the holiday season for most families. Add or adapt yours to include fitness! Consider:
An all-ages Christmas part complete with games such as rounders, garden/beach cricket, musical chairs, pin the tail on the donkey, charades, egg and spoon race (eggs painted in Christmas colours of course!), three legged race or sports tournaments on Wii
Walk, instead of driving, to view holiday lights and decorations
A kids' talent show during family get-togethers
Cutting your own Christmas tree
Musical statues to your family's favourite tunes
4. Fit in holiday fitness, cut out fat
An unpredictable, extra-busy schedule can easily derail your usual exercise routines. Try working out early in the morning, before you're interrupted for the day.
Have a backup plan, so that in case you miss your usual exercise routine, you take a bike ride or do an exercise video instead. If you have house guests, invite them to join you on your daily walk or trip to the gym.
The Healthy Mummy App has over 500 at home workouts, some of which only take 10 minutes! Try to squeeze as many as you can in to make sure you're burning off any extra indulgences.
Socialising over Christmas
1. Don't feel obligated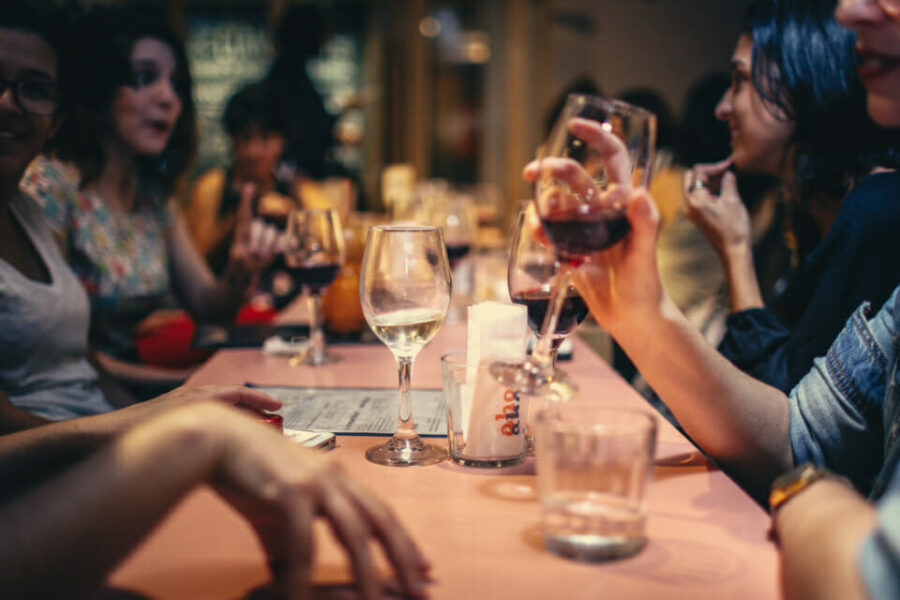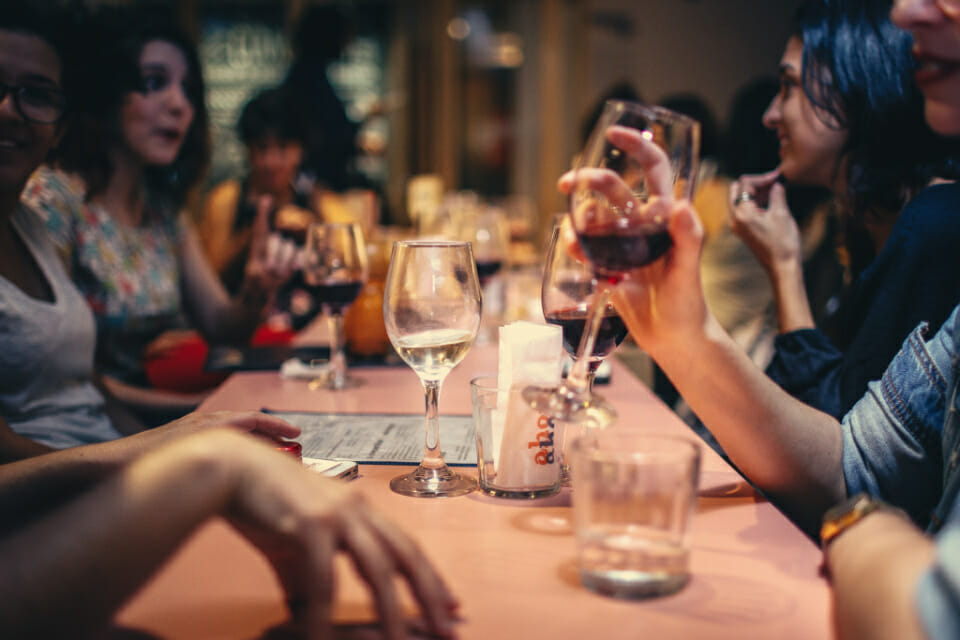 Being a gracious guest doesn't mean eating hearty portions of everything that's offered. Don't feel the need to eat foods you'd normally avoid, or take seconds, just to please the hostess. Regardless of the occasion, you need to be the one who is in control of what and how much you eat.
If you find refusing food awkward – or have a relentless relative who's always begging you to "Eat! Eat!" – try the broken-record technique: Continue to simply say "No, thank you," with a smile. It's impossible for your hostess to argue with a gracious but firm "No," and if you don't make complicated excuses, you're less likely to cave in to pressure.
2. Don't fast before big events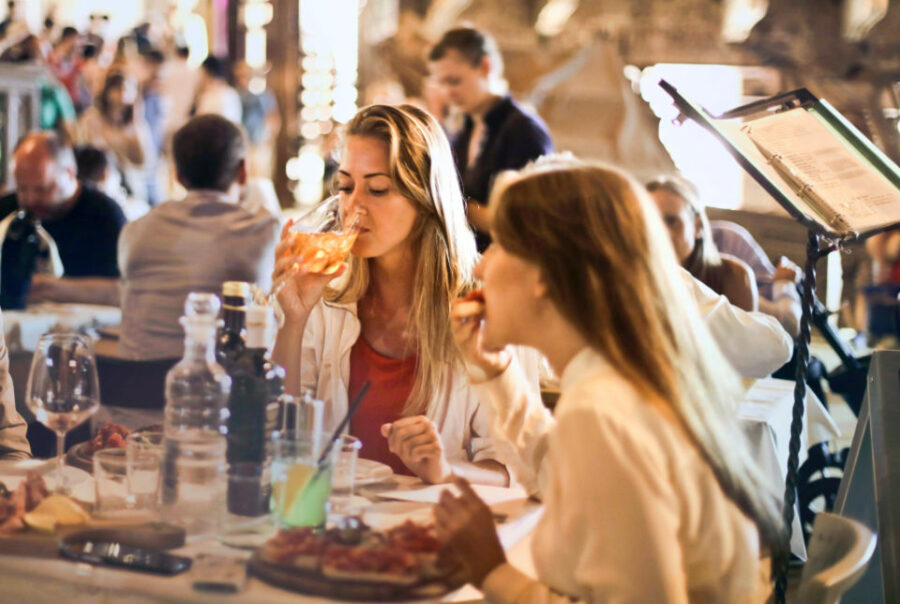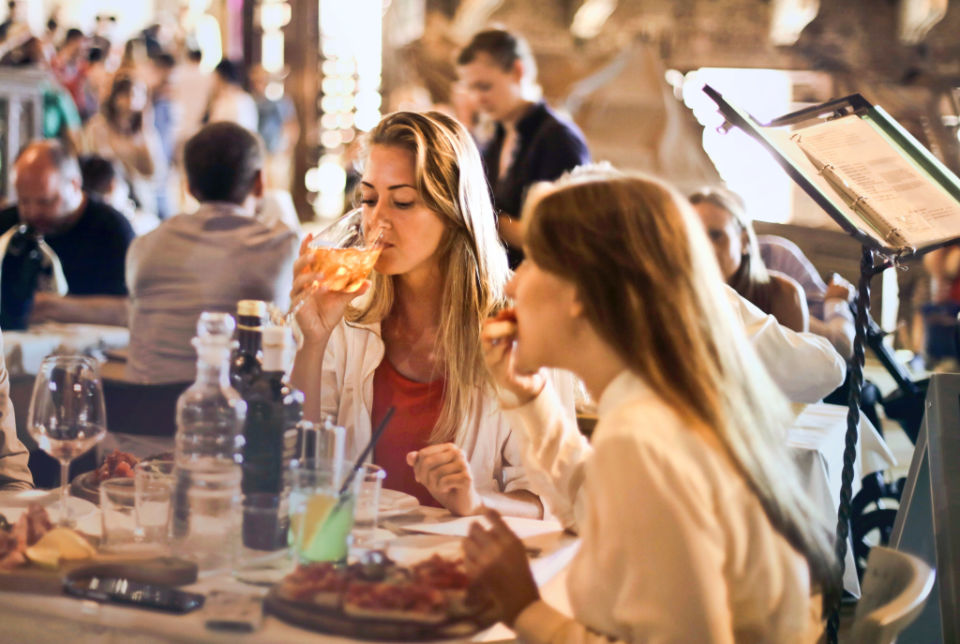 To prepare your body for the big feast later in the day, you may be tempted to 'save' calories by skipping breakfast or other meals – which is not a good idea.
While eating every few hours is always important, it's essential before a holiday party or big dinner because it keeps your metabolism high, allowing your body to continue burning calories, instead of sending you into starvation mode, in which your body hangs on to them.
Eating something beforehand also prevents you from becoming so famished that you devour junk foods at the event. In fact, it might be smart to eat more than you normally would that day.
So never go to a party starving, even something small, like a banana or a bowl of cereal, will take the edge off your appetite and allow you to make smarter food choices. And if you're not sure whether healthy items will be available, suggest to bring a platter of veggies and low-fat dip
3. Don't overdo alcohol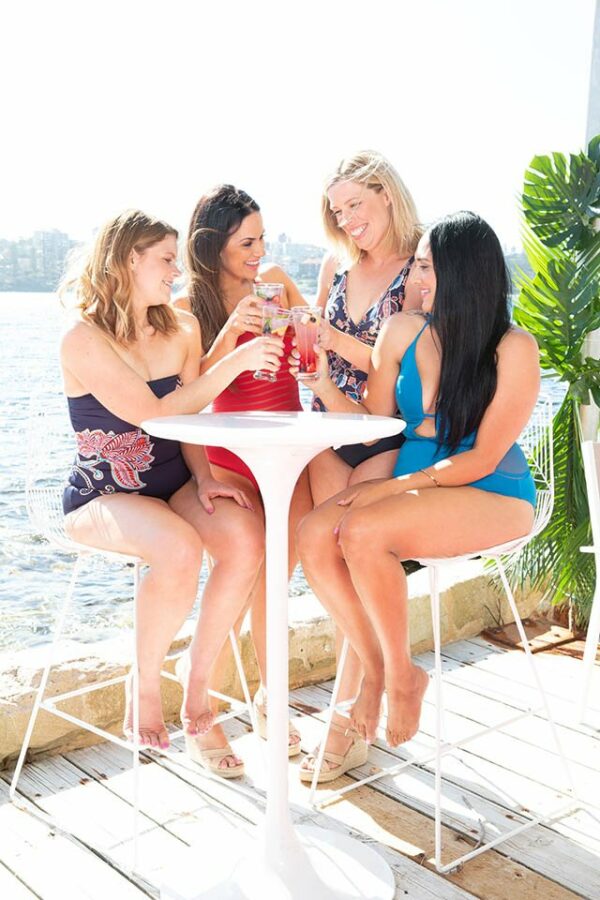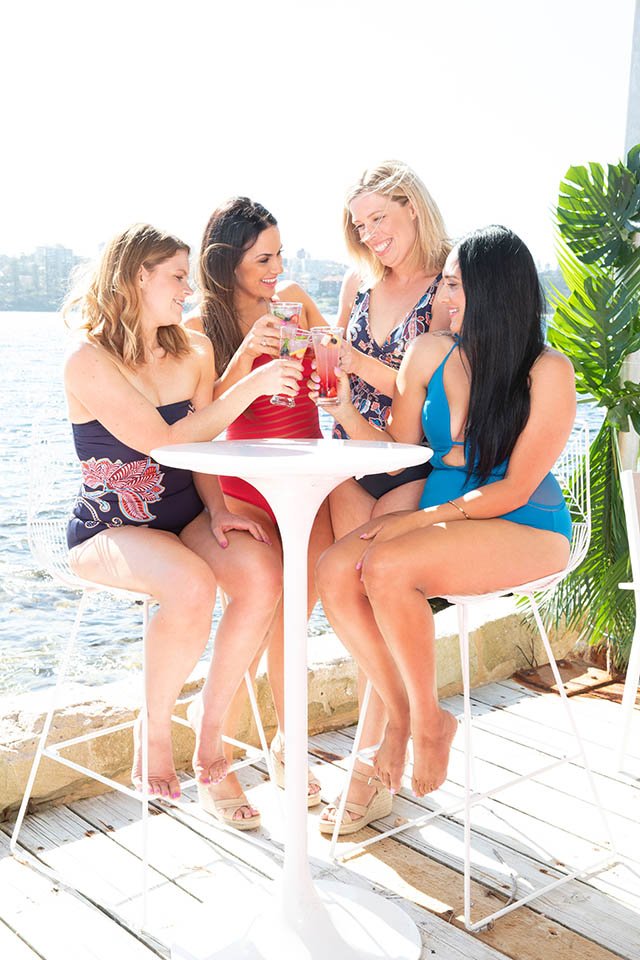 Do you find sipping a celebratory drink makes you lose your willpower? You're not alone. Alcohol tends to lessen your inhibitions, and you may find that you have less control over what you eat.
If you must indulge in a holiday cocktail, consider diluting your drink with extra ice, water or seltzer, and alternating each alcoholic beverage with a glass of water in order to keep control of your eating and prevent dehydration.
Also, remember to count those liquid calories. A mixed drink, like a daiquiri or margarita, can have 500 calories per glass.
5 Cocktails & Mocktails For Christmas & New Years Celebrations all under 100 calories
4. Don't forget to start on a positive note
Take 30 minutes and go for a walk the morning of your holiday get together. By getting your exercise done early in the day, you are ensuring that you'll actually do it.
The mood-boosting hormones that are released with exercise provide the added benefit of easing and family holiday stress and making you feel calm
5. Office survival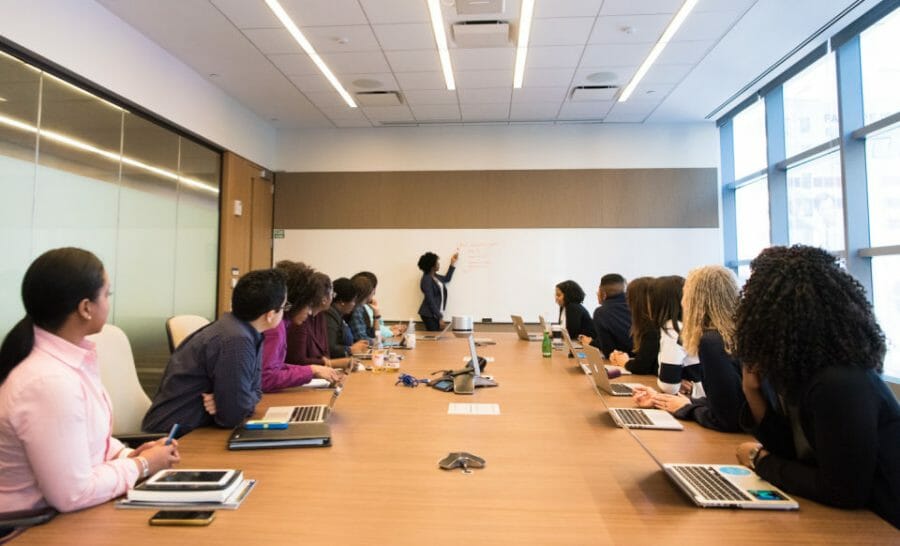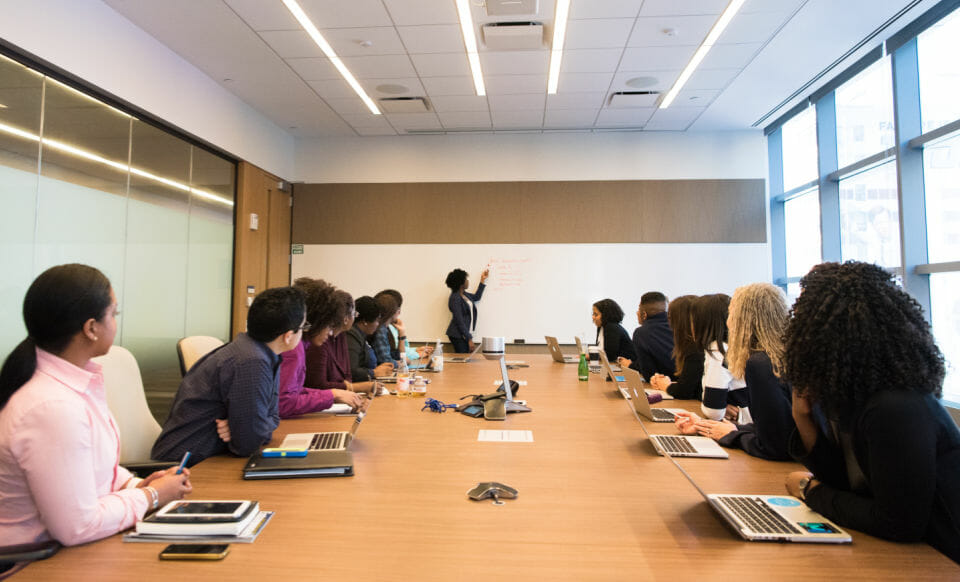 If you work in an office you know that the work place is just going to be full of junk food that ALWAYS seem to make their way into the workplace at Christmas – be prepared for this temptation by always having healthy snacks in your bag or desk so that you can join in the snacking, but in a healthy way.
 
6. Office parties
Then there are the dreaded parties! Don't worry, you can party and still be good!  When it comes to the buffet table, look out for the healthy options, the cooked meats, plain chicken and fish, the salads, fruits etc.
I'm not saying that you can't participate in some of the less healthy options but if you are already filled upon the healthier choices you'll have a lot less room for the poorer food choices and won't feel that you are missing out by not eating them
7. Prepare your appetite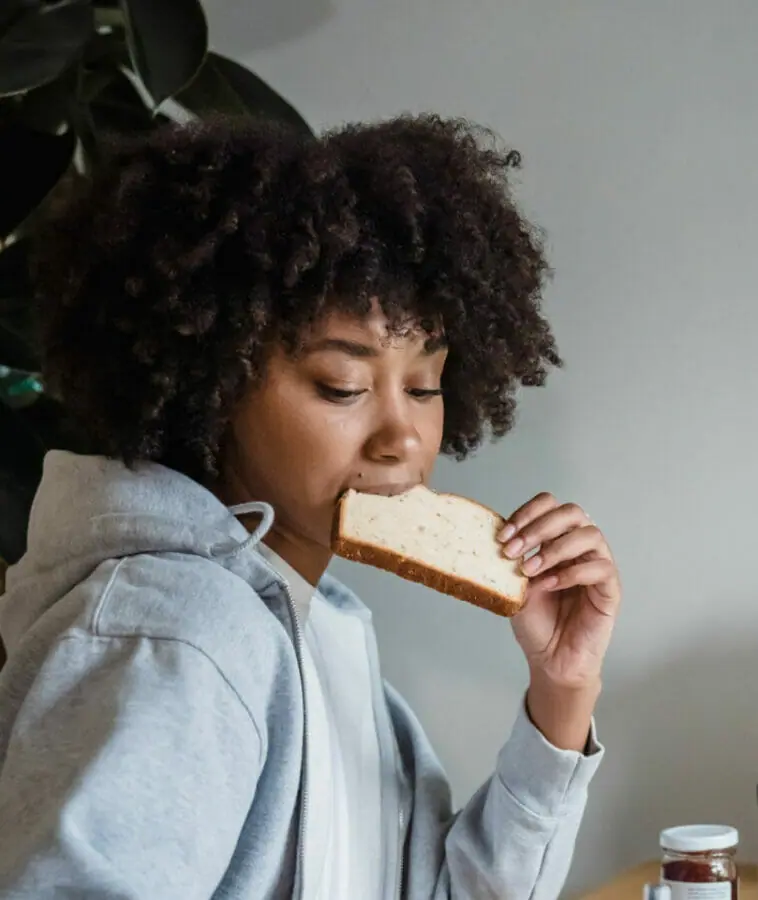 When attending any function over the holidays it is always best if you try to eat well before you go.
Eat all your normal meals as you would on any day and then you won't be tempted to eat everything in sight when you get there as you will be pleasantly full already.
So many people starve themselves all day because they are saving themselves for the function, so that when they get there they are that hungry they are ready to devour anything, and everything, they see
Present ideas for you!
And finally here are a list of present ideas that I recommend you start dropping hints for so that you have all the ammunition possible to lose your baby weight and stay fit and healthy next year!
A blender – Check out 9 of the best blenders for your kitchen needs
Fitness Tracker Fitbit, Samsung, Garmin, Apple Watch (the list could go on and on. There are so many to choose from it can be quite confusing. Join The Healthy Mummy Community , the mums always share great reviews that are sure to help you decide which brand suits you best.
Fit flops – a thong that gives you a work out perfect for the summer months and from approx $50 – www.fitflop.com.au
A good sports bra will save you a whole world of pain! If you want to work out you need to make sure you have all the right support. We share our recommendations for the best sports bra HERE.
An exercise bike – you can get a good one from $200
Dumb bells – you can get good 2kg ones from $20
28 Day Weight Loss Challenge Subscription! If you're not already a member, taking part in the 28 Day Weight Loss Challenge will give you access to the 5 star rated Healthy Mummy App. Anyone interested in improving thier health and fitness will LOVE this app, full of incredible features it is your meal planner, fitness trainer, motivational coach  and tracker all in the palm of your hand.If you're really serious about getting into shape next year then we've saved the best until last. Sign up for the 28 Day Weight Loss Challenge and kick start the new year with a BANG!
Tips to enjoy the festive season without over indulging
1. Don't arrive ravenous
There's nothing like extreme hunger to test anyone's willpower.
If you arrive at a gathering hungry you are far more likely to end up overdoing it on alcohol, plus whatever food happens to be served first (which tends to be pastry or batter covered).
Try to prepare for this by having a nutritious snack before you arrive, such as a banana, yoghurt, some trail mix or a Healthy Mummy Smoothie (especially if you know there won't be a main meal served).
2. Don't stand near the food or the bar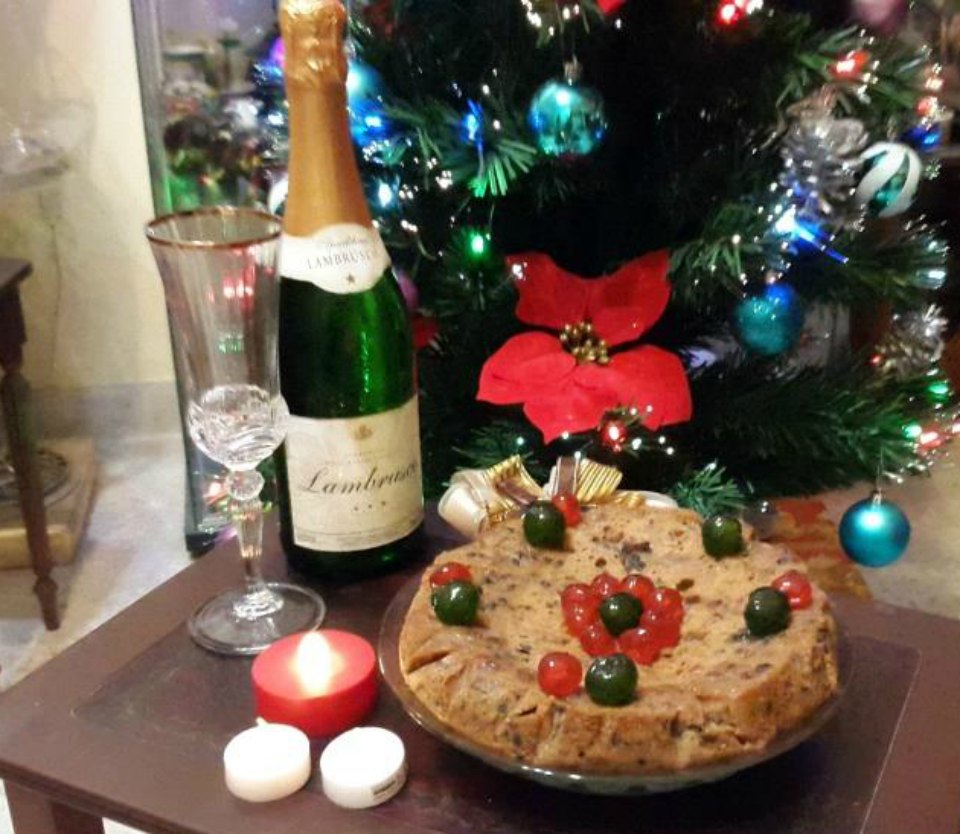 Try to keep busy chatting with people away from the snacks, and avoid the tendency to overeat just for something to do with your hands.
Grab a water so that your hands are busy if that helps.
3. Choose your drinks wisely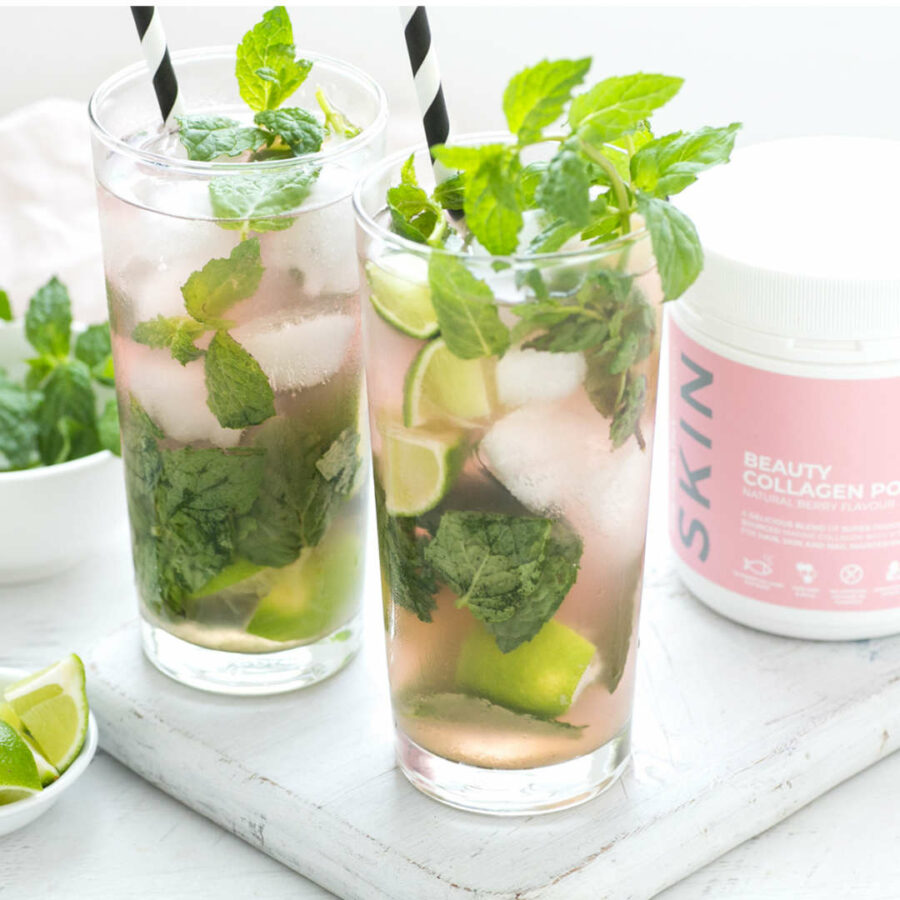 Free drinks can be a killer for willpower. Especially large, creamy, sugary drinks with umbrellas in them.
If you do fancy a cocktail it's best to go for something icy rather than creamy, and one that is flavoured with fresh fruit is better than something packed with syrups or cordials. Think Mojito (160 cal) instead of a Creamy Midori Splice (370 cal).
A great option is to enjoy a glass of white wine or champagne with some sparkling water in it. You still enjoy the flavour but it drastically reduces your alcohol and calorie intake. Plus no one will know that you are being drink-smart.
4. Avoid anything deep-fried, buttery or creamy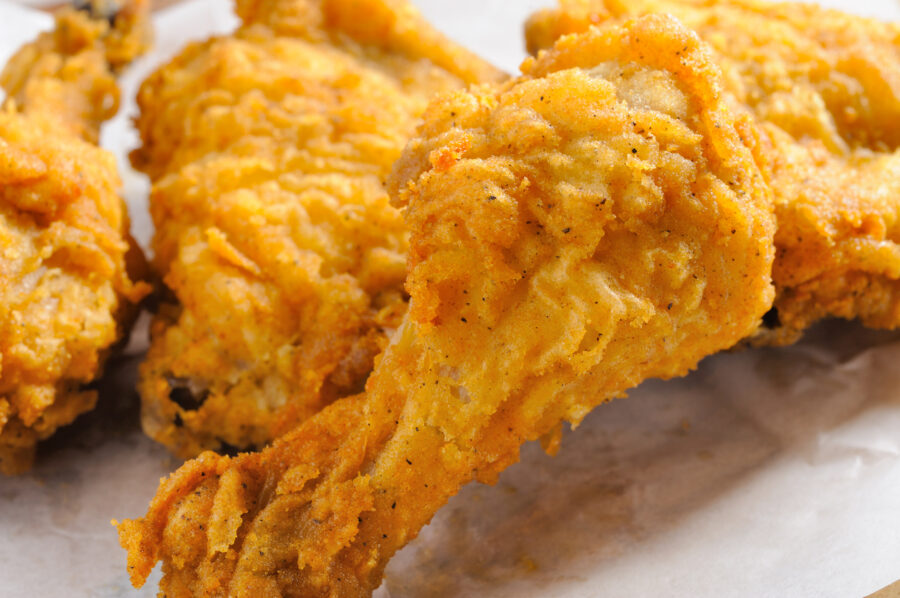 There is, for some reason, a tendency for people to think that everyone needs more batter and mayonnaise in their life at social occasions.
Snacks such as deep fried prawns, sausage rolls, creamy dips and spring rolls abound on canapé trays all over the country. These are best avoided – unless they are a Healthy Mummy healthier recipe. Try filling up on healthy options such as carrot sticks and hummus instead, a small amount of cheese, or some fresh fruit. 
Check out the healthy recipe alternatives on the 28 Day Weight Loss Challenge recipe hub.
5. Try to source the better choices in the food department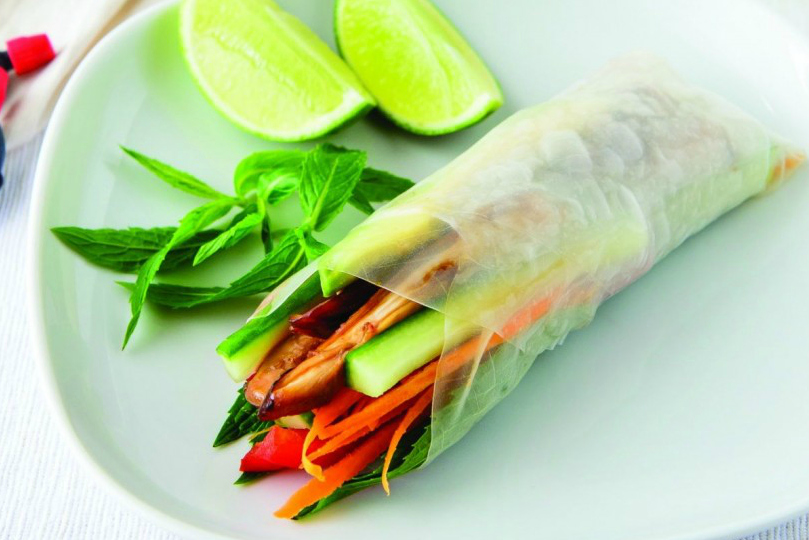 Your best bet is to fill up on better options such as quiches, rice paper rolls, fresh fruit, bruschetta, sandwiches on wholegrain bread, smoked salmon, meatballs and sushi. another delicious bruschetta recipe!
Check out this healthy Vietnamese Rice Paper Rolls recipe here.
6. Set yourself some limits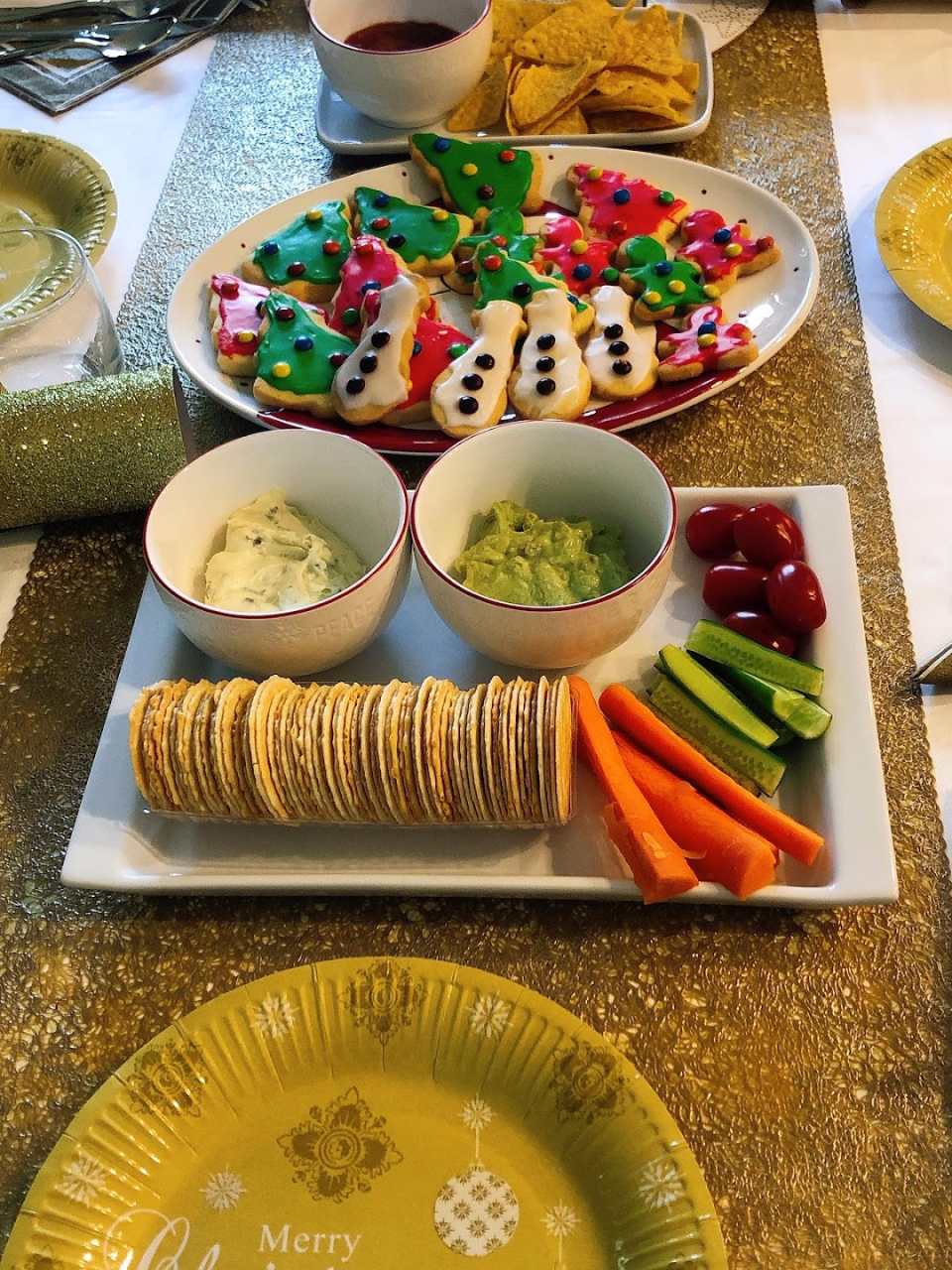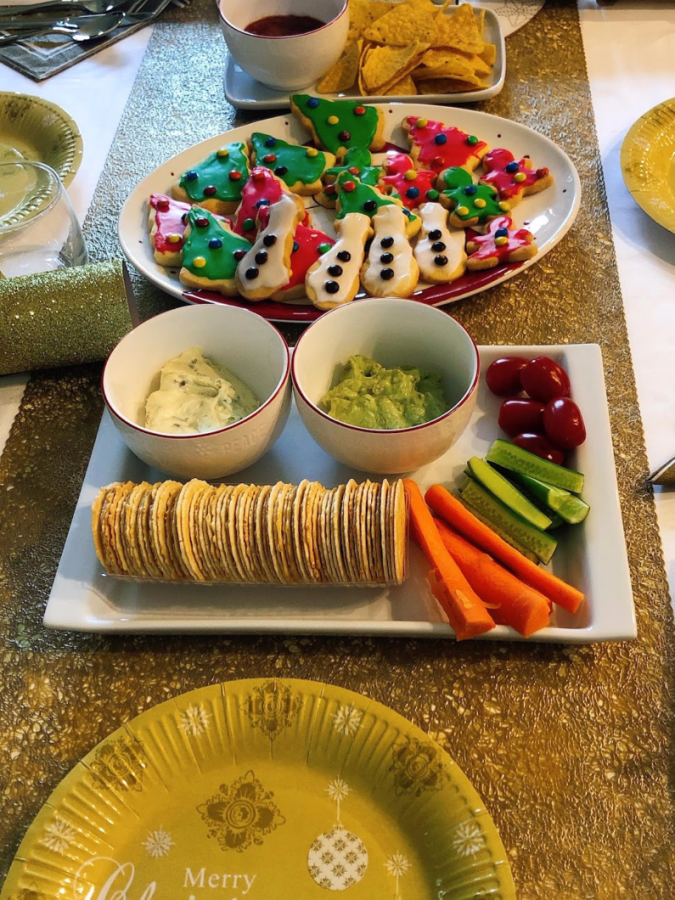 If you find you don't have an 'off' button for the drinks or food at the party, it can help to set yourself a number of each that you will have.
That way you can still be a part of the event and enjoy yourself, but if you reach your 3-drink or 4-canape limit then this might help you to keep yourself in check and not overdo it.
7. Don't overfill your plate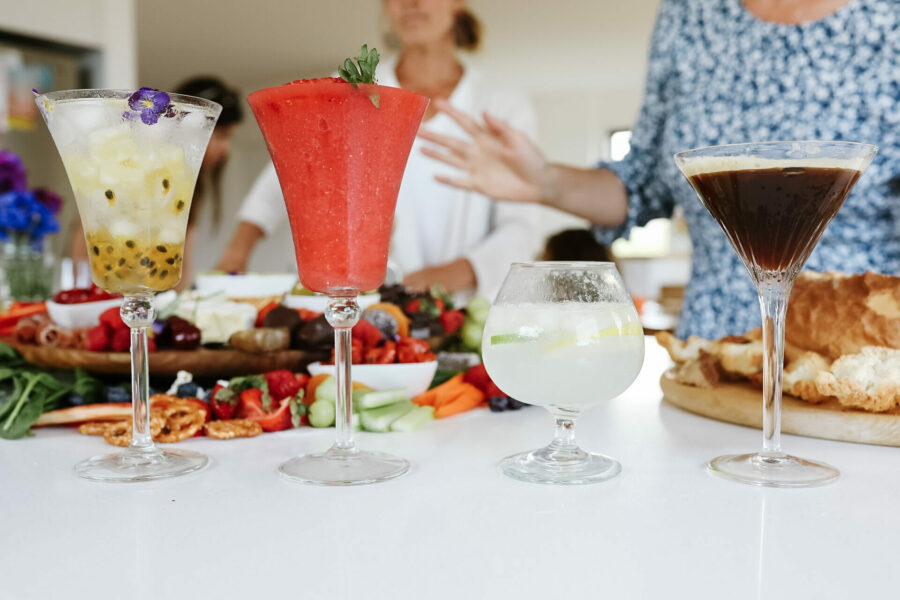 If there is a buffet or a sit-down meal, try your best to keep your portions in check.
It's easy to get carried away when you want to try everything, but remember that this is not your last meal and that you are trying to be healthy (so best to take the extra dinner roll out of your purse).
8. Watch the sauces and dressings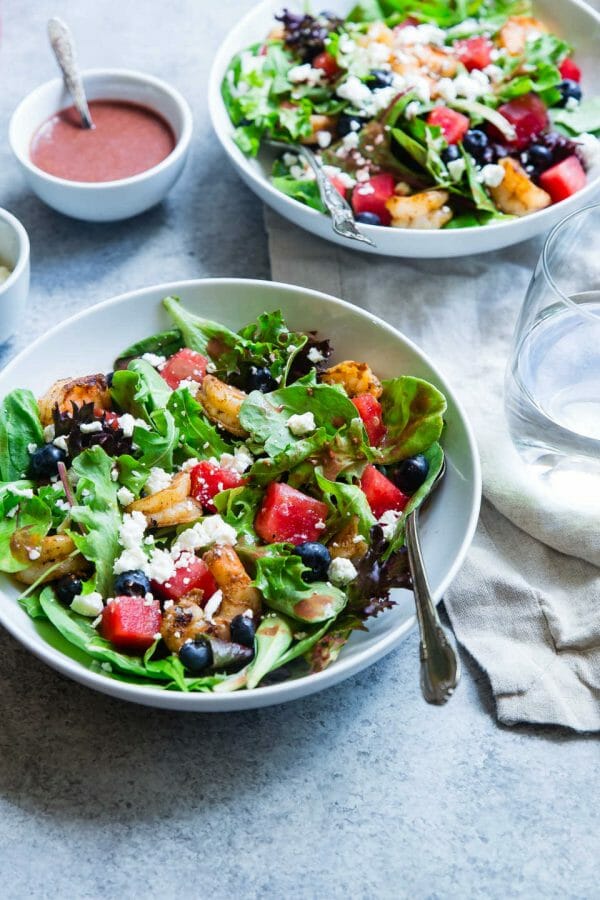 There is nothing that can undo your great choices faster than a creamy sauce or high-fat salad dressing. If in doubt, leave it out and go for a splash of olive oil for your salad or some mustard for your roast beef.
9. Have a line or two ready for over-eager waiters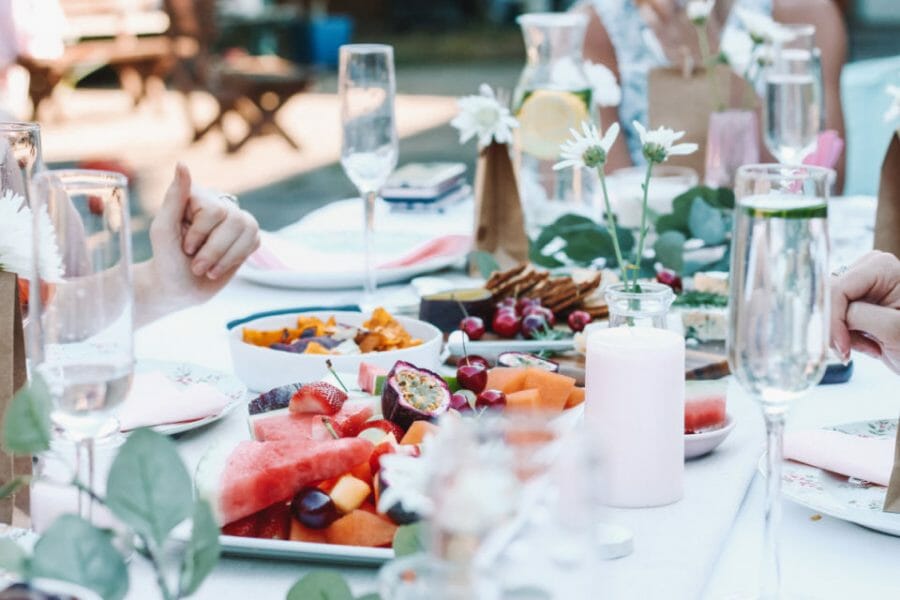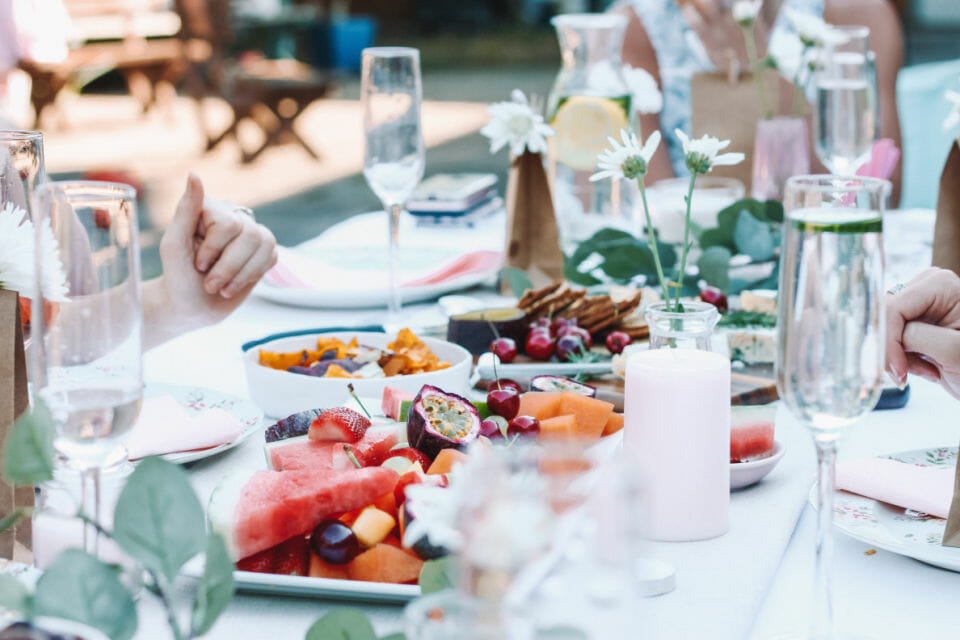 If you are one of those people that find it hard to say no to a smiling waiter with a tray of party pies, it pays to be organised.
There's no need for you to give them your life story, a simple line such as "They look great, but I'm all set thanks" or "I'm fine for now" will suffice.
How to find the lowest calorie drinks
When you are trying to lose weight, choosing the better option from the bar can be confusing. With all the low carb beers, low alcohol wines, not to mention the offers of fruity cocktails – it can start to feel like there are too many choices.
Of course, it's not just calories you want to keep an eye on with your alcoholic drinks – sugar is another one to watch. Many drinks (even the non sweet ones) contain sugar (due to the fermentation process, as well as added sugar in others) so it's important to take note of that as well.
1. Beer 
When it comes to beer, it's pretty easy to remember – the lower the alcohol content, the lower the calories. Alcohol content is more important than whether the beer claims to be 'low carb' or not.
So if you fancy a couple of drinks at a BBQ, a light beer is a good choice as it comes in at 100 calories for a 375ml serve (compared to 145 cal for a full strength).
2. Wine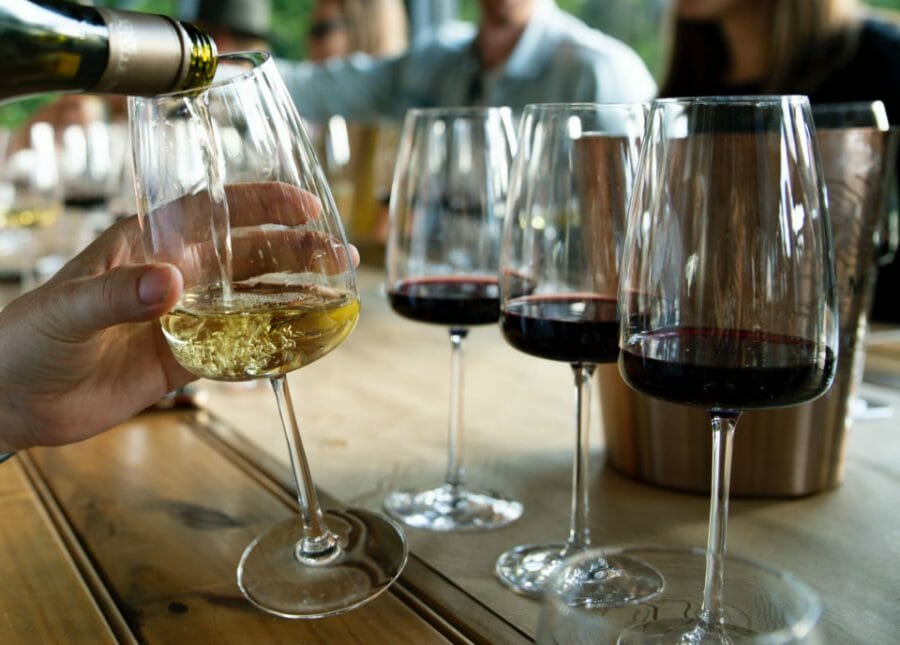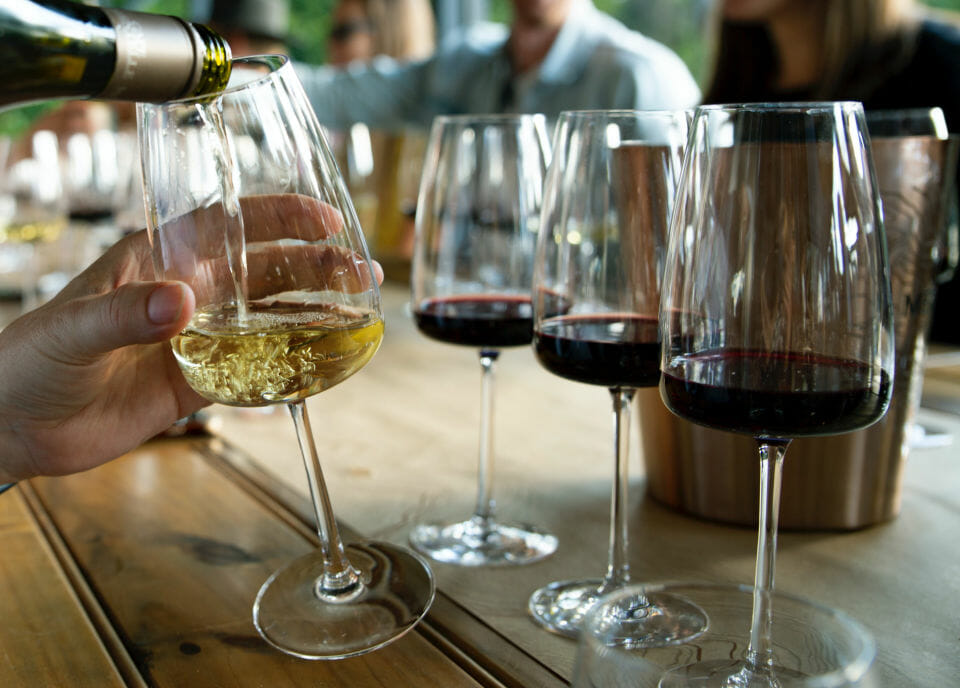 A typical glass of wine comes in at 90 calories for a 120ml serve. It's important to note that wine is much stronger than beer (around 12% for wine compared to 4.8% for beer) so be careful not to overdo it.
You may try enjoying a wine spritzer – which is half wine (or try half champagne) and half sparkling water. You still enjoy the taste of the wine, but it helps to keep you hydrated and clear headed (including the next morning).
3. Spirits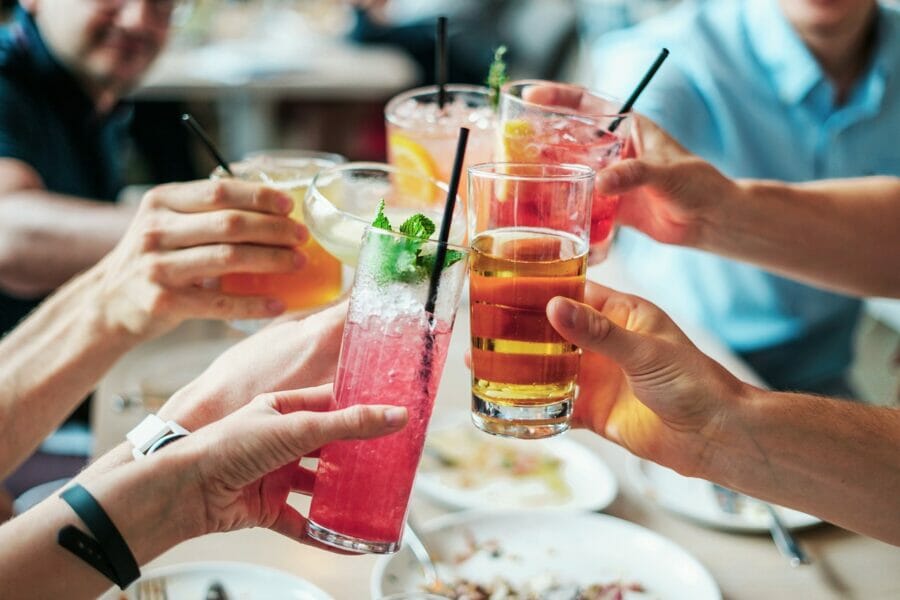 Once again there is a big jump in the strength of spirits with most coming in around the 40% mark.
While a single 30ml nip of vodka or scotch contains around 65 calories, it's the mixers that you need to keep an eye on.
Topping up your rum with a 375ml Coca Cola will add a further 161 calories (and almost 10 teaspoons of sugar!). Ginger beer and lemonade are not much better at 165 cal and 124 cal respectively.
Juice is another one that people often mistake as being a great choice for a mixer. But the 200ml of pineapple juice adds 100 calories and plenty of sugar to your drink too.
Processed juice from a container often has added sugar (as well as the natural sugars) so are best avoided if you can.
The better choices? Go for soda water with some fresh lime – soda contains 0 calories and 0 sugar.
Also why not try adding just a splash of juice to your spirit and then topping up with sparkling water?
You could also try some diet soft drinks – they aren't an everyday option by any means (as they contain sweeteners and numerous additives) but they are much lower calorie and lower in sugar than their full strength counterparts. And don't be fooled into thinking that tonic water is a healthier choice – it's very sugary and high in calories too.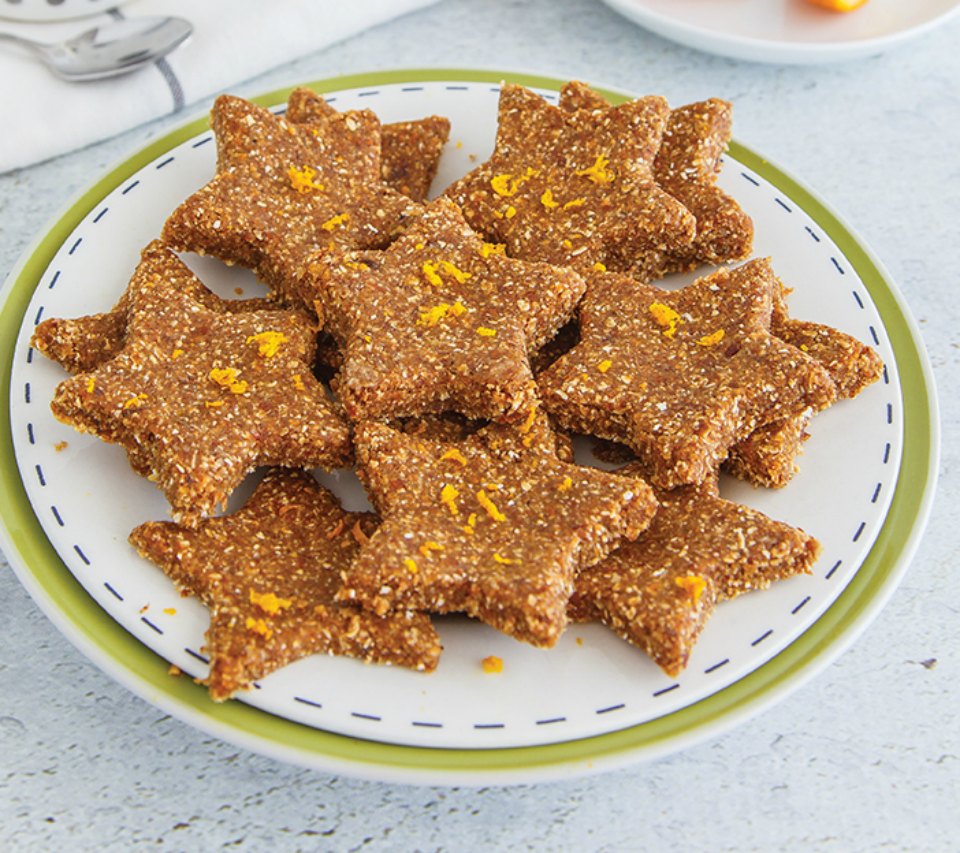 Healthy Mummy happy hour tips
Watch your portion sizes – just like you do with your food, be sure not to over pour your drinks as they can quickly add up.
Alternate alcoholic drinks with water – it will help you in the morning as well as keep you in control
Drinks to avoid include creamy cocktails (they are often huge and filled with, of course, cream), creamy drinks like Baileys, cocktails made with sugar syrup, pre-mixed drinks such as Breezers (as they pack a punch with sugar and calories too).
Set yourself a limit – if you are going to a party why not tell yourself that you will enjoy 3 drinks and that's it. Same goes with the canapés!
Instead of making fruity punch, why not make a healthy iced tea, it's super low calorie as well as being refreshing when served over ice.
Our Christmas Recipe Book has many other drinks recipes that are perfect for this season.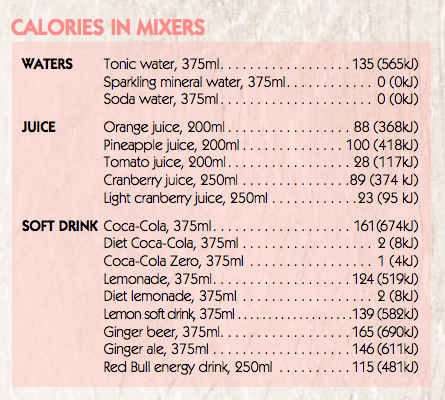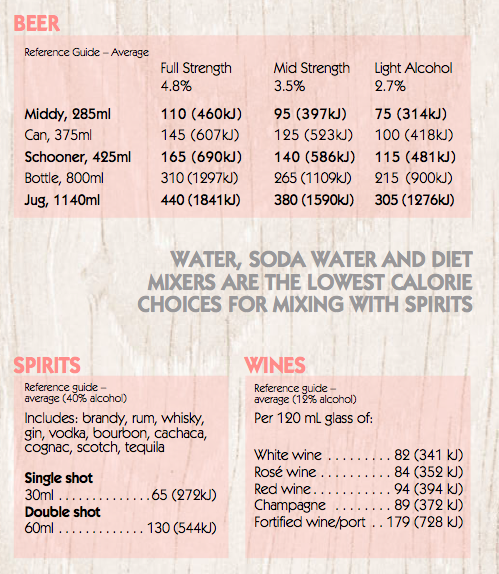 The ultimate Christmas survival guide for busy mums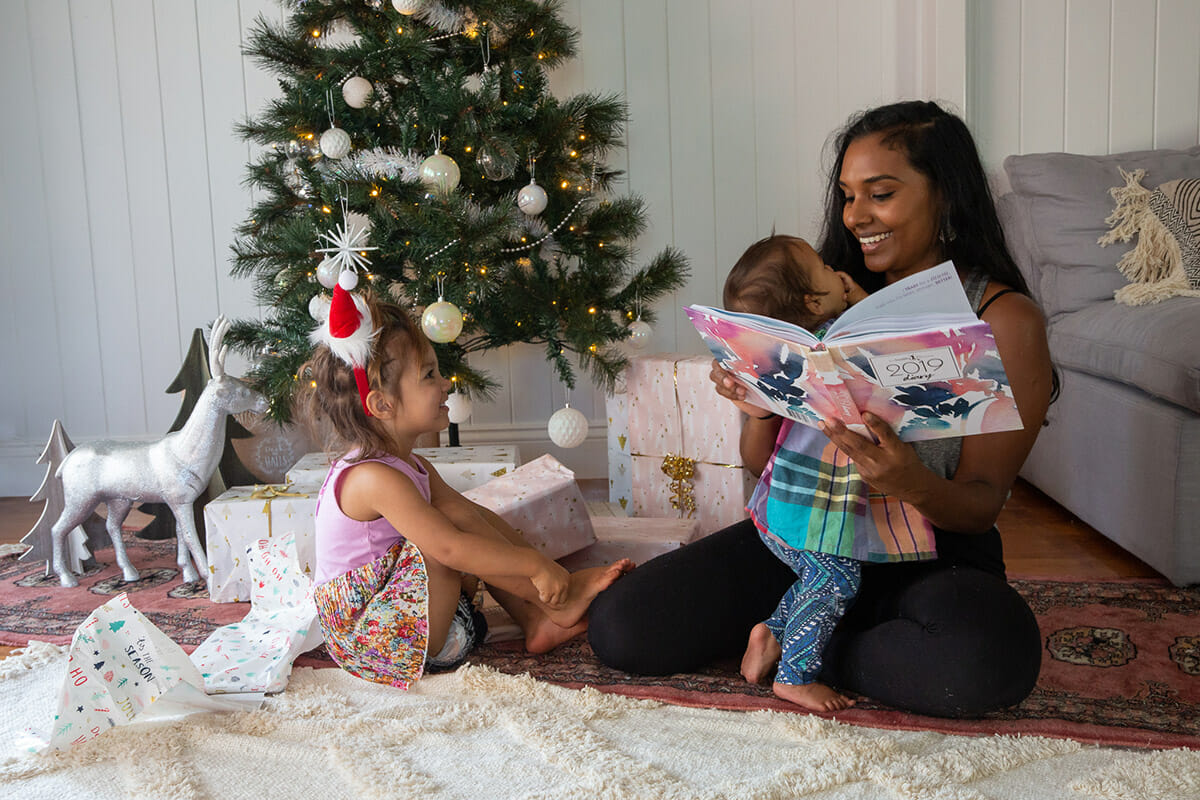 The festive season can bring with it plenty of stress and with Christmas just around the corner, many of us are feeling stressed out and anxious.
Surviving the season unscathed isn't always easy. So if you are following the 28 Day Weight Loss Challenge you may be wondering exactly what is the best option in terms of calories for your festive tipple.
See below what we have pulled together for the ultimate Christmas survival guide for busy mums.
If you're trying to achieve a health and wellness goal or taking part in the 28 Day Weight Loss Challenge, you may be facing a few new challenges on top of the usual pre-Christmas busyness.
That's why we've packed our Christmas survival guide with lots of healthy tips and advice to help you thrive in December.
Here is a guide to how to stay on track
1. Wondering how to stay on track with your weight loss this Christmas? Here's some advice on how to stay on track during the silly season.
2. Pregnant and wondering what foods you can actually enjoy? Check out our favourite, pregnancy safe indulgences here.
3. Heading to a party? Read our advice on making the best choices when it comes to party food and drinks.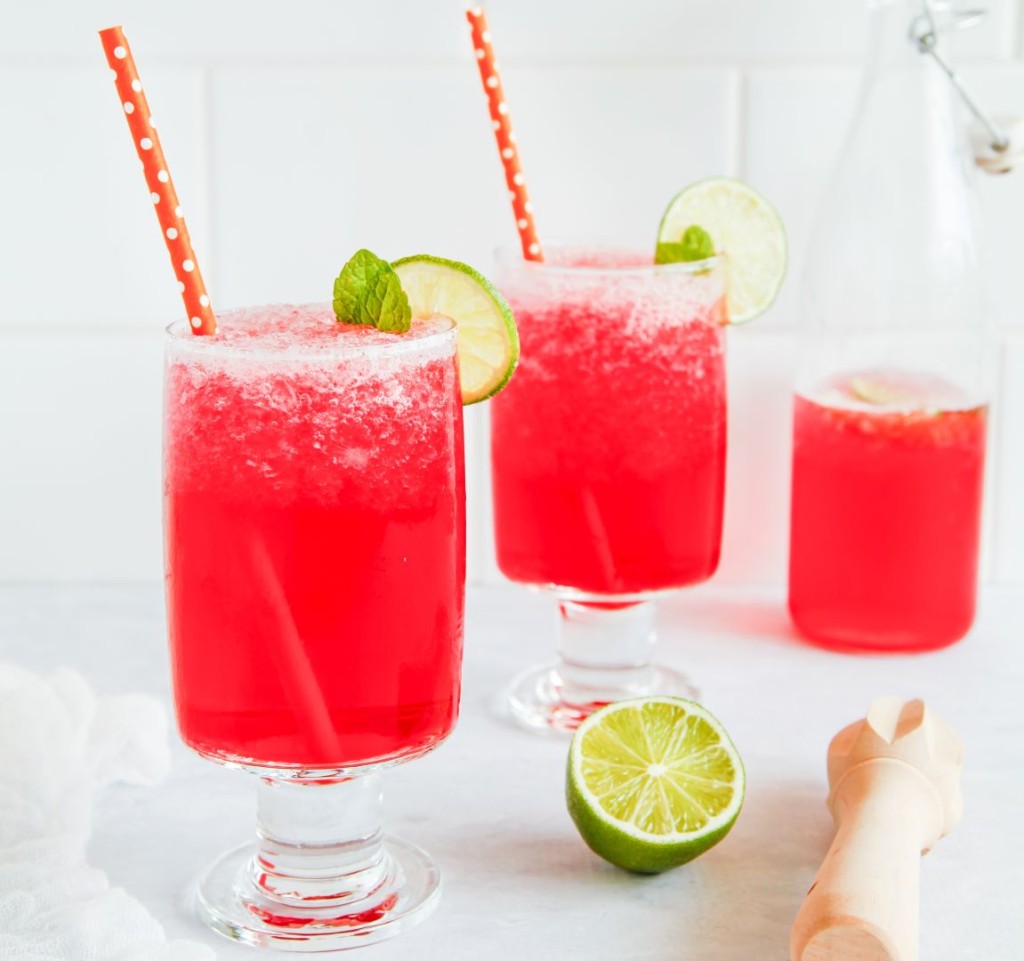 4. Holidays aren't an excuse to hang up your trainers. Exercise is still an important part of the weight loss journey. Try one of our 5 quick tips to fast track a healthy summer body for some inspiration.
5. Planning on hitting the pool or beach? Read our advice here on the top foods to beat belly bloat.
6. Want to turn some naughty desserts into nice ones for Christmas? Check out some of our favourites including our 5 ingredient cheesecake that contains no cream cheese or sugar and our delicious Santa hat brownies. 
7. Worried about what to do with all that leftover turkey? We've got some easy and delicious ideas in our 7 quick ways to use your leftover Christmas turkey and ham post.
8. Ready to hit the shops and shop up a storm? Check out our list of the best toys for your baby and toddler and best toys for your pre-schooler. 
9. Need inspiration for a holiday-themed smoothie? Try our chocolate candy cane smoothie or holiday smoothie for a refreshing and delicious change.
10. Feel like you need some motivation to exercise? Here are 5 great reasons to pop your trainers on and exercise today.
11. Are family and friends asking what they can get you for Christmas? Why not suggest something to assist you on your weight-loss journey.
This could be a new pair of trainers, a high-powered blender for your Healthy Mummy Smoothies (one that can handle ice and frozen banana), or one of our cookbooks?
12. Looking for some recipes for sweet treats that you can use as a homemade Christmas gift? Look no further!
Check out our recipes for Healthier rum balls, Christmas bliss balls and savoury Christmas shortbread.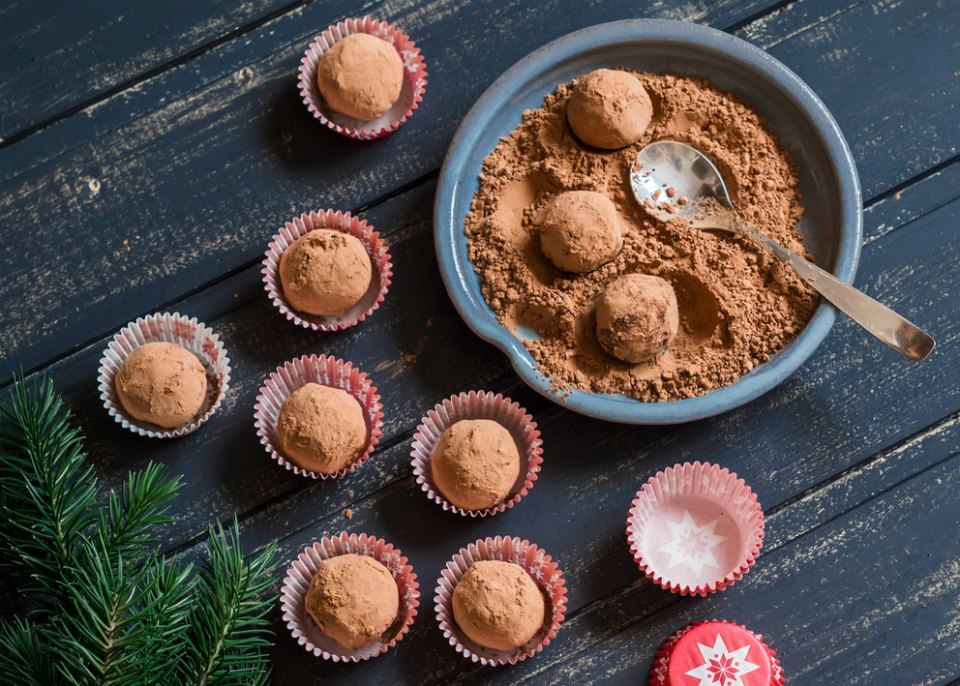 13. If you're looking for a recipe book full of healthy Christmas recipes then we've got the one for you.
Top tips to help mums survive Christmas
1. Meal prep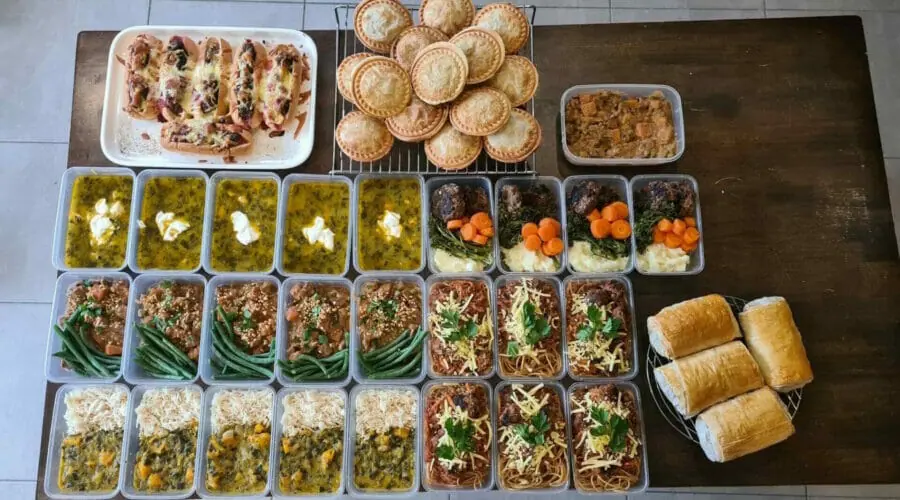 It's that time of year again! Very often, the most stressful part of Christmas Day is the preparation of the many meals you need to cook for all the family and guests.
The most important tip from our mums is prep, prep, prep so that you don't spend the majority of your day in the kitchen. Rather, you can spend your time with family and friends and really enjoy yourself.
This includes snacks as Sam Greeves has learnt all too well. She says, "so that you don't fall off the wagon completely during Christmas time, include plenty of Healthy Mummy snacks in your menu planning."
Some mums say that for them, the best way is to prep the month before all the madness of end of the school year, work stuff, family visits, holidays etc, and deal with one thing at a time. Other mums say that the best thing that works for them is to prep the day before.
"Have everything cooked the day before or very early in the morning so you can relax and watch your kids open the presents. There's nothing more heartwarming than to see their faces light up with smiles at what they got," Crystal Talbot says.
Samantha Tacca likes to have a stock of 28 Day Weight Loss Challenge meals and sweets in the freezer ready to go when the going gets tough.
"I'll make sure I'll have lots of different Health Mummy sweets stashed in my freezer when I want to splurge," she says.
Prep but also remember to schedule a few minutes 'alone time' each day so you don't go nuts.
2. Make sure the kids are happy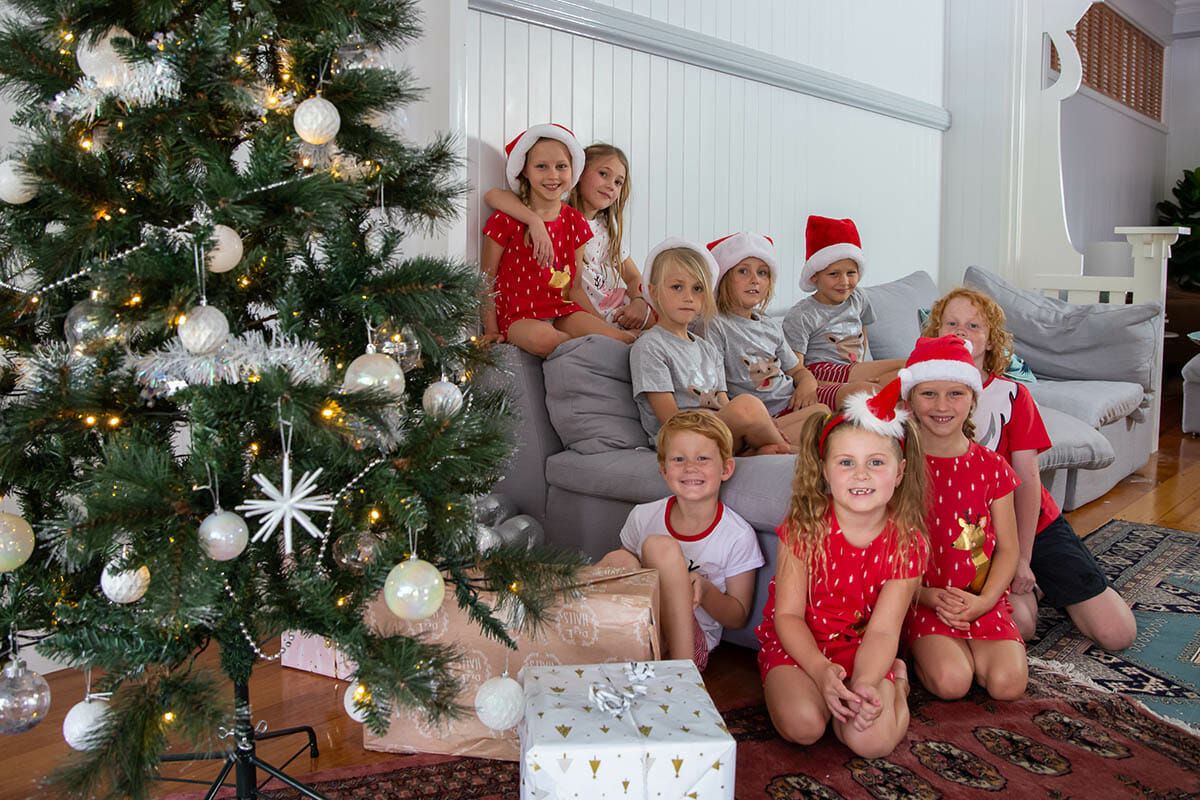 For many mums, knowing that their kids are happy and seeing their excited, smiling faces is the most important thing to them and all the other stuff that comes with the season come in second place.
After all, it is about bringing the magic of Christmas to your children. "Enjoy your babies and don't get caught up in all the stress," explains Glenda Brown.
Kate Clifford is happy when she knows her "kids have had the best day after it's all over and done with."
"My number one Christmas survival tip is just to do what I can. Christmas is for our kids and making them happy. As long as they are happy, my life is perfect. Yes, I wish I could give them the world and more but I can't, so I try to do as many fun activities with them to make up for the expensive gifts that I can't afford. They are number one and gifts are materialistic but memories are priceless," explains Kylie Coates says.
It's always good to have a family who has a relaxed approach to Christmas, mum Kate Eastcott makes it about the family and the kids and tries not to stress about food, presents, and the rest of it!
It is important to remember that time passes quickly, so enjoy time with your friends, family and especially your kids while you can.
3. Easing the guilt and enjoying the festivities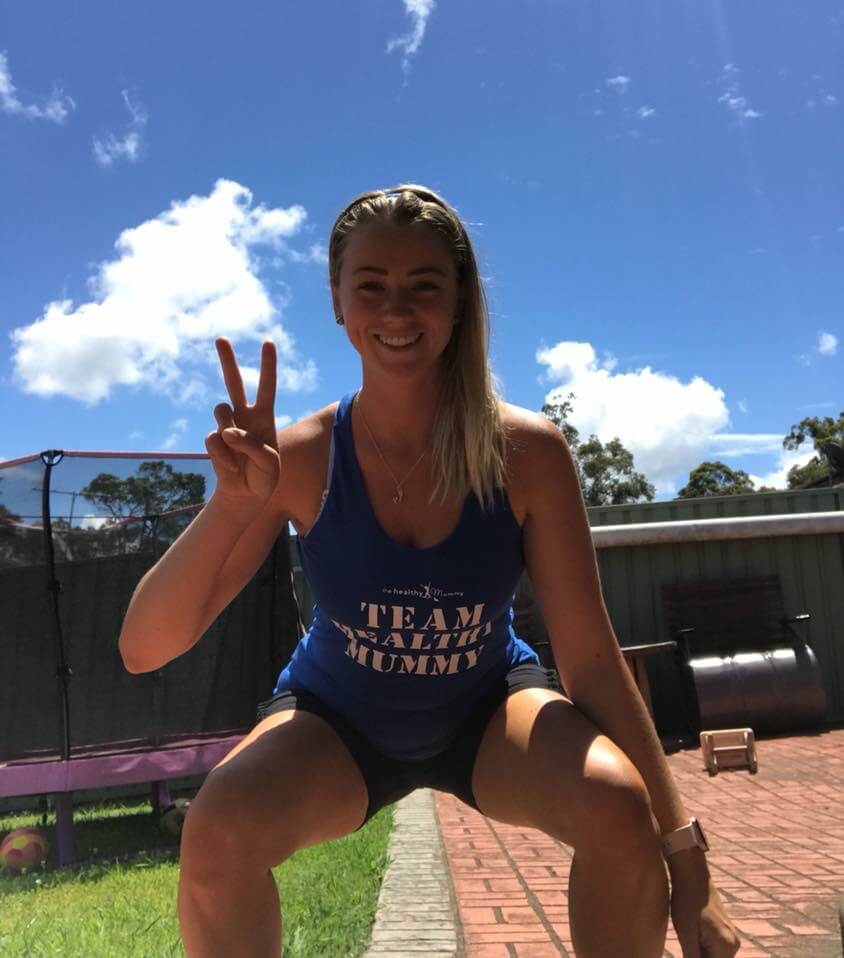 Let's face it, Christmas is a time well known for overindulging. If this is something that happens to you during the festive season, our mums have some very helpful tips to ease the guilt and allow you still to enjoy everything, in moderation.
Exercise is a proven way to keep your calories under control and mum Naomi Gibbs has some helpful advice. She says, "Indulge, but don't overdo it. Go for a walk if you've overdone it. Don't feel guilty."
Leanne Addison suggests setting a challenge like five kilometres at Christmas for five days of fitness!
"Start on the 23rd of December to the 27th December. This helps with the little over indulgence at Christmas time," she explains.
Dancing is another great form of exercise it is so much fun you can get the kids involved and you'll forget you're doing exercise. Teresa Lawson agrees and has lots of fun with her family with lots of dancing.
What a great way to burn off those calories! If you are looking for some dancing inspiration check out the DanceFit routines in the 28 Day Weight Loss Challenge app.
When it comes to mental wellbeing, exercise has a positive impact on your physical and mental health, which is great to keep in mind at this time of year when it all becomes a bit chaotic and stressful.
Jade Edwards likes to exercise daily during this time, "I exercise daily as it's me time when everything is havoc around me," she explains.
But if you do fall off the wagon, "you always have tomorrow to jump back on," explains Emma Lennan.
4. Make a list and check it twice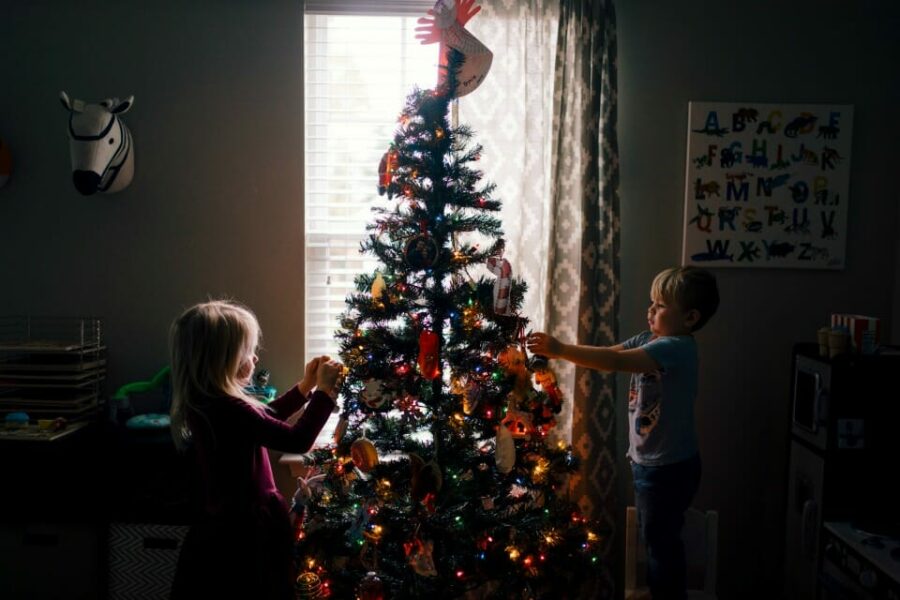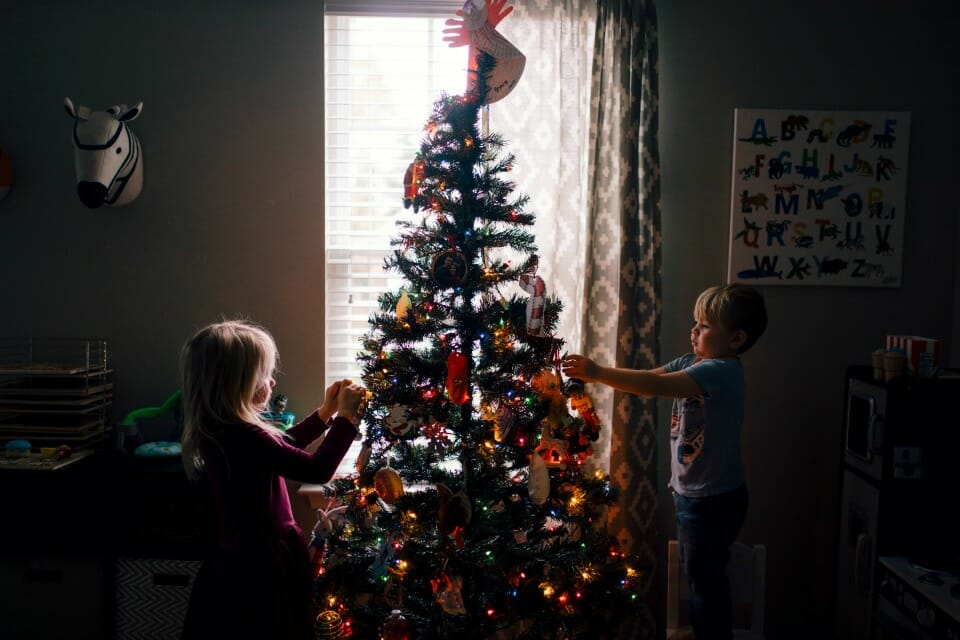 Having a checklist for the Christmas shopping helps to keep you organised and it's the best way to ensure you'll have more holiday cheer and less holiday stress. Here are a few ideas from our lovely Healthy Mummy mums to help get you more organised.
Hit the shops before the rush and not on the weekends (if you can help it) and try not to take the kids with you if possible!
Rebecca Dean advises having a checklist for the shopping (presents and food). "Take water and a snack with you and wear comfortable shoes such as joggers." 
Once you have battled the crowds in the malls and are back to the safety of your own home, you can start battling the wrapping of the gifts.
Every time you bring a present home, wrap it and write down what it was and who it's for so you are not doing it all at once on Christmas Eve and you keep track of what you've got and for whom.
5. Budget shopping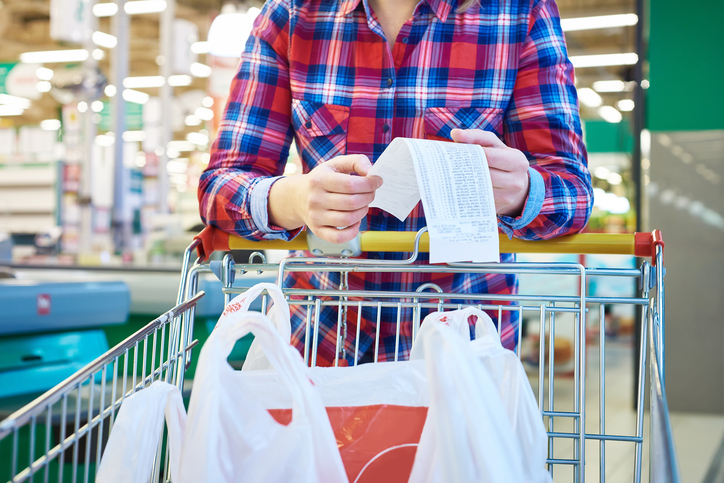 Making a shopping list and devising a budget goes hand in hand when trying to keep track of your festive spending it is the best way to avoid going over your budget or overspending this Christmas.
Anita Lambert suggests putting $25 a week, starting at the beginning of the year, into a high-interest savings account.
"This allows me to relax and know that the money I need for everything is there to use come December for gifts and for food," she explains.
When it comes to the budget, a shopping list avoids that unnecessary impulse buying. It is also wise to shop using weekly sales at your local supermarket and shops. Start a month or two early or earlier if you can to take advantage of sales.
When it comes to food shopping, Kimberley Jennings says her advice would be to take advantage of bulk shopping.
"Also, shop for fresh vegetables and salad goods at a local fruit and vegetable shop just before Christmas. They always seem to have good deals, just before the big day," she says.
6. Everything in moderation or plan ahead to stay healthy
Victoria Miller is all about enjoying herself, eating and being joyous her best tip to surviving Christmas is to eat in moderation.
It is also a wise idea to plan ahead, you never know what food is going to be served at the many homes you may visit during the happy season.
"Plan ahead," says Sonia Bailey, "A snack and a small salad in your handbag can prevent poor choices/having to eat takeaway unexpectedly." 
7. But the biggest tip…HAVE FUN!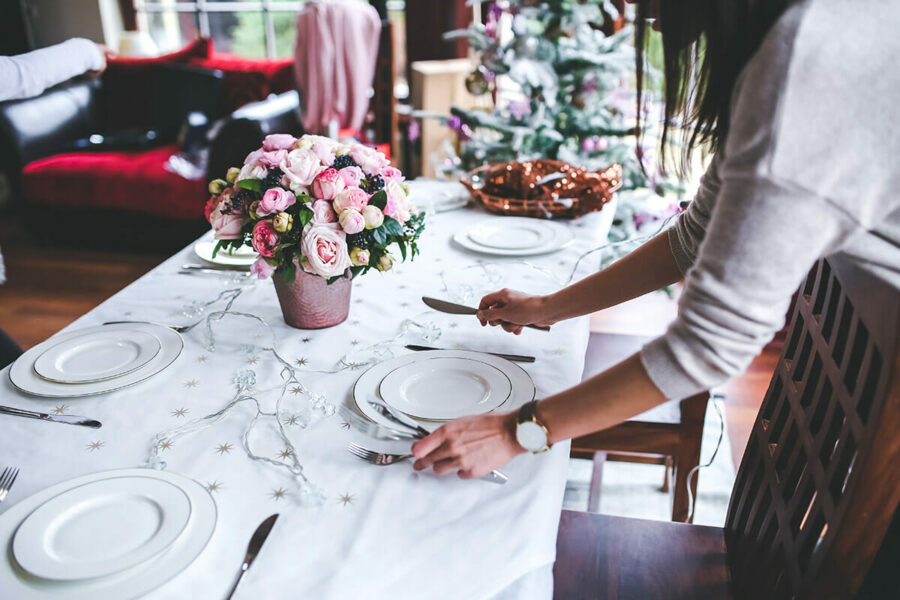 Put your phones down! Watch Christmas morning unfold through your eyes, those are memories you can't get back! Love, laugh and be with the ones who matter most.
Giving and receiving is great, but being truly happy and at peace within yourself even for a day is a beautiful gift which will be felt, this is something our mums would like to emphasise.
It's presence, not presents that makes the difference.
Stay on top of your weight loss plan this Christmas!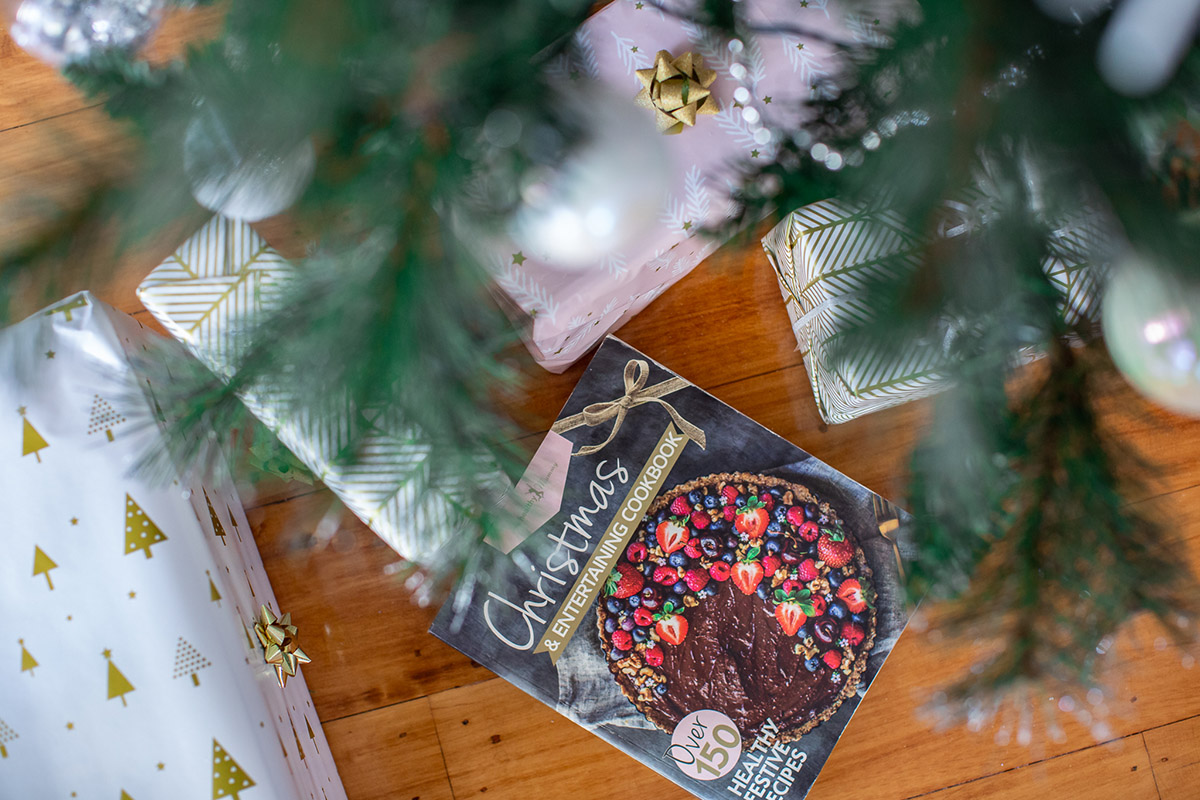 The festive season is packed with parties, dinners, and barbecues, and these are great times to enjoy yourself and relax. However, even with the best of intentions, a full calendar of festivities can also result in a little too much indulgence, leaving you feeling bloated, lethargic and generally unhealthy by early January!
We've put together this Christmas Entertaining Cookbook with 15 recipes so you can go into the silly season armed with tips and tricks on how to have fun without going overboard.
Healthy Mummy Kellie Trewden reveals her 12 tips for a healthy Christmas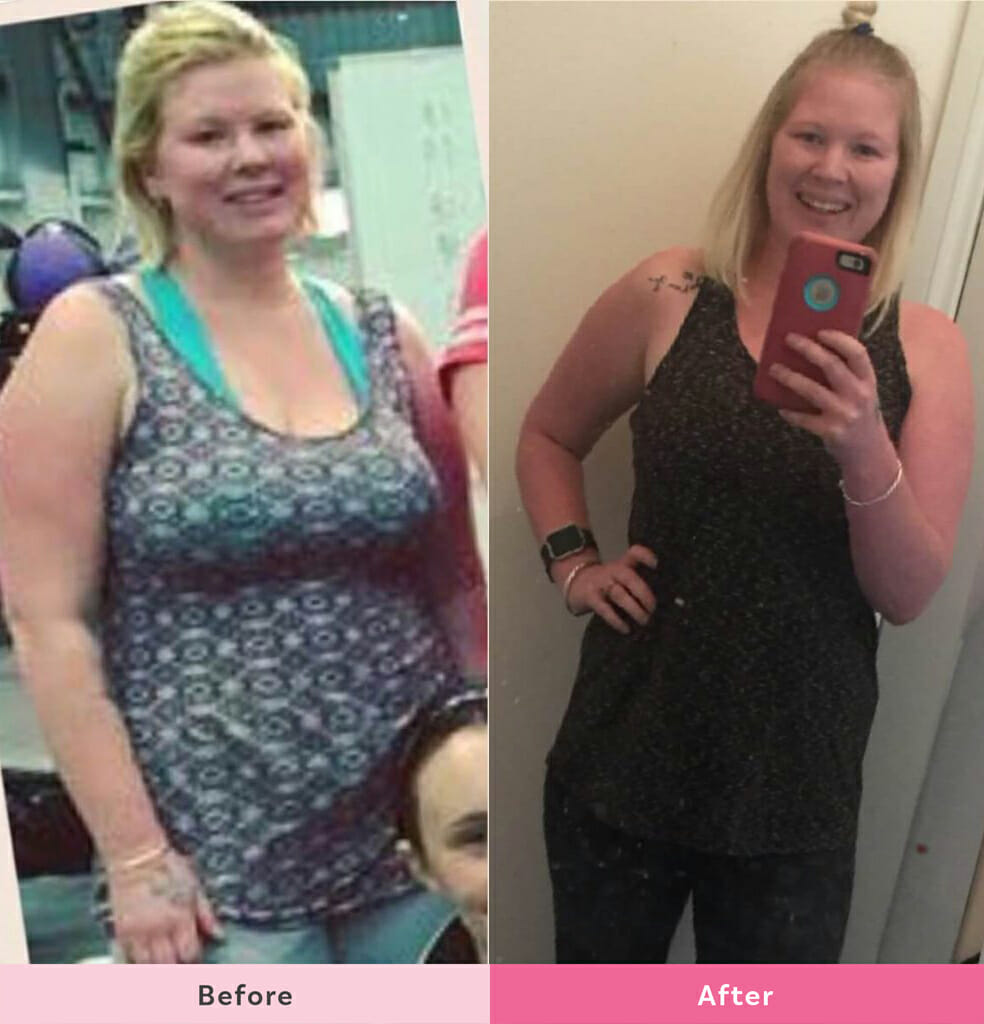 1. De-stress
Make lists of what you need to do and tick them off as you go. Stress can cause a heap of health tissues and not to mention cause emotional eating.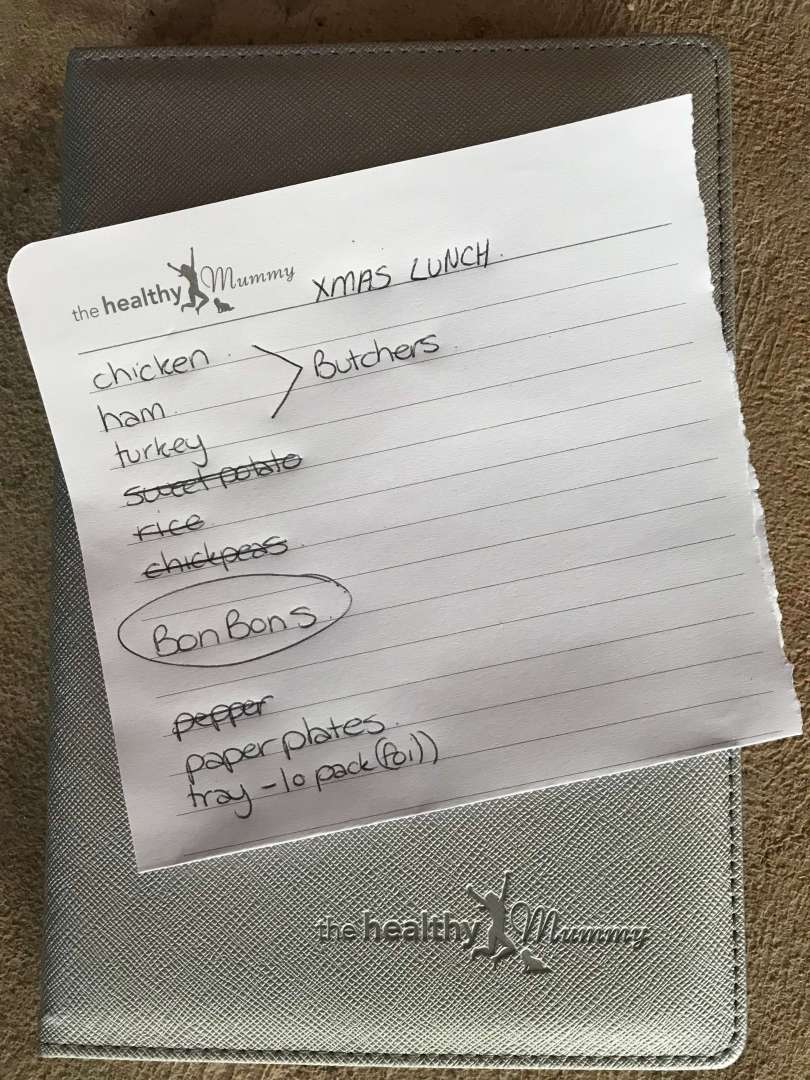 2 Be prepared
If you have lots to do like last minute shopping or planning. Have snacks in your handbag, fill your water bottle up, have your lunches prepped or even take a Healthy Mummy Smoothie on the go with you.
3. Opt for healthy sides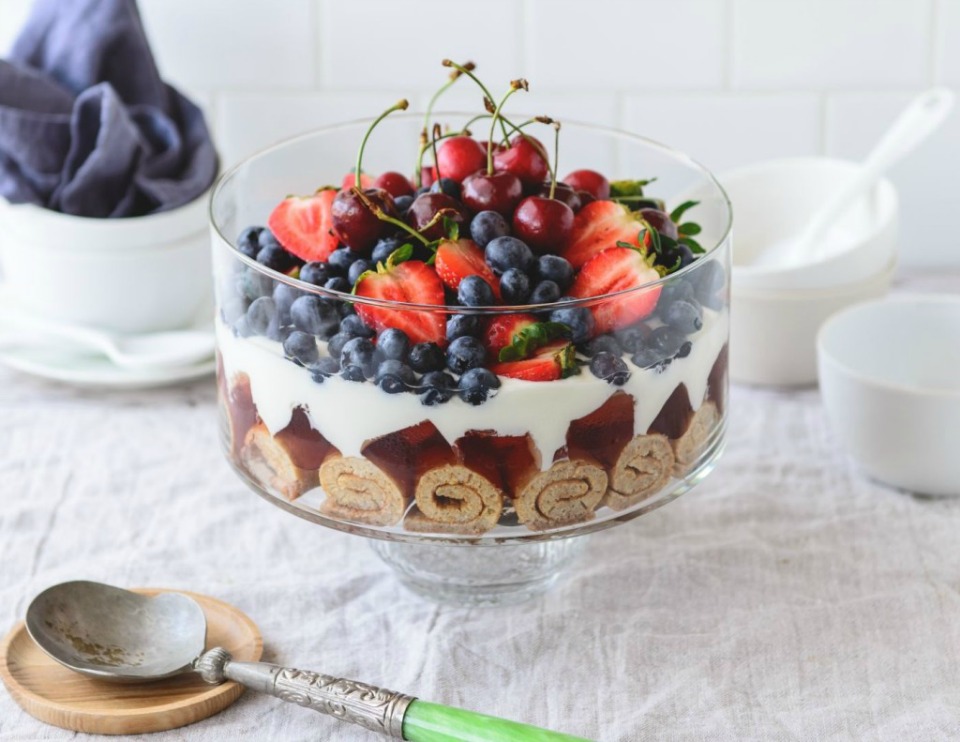 Wow the crowd with healthy side dishes and desserts. Alongside all those delicious meats make some amazing side dishes that no one will complain about. There are heaps of recipes on the NEW Christmas Cookbook.
Treats like the Healthy Fruit Trifle can be found in our new Cookbook.
4. Wake early
Get up early and get that workout in. Before the busy day starts make time for you. Get that workout done then you can enjoy the festivities with your family (maybe even have that nap after your fantastic feast).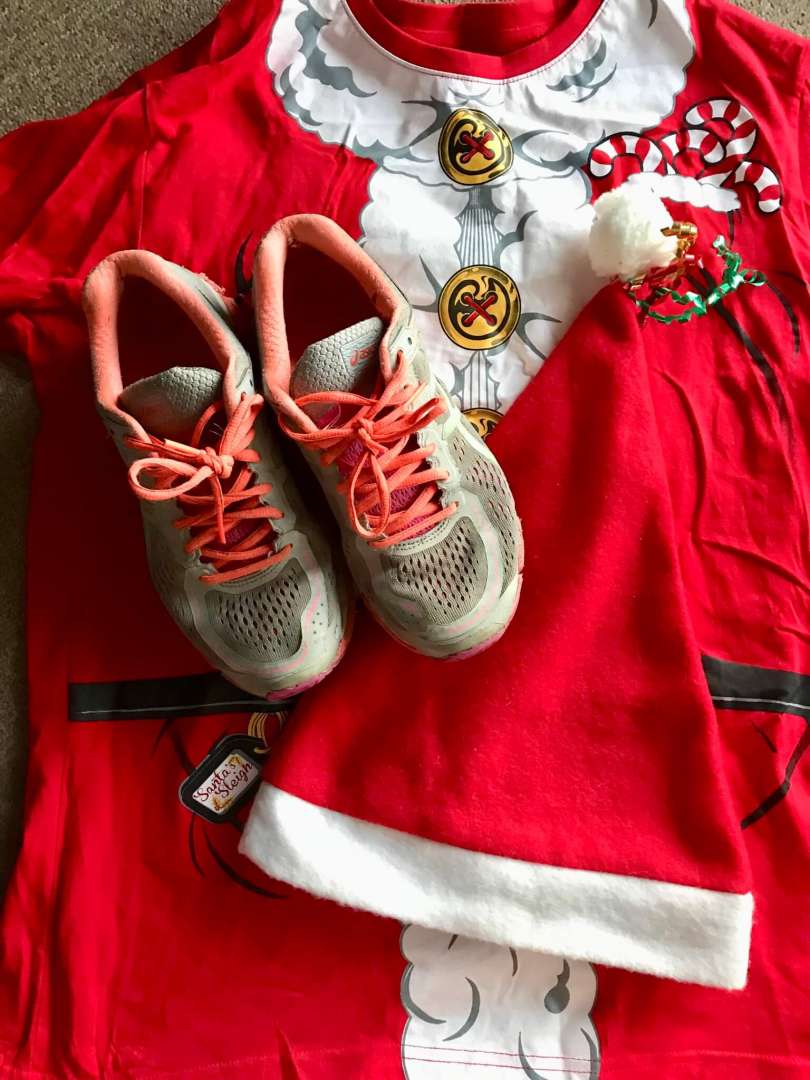 5. Buy active gifts
Another way to stay active is to get the kids some active presents… volleyball, basketball, soccer nets, totem tennis, new bikes, or water pistols.
Not only will you be getting active together, you will feel better mentally AND your kids will love that you are playing with them.
6. Stay hydrated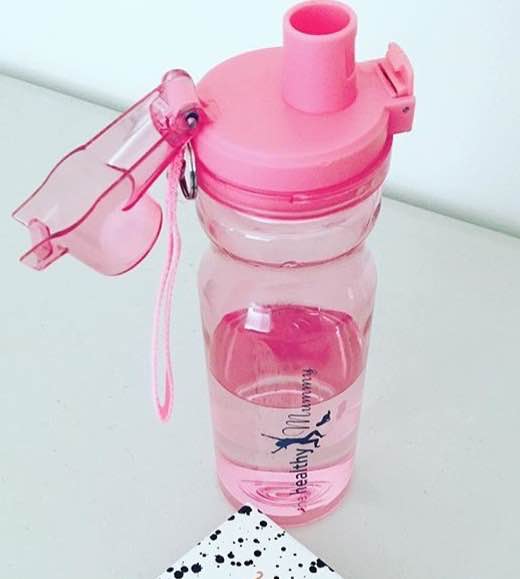 Water is important. Especially in the warmer months. I know how easily it is to forget to drink when busy. Set little alarms if you have to or make your water interesting by adding fresh fruits or even flavoured teabags.
7. Everything in moderation
We know Christmas calls for celebration and The Healthy Mummy often says everything in moderation.
8. Be mindful
If you've been put in charge of the cooking, be mindful of what your putting in your mouth. I know all too well that it's easy to taste test everything. But a little bit of everything adds up quickly.
Try not to cook on an empty stomach. Have some easy snacks on hand or a smoothie you can sip on.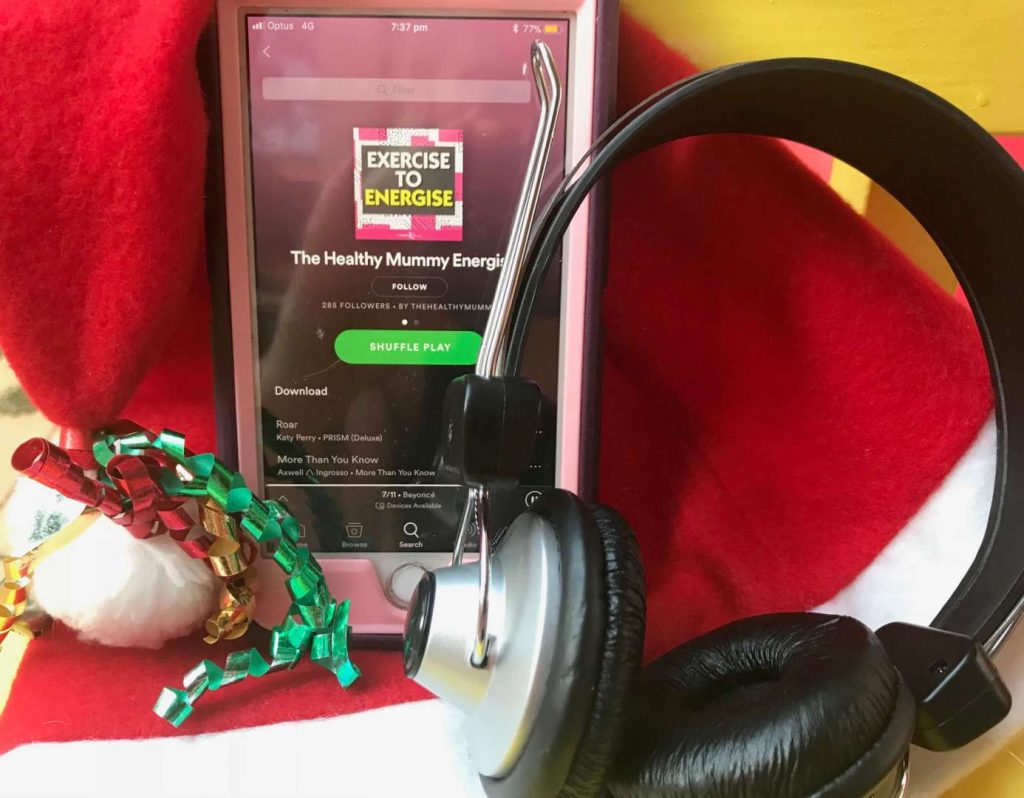 9. Make a simple workout playlist
Check out The Healthy Mummy Spotify channel for some ideas. Choose a couple of songs that will get you pumping an use these to get a workout done.
We know it can be difficult to get motivated when there so much fun to be had.
10. Set yourself a goal
If your feeling overwhelmed going into the festive season choose one healthy habit to focus on. For example: no alcohol, skip the nibbles, or only one serve of dessert. Choose one thing you can stick to and focus solely on that one thing.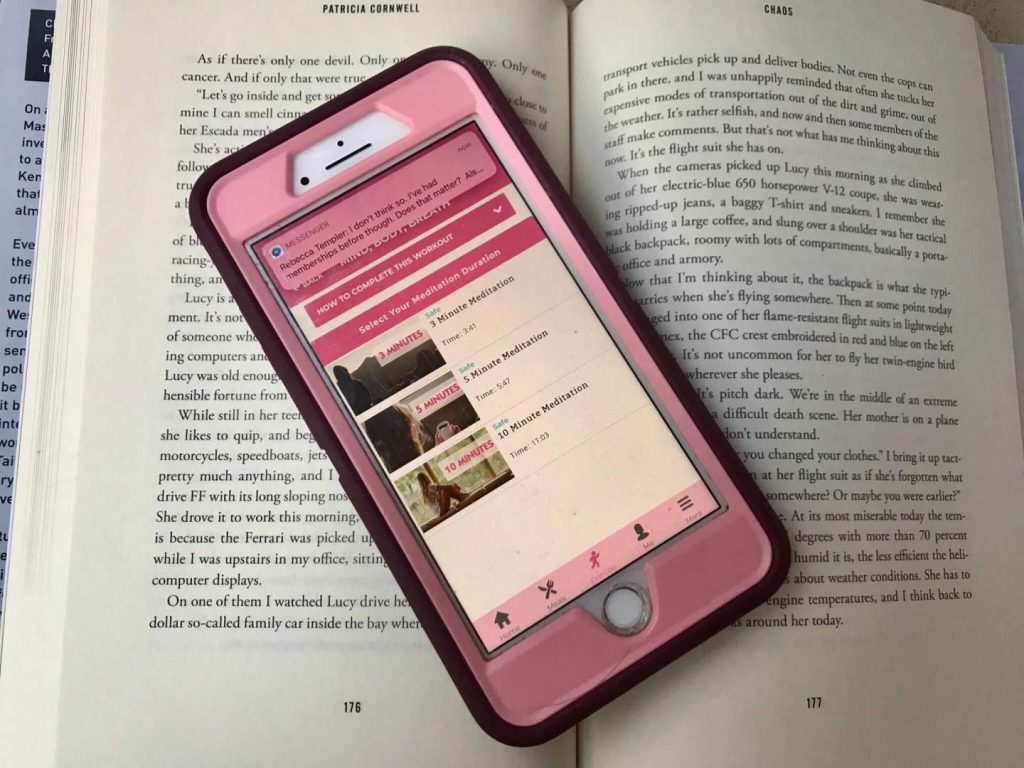 11. Make time for some 'me time'
It's not selfish to look after you. Read a book, try out yoga. Give mind body breath a go on the Challenge Members app.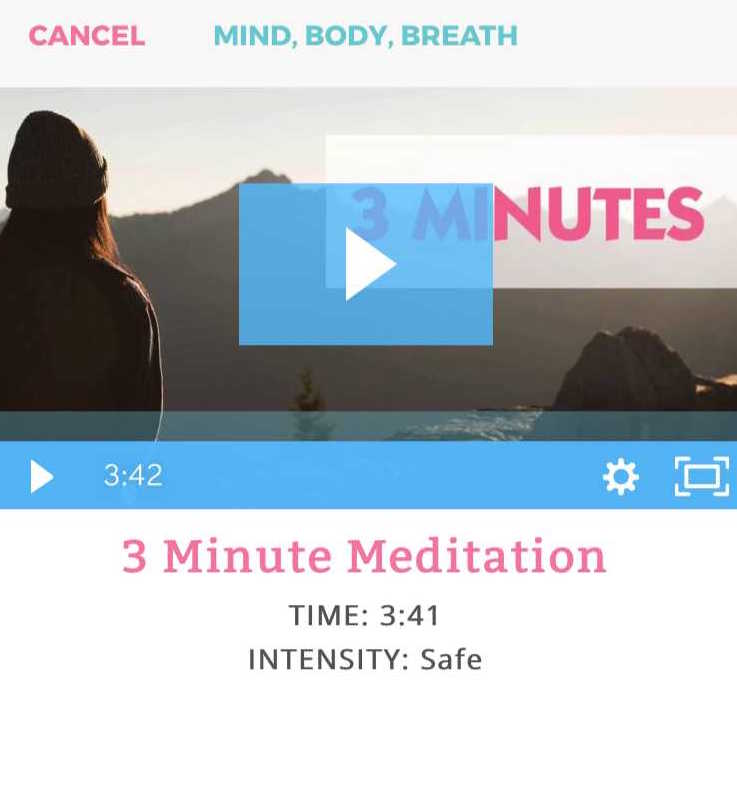 12. Enjoy yourself
Nothing says 'healthy' like looking after your mental health and enjoying the time with your loved ones.
Kellie's weight loss journey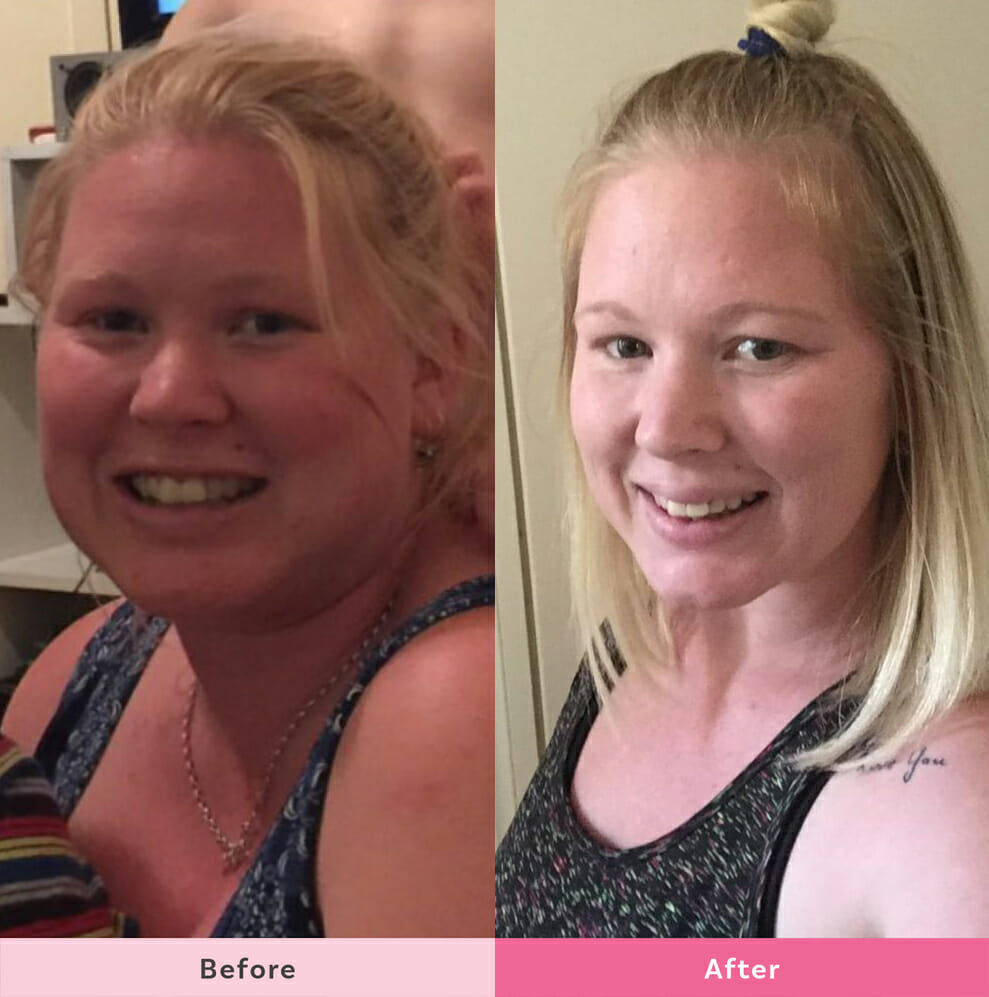 A year later and with the help of the 28 Day Weight Loss Challenges and The Healthy Mummy Smoothies, Kellie loves fitting into her new clothes.
Kellie has lost 20kgs and her confidence has skyrocketed, she is feeling like a totally new person.
"I know this is what losing 20kg looks like but I never imagined what it could feel like."
Read more…
Hopefully this ultimate Christas survival guide and tips will help you manage to keep your diet and exercise program while you still manage to join in and enjoy all the fun of Christmas.
Have a great Christmas!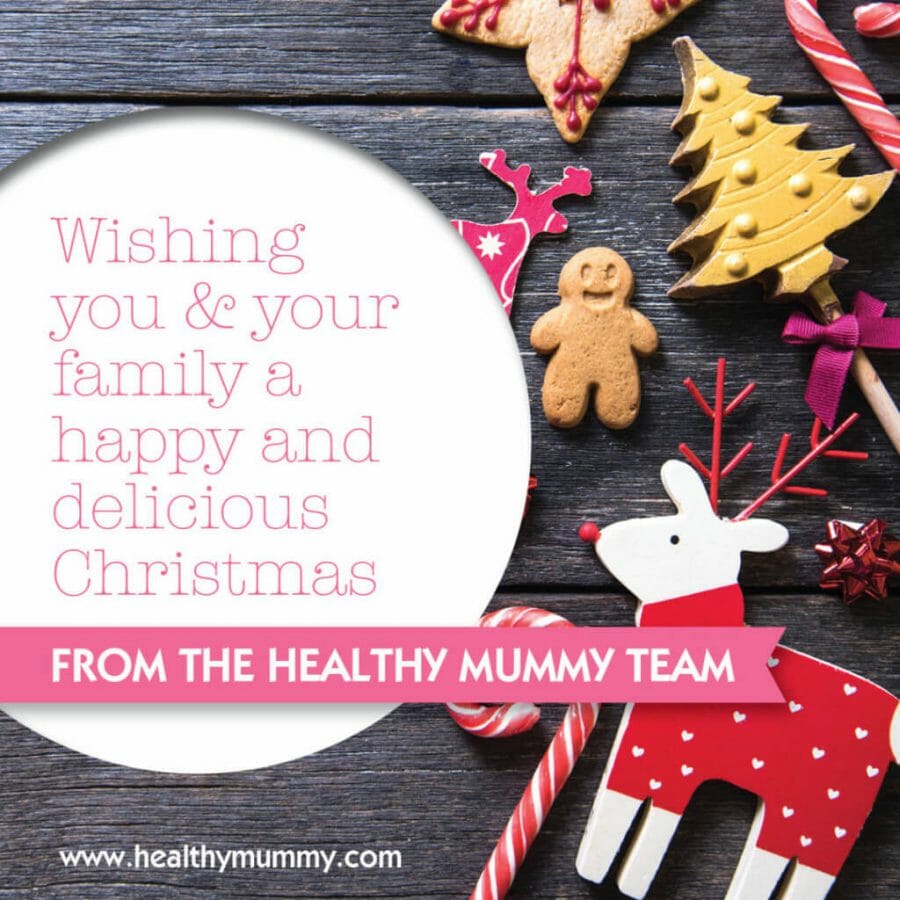 Join the 28 Day Weight Loss Challenge!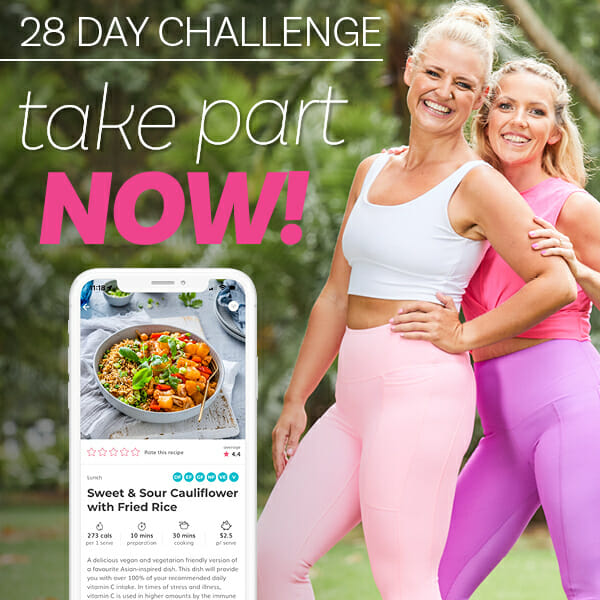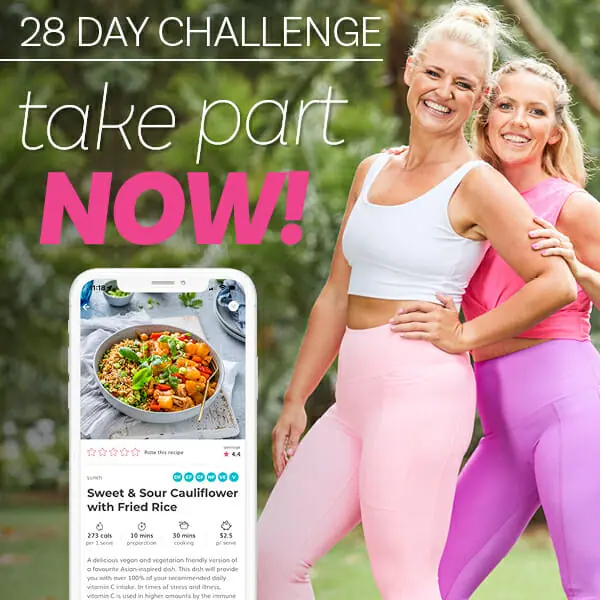 With more than 4,000 delicious (and healthy) recipes, 350 exercises & 24/7 support – the 28 Day Weight Loss Challenge is designed (and proven) to help busy mums like you lose weight!
For more information, click here.