Breaking News: Debbie Reynolds Dies One Day After Daughter Carrie Fisher
With Hollywood is still mourning the death of Carrie Fisher, it's being reported her broken-hearted mother Debbie Reynolds has died following a stroke.
TMZ says Debbie was rushed to hospital earlier today from her son Todd's home, amid reports of a possible stroke. It's understood Todd and his mother were making funeral arrangements for Carrie, who died in hospital yesterday, following a heart attack on board a flight several days ago.
According to Variety, Todd said his mother "wanted to be with Carrie".
One Of The Hollywood Greats
Debbie Reynolds played several iconic roles over her long carrier, including starring roles in Singin' in the Rain, Tammy and the Bachelor and The Unsinkable Molly Brown – which earned her an Oscar nomination.
The 84-year-old had three husbands during her colourful life, including Eddie Fisher.
Debbie And Carrie's Relationship In The Spotlight
The mother and daughter had a reportedly 'stormy' relationship, which was the premise of Carrie's book Postcards From the Edge, which she later adapted into a screenplay for the critically-acclaimed movie.
Yesterday the mother-of-two posted a message on her Facebook page, thanking all of Carrie's fans for their love and support.
Debbie supported her daughter through many tumultuous times, most recently after the Star Wars actress revealed she'd had an affair with co-star Harrison Ford.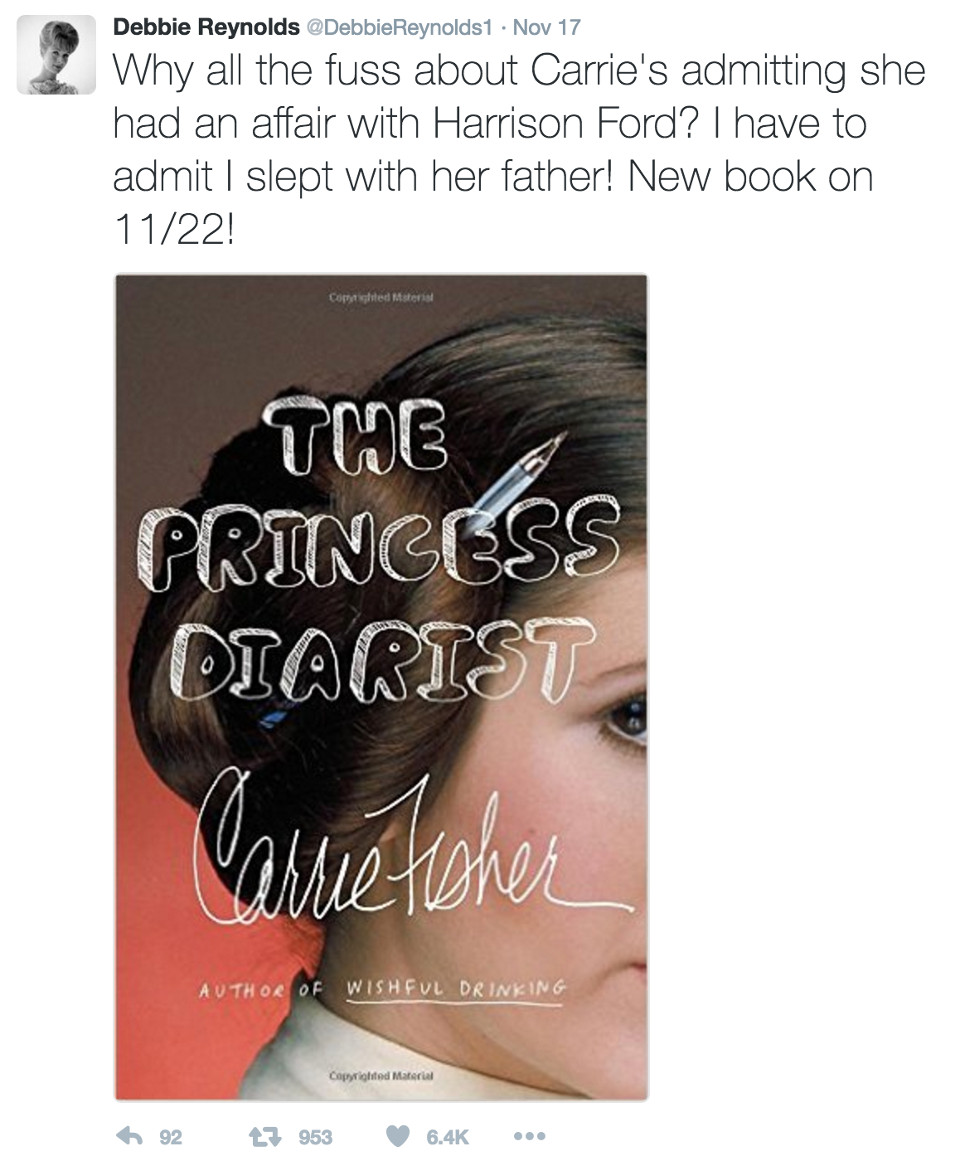 "Why all the fuss about Carrie's admitting she had an affair with Harrison Ford? I have to admit I slept with her father! New book on 11/22! pic.twitter.com/nRPWB4ugK5
— Debbie Reynolds (@DebbieReynolds1) November 16, 2016
This latest Hollywood death has once again prompted an outpouring of grief on social media, as the world tries to come to terms with the many beloved celebrities who have died in 2016.