Expert Tips To Get Kids Off Screens Without Techno-Tantrums!
Is there a daily battle in your house to get your kids off their devices? You're not alone; it's a reality of modern society that are kids spend a huge amount of time in front of screens.
Leading children's technology and development expert Dr Kristy Goodwin has given us some great tips on helping wean children off screens.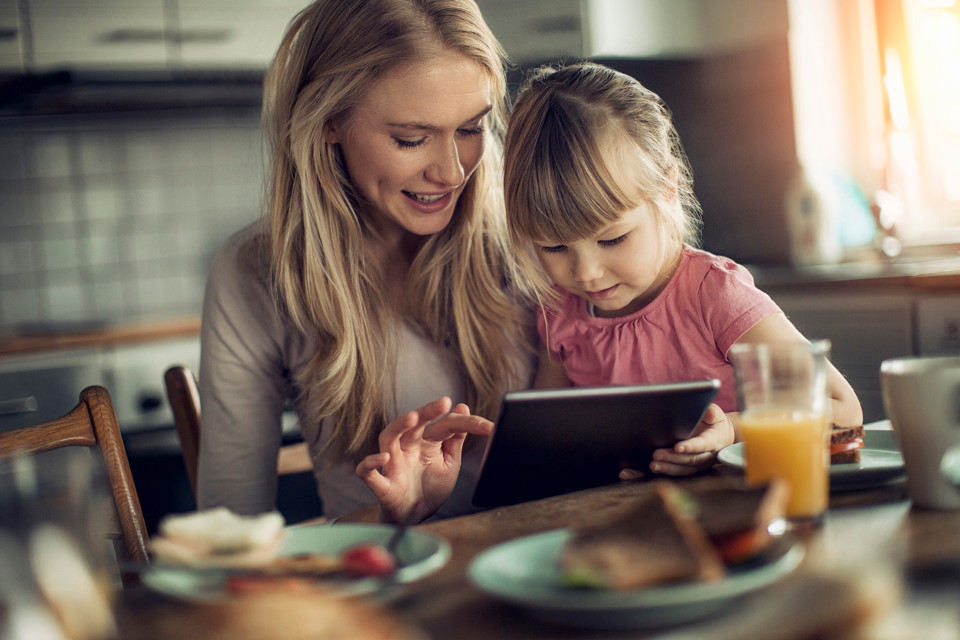 Ditch The Guilt
Dr Goodwin helps parents ditch the guilt they have about allowing their children lots of screen time.
"Kids spend more time staring at screens than the sky. It's a rather sobering thought, and in many ways pretty sad, when we think of our own childhoods," says Dr Goodwin.
"They're experiencing digitalised childhoods and it's having an impact on how they play, sleep, socialise and their physical activity levels. This isn't to suggest that technology is toxic for kids.
"When used in the right ways, technology can support kids' learning and development. However, inappropriate use or excessive time with technology can adversely impact their health, wellbeing and learning."
How Much Time Should Kids Be Spending On Screens?
Screen time guidelines have recently been updated. It's suggested that children aged up to 18-months-old have no screen time, other than Skype or FaceTime to stay connected with family.
Between 18 months and two, little ones should be having screen time with their parents only, rather than independent screen time.
Between two and five, children shouldn't be using devices for more than an hour a day.
Those aged six and over need to be closely monitored to ensure they are also having plenty of time off the screens to play, learn and sleep.
Dr Goodwin has put together a great visual so you can see how much screen access your child should be having.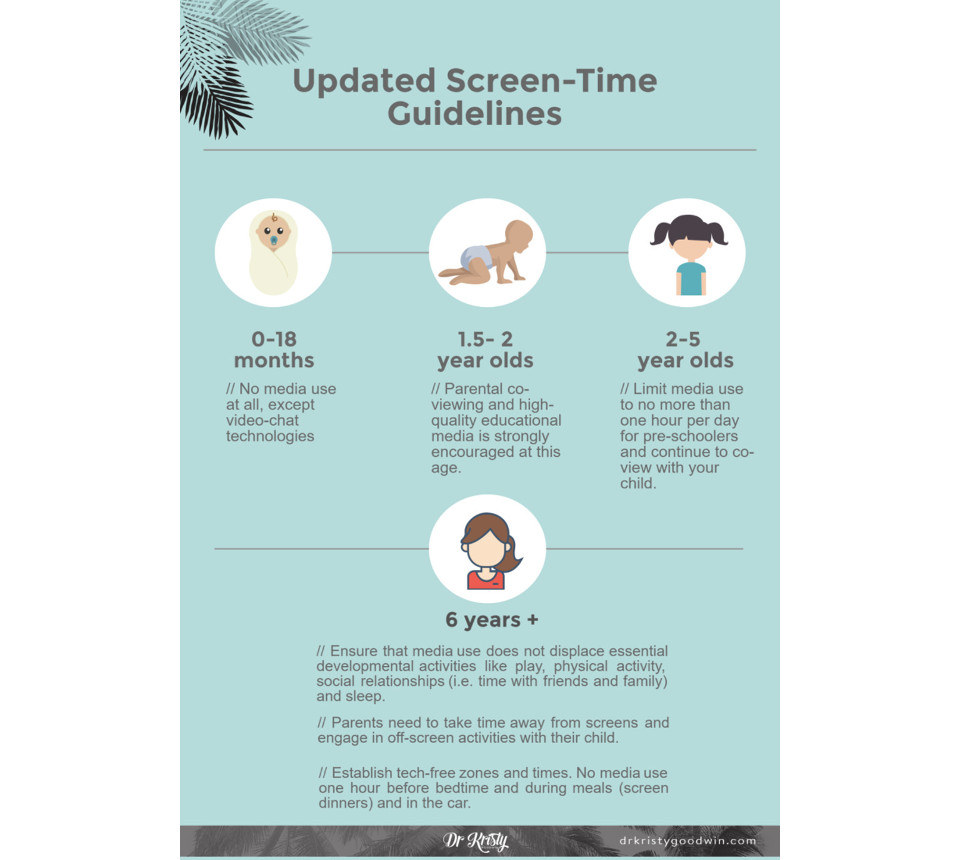 Can Too Much Screen Time Harm My Child?
Well according to Dr Goodwin, the answer is yes, particularly for babies and toddlers.
"Screen time can displace opportunities for kids to meet their developmental priorities," he says.
"Research confirms that kids have seven basic needs; relationships, language, sleep, play, physical activity, nutrition and executive function skills. And excessive screen time can erode opportunities for these basic needs to be met.
"This is a particular concern for babies and toddlers whose brains are rapidly developing. Science tells us that 85 per cent of brain architecture is established before age 3!"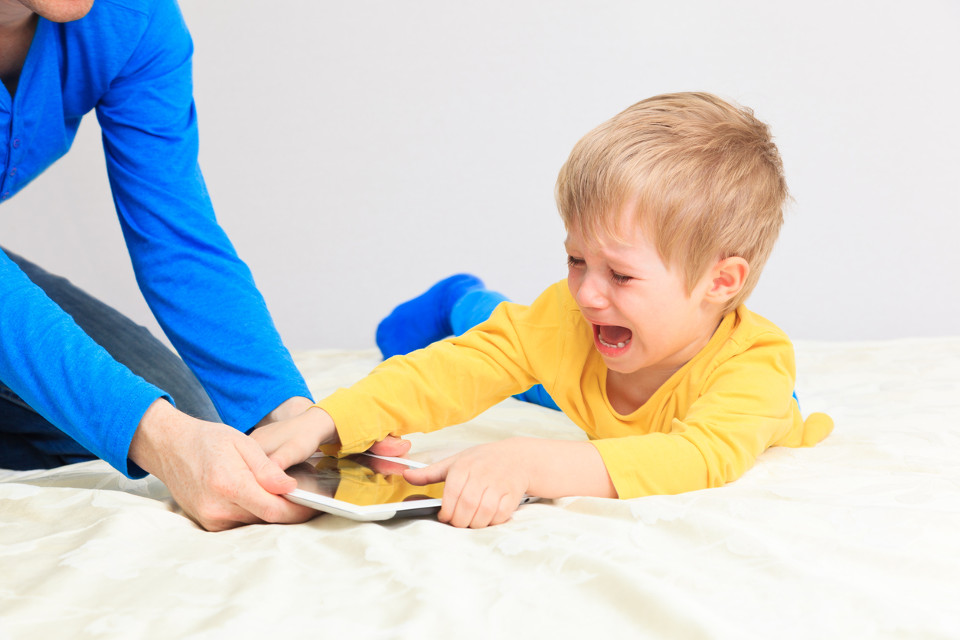 5 Tips On Managing Screen Time
We asked Dr Goodwin for her best advice to get our kids off their devices and back to play. Here's what she told The Healthy Mummy:
1. Be A Positive Role Model
As parents many of us are tethered to our devices and insisting our children unplug and go outside to play. Our kids' brains have mirror neurons so they're wired to copy and imitate our behaviours so we must show healthy habits ourselves.
2. Establish Screen-Time Limits Before They're Turned On
Kids enter the psychological state of flow when they use screens. They become so engrossed with what they're doing that they actually lose track of time.
So parents often encounter techno-tantrums when they ask their kids to switch off devices and play. Therefore, establish clear boundaries around how long children can spend with screens before devices are turned on.
3. Give Children Quantities Of Screen Time As Opposed To Time Limits
This is essential if they're under six years of age and too young to conceptually understand the abstract concept of time. For example, tell children they can watch two episodes of Play School and then they must turn off the TV, or reach level six in the video game.
4. Be Specific With Limits
Instead of giving vague time limits (which we often forget), schedule in specific times when kids can use screens. This gives them clear finish points and helps parents remember what the limits were. For example, you can play on the iPad between 4-5pm.
5. Schedule Green Time
Today's digitally-stimulated kids need time in nature for their brains to calm down. Research confirms that time in nature helps to re-calibrate the brain and is healthy for their attention.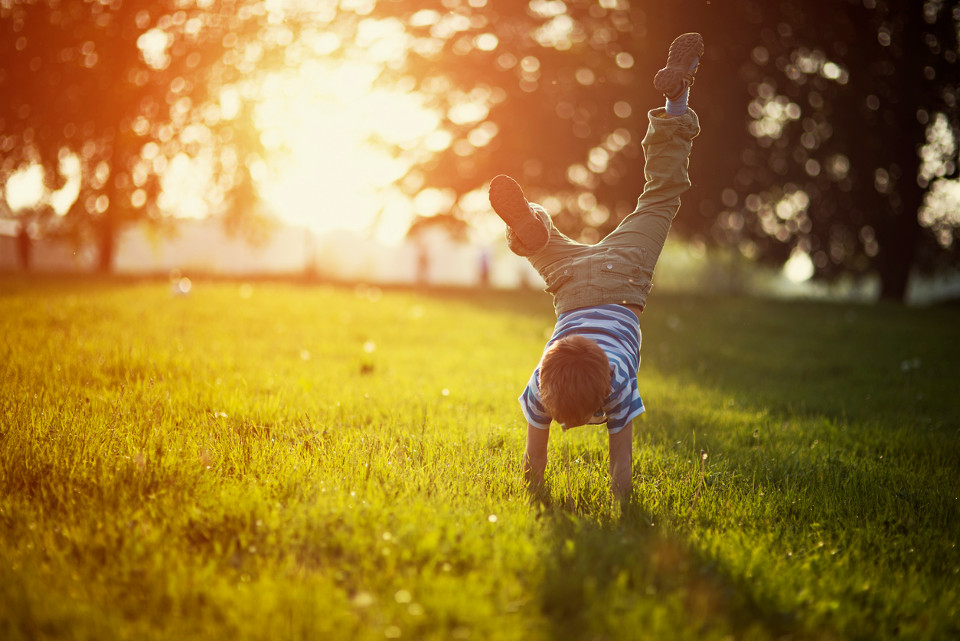 Screen Time Is Here To Stay
Dr Goodwin says that our kids will inherit a digital world, so there's no getting away from screen time altogether. It's all about balance.
"As parents we have to teach our kids how to use technology in healthy and helpful ways (based on their developmental needs) and to also mitigate any potential risks," Dr Goodwin says.
She says the key is not to rush introducing technology to our children when they're young.
"We have research that tells us that generally infants and toddlers do not learn as much from screens as they do from real objects or people. This is called the video deficit," she says.
"This isn't to say that screens are bad for young kids, it just means that young children learn more from real people and from manipulating and touching real objects."
For more fantastic information on your children and screen time, have a browse through Dr Kristy Goodwin's website.