Hilarious 'Santa photo' fails guaranteed to make you smile!
AMAZING SANTA PHOTOS! It's that time of year again where millions of mums drag their little ones down to the local shopping mall or beach for the annual festive photo with Santa.
For some Australian families it is as much a tradition as making the Christmas Pavlova.
However, many of us mums have discovered that the adorable photo of our child sitting happily on Santa's knee (that we envisage for our Christmas cards) can go wrong. VERY wrong! And so we thought it only fair to share some of those hilarious 'Santa photo fails' from our community. Enjoy!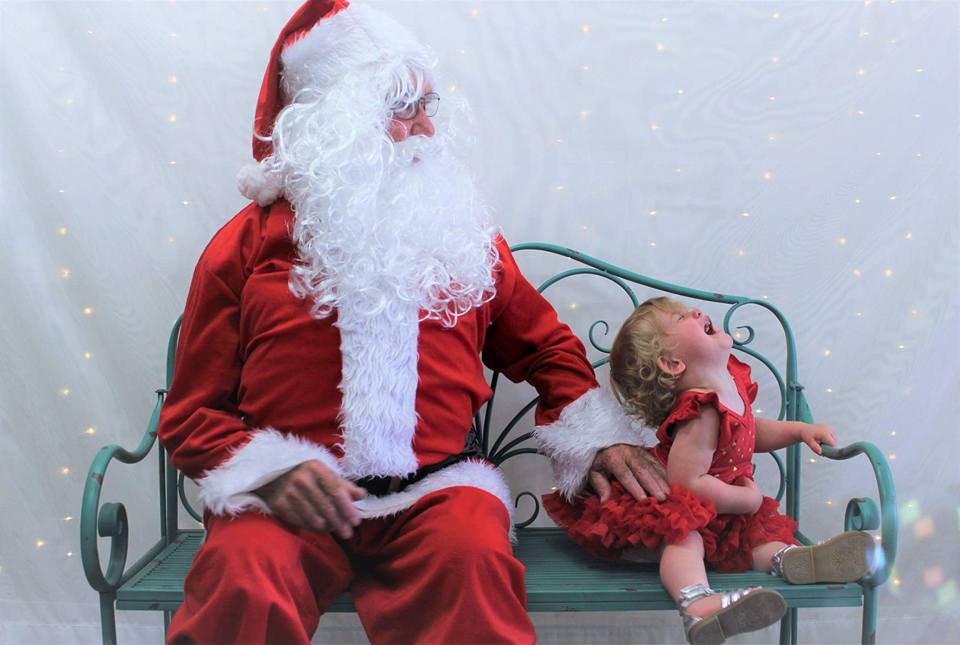 Hilarious 'Santa photo' fails guaranteed to make you smile!
If you have experienced a Santa photo like this yourself you may think of it as a fail and not appreciating it for all its glory.
Our children are young for such a short time so lets embrace the 'Santa photo fails' and life not turning out how we plan it.
May the 'Santa photo fails' long continue to capture the innocent and unpredictable nature of our children.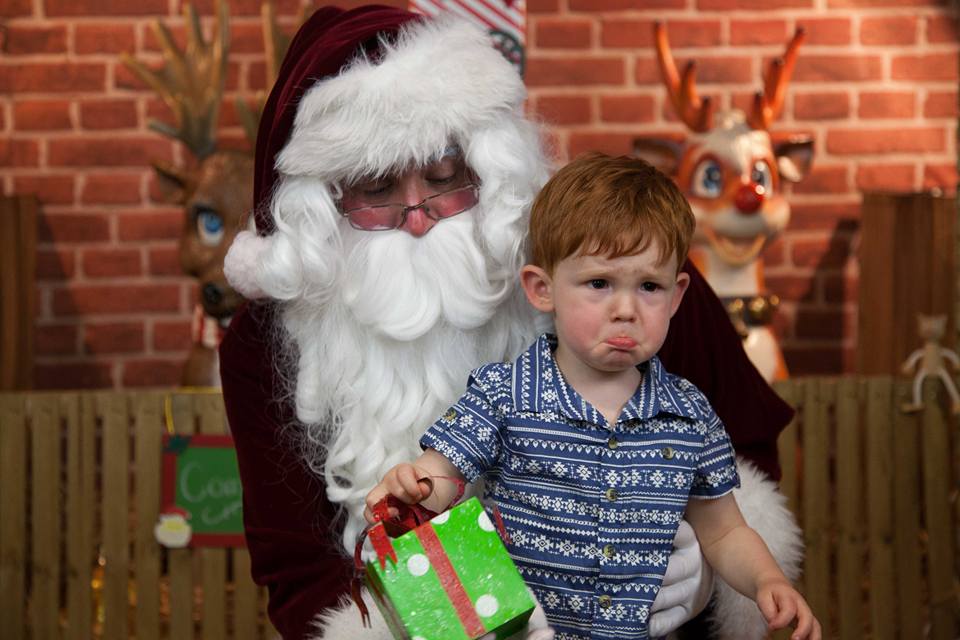 "I said I want a REAL spaceship for Christmas, not a toy one!"
His exaggerated bottom lip curl and frown is just about the most adorable thing we have seen. We can't help think – was it something Santa said?
Nicole Jones says, "My 2 year old, Zach, was not at all enthused to be meeting Santa".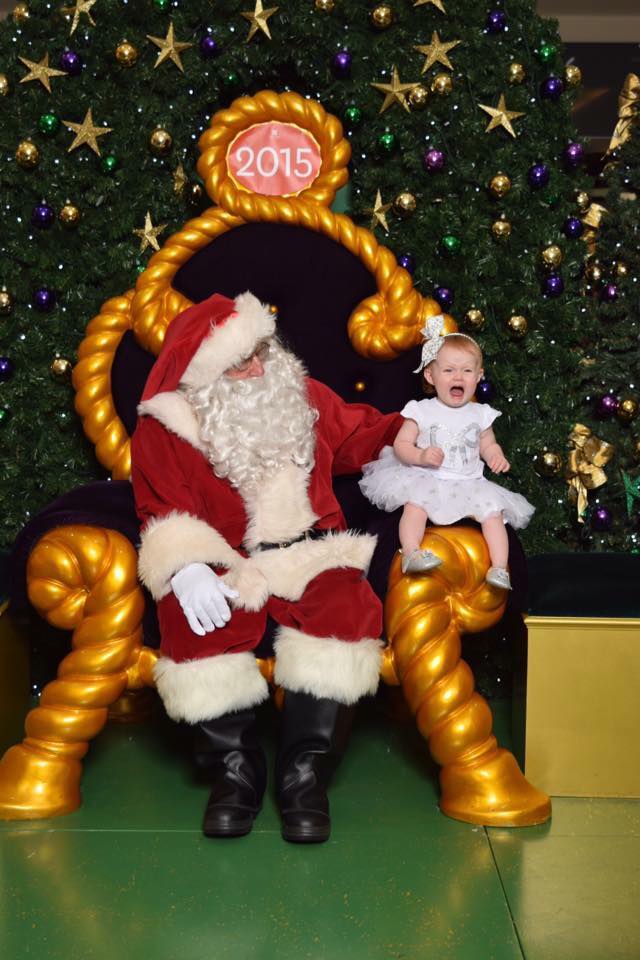 "I will scream if I want too!"
Brooke Jones daughter Scarlett was about to turn one.
Brooke says, "During her first experience with Santa she was only days old, so this was quite daunting for her. I am yet to try again for this year".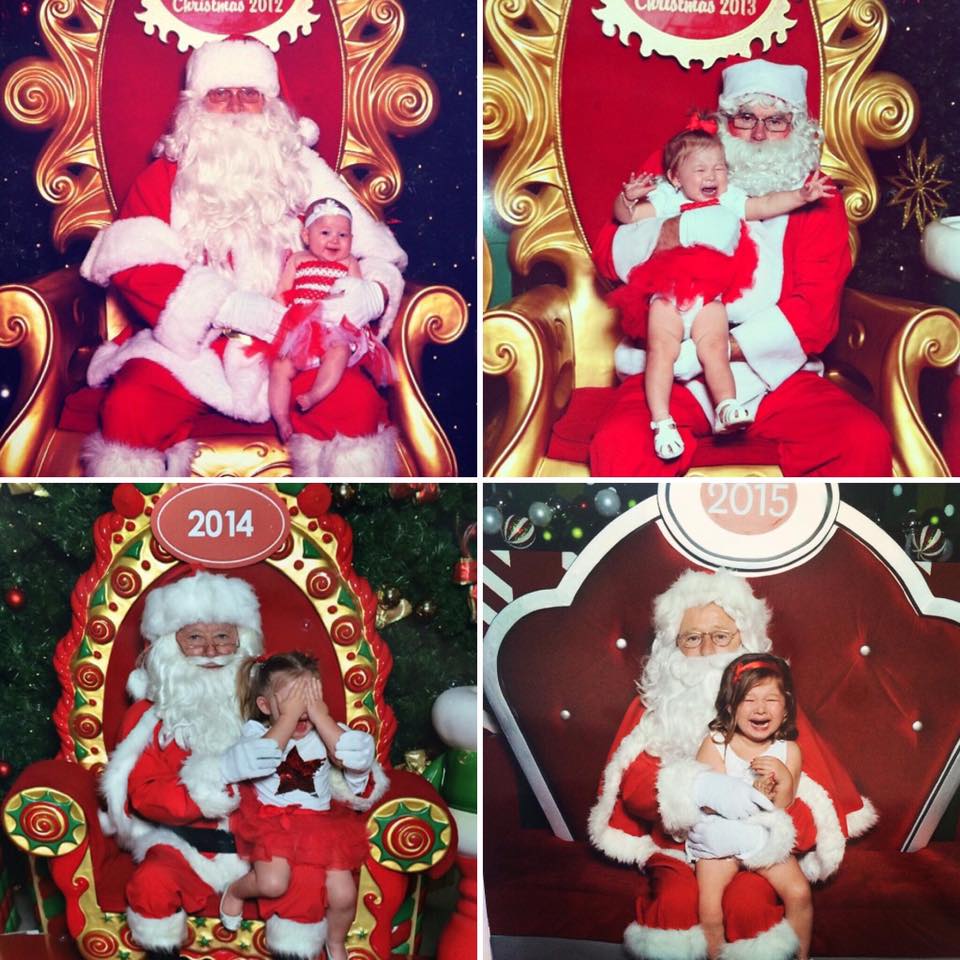 If you are unsuccessful one year, try, try again!
Determined not to give up, Harlee Taylor says, "Don't know what happened to the happy baby in the first picture 
? Hoping for a smiling one this year!".
We give Harlee 10 out of 10 for persistence.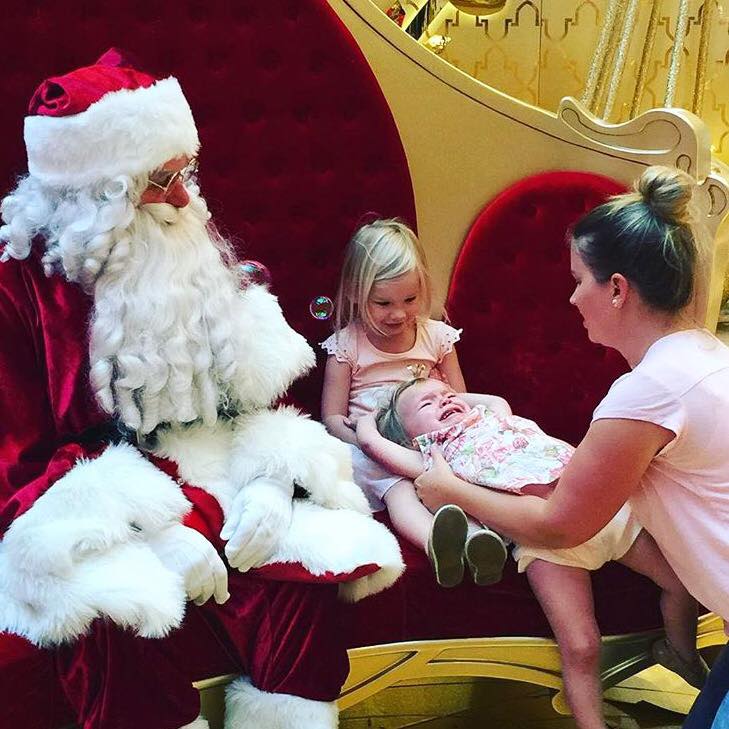 Ahhh. the lengths us mums go to, to get that perfect holiday photo.
Jenna Campbell says, "Ava was excited to see Santa and have a little chat! Hallie, on the other hand, was not particularly interested in making it to the 'nice' list last year."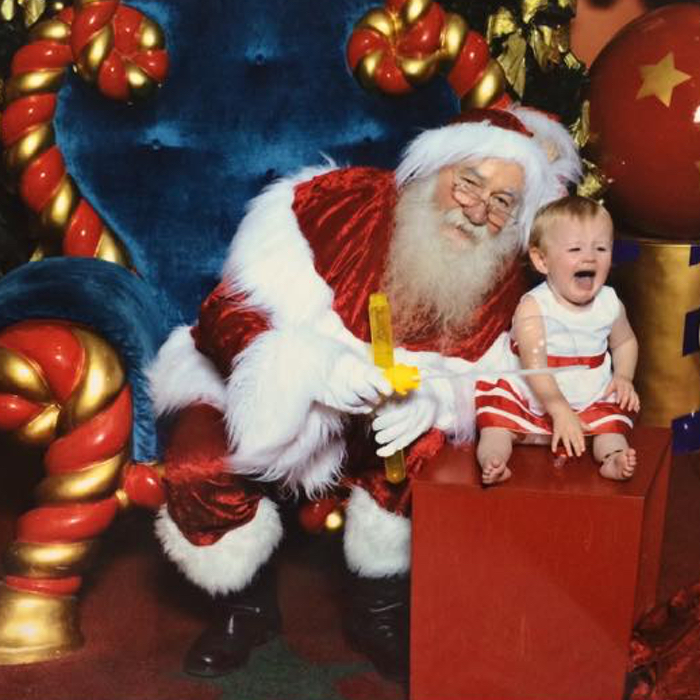 "This wasn't part of the deal!
Tara Richter says of her daughter Ava Rose who is nearly two.
"This was our Santa photo last year," says Tara. "She is still exactly like this with Santa this year!"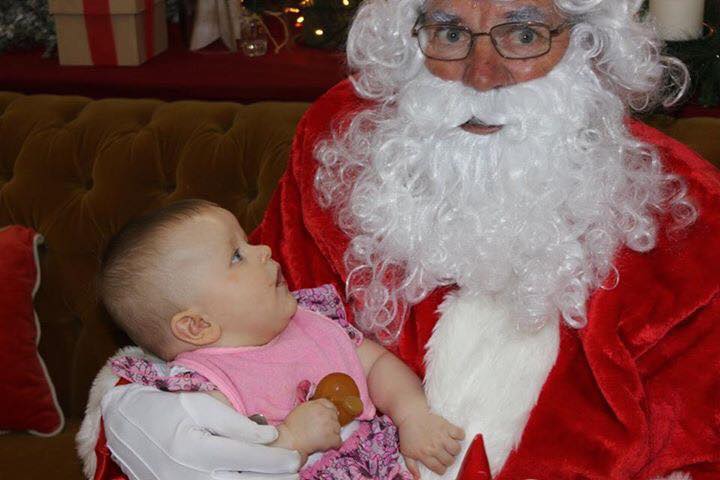 "This is not my daddy! But who on earth is he?"
Jody Gail Sullivan says of her daughter Nyssah who was seven months old at the time.
"She was happy and smiling at Santa until we put her on his lap".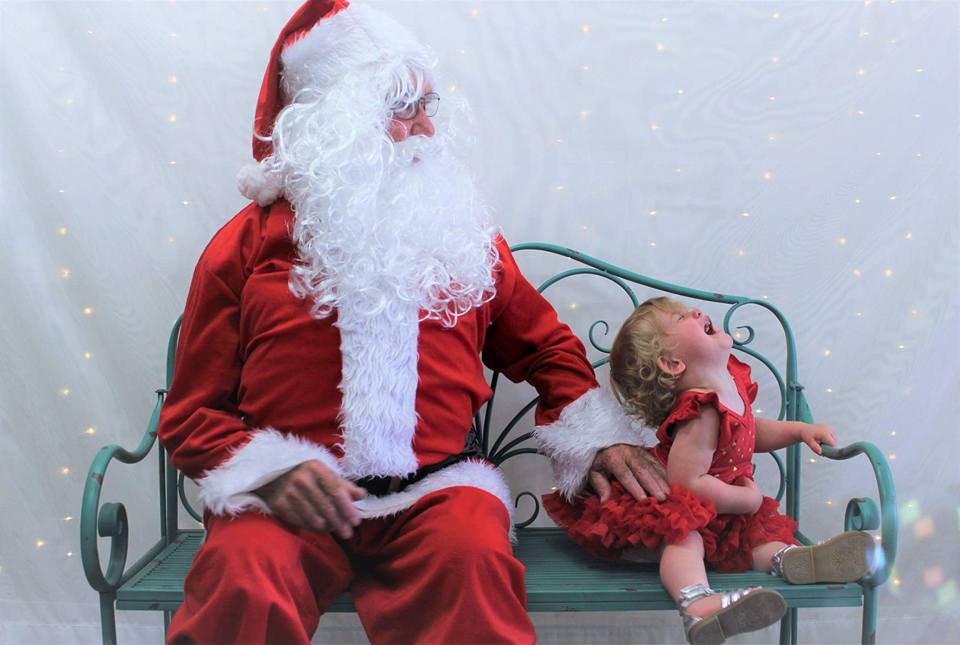 "You promised I would meet a princess, not a big man in a red suit!"
She may be looking absolutely adorable in her Christmas dress but this wasn't enough to make Libby Baldock's 18 month old daughter Addison want to cozy up next to Santa.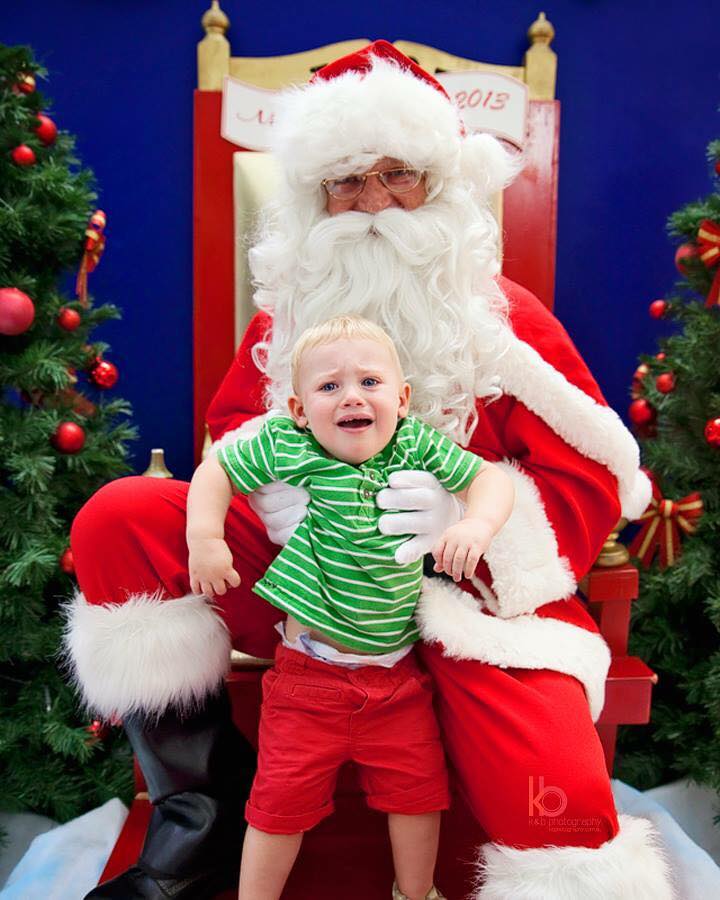 "Get me OUT OF HERE!"
If Kristy Donnelly's 18 month old son Hudson could tell us what he was thinking, we think it would be just that.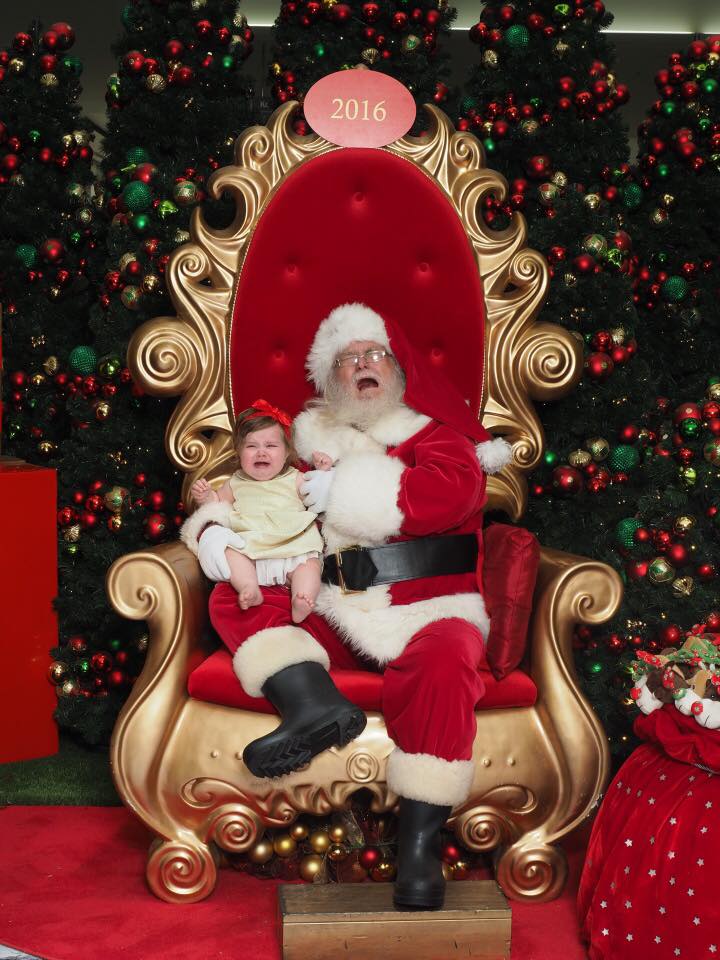 Yay! Finally Santa decides to get in on the act by pulling his own distraught expression.
If your child hates Santa this is most definitely the way to go! An absolute cracker of a photo! Seven month year old Zoe's mum Crystal Hardstaff says, "Can you tell we are going through separation anxiety at the moment?"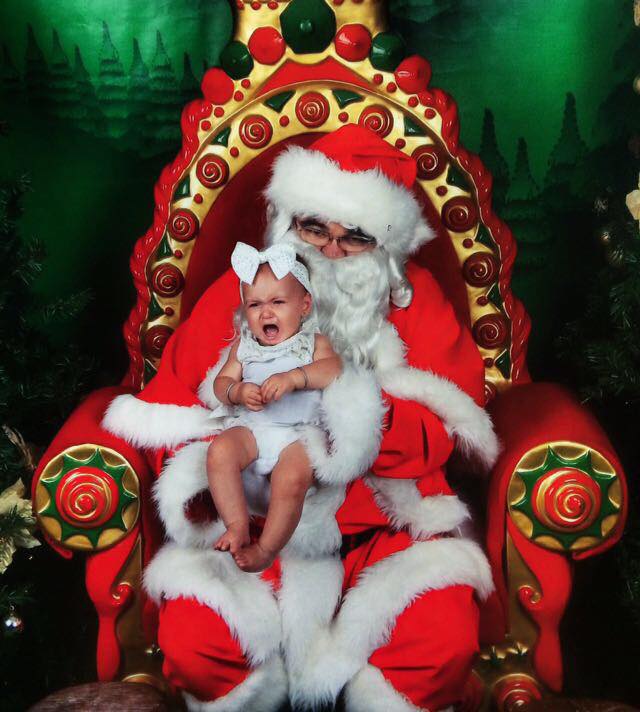 "This is NOT the REAL Santa – I want a REFUND!" 
That's what we imagine Bianca Blacks's ten month old daughter was saying at the time.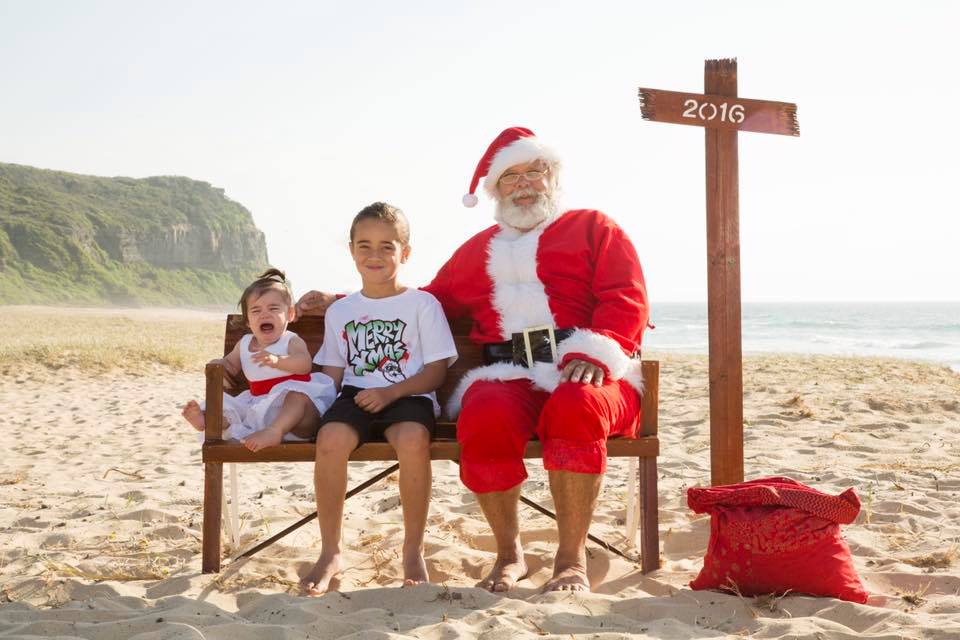 "Where are the reindeer? I want to pat the reindeer!"
While Kate Rose's six year old son Sonny is quite content sitting next to Santa, but her 14 month old daughter Lila is less than impressed with the bare footed, red suited Santa.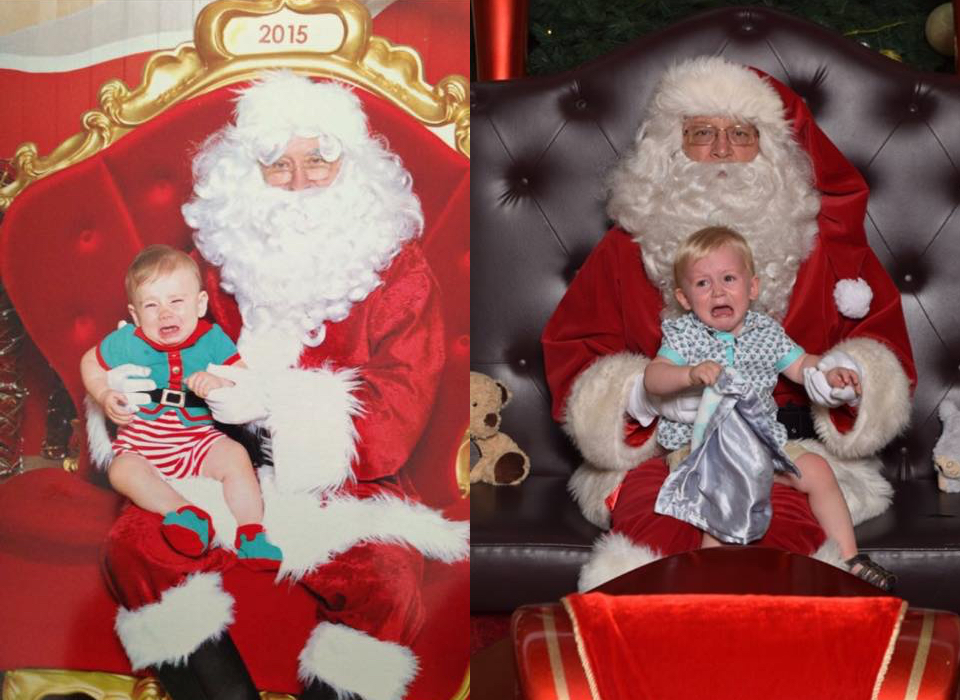 Two different boys, two different Santa's, two identical expressions!
Left: Steph McGrannachan says of her son Ridge, 11 months old.
"This was last years Santa pic. We are yet to get this years hahaha."
We can't blame her!
Right: Greta Lee says, "This years' Christmas joy!"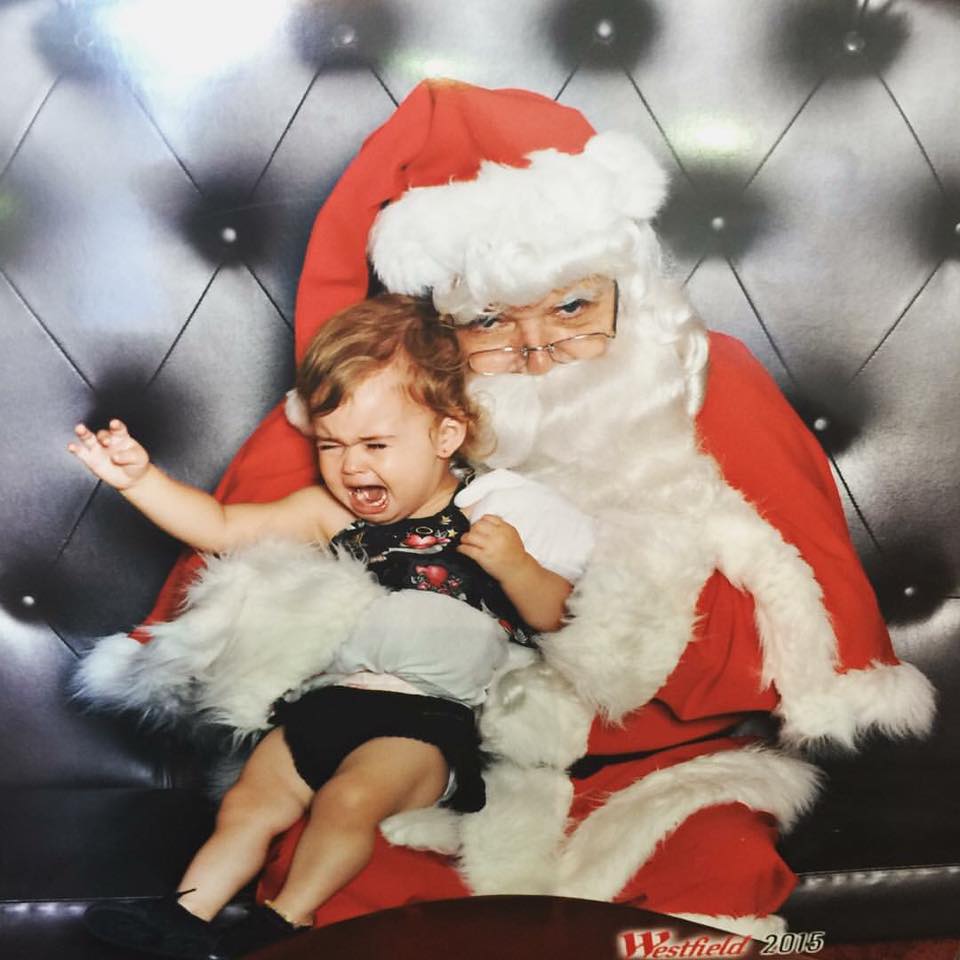 If there was ever such a thing as a mean looking Santa this one would take the cake. So it is not surprising Loren Ashlee's daughter wants to break free.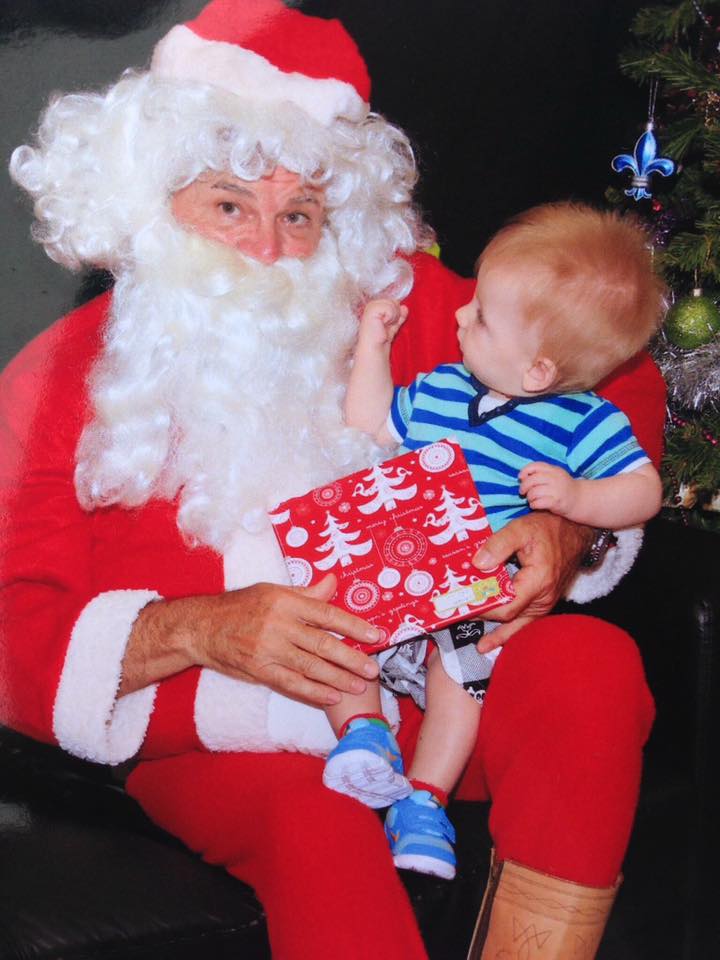 "Don't mess with me Santa or I will punch you in the chops!"
Sarah Chaplin says, "My little man Aidan's first Christmas. He was 9 moths old and apparently not too impressed with Santa haha."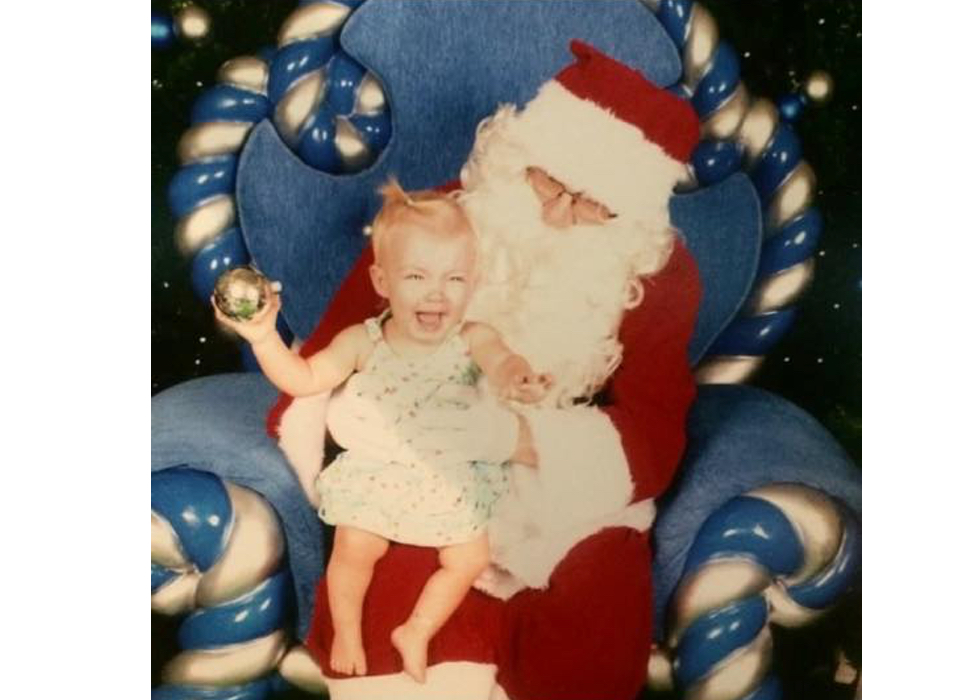 "I'm going to get you back with this bauble!"
Jessica Sayers daughter Amaya, aged one, was so distraught that she was trying to throw a bauble at her mum.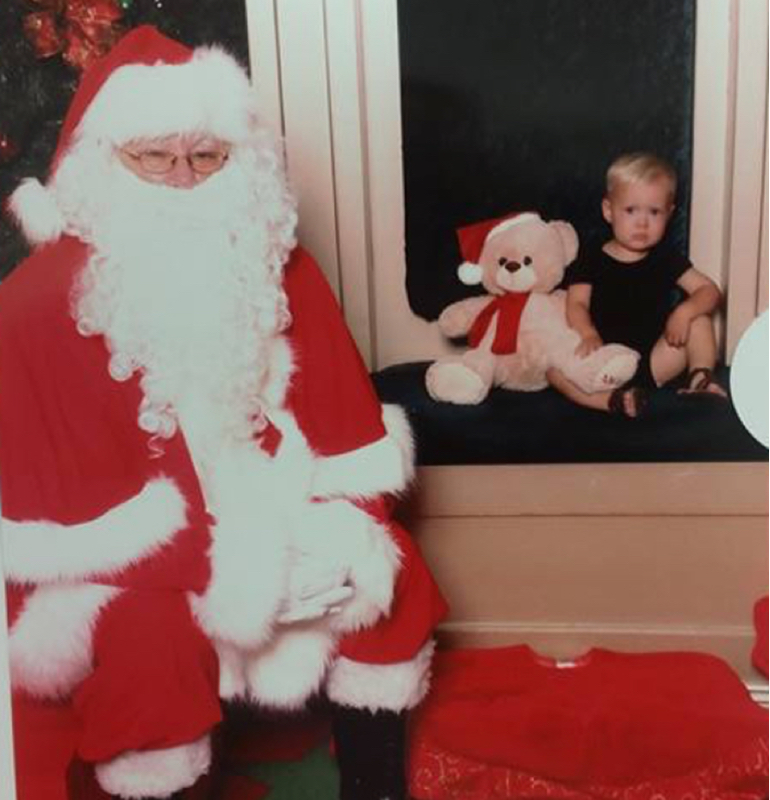 "Take one step closer Santa and teddy will get you!"
If looks could kill I think Santa would be a dead man. Elysha Pearson says, "Santa wasnt allowed to go near Spencer so he sat on the side."
Wisely keeping his distance, 16 month old Max shows this disheveled looking Santa (whose belly seems to by popping right out of this jacket) just who's the boss!
Liz Ball says,
"This is 16 month old Max. Not too sure about this 

Santa

 character."
Thanks for ALL the amazing Mums in The Healthy Mummy Community who sent in their 'Santa fail' photos and provided us with hours of enjoyment and a special shout out to all the Santa's who keep the magic alive even when our kids don't want to have a bar of it.
Planning your Christmas food? See Top 10 Delicious and Healthy Christmas snacks. For plenty more festive faves, check out The Healthy Mummy Festive Cookbook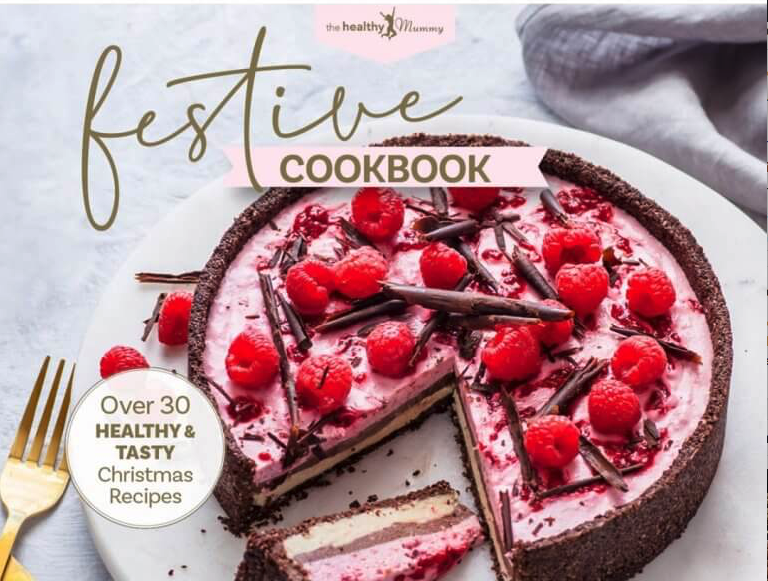 The Festive Cookbook is an absolute must-have this Christmas.
The eBook features everything from how to stay on track during the silly season to dos and don'ts on alcoholic beverages. The book also features a range of healthy yet delicious recipes including Starters, Sides, Mains, Desserts, Smoothies, Leftovers and Cocktails.
However, if you are more interested in accessing thousands of budget-friendly healthy recipes, a weekly meal plan in conjunction with daily exercise programs and workout videos then our 28 Day Weight Loss Challenge may be for you.
Learn more about the 28 Day Weight Loss Challenge.