Controversial Cuddle: TV Presenter Holds Newborn Before Baby's Own Mother
It's the golden rule of motherhood and one that most mothers come to expect from the delivery room – The first (non medical) newborn snuggle belongs to the mother and father.
Holly Willoughby, a presenter with UK's This Morning show clearly didn't get that memo as she is filmed cradling an hour-old newborn on live television. The problem? Holly's candid cuddle allegedly occurred before the new mother got a chance to hold her own bub.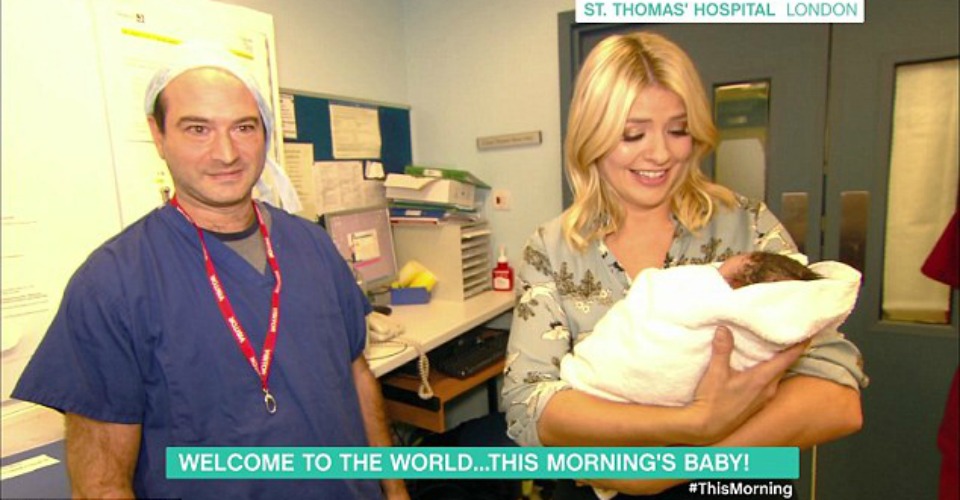 The Newborn No-No Has Holly in Hot Water
A seemingly innocent visit to London's St Thomas' hospital has turned into a heated social media debate after 35-year-old mother and presenter, Holly Willoughby was filmed snuggling a newborn less than an hour after the baby had arrived via c-section.
New father, Sam, is filmed handing over his new daughter to Holly, after the TV presenter requested a snuggle.
"I think I might like, the second person to hold you," she said while cooing over the baby.
Does the first cuddle belong to the mum?
This precious moment has left viewers confused – after all, shouldn't the first female (non doctor or midwife) contact be the mother of the newborn? While in some birthing instances a new mum won't be the first to hold her baby, a television presenter probably shouldn't be either.
The video, which has been viewed over 300,000 times has been met with a flurry of comments:
"Holly should never have held that baby before its mum. Huge error there," one commenter wrote.
"I'd be absolutely heartbroken if I found out Holly held my child before me!" said another.
"No way would someone have taken my baby out of the theatre. I don't care who she was. When you waited nine months then baby leaves … I would have cried," another wrote.
Is the snuggle shaming an overreaction?
However, other commenters remind us that no one knows for sure if the new mother already had her first moment with bub in the delivery room. While Holly suggests she is the second person to hold the newborn, this may have just been said for shock value.
Plus, as one commenter points out, the mother was probably well aware of the film crew and would have given them permission beforehand.
What do you think Healthy Mummies? After enduring months of pregnancy and hours of labour, would you be upset if a stranger held your baby before you?