A Glimpse Inside Katherine Heigl's Glamorous Baby Shower
Katherine Heigl and Josh Kelley sure know how to party in style. They recently celebrated the pending birth of their first biological child with an elegant event. The pair already have two adopted daughters, Nancy Leigh (Naleigh) and Adalaide and in a few weeks they'll be welcoming their son.
Baby Boy Kelley
Posting details and images up on her blog, Those Heavenly Days, Heigl explained why she chose the theme she did.
"My mother very graciously threw Josh and I the most beautiful and celebratory baby shower last weekend and I just had to share the details with you," she wrote on her blog.
"She asked me for some direction on the decor and the vibe I was hoping for. So I headed straight to Pinterest to cultivate a look for the shower that spoke to not only the holidays, but also our mountain home in Utah where the baby will be born.
"I loved that my mom involved me and that I got to contribute my ideas. I'm kind of a control freak on occasion. Okay more often than not, so getting to have a voice when it came to the shower was pretty awesome for me!"
The Food And That Cake
Heigl says that the food was all about farm to table, seasonal simplicity and it was absolutely delicious.
"We had an open bar that included some really fun holiday inspired cocktails for those imbibing. But since I cannot it was super important to me that the food be amazing so I had something to indulge in all night too," she say.
The mum-to-be admitted she's had quite a sweet tooth throughout her pregnancy. Because of this, Heigl said the cake was also pretty significant to her.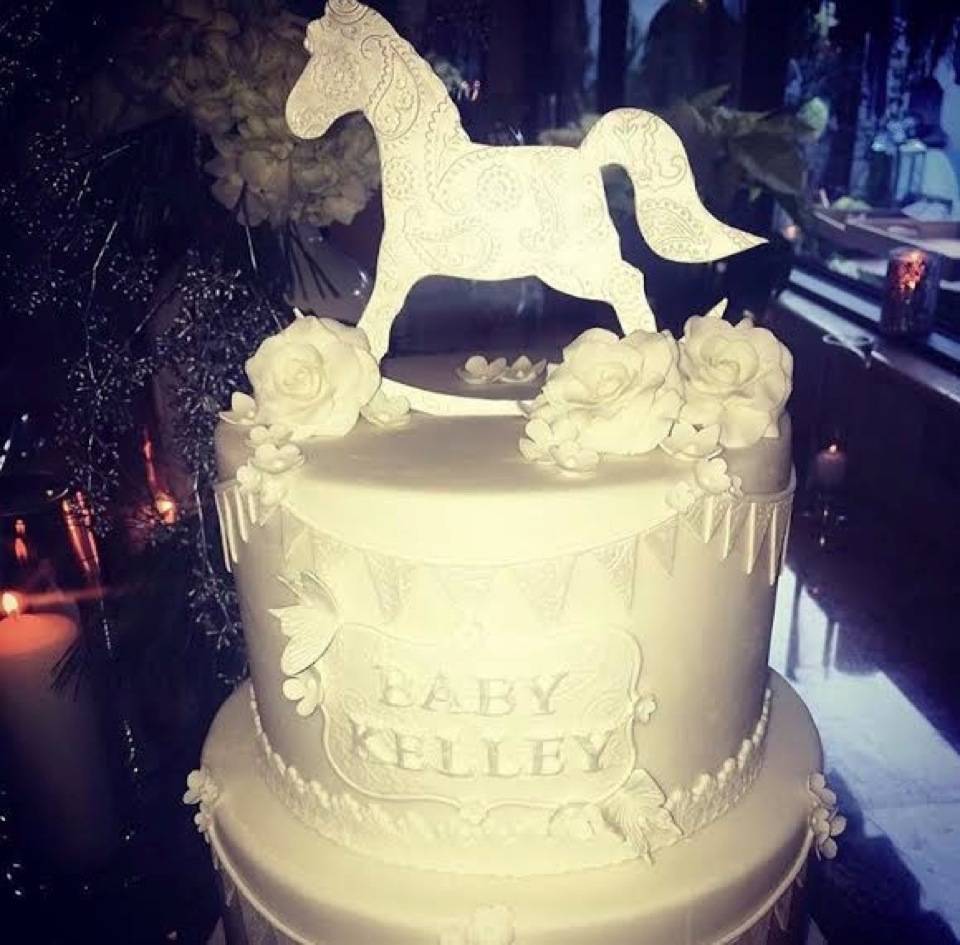 "I of course wanted it to be beautiful but it had to be tasty too," she says.
"I found some perfect examples of the kind of simple beauty I was looking for and then told the bakers to make sure the frosting was not only decorative but delicious too. They nailed it."
In addition, Heigl says she included some fun Christmas sugar cookies decorated with a baby in mind. They were a parting gift sent home with guests.
Rustic and Elegant
Heigl says that her mother had a gorgeous Christmas tree put up done all in green and it was the perfect way to include the spirit of the season.
Hitting up her Pinterest board for inspiration like any normal mum-to-be, Heigl says she wanted her party to feel rustic and elegant.
"I loved the idea of simple winter white bouquets. And I am an avid milk glass collector so wanted to include some single stem arrangements," she says.
Nothing says Merry Christmas like the gift of a newborn baby and we can't wait to 'meet' their bundle.
While we're on the subject of celebrity pregnancies, did you know this high-profile Aussie couple are expecting their first child?
For more celebrity news and entertainment visit here.