Mum Shares An Amazing Photo Breastfeeding A Stranger's Baby
This mum shares an amazing photo breastfeeding two babies. With their hands interlocked, they look as happy as Larry. But, what's different about this picture?
One of the babies is not hers.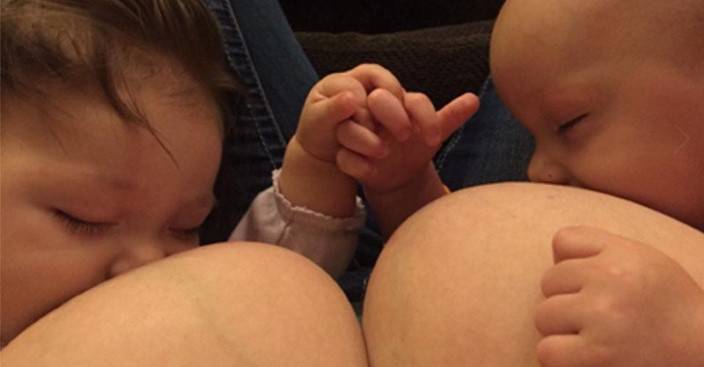 Image source: babyology.com.au
A Fed Baby Is A Happy Baby
A hungry baby needs to be fed. What would you do? This bubby is exclusively breastfed, refused a bottle and the mother is in hospital for surgery, she's unable to feed her baby. Volunteer wet-nurse, Rebecca Wanosik, receives a random text message from a friend and she makes a beautiful decision. She explains in a Facebook post:
"So last Friday night while I was carving and building a cake, I received a random text from one of my friends asking if I could feed a stranger's baby. Was there ever a question? The baby's mother was having surgery and the baby is exclusively breastfed and refused a bottle,"
"When the baby arrived you could tell she was hungry and exhausted and just needed some milk. I did what I hope any person would do for my child in a time of despair. I fed a stranger's baby. I was so surprised by just how many people thought it was weird, or unnatural. They are boobs, they are meant to feed babies. Also, in case anyone forgot, they are mine, so I'm fairly certain I choose what happens with them. Regardless, I took an amazing photo tandem nursing these two babies together and it shows that hungry babies don't care, they just need to be fed."
What a beautiful gesture for a complete stranger and fellow mum. Unfortunately, not everyone thought it was as beautiful as we do here at The Healthy Mummy. Rebecca's private Facebook was shut down because someone complained about the picture. Not sure why? I'm pretty sure we've suffered through millions of Instagram posts of adults and what they're having for dinner. Why is this any different?
Wet-Nursing
Wet-nursing is not a new phenomenon. It's been around for decades and it has helped many babies get the nourishment they need when refusing a bottle. I admire the women who sacrifice their own bodies just so a stranger's baby can be fed. And by the looks of it, Rebecca has plenty of milk to share in those amazing milk holders.
Well done Rebecca. Let's normalize wet-nursing and not shame mothers for doing an amazing job in helping other mums.
For more breastfeeding information click HERE.