Nadia Bartel On The Condition That Left Her Baby Crying For Hours: 'He Was Screeching In Pain'
Nadia Bartel has opened up about her son Aston's painful condition in an emotional blog post on her website, Chronicles of Nadia.
The fashion guru reveals her tot, who is now 16 months-old, suffers from silent reflux, a condition where stomach acid causes the oesophagus to feel sore. Silent reflux can also lead to babies refusing to eat because of how irritated their throat and chest feels.
'Aston Was A Fussy Baby'
Silent reflux can be very confusing; there may be no obvious signs of gastro-oesophageal reflux (such as vomiting) and the child generally isn't 'silent', says the Reflux Infants Support Association Inc.
Nadia says her son struggled to settle from the day after he was born and she had no idea what was wrong with him.
"It started from that second night in the hospital, screaming all night long and this continued for months and months," Nadia, 31, reveals on her blog post.
"I had no idea what 'reflux' or 'silent reflux' in babies was. I thought it was just like the reflux us adults get when we eat spicy food.
"Aston was a really fussy baby from day dot. You know how a lot of babies are in that sleepy 'unawaken' newborn phase in the hospital and they just sleep a lot? Our boy never went through that stage."
"He was constantly in a lot of pain, it seemed like it was more than just the normal baby fussy cries," Nadia says.
"He would scream for hours with a bright red face, clenched tight fists and nothing would settle him. Even when he slept he had a painful looking screwed up face. If he wasn't sleeping, he was screaming."
'I Blamed Myself'
Nadia, who is married to AFL star Jimmy Bartel, says she found that Aston was really "uncomfortable" when she was breastfeeding him.
"I thought what I was eating could be upsetting his tummy. He was so restless, latching on and off and also very frantic on the boob," she says.
"I cut out all dairy, coffee, sugar, etc and it seemed to make a big difference, but it was so hard to maintain the no coffee. I later found out at the doctors that babies with silent reflux get affected by the protein and dairy in certain foods and it can stir up the reflux."
The fashion designer says she had no idea what was going on at first, and blamed herself.
"I then doubted myself and thought I needed to harden up so I didn't go into a lot of detail with [the doctors with] how hard I was finding it. I knew motherhood wasn't meant to be easy. It was only early days so I thought it would get better," she admits.
"I had nothing to compare it to and I felt like if I told people he cried a lot and wouldn't sleep at all then it was a sign of weakness on my behalf… There were times when I would just cry. I couldn't help it.
"But I knew that something wasn't quite right with my boy and his screams weren't your usual baby cries, he was screeching in pain."
But thankfully Aston's nanny was able to pinpoint what was wrong, suspecting he was was suffering from severe silent reflux, so Nadia took him to the doctors.
She was advised to swap his regular formula to a goat's milk formula, as she was told it is far more gentle on the stomach and she propped his cot up to help keep the acid down.
"As soon as he turned seven to eight months his silent reflux seemed to disappear," she says.
Nadia admits she wasn't sure whether to share her story at first, as she didn't want to come across like she was "whining".
"Finally, I have written my personal post on my struggle with silent reflux. I first started writing this post in June last year but I kept putting it off. As I wasn't sure if should post it," she posted to Instagram.
"I don't want it to come across as a whining post. I am not complaining that Aston was a difficult baby (it's not his fault he was in pain and could only express himself by crying) I have included all his symptoms and what helped me get through."
Nadia Shares Aston's Symptoms: 
Really frantic to nurse at night, but then would pull off and on, in pain and scream, then be frantic to nurse again and this would repeat. 

Hiccups, that would last for long periods and seemed aggressive and continuous.

Full on crying and screams. It was always worst from 5 pm onwards and continued all night long.

Clenched fists and stiff body and red screwed up face.

Only slept for really short 40 minute bursts on and off.

Nappies were always a weird consistency and really green.

Bad smelling breath.

He would feed frantically fast, and would continually drink bottle after bottle or stay on my boob all the time.

Lots of coughing that was really harsh.

Trouble breathing if laid flat.
Nadia's Tips To Help Ease Silent Reflux:
Aston started taking Losec, it was prescribed by the doctor. It actually took a long time for Losec to work, around four weeks and only really kicked in when I used it in combination with these other techniques below.

Gaviscon and Mylanta for infants, we worked the Gaviscon into a paste and gave it to Aston before his feeds.

We swapped his formula to goat's milk as it is far more gentle on the stomach, he was only taking about one bottle of formula a day until I stopped feeding at six months.

At six months we then moved him to Aptamil Allerpro gold +, which is gentle on babies with a protein allergy, so perfect for babies with silent reflux.

I saw the incredible

Dr David McRae

 in Armadale. Yes, he is a chiropractor, which I know can freak people out and I don't agree with ever working into babies tiny bodies like that (no back cracking!!) but David is amazing, he explained the way they're growing in our womb can affect their digestive systems so he massaged Aston's body and taught me techniques to turn his legs in the bicycle motion every time I changed his nappy to get his digestion moving.

Prop the cot up, we used three thick books, so it was on a slight angle, which helped to keep that acid down.
More About Silent Reflux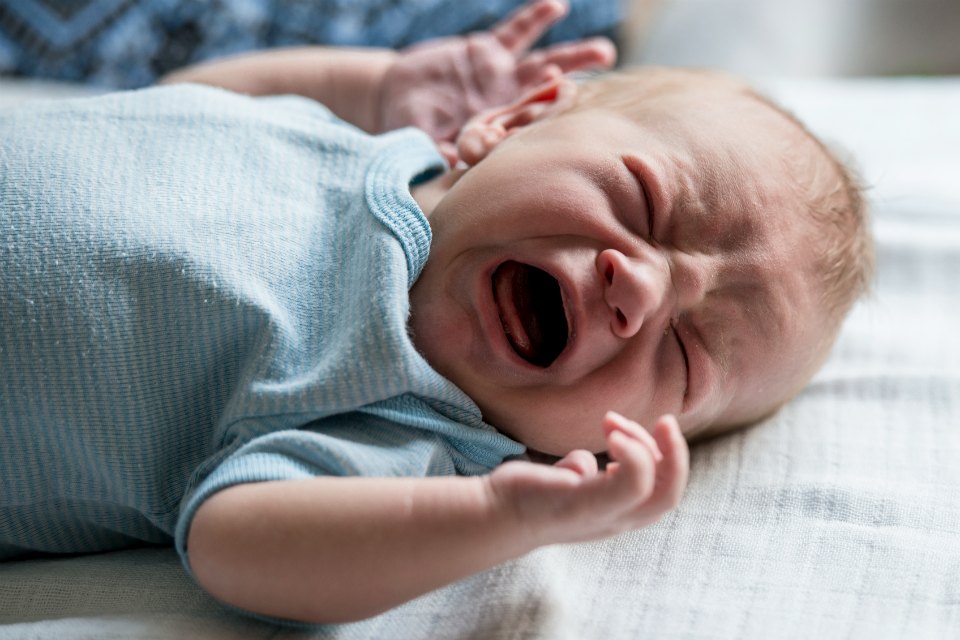 Not all children suffering from reflux actually vomit. Some may have what is termed 'silent' reflux – where the stomach contents only come part way up the oesophagus. Any form of reflux may disturb the child and cause problems, says the Reflux Infants Support Association Inc.
Parents may notice any of the other signs of reflux apart from the obvious one – vomiting/regurgitation. They may hear the baby or child reflux, or see them swallow repeatedly, and see no evidence of it.
Problems with asthma or ears, nose and throat. Some children can have silent reflux that presents with asthma or ear, nose and throat issues, with no obvious signs of reflux e.g. regurgitation.
Other Signs To Look Out For
Irritability. For example screaming, whinging, crying, fussiness and inconsolable behaviour which can last for various periods of time.
Crying and irritability can occur at any time, but is most common during and after feeding and when your baby is laid down.
Feeding issues are very common in babies with silent reflux. They may appear in distress or not want to eat. Cry after feeds.
Silent reflux can occur in babies that are breast fed as well as and bottle fed.
For more information on silent reflux and signs and symptoms, click here. 
If you are concerned about your child and suspect he or she is suffering from similar conditions, we advise you to see your GP or medical practitioner straight away. And we recommended chatting to your healthcare professional prior to incorporating or changing something in bubs diet.
For more kids health stories, click here.