Note From Stranger Shocks Gold Coast Mum On School Pick-Up
Imagine you're minding your own business, in the car with your sleeping baby, waiting at your children's school ready for pick-up. It's Queensland and 32°C, so of course you have the air-conditioning on because: summer in 'straya. And then a stranger knocks on your window and hands you this note…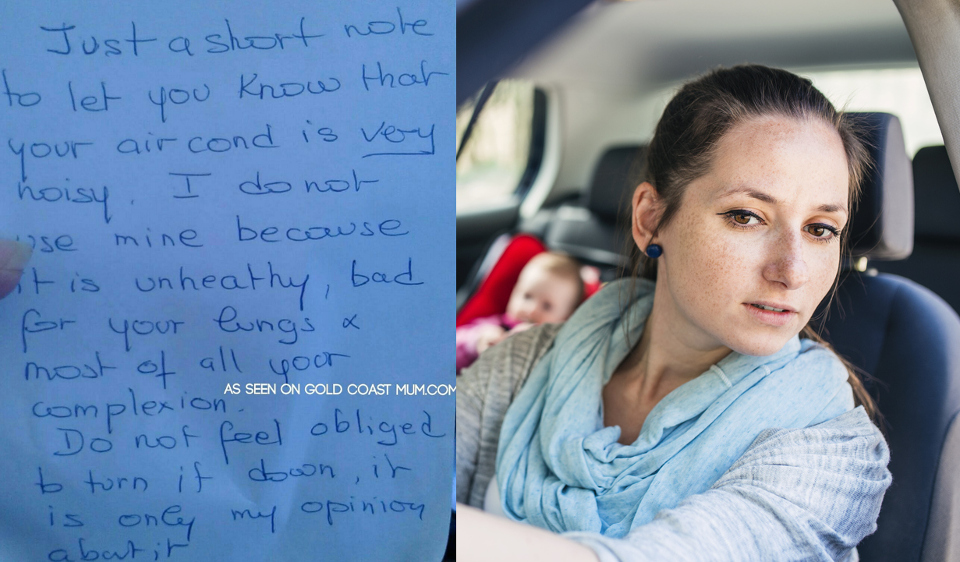 There's an unwritten rule that when you need to pick up the kids from school, it's either scorching or pouring with rain. So little wonder why one Gold Coast mum decided to stay in her cool car while waiting for the school bell. But she never imagined being chastised by a stranger.
'It's Unhealthy, Bad For Your Lungs'
A stranger handed her the note, which scolded her for using 'noisy' air-con, which she writes is, "unhealthy, bad for your lungs and most of all your complexion." 
A friend of the bewildered mum, Lauren, shared the note on her Facebook page Gold Coast Mum.
"My friend was simply parked outside her child's school, waiting to do school pick-up when a woman tapped on her window to hand her the note," Lauren explained to The Healthy Mummy.
"After receiving the note, she was surprised and then yelled out 'I have a sleeping baby in the car'."
'Tell Her To Mind Her Own Business!'
The pointed note prompted huge backlash on the post, with many questioning why such a personal matter inspired a stranger to put pen to paper.
"I'm sure the baby is sitting comfortably in the air-con being really concerned about its complexion," one person commented.
"Tell her where to go and mind her own business and just because she has an opinion doesn't mean that others want to hear it," wrote another.
However one dad claimed there's a bigger issue at play.
"As a dad who has watched time slip by and my children grow up and move on, I can tell you it is more important to ignore the note and watch your little one run out of school with a painting in her hand and on her face and her clothes and holding hands with her new best friend."
What do you think? Would you be offended if you were handed this note?