When You Try For One More Baby… And Get Multiples!
Should we have one more?
It's a common question couples have and one that often does take a bit of convincing by one party. So when you do decide to take the plunge and add one more little one to your family, it can come as quite a shock when you find out you're expecting twins.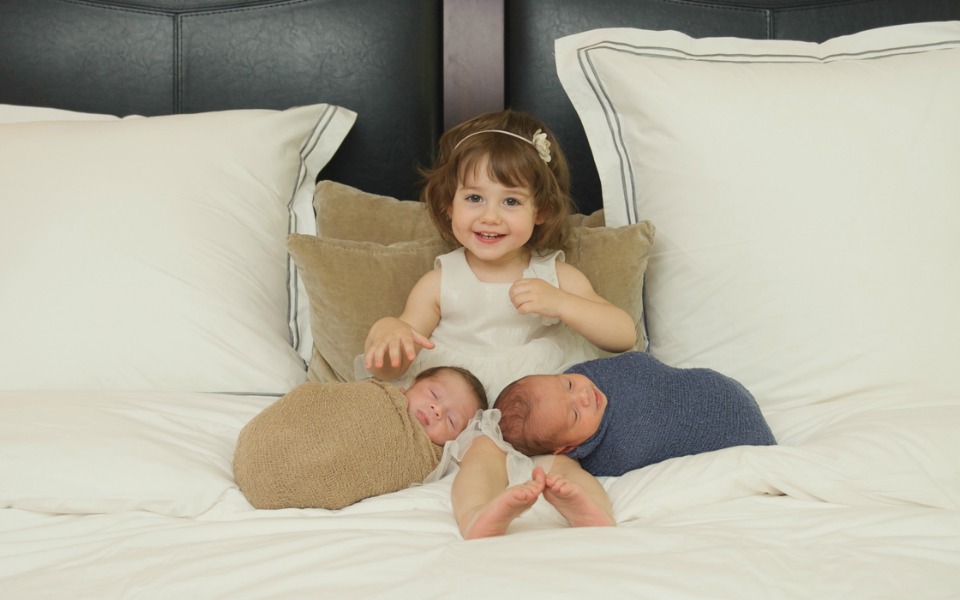 Make One…Get One Free
Twins and multiples are a blessing. But, in most instances, twins are not planned. In addition to doubling the baby equipment and taking on twice the newborn responsibility, most parents admit that seeing the ultrasound confirming not one, but two babies, brings twice the shock!
Double the Delight (and the Shock!)
This was certainly the case for Kat, who is mum to identical two-year-old twins Lily and Indie and admits that even falling pregnant was a bit of a surprise.
"I hadn't planned on one child so when I had the ultrasound and the technician said, 'there's baby number one and there's baby two', I was stunned," Kat explains.
Natalie, who is mum to Rose and Ruby, 4, as well as Lilly, 12, echoes this thought. "The biggest shock was finding out it was twins, especially the realisation I needed two of everything!" Natalie explains.
Kate, who is mum to seven-month-old boys, Fox and Flynn and nealy-three-year-old Lola assumed that twins only happened if you had multiples in the family. She quickly discovered that "identical twins can happen to anyone. We were very shocked and speechless, but happy."
And while mum-of-three Renee and her husband both have twins in their families, finding out they were expecting twin boys (Logan and Reece) still came as a massive shock, especially as her first born son was still in nappies!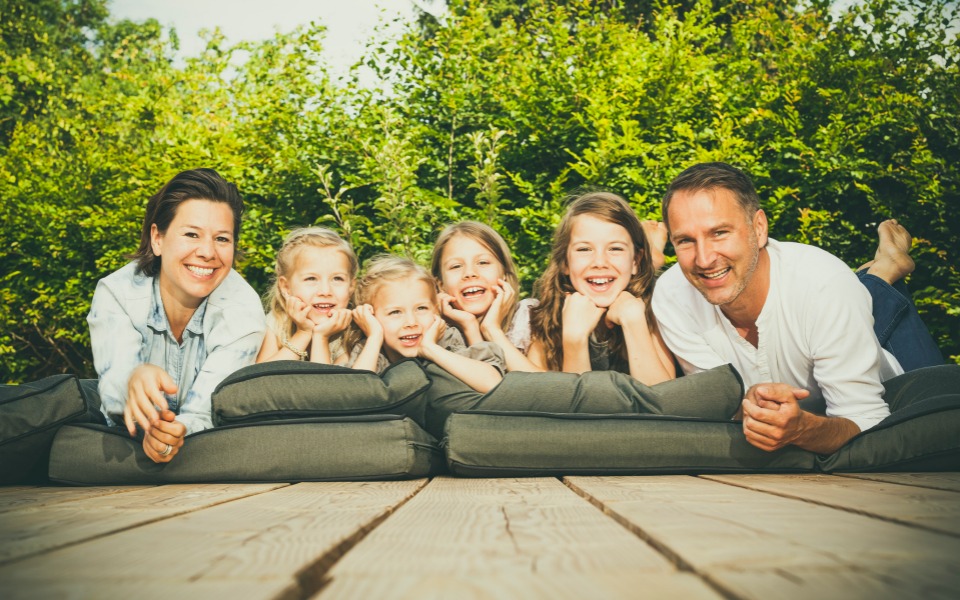 Adjusting to the Additions
When you already have one, two or three little ones to look after, it can be quite daunting to consider caring for two newborns, in addition to your other mothering duties.
Brooke, who already had two daughters, Harper,7 and Willow, 4 decided to go for the lucky last #3. "We were pregnant within a month..with two!"
Preparing for her twins, Oakley and Marley to arrive was a massive change. "It was practically like starting from the beginning again," Brooke tells us.
For Natalie the biggest adjustment was the lack of sleep.
"Some nights I lived on only three hours," Natalie admits. The lack of sleep can take its toll on your body and Natalie tells us that the struggle is often quite intense. "Your body and life are not the same for a long time."
Even every day tasks require a complete mind reset. Just ask Brooke who admits that "even ducking to the shops takes 30 minutes to get everyone ready and in the car." But learning to slow down, especially when you are used to a fast-paced lifestyle, is all part of the adventure.
For Kat, becoming a mum to two at once changed her entire life. And she wouldn't have it any other way.
"I was 21 at the time and really didn't have great aspirations. [Having twins] made me grow up very quickly and gave me two little babies to focus everything on. I'm now midway through a university degree and absolutely loving having twins. 
Top Ten Tips For Raising Twins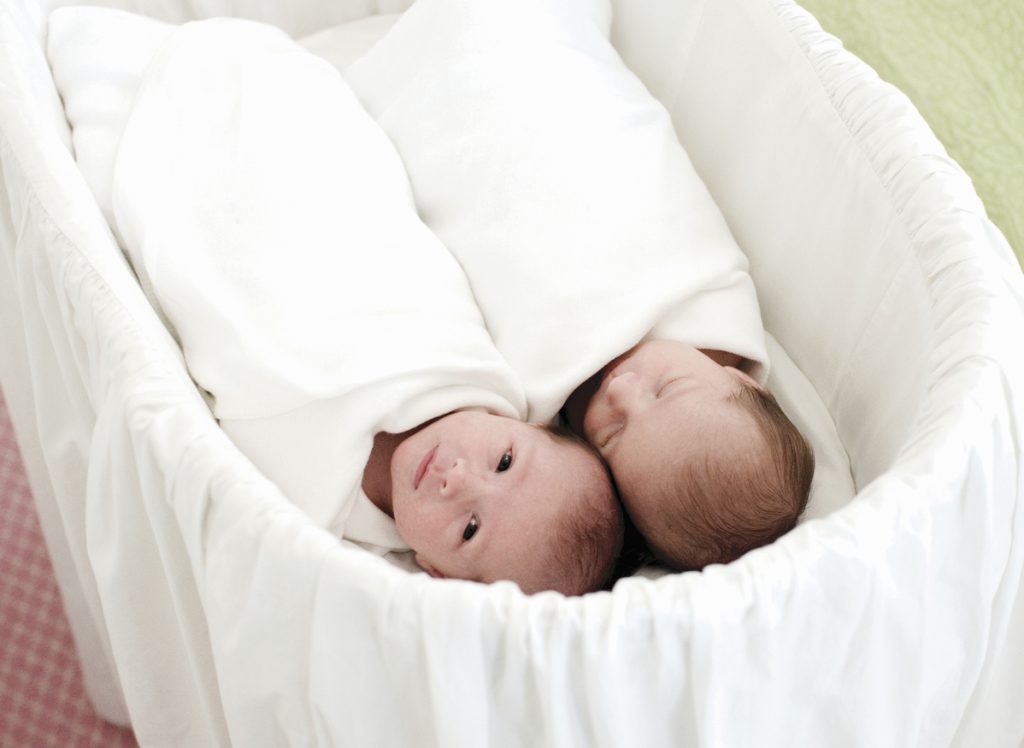 There is no denying that handing two at once can be tricky and takes a lot of extra planning and preparation. So how can you make it easier on everyone?
1. Meal prep. If you can, before bubs are due, make some meals to freeze so when they arrives that's one less thing to do and you can focus on your new babies. – Renee
2. Try to feed them both at the same time. That way you aren't up feeding all night and all day. – Natalie
3. Try to get out at least once a day. It is extremely easy to isolate yourself because it is such a mission to even go to the shops. – Kat
4. Take all the help you get offered, especially in the first 12 months. Tell people what you need, if you feel like you're drowning say something. – Natalie
5. Do what works for you. You will have probably read 50 books and expect to have your twins in a routine by 2 weeks, but it really doesn't work like that. – Kat
6. SLEEP! You really do need to sleep or rest when the babies do. – Natalie
7. Invest in bouncers! Bouncers/rockers have been my lifesaver! You can feed one and rock the other with your foot. – Kate
8. Take time for you. You will really need it. – Natalie
9. Take each day as it comes! Some days are good, some are not as good but things will improve. – Renee
10.  Stay positive.  Remember the mummy mantra "this too shall pass". When days or nights seem impossible or too hard, whatever you or your baby are going through will all eventually pass. Tomorrow is a new day! – Renee
When you are expecting twins, everything is on a grander scale- the shock of seeing that first ultrasound, the size of your belly, the initial costs, the intense sleep deprivation. But, twins means double those sweet moments that make motherhood so amazing.
"[My twins] truly are each other's best friends,"  Kat tells us."All of the hard moments are worth it."