Pink's Had Her Baby – Here's The Unique Name And First Pics!
Talented rocker Pink and her motorsport-loving husband Carey Hart have welcomed their new baby – and you won't believe the name! It has something to do with their favourite alcoholic beverage – this couple is certainly a whole lot of rock and roll!
Just minutes ago, both Pink and Carey took to their Instagram accounts to show off their adorable baby boy. He was born on December 26.
They've given him the adorable name of Jameson Moon Hart.
New Son Named After Whisky!
Last month, Pink revealed that if she had a boy, she'd love to use his name to give a nod to the couple's Irish heritage, and their favourite alcoholic tipple!
"My dad's name is James, and my brother's name is Jason," she told Access Hollywood. "(Carey and I) are both Irish, Carey's middle name is Jason, (and) Jameson — we like whiskey. That's a no brainer."
Apparently Carey wasn't so keen to name their second child after a whisky, but it seems the songstress won out!
Doting Dad
Now isn't this the cutest photo you've seen today? Doting dad with Jameson. Looks like it's been a long few days for the loving husband.
His smile says it all, take that rumour mill, this couple is STRONG!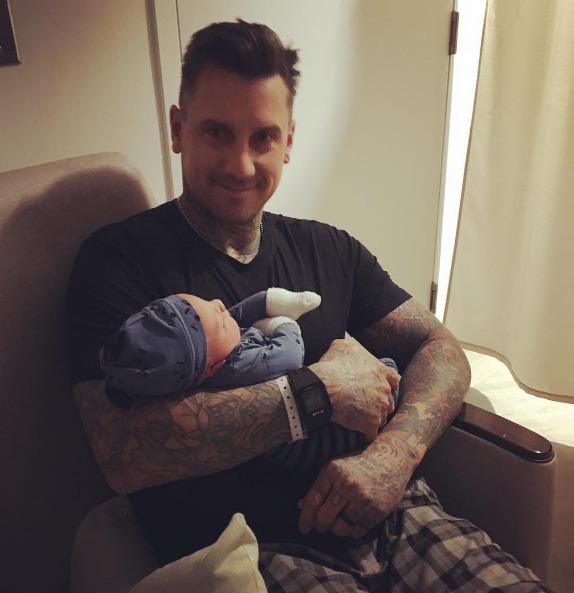 Willow is a big sister
Just before Christmas, Carey created a little social media controversy when he uploaded an image of the couple's five-year-old daughter having her hair dyed pink (of course!).
Little Willow has been practicing her big sister duties for the past few months, with Pink sharing adorable photos of her changing nappies on her dolls.
While Pink and Carey usually like to keep their private lives out of the spotlight, the duo has recently been revealing more of an insight into their married life through social media. They surprised fans just last month when Pink showed off her belly to reveal her pregnancy.
And releasing the first images of baby Jameson on their own terms is no doubt another way to connect with their fans – and we're so glad they did! Congratulations to one of our favourite celebrity families, what a way to end 2016!
If you're expecting a bundle of joy, make sure you take a look at how our delicious The Healthy Mummy Pregnancy Smoothie can help you with your additional calorie and nutrient needs.