This mum is a brave survivor of postnatal depression. She talks about wanting to escape her life, her battle to take medication and how she survived. Here is her story.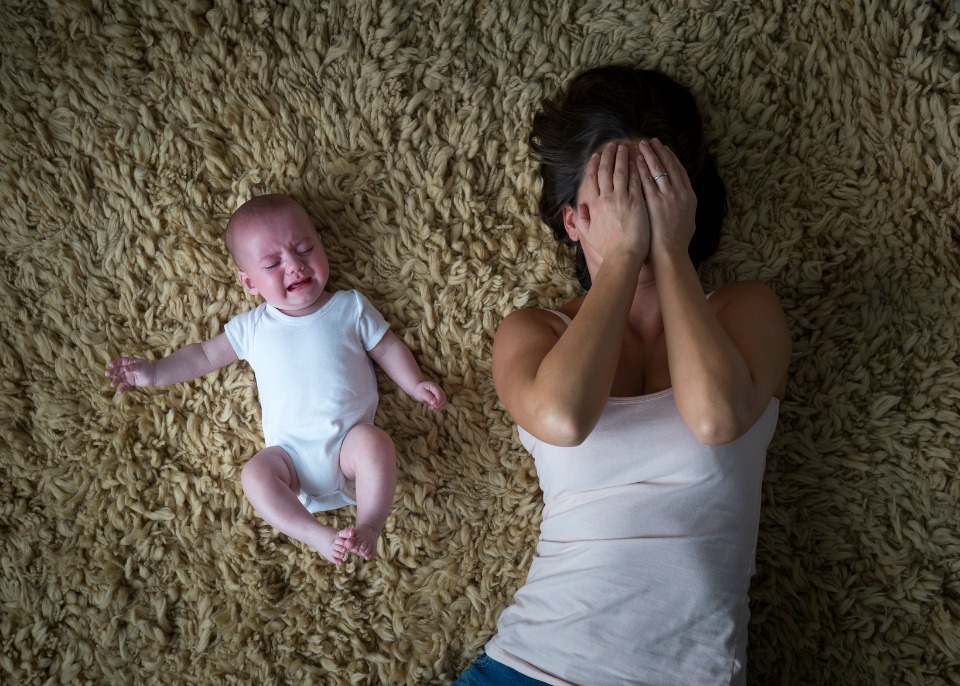 Before having my own children my knowledge of postnatal depression (PND) was very limited. I had been under the impression that PND meant that you couldn't bond with your child.
When my first daughter was born I was overwhelmed with love for her. However, I soon realised that my tears, irrational mood swings and panic attacks were not normal.
For two years I suffered through days of uncontrollable tears, heightened anger and an unexplainable sadness.
But I had no understanding that this was just the beginning of my journey with postnatal depression.
It didn't click until my second daughter was born two years later and her acid reflux tortured me with sleep deprivation. One day I woke up to find that I had lost control of who I fundamentally was.
I Wanted To Escape My Life
I had found myself hoping for an accident, a serious illness, or just committing myself to hospital.
Just so that I could escape my life and leave my children with someone better than me.
I had convinced myself that I was incapable of being a mother and that they would be better off having me gone.
So after comparing stories with a close girlfriend who was seeking support in a psychologist, it occurred to me that I could benefit from doing the same.
(What all mums suffering from post natal depression need to hear).
On Seeking Help To Treat Postnatal Depression
It did not take long for the psychologist to make her call. Extreme exhaustion, social anxiety and postnatal depression.
By the end of that initial consultation I had shared stories, shed tears, felt shocked, relieved and astounded.
We opened the conversation regarding medication and I left feeling mentally exhausted. There was a journey ahead of me and I just had to take that first step.
Making the choice to take that first pill to treat my postnatal depression felt like a huge mountain to climb.
If you think you might be suffering from post natal depression, read our step by step guide of what to do next.
What It Felt Like To Take Medication
The pill was as small as my fingernail and as simple as one mouthful to swallow. But mentally it one of the most difficult decisions to accept, taking me days to do.
Once that first tablet was swallowed I felt a huge sense of relief and a weight lifted as I waited to no longer feel the constant dread of depression.
Each morning for years I had woken to find myself on the driveway in tears, unable to breathe. Just the prospect of spending another day with my daughters, one a diagnosed insomniac, the other with severe acid reflux, was gut-wrenchingly terrifying.
Over the next month, each day became less overwhelming and my tears fell less. I no longer found myself in a corner unable to breathe, strangled by panic.
Life Got Easier
Each day life became easier. Mothering was more a blessing than a hindrance and suddenly I found myself recognising my own being again.
It was then that I realised just how badly I needed this support. In that moment I became a survivor and knew just how drastic and fatal things could have been if I hadn't have accepted help.
I have been taking medication now for three years and frequently consider taking myself off those pills. However, with such a low dosage and such a stable mind, I choose to continue to live leaning on my little friend. And, I am okay with that, for now.
Postnatal Depression Does Not Mean You're Failing
Postnatal depression can happen to anyone. It can come in many different forms, it can touch lives in many different ways. Having it does not mean you are not coping with motherhood,
Equally, it does not indicate you're failing as a woman. It is simply a journey that some of us need to take and it is a journey that will become a tale to tell.
If you are concerned you may be affected by postnatal depression, please reach out to your family doctor and seek advice.
Help is not as scary as another day suffering, I assure you.
Please seek medical health if you feel you might be suffering from PND.
You could also call Beyondblue, it has a helpline open 24-hours a day, every day. The number is 1300 224 636.
Join our Healthy Mummy Community

When women support each other incredible things happen.
To connect with likeminded mums, be sure to check out our Healthy Mummy pages and support groups.
All our private groups are moderated every hour by our professional staff, to ensure a safe and non-judgemental environment.
To find out our more or to join one of these support groups, click here.