Growing a little life inside of you is terrifying and terrific at the same time, which is why sometimes it's great to have phone apps to give you a little reassurance and other important information.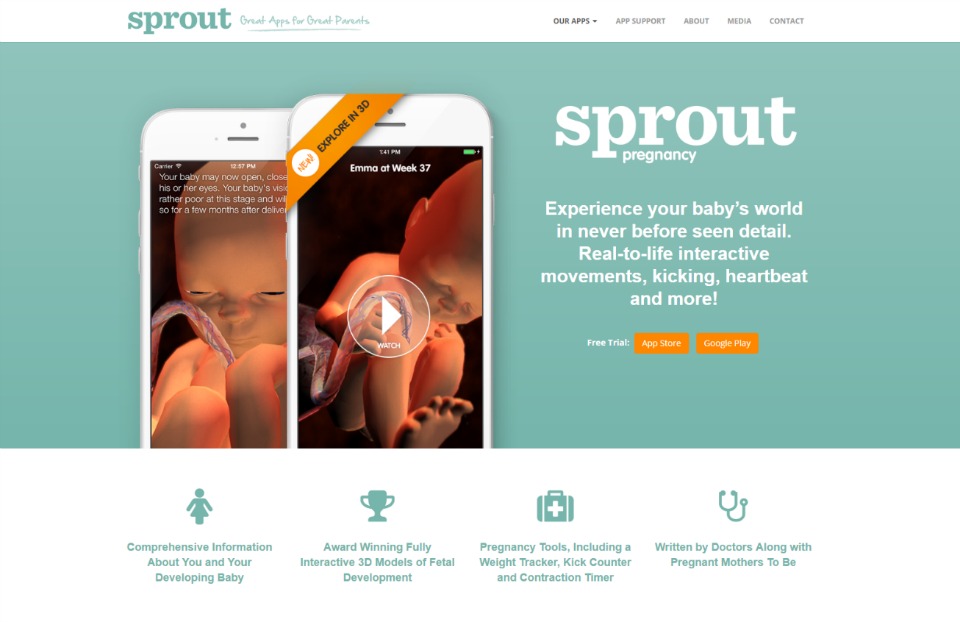 While not all apps are created equal and not every pregnant woman wants to use one, they can be fun and helpful if you're someone who loves having knowledge at your fingertips.
5 top pregnancy apps for expectant mums
1. Pregnancy & Baby Daily Tracker –by Baby Center
Enter your baby's due date and you'll get week-by-week tips and trackers, access to videos, and tools such as the bumpie photo diary where you can take a selfie each week to see your bump grow.
You'll get connected to health and pregnancy exercise advice, weekly checklists and reminders and food and nutrition ideas.
With this app you can join your birth club to connect with other mums-to-be with the same due date, ask questions, and share how you feel and discuss names, concerns and ideas.
There are reviews on baby products, a way for you to keep track of baby's kicks and access to thousands of Baby Center articles.
3. Sprout
According to the designers, this app is the only one that features next generation interaction where you can experience your baby's world in never before seen detail. It shows real-to-life interactive movements, kicking, heartbeat and more.
It also has a pregnancy journal with a free PDF to view or print so you can capture belly photos and all your special pregnancy thoughts and moments.
There's also daily and weekly info on your developing baby, a personalised pregnancy timeline a stack of tools and checklists to count weight gain, kicks and contractions.
2. Ovia Pregnancy and Baby Tracker
Developed by Harvard scientists and pregnancy specialists, you can customise the app by choosing your baby-size theme to track their development and your pregnancy on a week-by-week basis.
With a cute image that shows the size of your baby's hand at any given stage compared to the size it will be at birth, the Ovia app is also visually appealing.
The app gives you daily feedback on your progress as you monitor your weight, sleep, diet, moods and symptoms in a comprehensive calendar.
You can also receive real-time health alerts based on your symptoms, pregnancy articles, and personalised feedback and support based on your pregnancy stage, BMI, age, personal goals, and health data.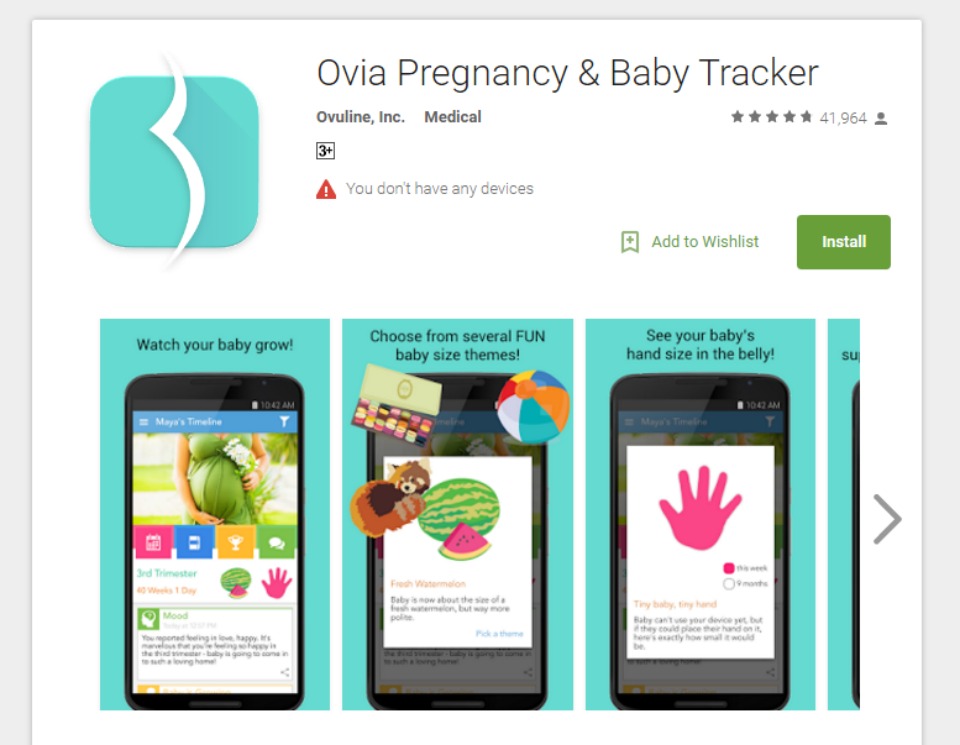 4. Pelvic Floor First
Developed by the Continence Foundation of Australia, this safe-exercise app helps to prevent incontinence and strength those all important pelvic floor muscles.
It has three customised workouts for people of all fitness levels and pelvic floor strength. The wide range of exercises have been designed by physiotherapist and fitness leader Lisa Westlake to ensure people enjoy the benefits of a total-body workout that protects their pelvic floor muscles.
It also includes instructional videos and audio for all workouts, detailed pictures and instructions for each exercise, pelvic floor muscle exercise guide, and the ability to save favourite exercises for personalised workouts.
5. Pregnancy +
Created by Health and Parenting and leading healthcare professionals, this beautifully-illustrated app gives a comprehensive guide through all stages of pregnancy.
You'll get daily pregnancy info, colour and scan images, a personal diary, a weight log and a place where you can log your doctor appointments.
Also included is information on diet, exercise and labour, as well as a kick counter and contractor timer for the pointy end of pregnancy. There's also a baby shopping list, 1000s of baby names and daily and weekly information in an easy-to-digest format.
For more pregnancy-related articles and information visit The Healthy Mummy's mum-to-be section.