Beautiful Underwater Image Honours 'Rainbow Baby'
Like all pregnancy photos, this glorious image is a celebration of life, but the story behind this beautiful snap runs much deeper.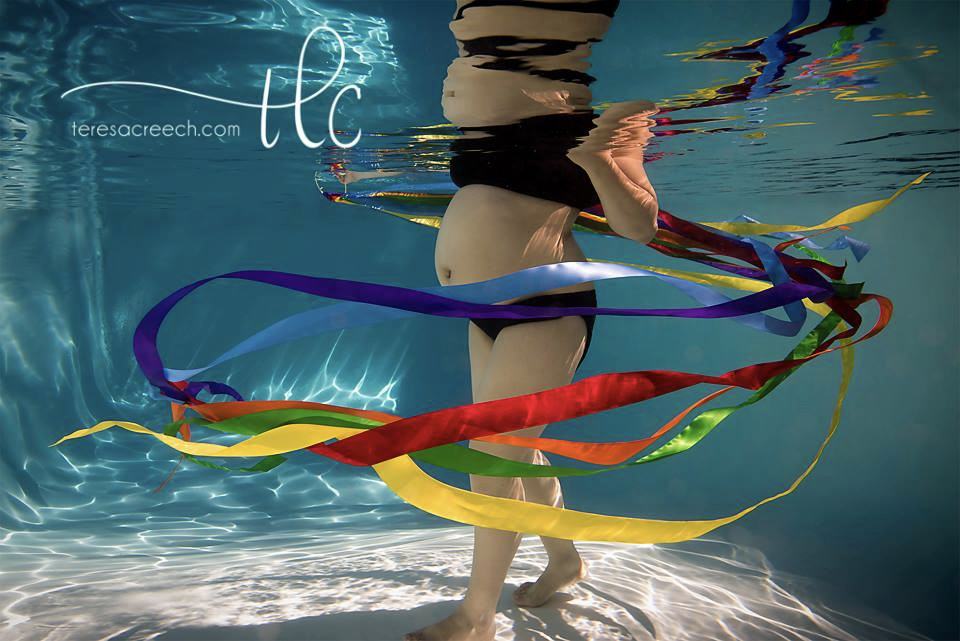 The image of a beautiful pregnant belly, surrounded by floating, rainbow ribbons was taken last month by US-based photographer Teresa Creech. It wasn't the first time Teresa had worked with this family – the last portraits she took for them were of their baby daughter, who had died at birth.
Heartfelt photo session for grieving family
Teresa explained to The Healthy Mummy that as part of her volunteer work for Now I Lay Me Down To Sleep, she had met with the family 24 hours after their baby was born.
"When I arrived, the very tiny baby girl was fully dressed, in very poor condition, and being carried around on a pillow with blankets all arranged artfully around her. The family had truly taken time to get to know their little one; to bond it seemed. Their six and eight-year-olds were in the room, as well as the in-laws and cousins. It was a large group for such a tiny baby. Everyone wanted their portrait with baby. I did all that they asked. There was a lot of grief and a lot of love as well."
She says the session stuck with her, and she thought of the family (which wants to remain anonymous) often. Not long ago Teresa was thrilled to find out the mother was now 30 weeks pregnant with a baby girl, and so a maternity shoot was scheduled. As part of the session, Teresa took the stunning rainbow ribbon image, she titled After The Storm. It honours both the life growing within the mother, and her rainbow baby.
Where there's life, there's hope
"I hope that people experiencing such life challenges as infertility, infant and pregnancy loss can find a bit of encouragement that there are others who have been on their journey and they also have had the same feelings, worry, and tears, and they somehow were blessed with one more miracle," Teresa says.
"Hopefully the person feeling this way may be able to say, 'This woman could be me, IS me, I will get there.' I guess I just hope to say that they too can have that rainbow after the storm."
If you're dealing with miscarriage and pregnancy loss, you can access help through our support guide.