There are thousands of photos on social media of beaming mums and squishy newborns. The post-partum bliss is obvious and infectious. It's very rare that mums are willing to share photos like this one. Jarring and raw, it takes us somewhere different. Somewhere darker. Somewhere many mums are afraid to admit they've been.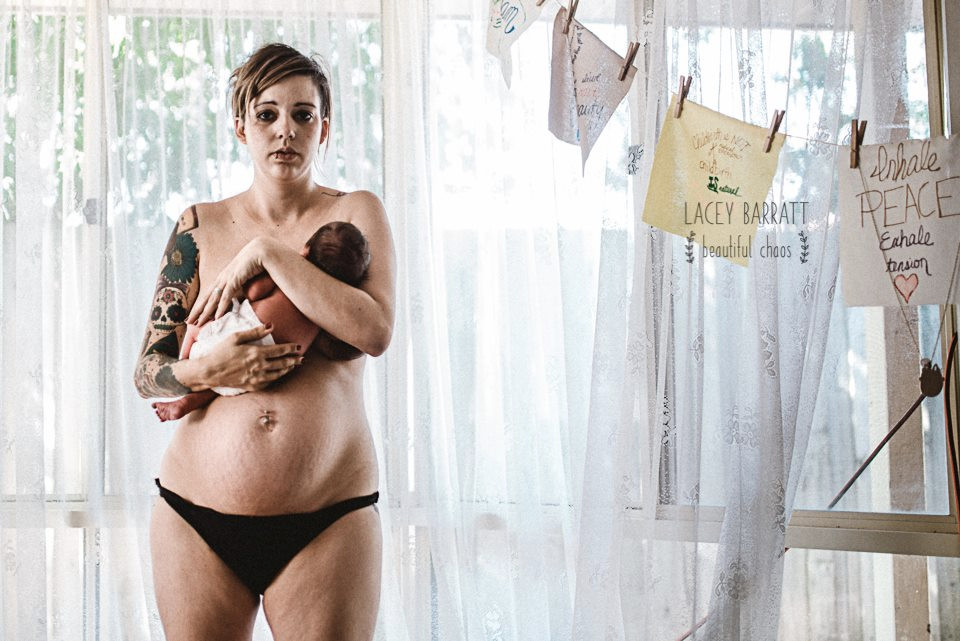 As a birth photographer Lacey Barratt is used to being on the other side of the lens, seeing every side of labour and first moments between mum and bub. But the woman in this photo is her – and she's shared a powerful message after the birth of her fourth child this week.
'I saw my soul in a picture'
Lacey first shared a side profile photo of herself on Instagram, because she wanted to document her changing body after giving birth to her son on Wednesday. As she was looking through the images again she came across one where she was standing front on. And it led to a flood of emotions.
"I sent it to my friend and she immediately said that's powerful and confronting, are you ok?," Lacey explains in a Facebook post. "I was fine until she asked me if I was fine. I took another look at it. I saw my soul. In a picture. I cried. I didn't want to look at it anymore. I saw a woman standing next to her birth affirmation bunting less than 24 hours post birth…and she wasn't babymooning.
"I saw a woman who felt like after four biological births in five years and five children total, that this was her job. Like she was good for nothing else other than birthing babies. Like she is just going through the process. Pregnant, birth, postpartum, baby cries, boob baby, baby poops, change baby, raise baby….just going through the motions. There was no attachment. It looks like someone just dumped a baby in my arms. I feel no warmth when I look at this."
Feeling disconnected is normal
Lacey says staring at the photo stirred up emotions that triggered guilt and vulnerability. She wasn't sure she wanted to share the image – after all she'd had an amazing birth, what was her problem?
"Well, me being real, I turned to a group of women I truly love and who have no judgement…at all. I knew it was normal, but I wasn't ready to spill my weaknesses until I knew it was normal. Well now, after some soul searching, placenta encapsulating, sharing with other women, and naked snuggling with ALLLLL of my kids, I am ready to say it.
"Feeling disconnected after a birth whether it be positive, supported and empowering OR traumatic, disempowered, or poorly supported is NORMAL. Our emotions are EVERYWHERE. The stories I have received from sharing these image is a strong reminder that I am not alone, and I am very normal. So for my pp mama's out there, don't be discouraged."
We couldn't agree more! We're a little bit in love with this rockstar mum, and if you are too take a look at the story we did with Lacey when her toddler cut his own hair.
Struggling with your emotions after having a baby is completely normal, and there is help available if you feel you need it.