The Wiggles On Emma And Lachy's Marriage And Babies: 'She'll Be Breastfeeding Onstage'
Most of us would end up strangling our significant other if we worked with them 24/7 – but The Wiggles couple Emma Watkins and Lachlan Gillespie are always smiling! (How do they do it?)
The pair have spilled the secret on how they make their marriage work…
What's the secret?
"Lachy is obsessed with cleaning," Emma tells Stellar.
"He loves vacuuming. I want to help, I'm quite good with the washing up, but no, he wants to do it himself."
Ah, now it all makes sense!
Meanwhile, it seems Lachy sometimes feels the pressure of living together and working together.
"The hardest part of married life is getting the time for ourselves," he says.
"The pros are that you see a lot of each other and you really understand what your partner's work involves," says Emma.
"The cons are you see a lot of each other! It can be hard to separate work and home life — you may talk a lot about work when at home, and you might bring home issues into the workplace."
Mini Wiggles on the horizon?
"A lot of people had assumed that we were going to have a baby (straight away)," says Emma.
"I think people are too excited, and that's just a natural progression."
However, Blue Wiggle Anthony Field says he is looking forward to expanding the Wiggles brood.
"[Their baby] will be a part of the Wiggle family," he says
"I have no doubt both of them will still be touring. Emma is so competent and always does a million things at once — she'll be breastfeeding onstage."
Second Wiggles wedding
Maybe Emma and Lachy can give their Red Wiggle co-star Simon Pryce some of their marital advice. Simon has recently tied the knot with his sweetheart Lauren Hanford.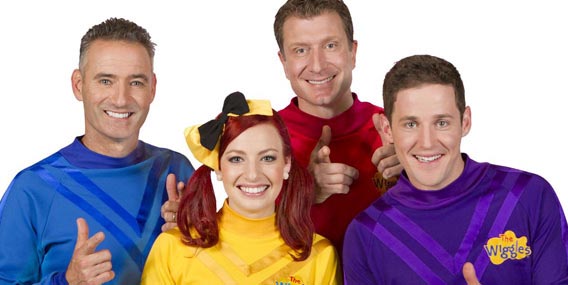 In an interview with Woman's Day – who have the official snaps – the 44-year-old actor revealed he and his new wife had the "most amazing day."
While The Wiggles appear to be on the up after signing a five year contract, kids show Peppa Pig has been slammed by angry parents for fat-shaming. Check out the story here.