Finding out your BABY'S GENDER is a monumental occasion in any parents life. So, it is no surprise there is a growing trend towards making the event even more special with a gender reveal party or announcement.
Here are 10 awesome and creative baby GENDER REVEAL IDEAS from the mums in our very own Healthy Mummy Community.
Prepare to be BLOWN AWAY. There's confetti, smoke, balloons, cake, paint, chalk dust and much much more!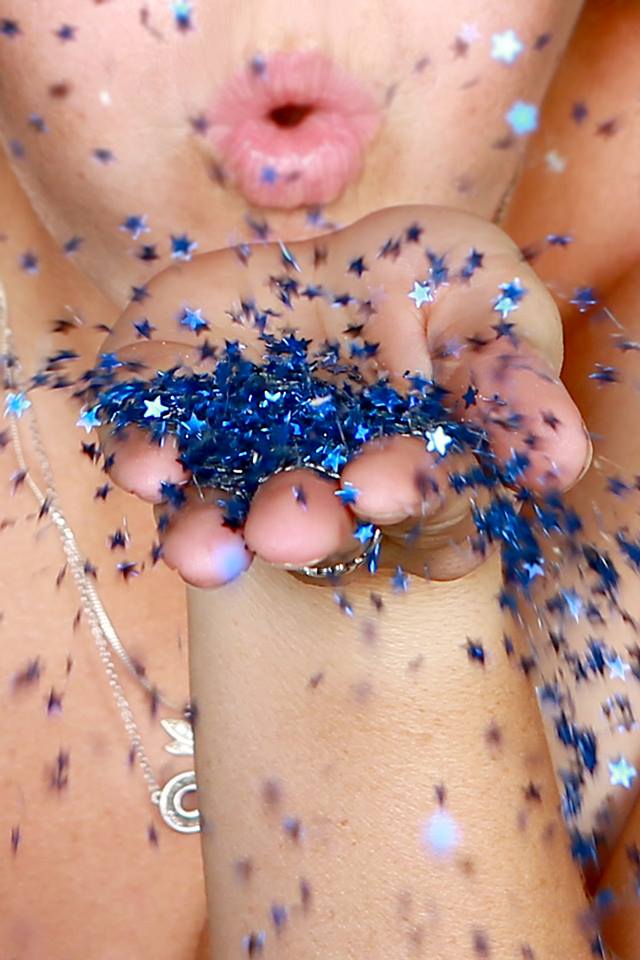 10 awesome and creative baby gender reveal ideas
1. Say it with smoking tyres
Are fast cars your thing? If so, you'll love this idea (and so will all your neighbours)!
Caroline Reigo says: "We went to a tyre place and they ordered these for us. I enjoyed every second of our gender reveal but those tyres smelt so bad!"
2. Hidden surprise inside a cake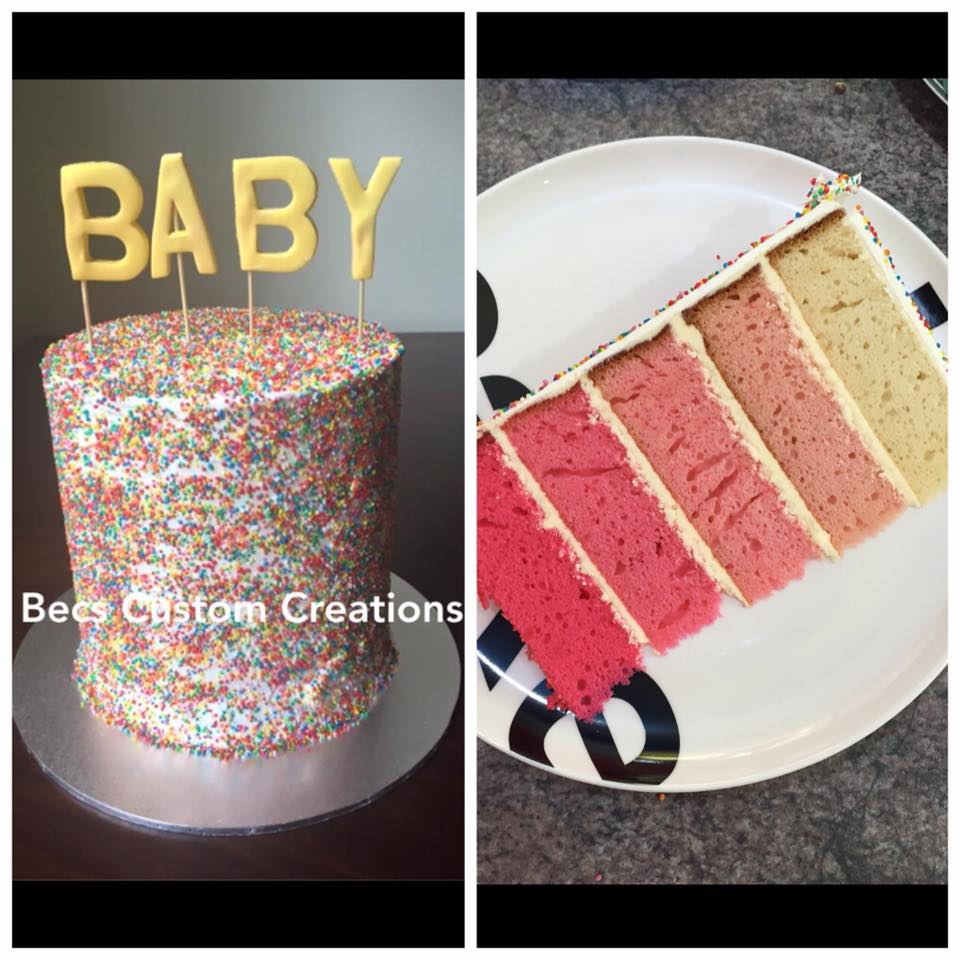 Wow! Sami Butler's gender reveal cake looks as delicious as it is pretty.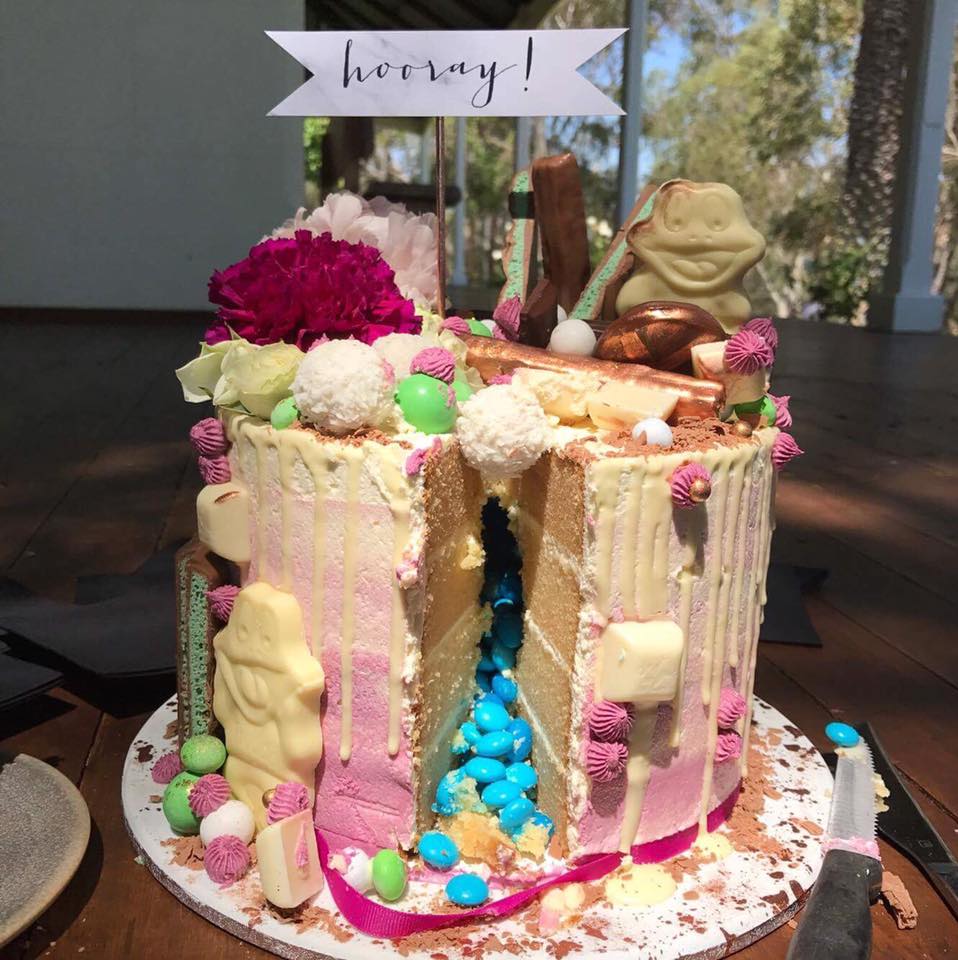 Holli Krieger decided to combine her birthday and gender reveal with an incredible cake. She says: "It was my birthday cake and we got the gender put inside so we could find out with all our friends and family. The Cake was amazing!".
3. Confetti blowing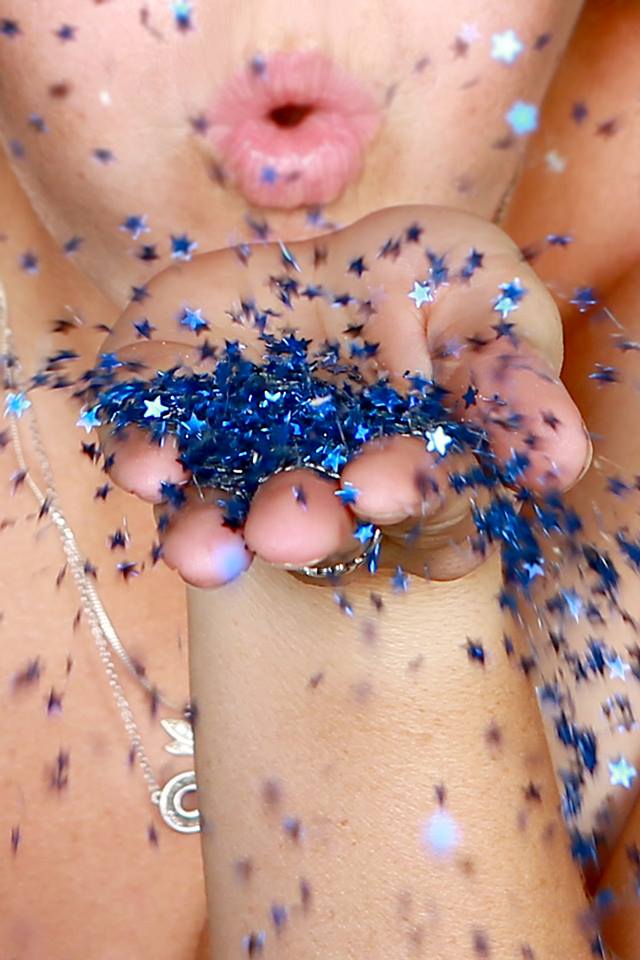 Andrea Dixon's gender reveal is so modern and chic! We just love this announcement.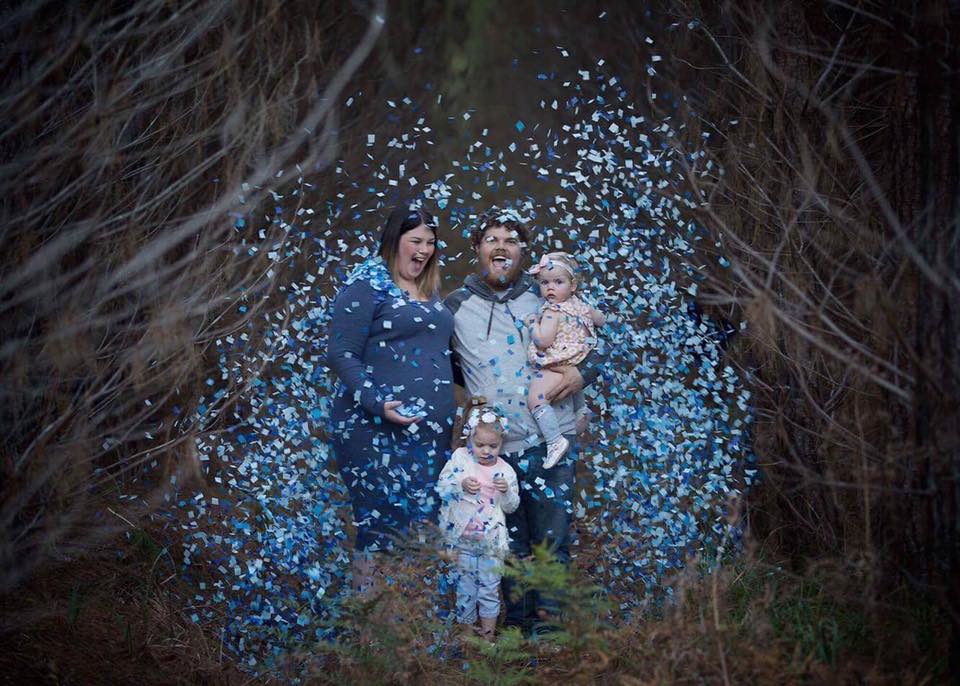 Such a magical moment. And we just love the expression on mum and dad's face. Marney Smolenaars says: "Our photographer cut up 2 buckets full of tissue paper and had someone on each side throw it. It was raining blue."
4. Confetti … PLUS CHALK!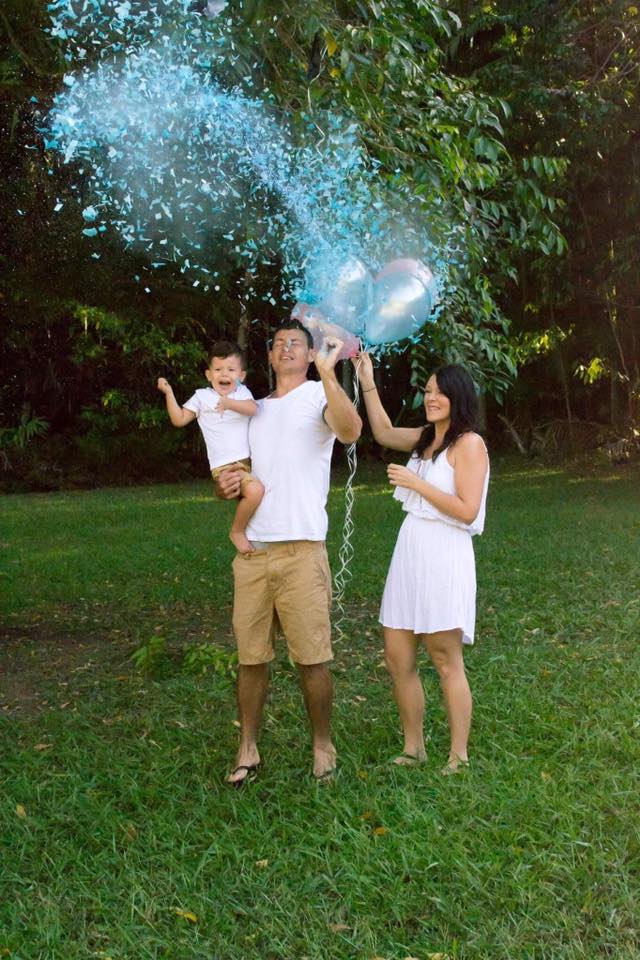 Kara Leslie says: "We had a big black balloon and we filled it with chalk and confetti and popped it!"
5. Say it with shoes!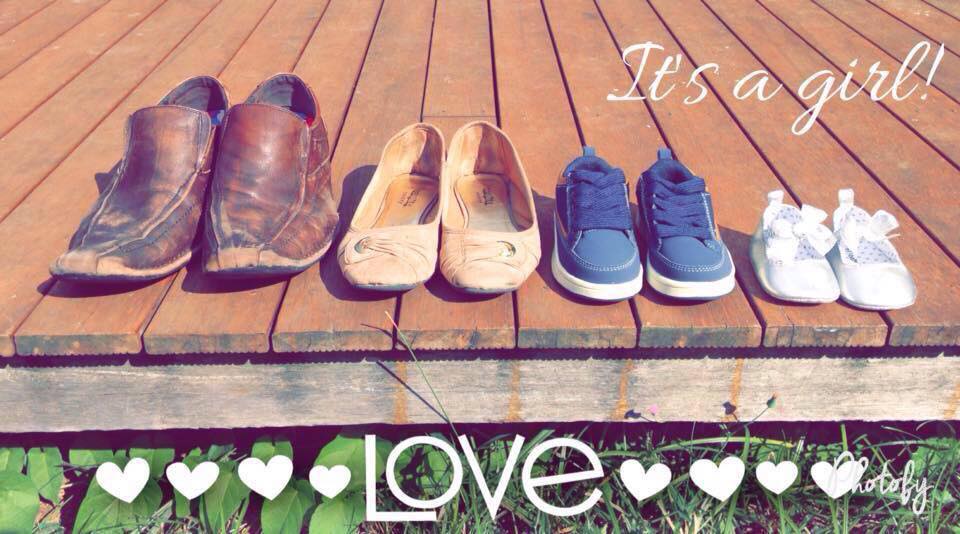 We love Heather Barron's announcement. The shoes and caption say it all. So simple, yet so effective!
6. Big brother, big sister announcements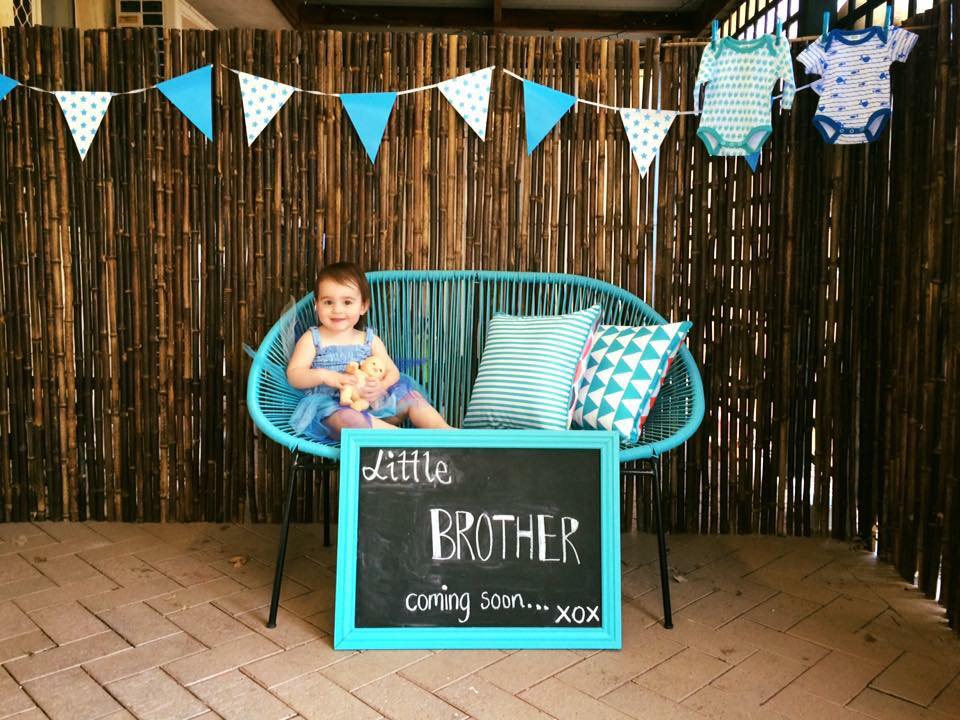 How cute is the styling of this photo by Nykita Sullivan? From the colorful bunting to clothing to the colorful cushions! Someone is looking very excited about becoming a big sister!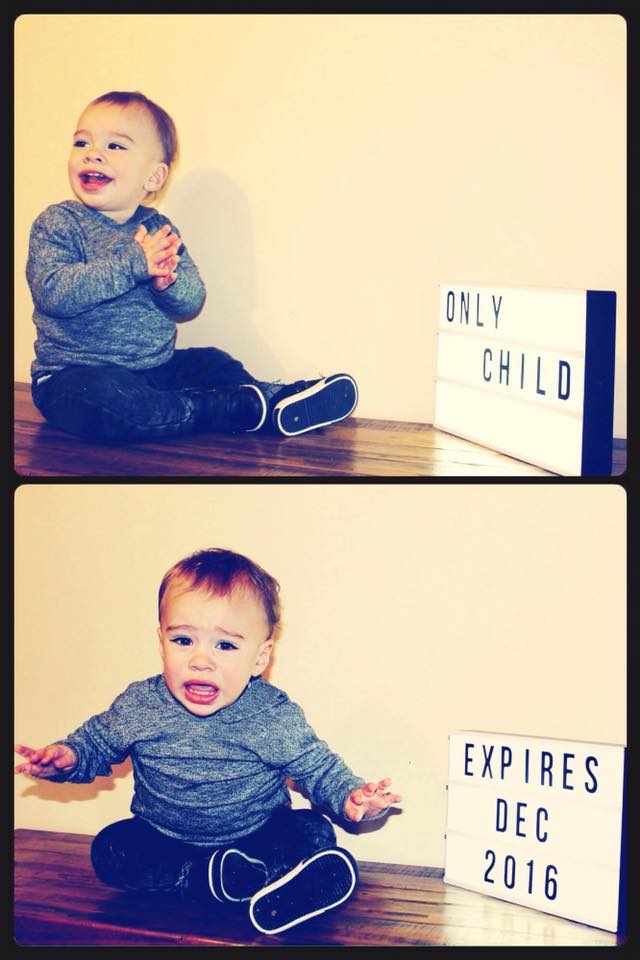 Nawww – We don't think Baylee Stueven's son could have had a more appropriate expression on his face!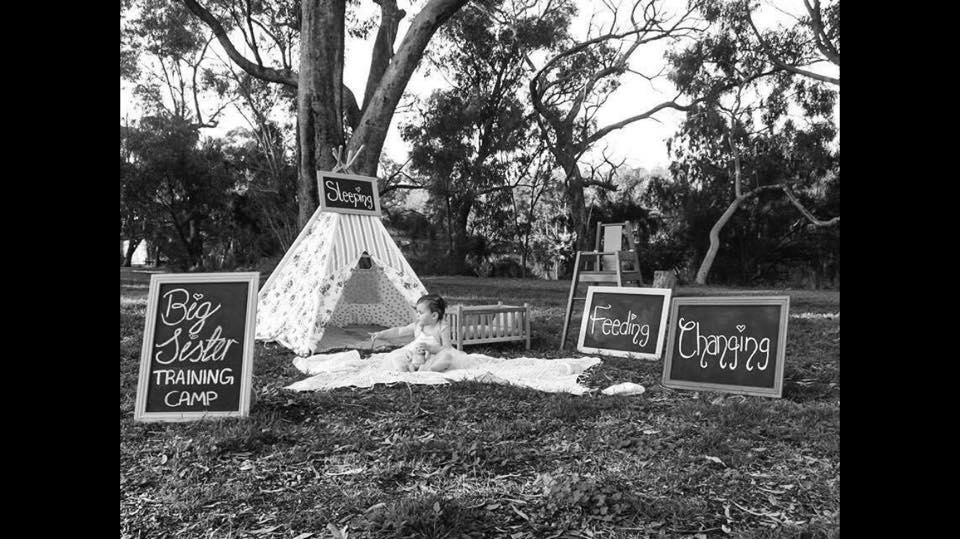 Ahh Bless. Big sister training camp is giving us the 'feels'.
7. Belly painting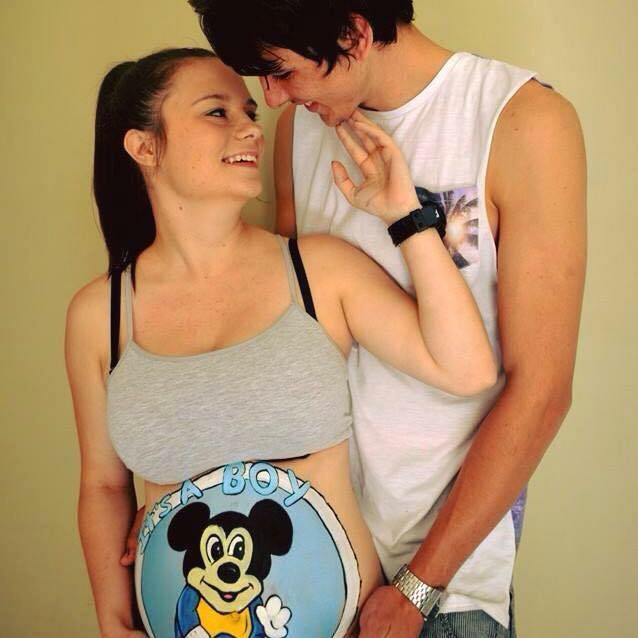 Tatiana Harris says: "I announced mine by belly painting.  I wore a baggy shirt during my party and my partner pulled my shirt up to reveal it. (Also got his mates to sneak up and splat blue paint all over his head at the same time.)"
8. Paint and chalk fights
Prepare to get messy and have fun with chalk or paint fight.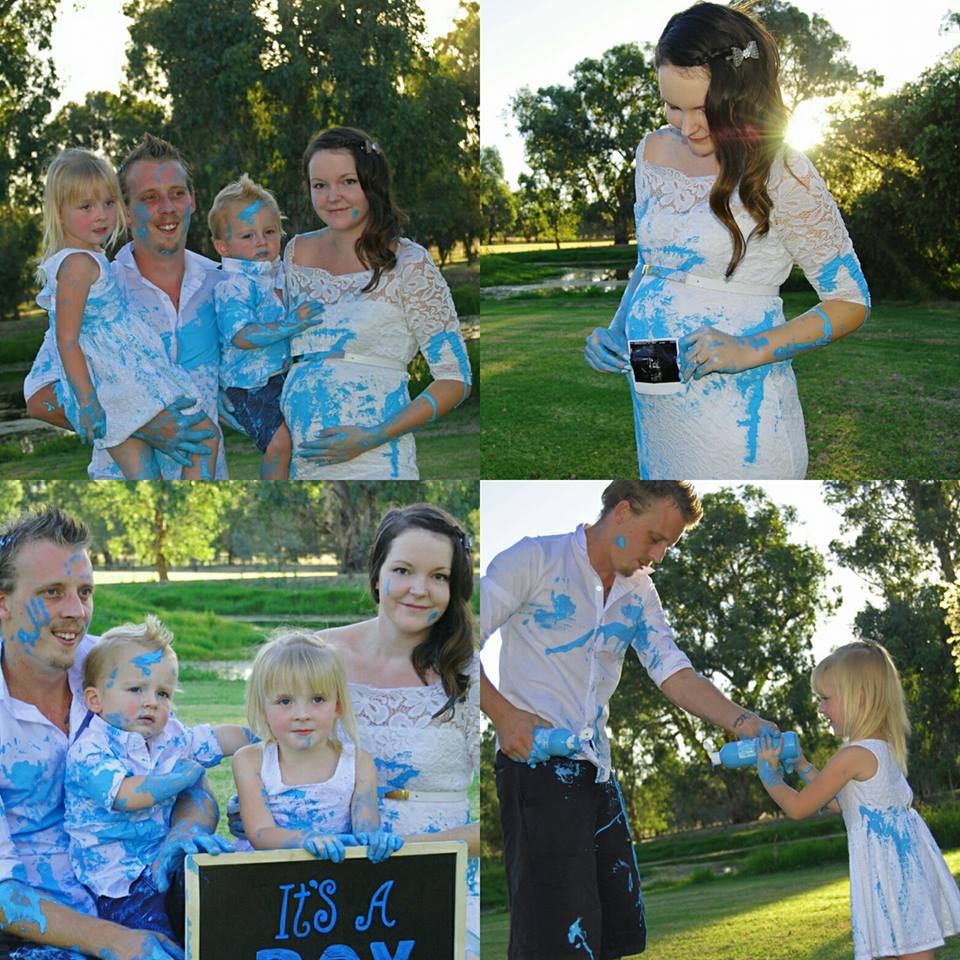 Stephiie Fischer says "We had a paint fight. So much fun."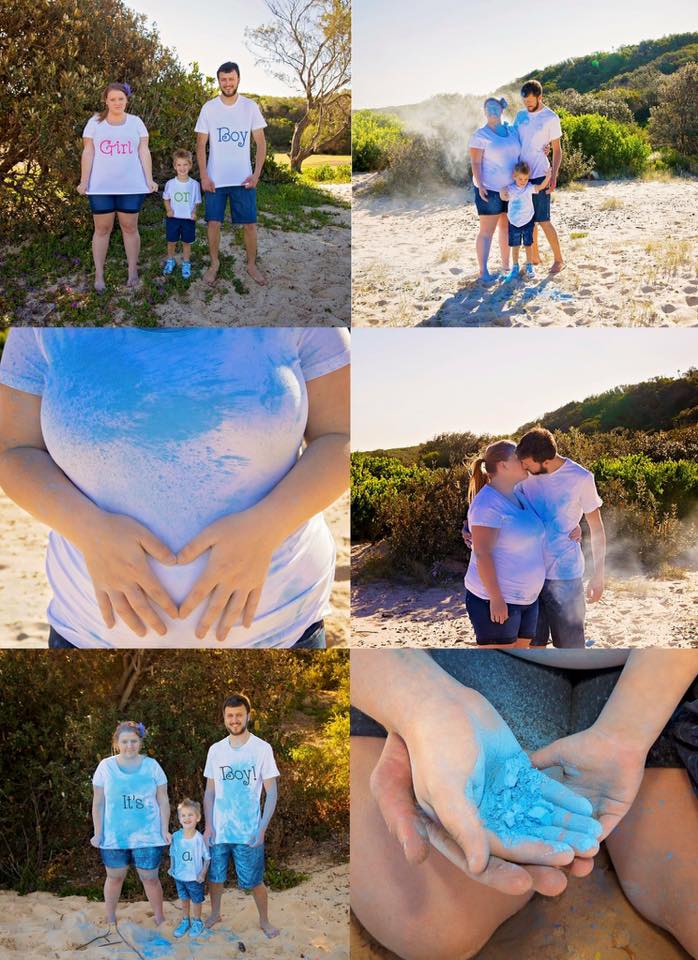 Kay Sternbeck's family got busy with blue chalk dust fight.  Looks like fun!
9.  Colourful balloons
Reveal a baby boy or girl with pink or blue balloons.. and surprise the kids while you are doing it!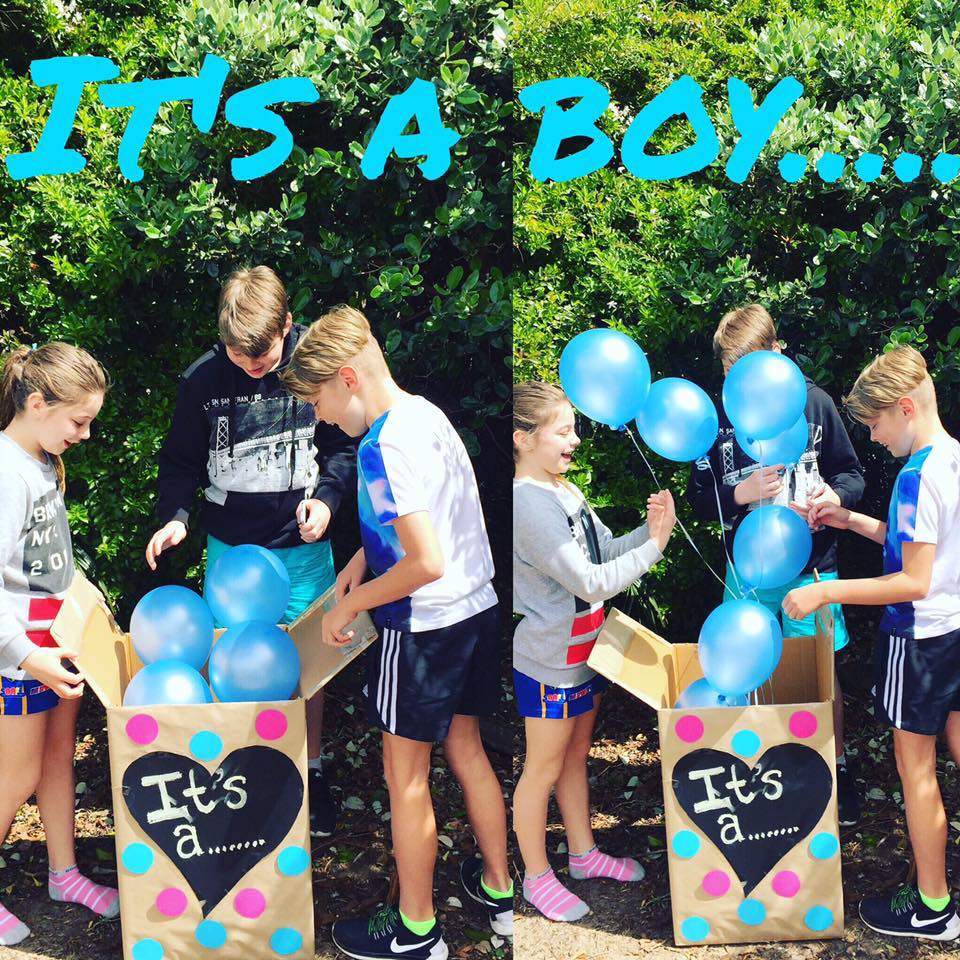 We just love the expressions on these kids faces – pure delight!. Mel Pilkinton says: "Yeah they found out as they opened the box ".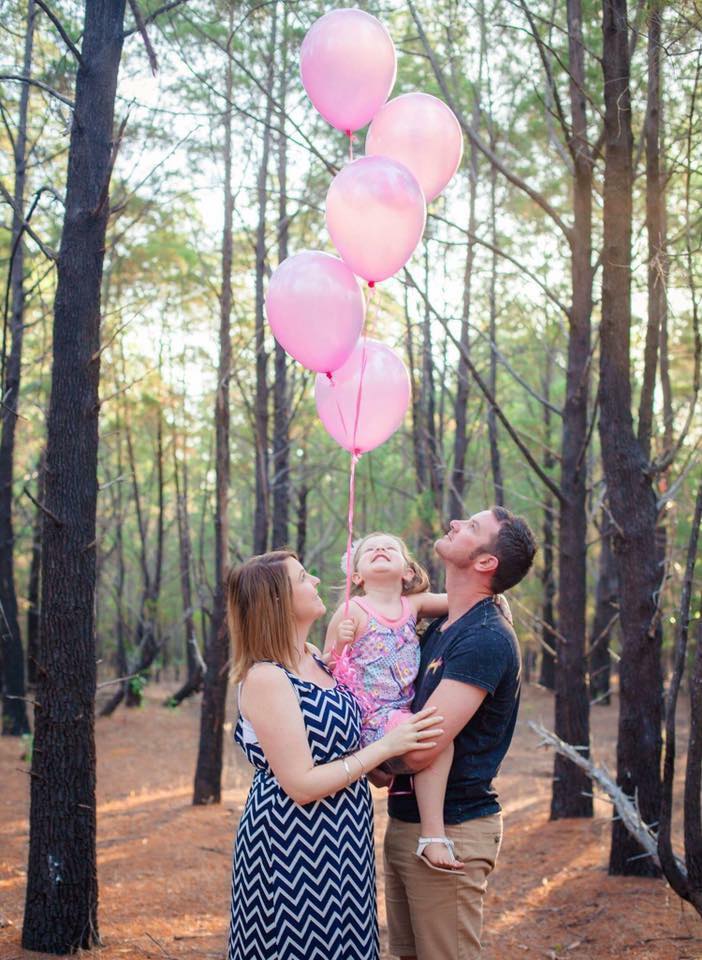 Rebecca Ferrari kept her photos simple yet beautiful! That's one very excited little girl!
10. Superhero inspired announcements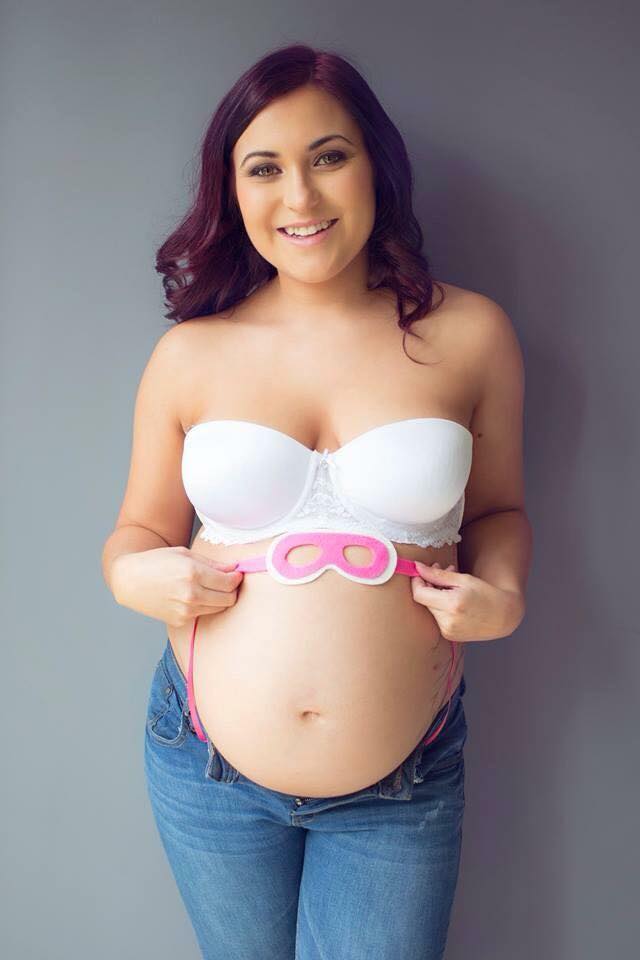 The little pink mask was the first clue Jessica Hodge gave regarding her baby's gender and she followed it up with this adorable superhero themed photo of her daughter wearing the mask when she was born.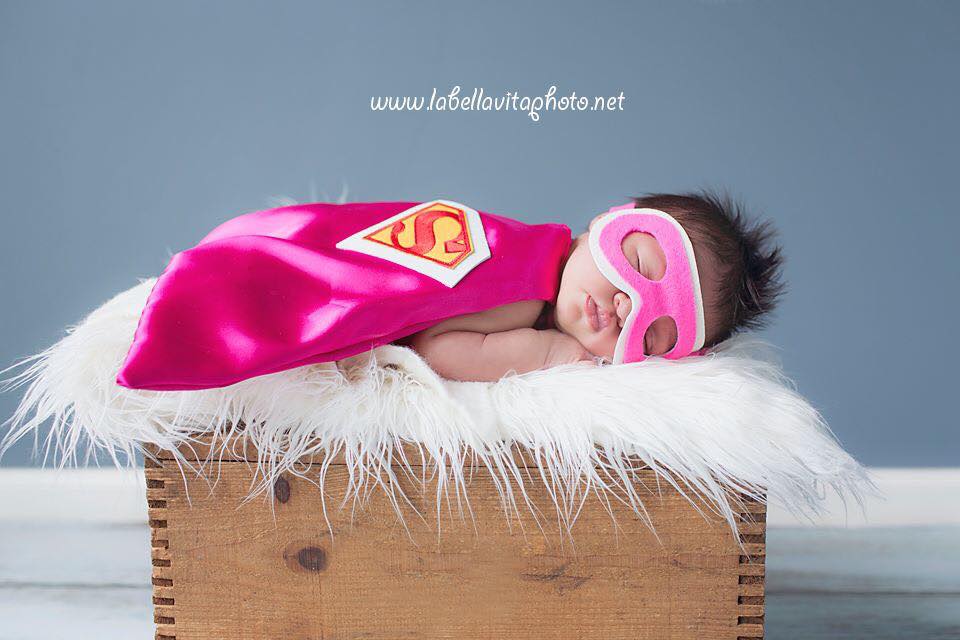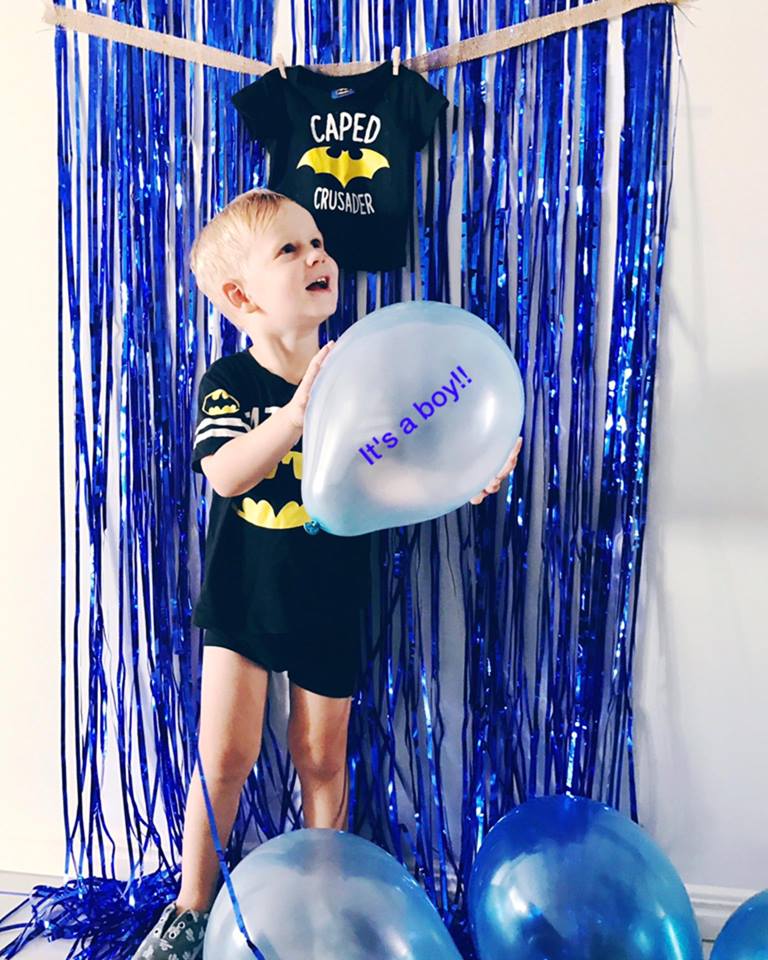 Meanwhile, it looks like there will be another caped crusader in this house hold pretty soon. Jaclynn says: "I posted this photo on Facebook for the family and it was also a surprise for my son."
Thanks for all the amazing mums in The Healthy Mummy Community for sharing their photos with us. We think they are FANTASTIC!
Are You Too, Expecting? 
To join thousands other pregnant mums receiving tips, advice and support for maintaining a healthy pregnancy, be sure to check out our Healthy Mummy Pregnancy Support Facebook Group.
Here you will find other interesting articles like Your Babies Gender Could Make Your Pregnancy Sickness Worse,  Five Surprising Things Babies Can Sense In The Womb, 60 Ultra-Edgy Baby Names That Will Soon Top The Trendy Charts and much, much more.
The Healthy Mummy Pregnancy Smoothie
Our Healthy Mummy Pregnancy Smoothie is designed to complement, not replace, your prenatal vitamin intake. Our nutritionists ensured that the vitamins and minerals in the smoothie are at a low level so there is no risk of doubling up on pregnancy vitamins – such as iodine.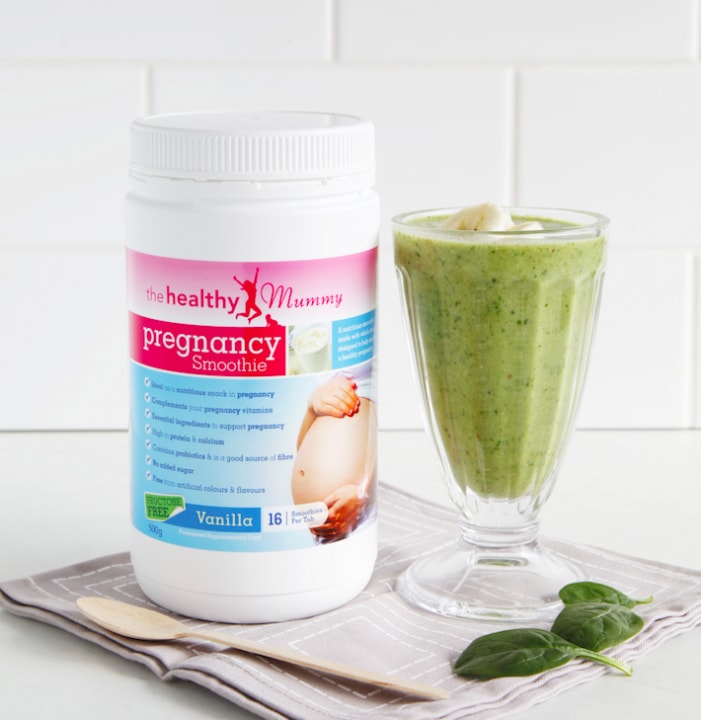 The pregnancy smoothie is also free  of all chemicals, fillers and artificial ingredients, has no fructose in, no added sugar in and uses high quality dairy protein sourced from grass fed cows in New Zealand.
You can download the pregnancy smoothie fact sheet here. You can also download the Pregnancy Smoothie Label here.