Like many mums, Mandy struggled with weight gain AFTER having children and was desperate to lose the extra weight and reclaim her body.
Today she celebrates her AMAZING 27.6kg weight loss achieved by following The Healthy Mummy 28 Day Weight Loss Challenges, and enjoying the smoothies and snack bars.
Read about her inspiring journey below and find out who else her healthy eating plan has had an impact on.
Gaining weight during pregnancy is healthy and expected.  But it was the weight that Mandy gained suddenly AFTER having her 2nd child that left her feeling uncomfortable in her body.
Mandy's weight loss journey – how it began
Mum-of-2 Mandy Maree Admiraal says during her first pregnancy she gained around 20kgs and worked hard for the next 2.5 years to lose the weight.
During her second pregnancy with her son, she worked hard not to gain a lot of excess weight. She says "I only put on 10kgs.
But after he was born I just all of a sudden found myself with an extra 20kg post birth!"
"I hadn't realized how big I had gotten after I had my son. This photo shattered me."
Signing up to The Healthy Mummy 28 Day Weight Loss Challenges
Mandy began her Healthy Mummy journey in 2017 after signing up to The Healthy Mummy 28 Day Weight Loss Challenges and following the family-friendly workouts and meals plans.
She says "I started losing weight in April last year."
Weight loss results
Fast forward to Oct 2018, Mandy says "I am now at the lightest I have ever been!".
She has lost 26.7kgs (down from 94.5kg to 67.8kg) and gone from a size 18 to a size 8 and is looking and feeling FANTASTIC!
Finding it hard to contain her excitement she says "This is what 26.7 kgs of weight loss looks like.  And it feels even better!
Very excited! I broke a new weight record today!! 67.8kgs!
I am wearing size 8 jeans!!!  I still have another 5kgs to lose and they are proving to be the most difficult.  But slowly and surely it is happening and I will get there."
How The Healthy Mummy program is helping three generations of her family
Mandy is not the only one in her family benefitting from The Healthy Mummy 28 Day Weight Loss Challenge meal plans and Smoothies.
Her truck driver husband, insulin dependent Dad and daughter are also getting involved.
She says "My husband is on it and has lost 12kgs now – he just does the smoothies.
He now makes smarter good choices on the road (he is an interstate truck driver so roadhouse meals are a big issue).
He's got so much more confidence too – which is really great to see.
My insulin dependent, diabetic Dad started the program last week.
Dad's doctor is thrilled to have him on it, as Dad's new insulin medication has a side effect of significant weight gain which is very dangerous for him given his existing health issues.
My kids have always been great eaters but this has given them an even better well-balanced diet and increased exercise routines from nothing to very substantial."
Not only are they all eating better, but Mandy and her 4.5 year old daughter also go for a 5-6km walk/jog several times a week with her 2-year-old in the pram. And they love doing workouts at home together too. She says "I had to buy her mini dumbbells and her own yoga mat! LOL!"
Running the Melbourne marathon
What a champion!!! Not only has Mandy lost significant weight and inspired her entire family to live a healthy life, she recently ran the Melbourne marathon with her adorable daughter by her side!
She says "The Healthy Mummy program allowed me to run in the Melbourne Marathon on Sunday with my 4-year-old daughter – we did the 5.7km run. 10km next year!!
My daughter was brilliant and ran 85% of the race.
Look at the difference between these photos – nearly 30kgs, size 18-20 down to an 8-10!
The impact this program has had on mine and my families lives is priceless."
"Just wish I had started sooner"
Thrilled with her results Mandy says "This new healthier lifestyle that Healthy Mummy has given me has been fantastic!
The Healthy Mummy program is the only thing that has worked for me and has proven to be long-term sustainable.
I am so grateful my bestie Courtney introduced me to it.
The programs, the support and the fact that it is family friendly is key to its success in my eyes.
It is such a fantastic program, I seriously love it and am so blessed to have jumped on board and really appreciate the online support. Just wish I had started it sooner!
I'll be forever grateful to The Healthy Mummy program.
I urge anyone watching from the sidelines, wondering if this is legit, to get involved, take it seriously and start your journey to becoming a healthier, happier Mum and wife/partner."
The Healthy Mummy team would like to congratulate Mandy on her amazing weight loss success and for being such an inspiration to not only her family but to us and to all the mums trying to lose weight gained after having kids.
Join thousands of mums on our 28 Day Weight Loss Challenge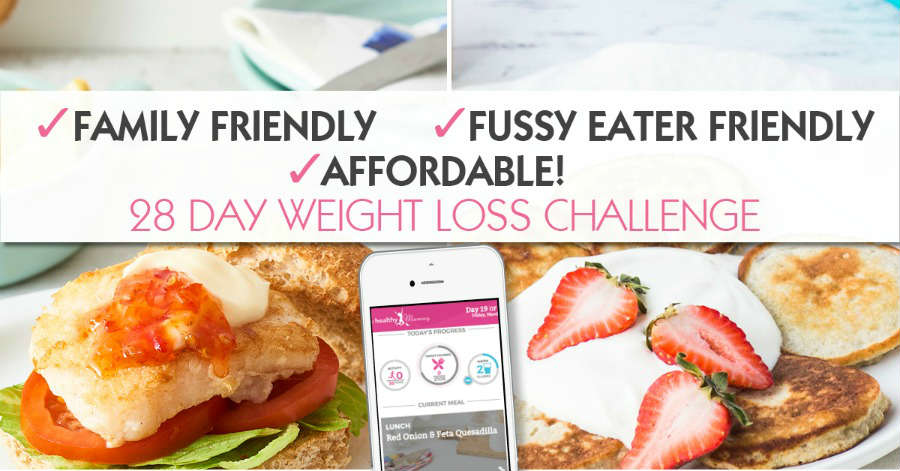 Want to shift your post-baby weight but feel like you have NO TIME in your day to exercise and eat healthily? That's where the Healthy Mummy's 28 Day Weight Loss Challenge can help.

Our Challenge entails: 
28 days of at home exercise routines (no gym needed) – with video instruction
Customisable and breastfeeding friendly meal plans
Time-efficient exercises for busy mums – under 30 mins
Challenge combines Pilates exercises with interval and circuit training (HIIT)
Suitable for basic to advanced fitness levels.
Home to thousands of EASY-TO-MAKE recipes.
To find out more on the 28 Day Weight Loss Challenge click here.