Red Wiggle Simon Pryce Marries Longtime Girlfriend Lauren Hannaford
There's been another Wiggles wedding! Red Wiggle Simon Pryce tied the knot with his sweetheart Lauren Hanford.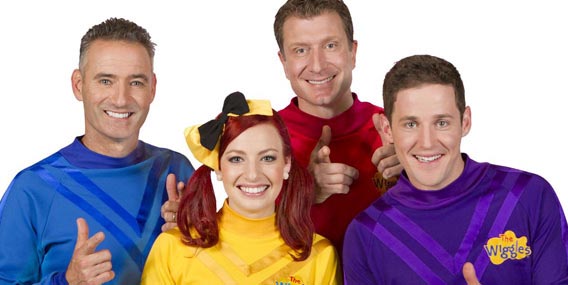 In an interview with Woman's Day – who have the official snaps – the 44-year-old actor revealed he and his new wife had the "most amazing day."
Simon's Wiggle co-stars Anthony Field, newlyweds Emma Watkins and Lachy Gillespie, as well as former members Murray Cook and Jeff Fatt attended the nuptials.
The publication reveals the wedding party then went on to celebrate at Sydney's Luna Park.
https://twitter.com/MiaBarbuto/status/823300478515625984
The couple, who announced their engagement in September 2015, have been dating since 2011.
Wow, sounds like a great day. Congratulations, guys! 
Simon must be on the top of the world right now, as it was recently revealed The Wiggles have just signed a five year ABC global distribution contract.
Over 25 years, the group has experienced world-wide success, and the new multimillion-dollar deal includes both future releases and back-catalogue content, giving ABC the global rights to distribute the children's entertainment group's complete collection of hits across a range of different platforms, including CD, DVD, Video On Demand, mobile and more.
"ABC Commercial is pleased to extend our partnership with The Wiggles globally," says Robert Patterson, Director of ABC Commercial in an official statement.
"The Wiggles are the world's most revered children's entertainment group, universally celebrated by kids and parents alike both here in Australia and abroad, their music synonymous with the ABC brand.
"By securing global distribution rights to their award-winning catalogue of content, I am confident ABC Commercial will continue to build on their immense track-record of international success."
While The Wiggles are on the up, kids show Peppa Pig has been slammed by angry parents for fat-shaming. Check out the story here.