Amy Schumer has some BIG news!
Amy Schumer is pregnant!!
Just as you'd expect from the hilarious actress, Amy used POLITICS as a way to announce that she's expecting her first child with husband Chris Fischer.
See the trickster moves below!
Amy Schumer pregnant!
Using the upcoming elections in the US, Schumer posted an image of her and her husband Chris' face to Meghan and Harry's bodies with a telling caption:
"About to announce some exciting news on @jessicayellin insta page," Schumer wrote in the post's caption. "Please follow her for up to the minute #newsnotnoise she breaks down what's really going on. She agreed to post a lil noise today for me! Follow her and VOTE!!"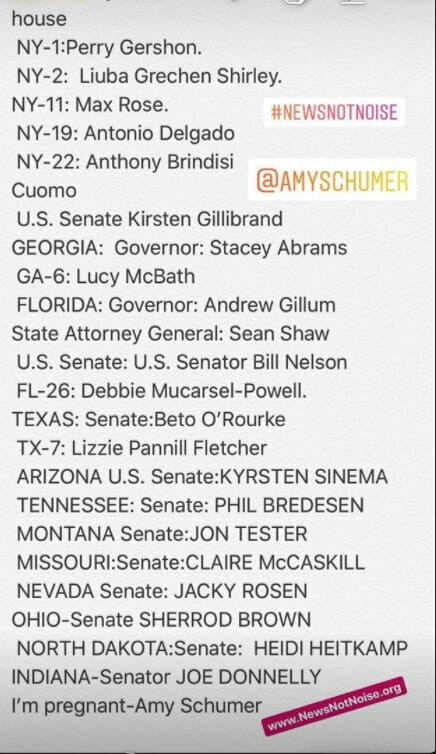 Then, American journalist Jessica Yellin posted a screenshot of her recommendations for the upcoming election, with a sneaky note from Schumer that reads, "I'm pregnant-Amy Schumer."
And there we have it! Amy Schumer is pregnant and we are so excited for her!
Like we said before, it's looking to be pregnancy announcement season, Meghan and Harry, Teresa Palmer, Tammin Sursok and Hilary Duff!
Check out our pregnancy smoothie Amy!
The Healthy Mummy Pregnancy smoothie! Great for getting all your essential vitamins, minerals and nutrients during this exciting time!
Our nutritionists ensured that the vitamins and minerals in the smoothie are at a low level so there is no risk of doubling up on any pregnancy vitamins.
It is ideal as a high-protein, high-calcium snack in pregnancy. You can download the Pregnancy Smoothie Label here.