She's back!
Carrie Bickmore has returned to her seat on the panel of The Project after taking eight months off on maternity leave.
The 38-year-old admitted on the program that having three kids to look after now is "so incredibly hard" and going back into work felt "easy" by comparison!
Carrie Bickmore returns to work and opens up about being a mum-of-three
View this post on Instagram
Unfortunately, Carrie – who is mum to Oliver, 11, Evie, four, and seven-month-old Adelaide – admitted she had caught a "mum cold" before returning to work and joked that mat leave had been "just a big holiday".
"It's been awesome… don't I look fresh," she teased. "Don't let the croaky voice or the snotty nose fool you, I am in bliss."
In an interview with the Sydney Morning Herald ahead of returning to work, the TV host admitted that going from two to three kids was harder than she thought it would be.
"A lot of people told me going from two to three kids would be easy, but it's been so incredibly tricky," she said.
"There is just no time left over to think about anything. There's a lot to do, a lot of noise and just a lot of life."
Carrie also revealed she had "mixed emotions" about going back to work after having time off with her kids.
"My children are all really varying ages: I have a son who's about the start high school [Ollie], a four-year-old [Evie] and a six-month-old baby, so their needs are very different," she said.
"I think it's going to be a massive adjustment for me heading back to work. I'll have a little pain in my tummy, but that's the reality of working when you're a parent…
"I don't know if you ever feel quite content."
Carrie recently revealed she believed she had postnatal depression
Carrie has been refreshingly honest about her parenting struggles in the past. Earlier this year, the Australian TV personality announced she believed she was suffering from postnatal depression.
The mum-of-three told Stellar Magazine the anxiety she was feeling when her daughter Adelaide was only a few months old.
Carrie said: "Motherhood isn't always breakky in bed and handmade necklaces… it can stressful, lonely, scary and incredibly challenging. 
"I hope it can provide a tiny bit of comfort if you are struggling with a new bub. You are not alone."
View this post on Instagram
In the article, Carrie says that her daughter Adelaide has suffered from reflux and needed to be held constantly.
She wrote: "In short, it's been one of the most challenging periods of my parenting life. I realise now I had it pretty easy during the newborn phase with my other two kids."
'Gastro, colds and nits': Carrie Bickmore on her 'horror' first week back at work
Carrie Bickmore shares the hilarious realities of parenting on social media
Getting the support you need
One in seven women in Australia suffers from postnatal depression and one in ten new fathers also experience postnatal depression, says Perinatal Anxiety & Depression Australia (PANDA).
If you or someone you know is struggling, then remember you are not alone. Have a look at our story on what every mum who has experienced PND needs to hear as well as our post natal depression archives for ways to get the help you deserve.
For more on the signs and symptoms of postnatal depression visit www.panda.org.au. 
Support
PANDA National Helpline www.panda.org.au – 1300 726 306
Beyond Blue www.beyondblue.org.au 1300 224 636
Join our Healthy Mummy support groups for support through other mums, judgement-free!
Are you a breastfeeding mum? Our smoothies are breastfeeding-friendly
Our meal-replacement Smoothies have been formulated by leading nutritionists to be the perfect companion to a busy mum's life when trying to lose weight. They're breastfeeding-friendly.
See some of the amazing results Mums have achieved by drinking our Smoothies here.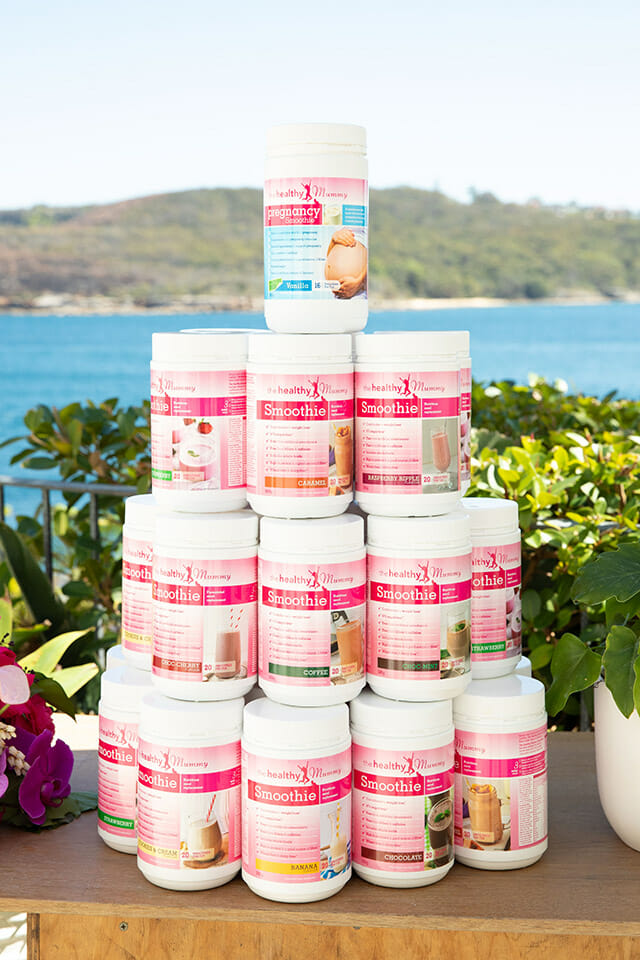 How can Healthy Mummy Smoothies benefit you?
Healthy Mummy Smoothies are an excellent source of essential vitamins, minerals, nutrients & important antioxidants
They don't contain weight loss accelerants, caffeine, gluten and are dairy-free. They are also a non-Genetically Modified product.
They can help with weight management when used as part of a diet and exercise plan
They provide the best possible nutrition for energy
They're breastfeeding-safe and are designed to help to support milk supply
They're low GI & high fibre which helps you feel fuller for longer and aids digestion
They're quick and easy to prepare and taste delicious
They're high in protein & lower in sugar than any other product on the market – see a comparison table.
To learn more about our Smoothies and or to purchase yours CLICK HERE.