The Healthy Mummy App has AMAZING new features & content to help keep you motivated and moving
You know we love to support mums in their weight loss journey here at The Healthy Mummy and part of that is listening to our community when they tell us what will help them.
We then take what our community of mums tells us and use it to find ways to make our 28 Day Weight Loss Challenge and The Healthy Mummy app the best tools mums have in order to lose weight and get healthy.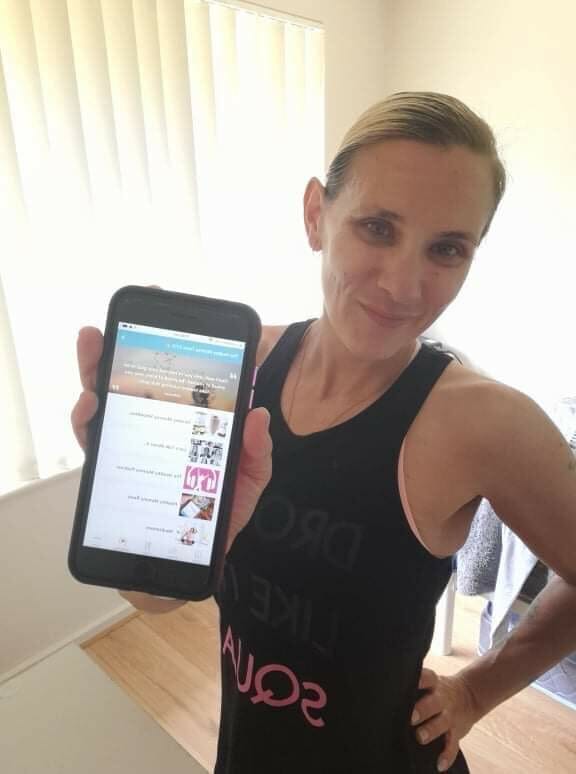 The 5 Star The Healthy Mummy App has some great new app features that not only help mums lose weight but also get rewarded for doing so!
Plus we are constantly adding LOADS of amazing new content such as new workouts and recipes to help busy mums keep on track!
To access these new features make sure you update your app or if you're not yet a member, check out our latest offer on our 28 Day Weight Loss Challenge TODAY.
New features in The Healthy Mummy App to help you stay on track, and get rewarded for doing so!
NEW Diamond Rewards program – Earn Store Vouchers For Keeping on Track!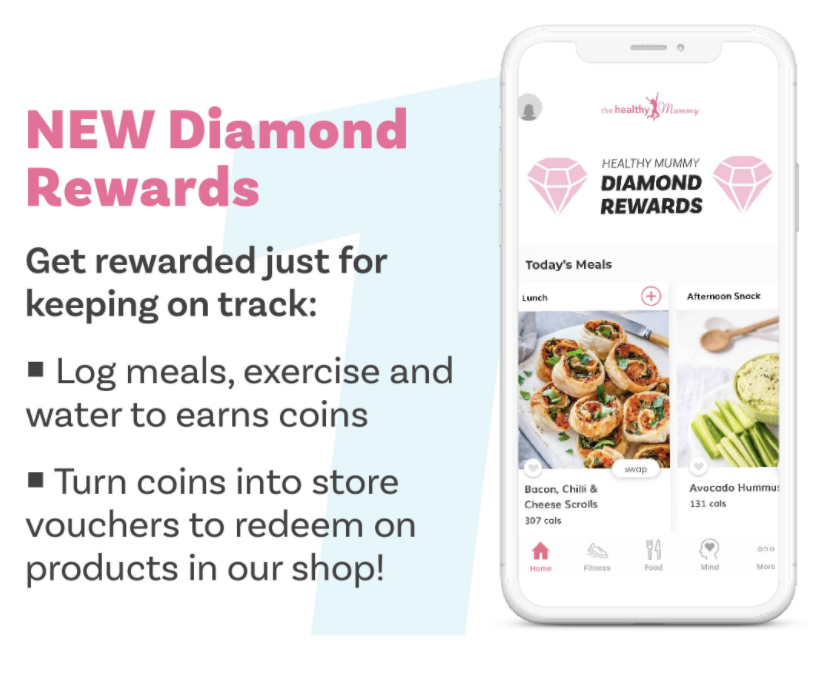 If you needed a little more incentive to stay on track with your weight loss goals and use The Healthy Mummy app to support you we have launched a Diamond rewards program.
This program allows you to earn 'coins' every time you do a range of activities within the app that also help you move towards your health and fitness goals. You can turn the coins into store vouchers to purchase products across our site!
Read more on how this new Diamond Rewards program works.
Over 5500 Family Friendly Recipes!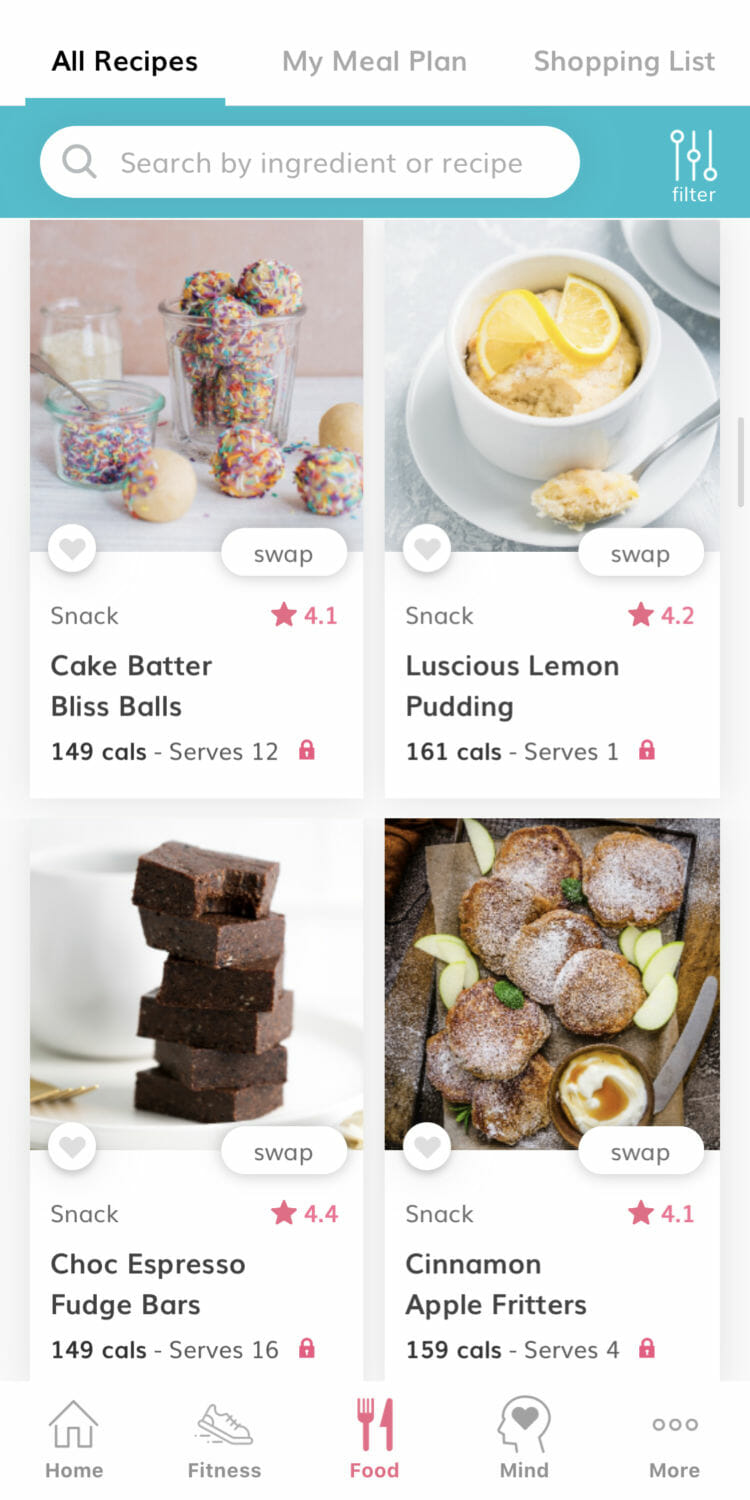 We know that mums are juggling the needs of their family, along with their own health and weight loss goals. That's why the recipes in the Health Mummy App are all FAMILY FRIENDLY making that juggle so much easier! Not only that, they're budget friendly and perfect for time poor mums.
The filters in the Healthy Mummy App make planning your meals easy. If you are after something specific like 'Freezer Friendly' or  'Express' or '5 Ingredients and Under', the filter feature allows you to search over 20 different categories!
What's more, as part of the 28 Day Weight Loss Challenge, not only do the challenge themes change each month, you also get access to different meal plans. New meal plans types will occasionally be added or change, but looking at the options available and customising them to suit you is really easy in the Healthy Mummy App.
Current Meal Plans Available
Beginner Meal Plan
Budget / Timesaver (1500)
Higher Calories
Pescatarian (NEW*)
Keto
Balancing Hormones for 45+
Pantry Basics
Pregnancy
Variety
Vegan
Vegetarian
Click here for more on how to customise to different meal plans
Whatever your personal and family tastes, we have a recipe or meal plan to suit you in the Healthy Mummy App.
Check out some of our most popular recipes!
Healthy Chocolate Weetbix slice
This recipe is the gift that keeps on giving! Once you've made it, it will become your regular chocolate go-to recipe. At just 190 calories per serve, it satisfies chocolate cravings but without all the guilt!
Stovetop Family Friendly Beef Lasagne
A super popular recipe with mums! Everyone loves a lasagne but let's face it sometimes there's a bit of effort involved. Not with this recipe! You don't even need to turn the oven on. It's just 280 calores per serve and will be a huge hit with the whole family.
Healthy Slow cooked Asian Chicken
Perfect for the cooler months, this Asian-inspired recipe will get the most out of your slow cooker. Just pop it all in your slow cooker then voila! Dinner is ready – and at only  320 calories, including the rice!
Over 550 At Home Workouts!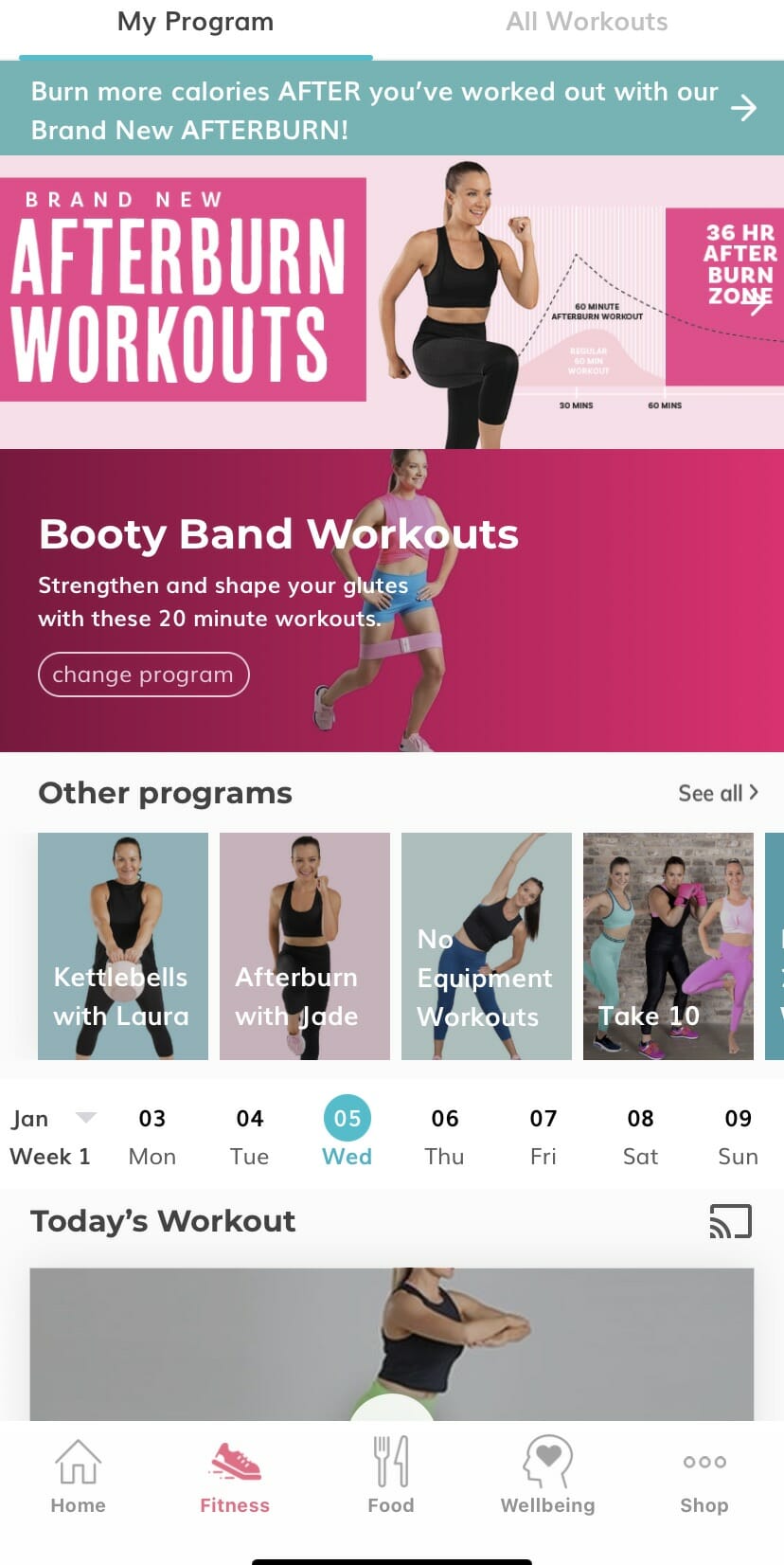 Along with adding new recipes to the Healthy Mummy, we have a heap of new workouts. In fact, there are now over 35 different programs to choose from with more than 550 individual workouts. No matter what your fitness level, there is a program and workout perfect for your needs. No need for expensive gym memberships, our at home workouts mean you can pop in any of our different types of programs and workouts in to your busy day.
Recipes aren't the only thing we made express, we also have express workouts to help you get fit and healthy in just 10-mins.
We also have the new AFTERBURN workouts, which help you to burn more calories for up to 36 hours after you've worked out.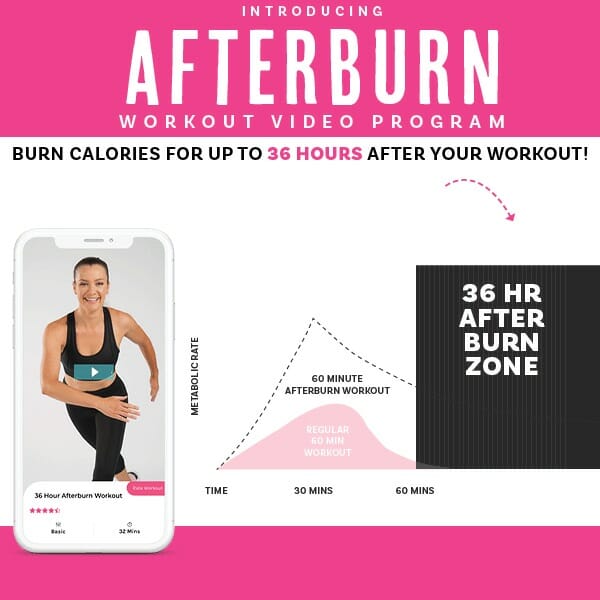 We have added new Kettle Bell workouts which are a great form of strength and cardio whilst being a fun and different type of workout.  These type of workouts can improve endurance and strength, whilst burning calories and fat.
Along with these new workouts, there are HEAPS of others to choose from such as:
Booty Band Workouts
No Equipment Workouts
Workouts with Kids
Pilates
Dance Cardio
Express Boxing
Power Yoga
To name but a few! Whether your after a 10-minute boxing workout, pregnancy or post natal workout, or an intense HIIT workout, with over 550 workout videos to choose from in The Healthy Mummy app  you can get fit if you can just find 10 minutes in your day.
New Wellbeing Area in the Healthy Mummy App
Along with your Home screen for tracking your activity, calories and water, your Fitness  and Food areas, we now have a WELLBEING area full of amazing content to guide and support you through your health journey.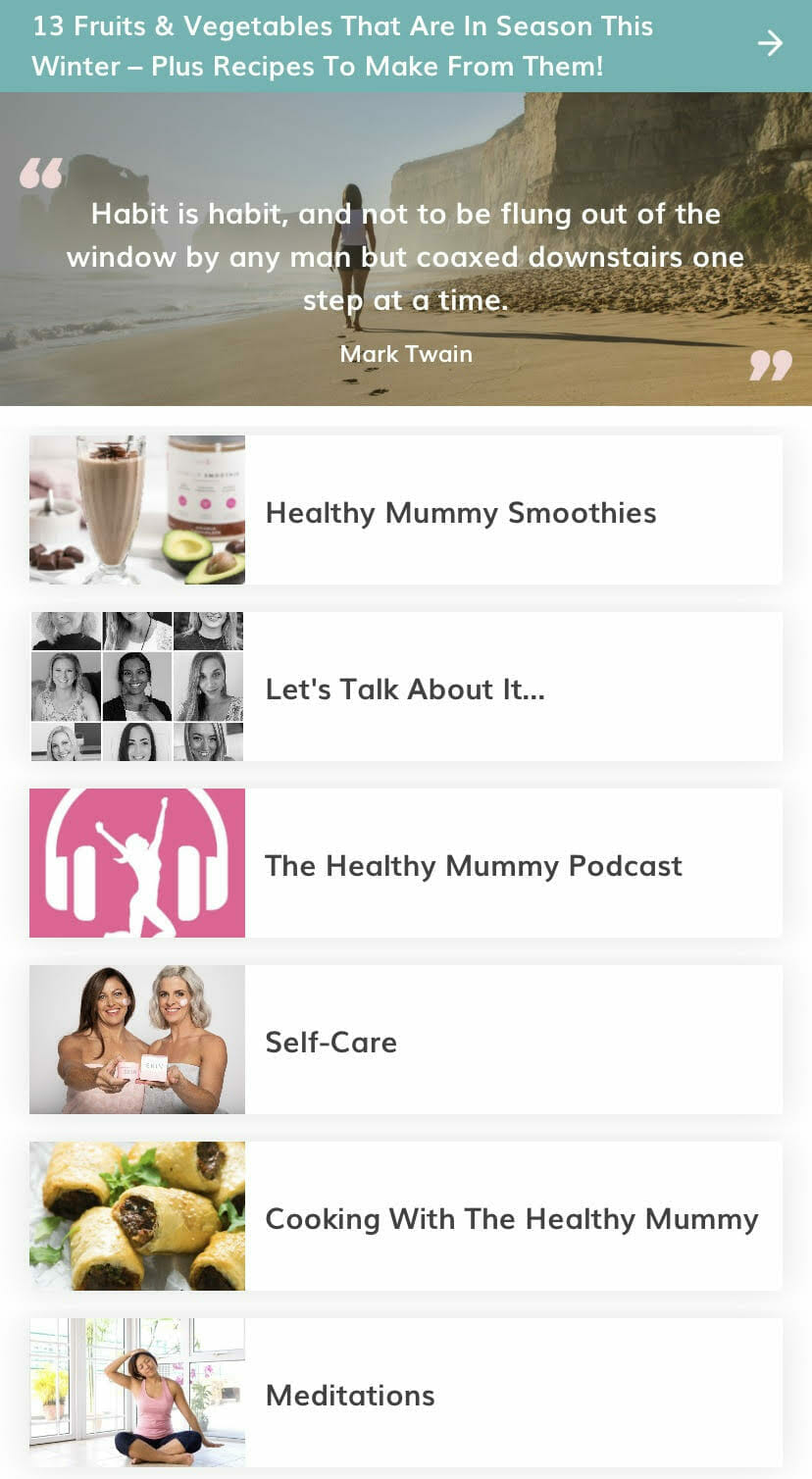 Wellness is not just about the food we eat and how much exercise we get. It is as much about our mental health as physical health, and feeling supported in our overall health journey plays a huge part in reaching our goals.
This area covers everything from pyschology and aspects surrounding self sabotage, motivation and mum guilt, to practical cooking support, entertaining podcasts and how to focus on self care.
Find more about the Wellness Area here
Meditations in the Wellness Area
Self-care is integral to looking after your overall health and a great way to have some self-care and destress is through meditation.
The Healthy Mummy app has a range of meditations to help mums destress, take some me-time and generally just chill. We have just added some new amazing meditations available to help you take time for you and destress.
Find out more about our meditations here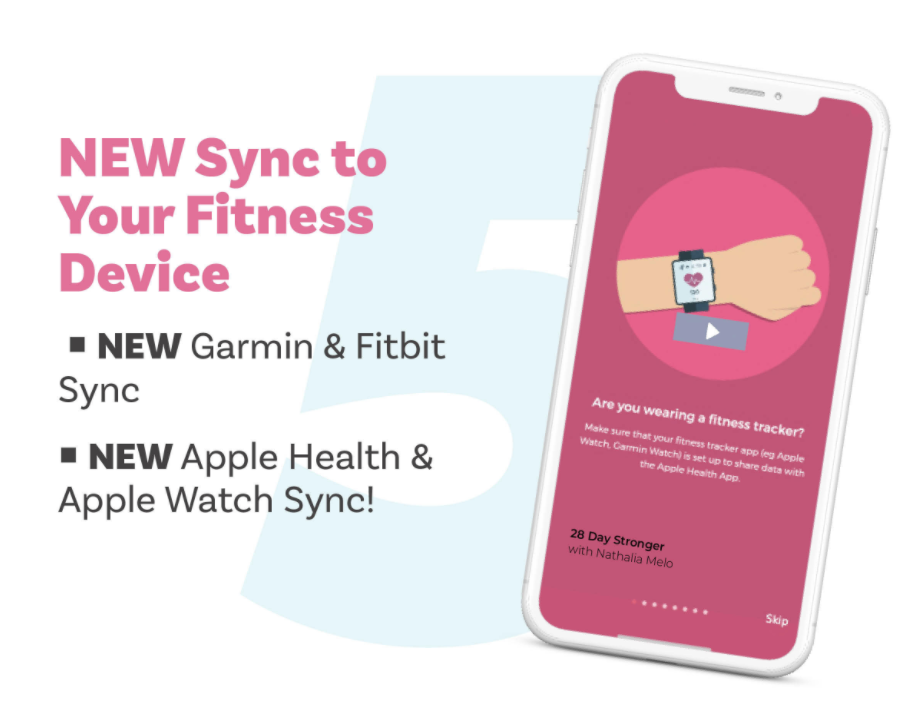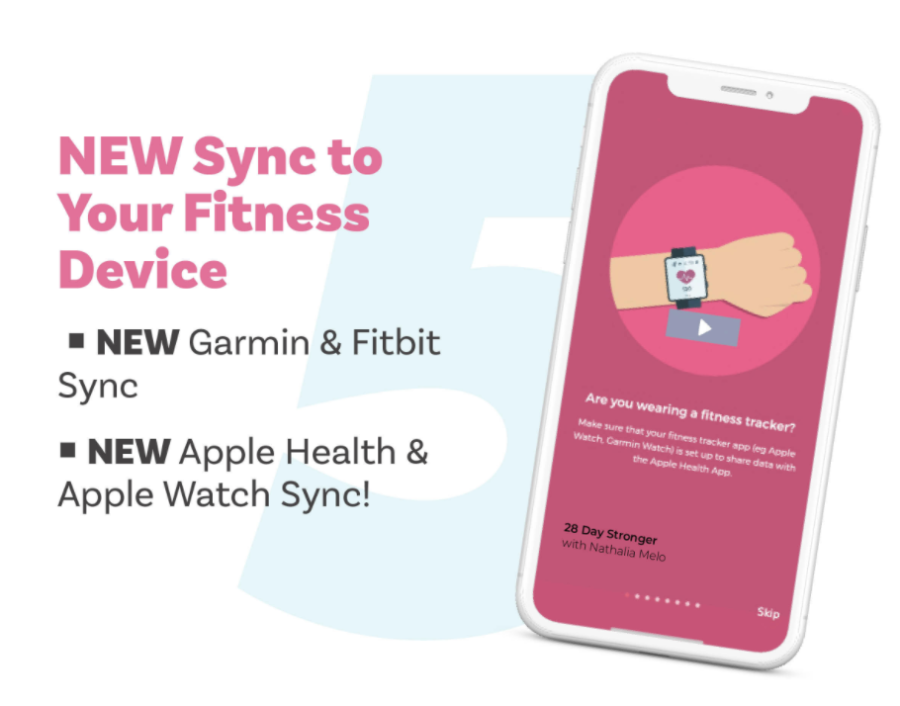 Sync the data with your health and fitness gadgets
The mums in our community have been asking for this for a while and we always love to give our mums what they want. You can now sync all the workouts and information from your Garmin, Fitbit, Apple Health app or Apple Watch with The Healthy Mummy app. This means no more annually logging that run you took or the steps you have done today because it will all sync up automatically.
To access these new features make sure you update your app.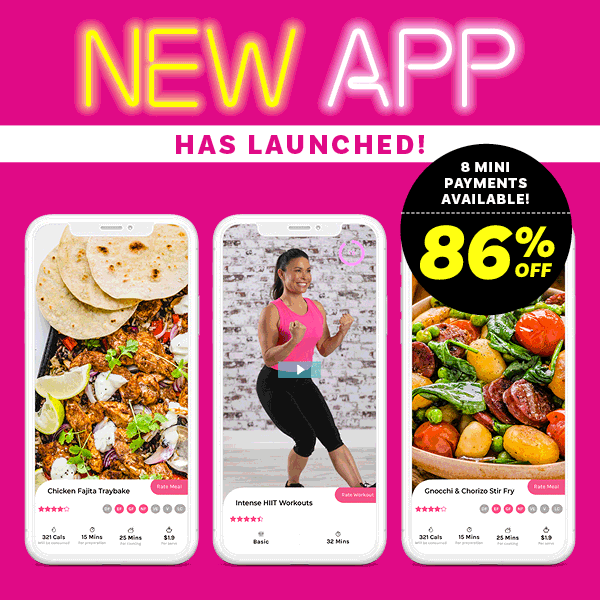 Real mums from our community tell us what they think
"OMG I Love the NEW app – the new 10 minute recipes are AMAZING" – Emma from Vic
"I am LOVING the new boxing exercises – they are next level" – Susie from NSW
"I am IN LOVE with the Diamond rewards – they are the extra kick I need to stay on track and motivated" – Cassie from NSW
"I thought the healthy mummy app couldn't get any better but it just has. And I LOVE the new dance cardio workouts – AMAZING!" – Sara from SA
"I love that I can connect my Garmin and Fitbit" – Lauren from QLD
Mums share their amazing Healthy Mummy transformations!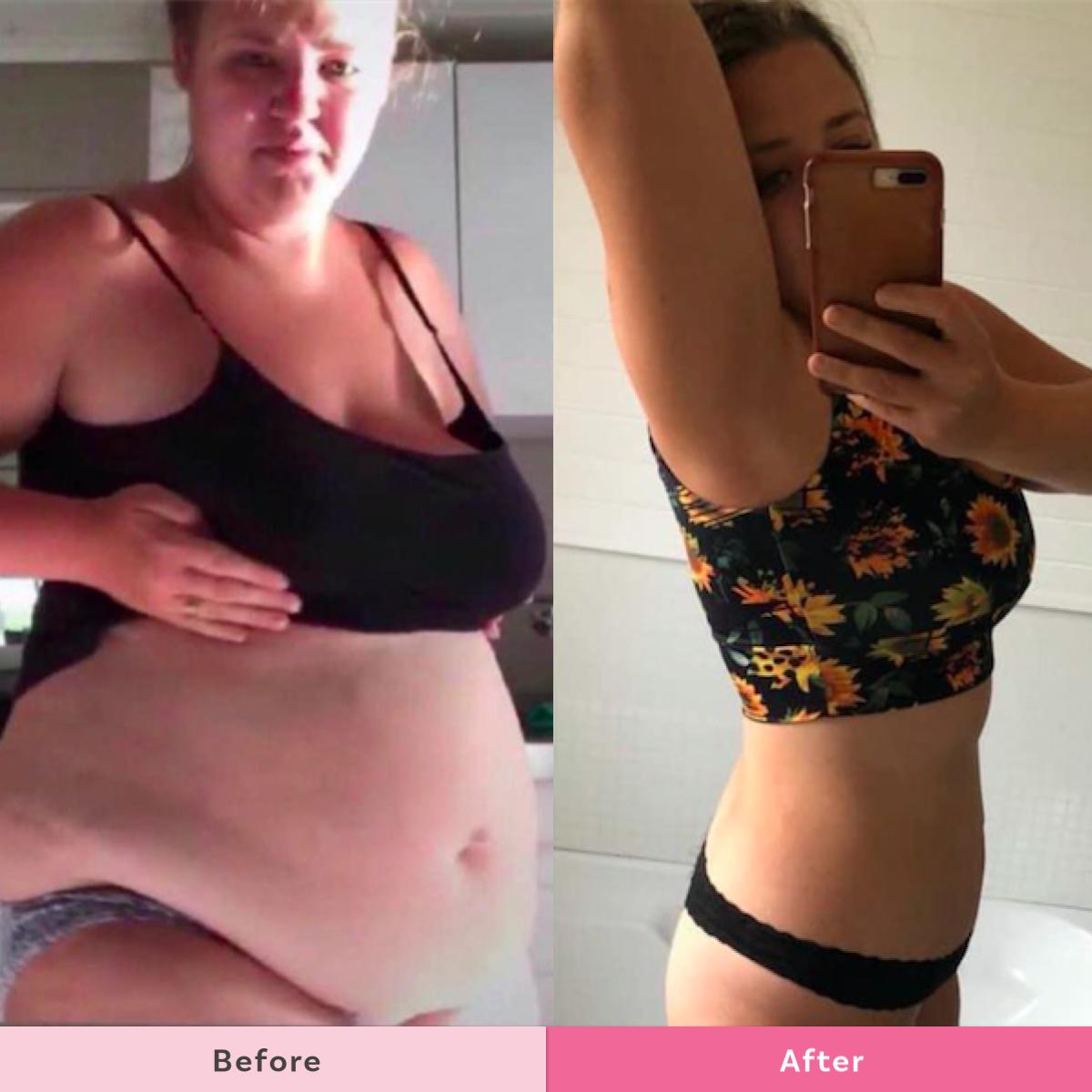 Cicily Goodwin- 35Kgs Lost
Mum of two Cicily started her journey with The Healthy Mummy in July 2016. In the first few months, she lost 20kgs by using The Healthy Mummy Smoothies twice a day and making the 28 Day Weight Loss Challenge meals. She lost another 35kgs over the next year.
Cicily says "I started the year at 110kgs and got to 75kg!! The lifetime goal I've dreamed of my whole life! "
Cicily admits that her when she started her journey it was all about weight loss but after living a healthy lifestyle it became a lot more about happiness.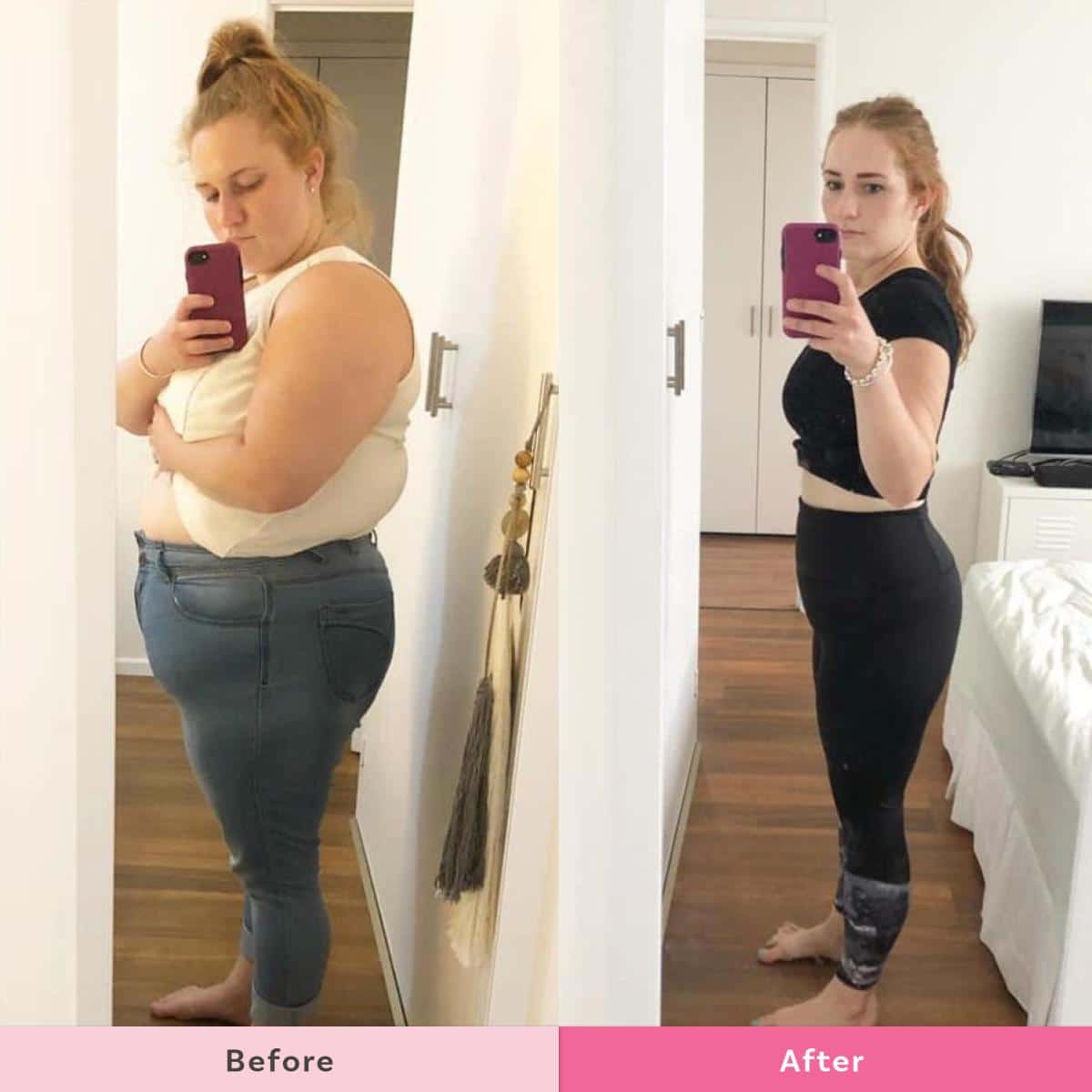 Zoe Terry – 41.7Kgs Lost
Zoe shares, "July 2019 – March 2020 – 41.1kgs gone and definitely not missed! I never thought I could do it. I never thought I would enjoy it. But Healthy Mummy has made it easy and fun!
I have found that 2 smoothies, 3 snacks and a healthy main meal paired with daily exercise is what's worked for me!"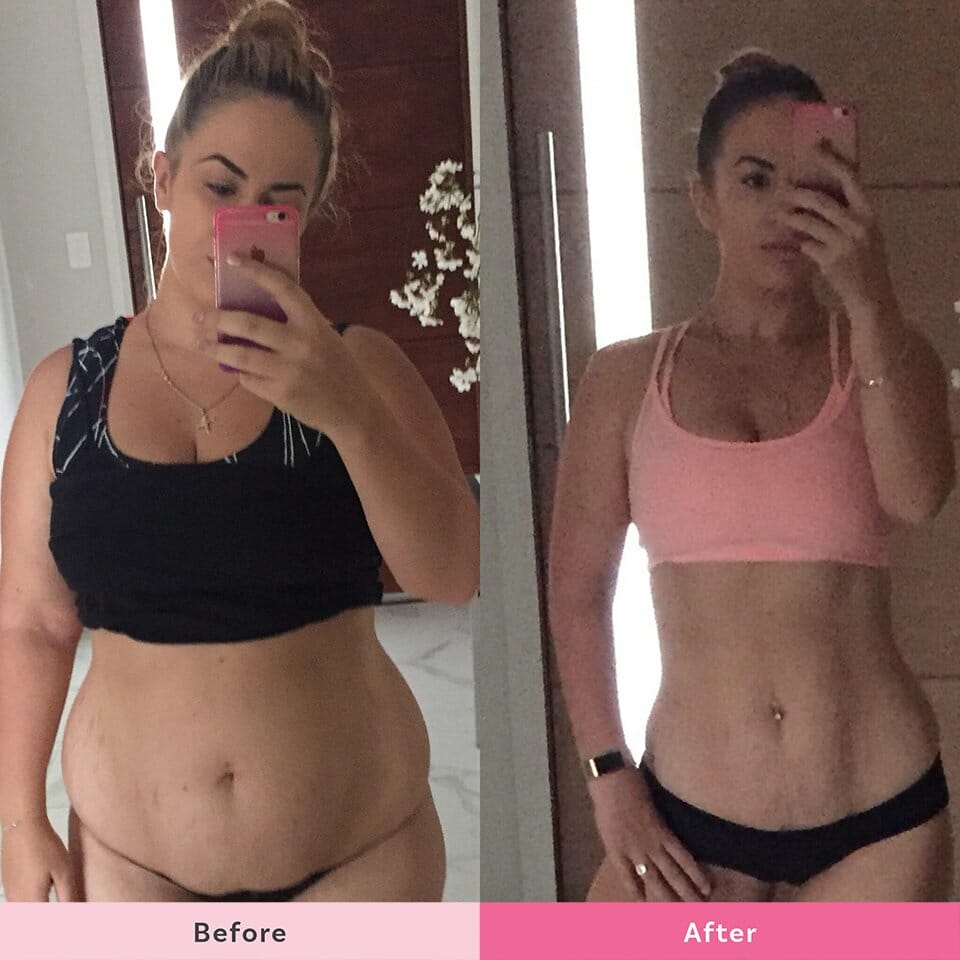 Melissa Timmer – 37kgs Lost
The Healthy Mummy which has helped her take back control and within 18 months, she had lost a whopping 37 kg and has been maintaining her weight for three years.
Even though Melissa's weight fluctuates up and down a little she says "I couldn't care less because this journey is about being happy and if you feel happy in your skin, no matter how much you weigh or what size you are, that's all that matters. "We are all different and beautiful so don't be stuck on what scales say all the time."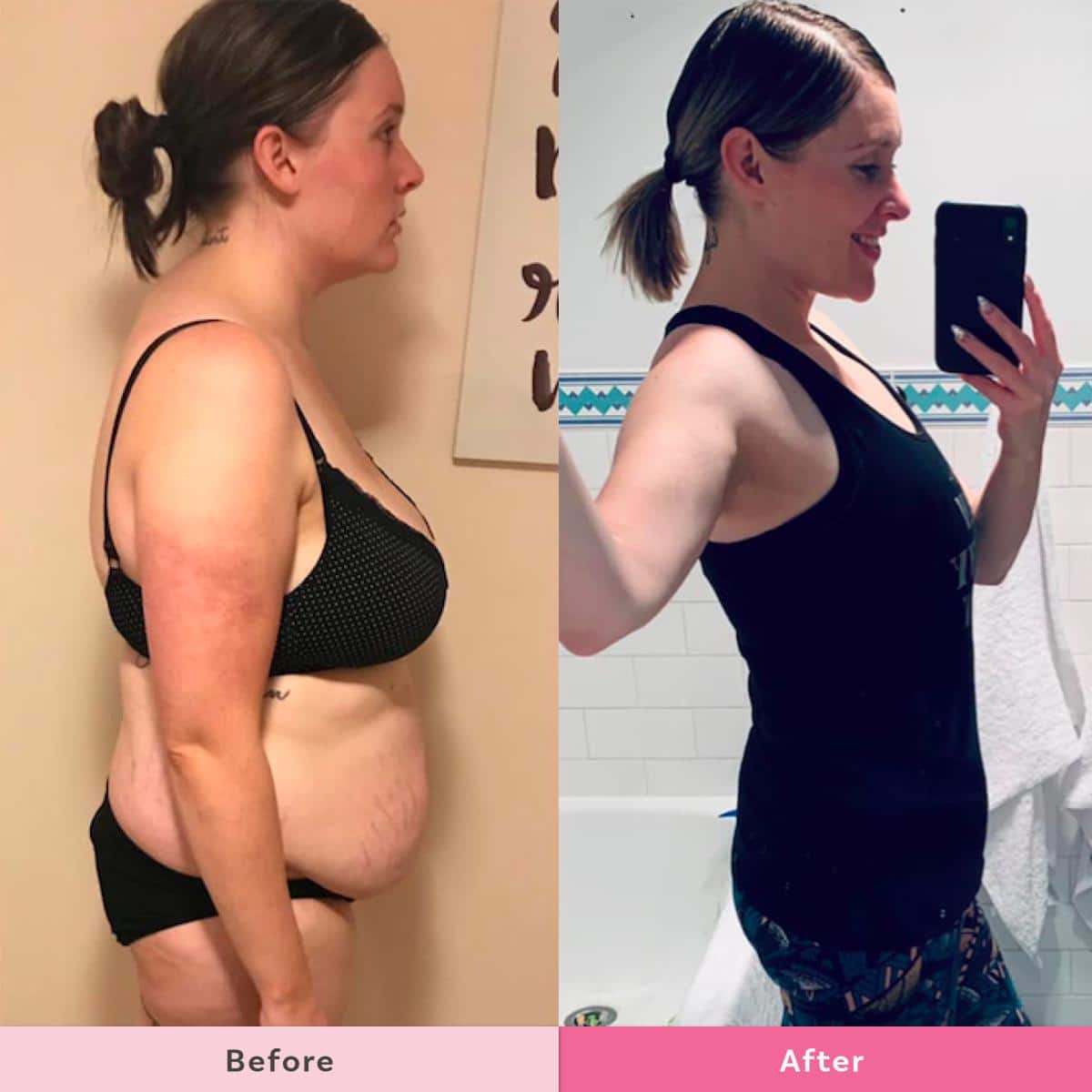 Tarryn Eames – 30Kg Lost
Tarryn says:-
From 97KGS to 67KGS
From a size 18/20 to a size 10/12
From lethargic to energetic
From miserable to genuinely happy
From hating my body to appreciating it.
"At the beginning of my journey,  all I wanted was to lose weight. I never aimed to gain anything. However, all I've gained means more to me than the kilos that are now gone and the cms that have disappeared too. Somewhere along the way, I gained the energy to be able to play with my children and the confidence needed to do that in a public setting.
I gained many beautiful and like-minded friends. I gained confidence. I gained strength both physically and mentally. I gained self-love. I gained knowledge about nutrition and exercise. But most importantly I gained happiness."
Get access to the 5* Rated App Healthy Mummy App – home to the 28 Day Weight Loss Challenge!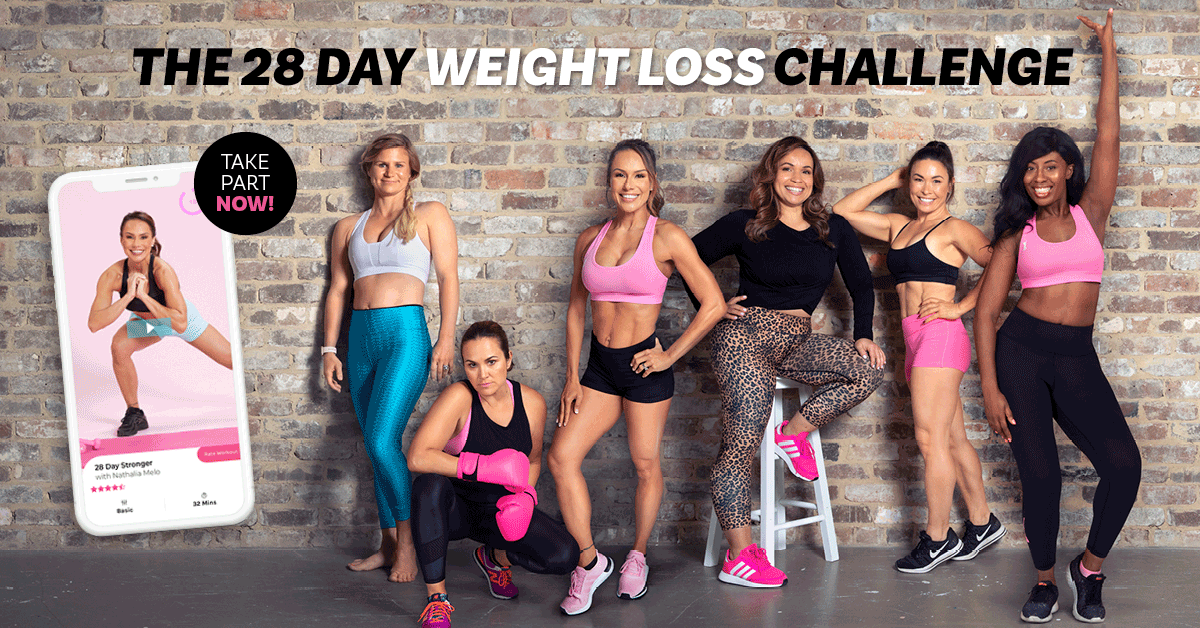 If you are inspired by our awesome APP and want to take charge of your own health and weight – then join our 28 Day Weight Loss Challenge TODAY.
With more than 4,500 delicious (and healthy) recipes, 350 exercises & 24/7 support – the 28 Day Weight Loss Challenge is designed (and proven) to help busy mums like you lose weight!
For more information on the 28 Day Weight Loss Challenge, click here.