A mother's instinct about her son's misshapen head has saved his life, after she Googled his condition. Sophie Murray says after initially being 'fobbed off' by doctors, she took matters into her own hands.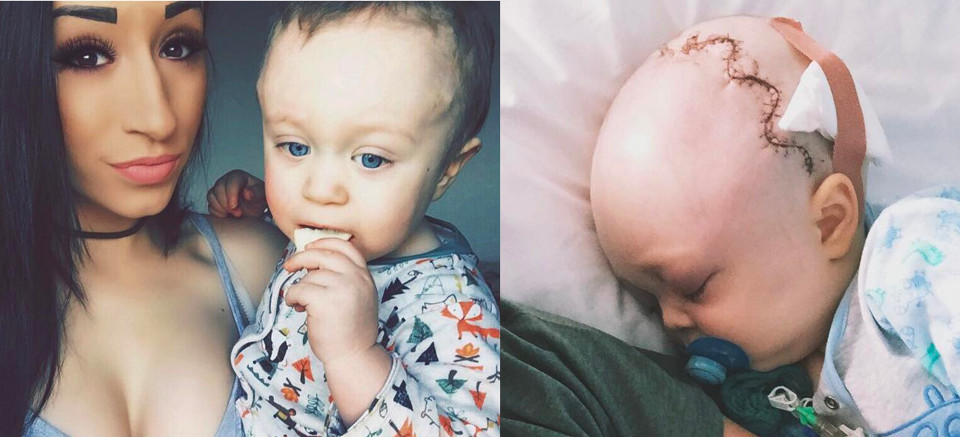 The 22-year-old mum says she'd been suspicious of her son Finley's triangular-shaped head since he was born, but claims she was repeatedly reassured by doctors.
"He had a ridge that stuck out running down his forehead and a permanent vein down his nose that looked like a bruise," she told The Daily Mail.
"He was always getting viral infections, he wasn't reaching his milestones and it got to the point where every day he would be clutching his head and screaming from the pain."
A Google search uncovers the truth
In the end the UK mum says she simply did an online search for 'triangle baby head', and Sophie was positive she'd discovered what was wrong with Finley – Metopic craniosynostosis. It's caused by the plates of a baby's skull fusing together while still in the womb, and can lead to permanent damage is not treated before the child reaches 18-months-old.
A photo posted by Sophie Murray (@sophiemurray) on
Sophie emailed pictures of Finley to specialists and had barely hit send before getting a response.
"Within 15 minutes of me sending his pictures the specialist centres I heard back from a surgeon who booked Finley in for an appointment and CT scan a week later, and his surgery a week after that."
The one-year-old then underwent surgery to relieve the pressure.
"They cut his head open from ear-to-ear and the surgeon said when they opened up his skull, Finley's brain was bulging at the top from where it had been so squashed.
"They cut off bits of his skull and put them back together like a jigsaw. All his face bones had to be pushed forward. They said without it, his development would have been permanently delayed."
Finley's recovery
Sophie says her son is a different boy since his surgery last year, with his development coming along in leaps and bounds – Finley is now walking and talking.
"Without the surgery, Finley would have had serious development issues, he would have had facial deformities, he would have been bullied at school. That is the opposite of what you want for your child," Sophie explains.
"The surgeons were really lovely and helpful. And Finley is doing amazingly since, he's even learnt two words. I'm so proud of him."
Our thoughts are with this young family – and we hope all continues to go well for Finley.
If you would like to keep up to date with the latest information related to kids health, click here.