Jennifer Aniston's Powerful Interview Is A Must-See For ALL Women
And the Woman of the Week Award clearly belongs to Jennifer Aniston for her recent interview with Ellen DeGeneres where she emphasises just how influential women are, with or without a child.
In less than three minutes Jen manages to stop the gossip-hungry tabloids in their tracks and help us all realise that, as women, we are more than just mums.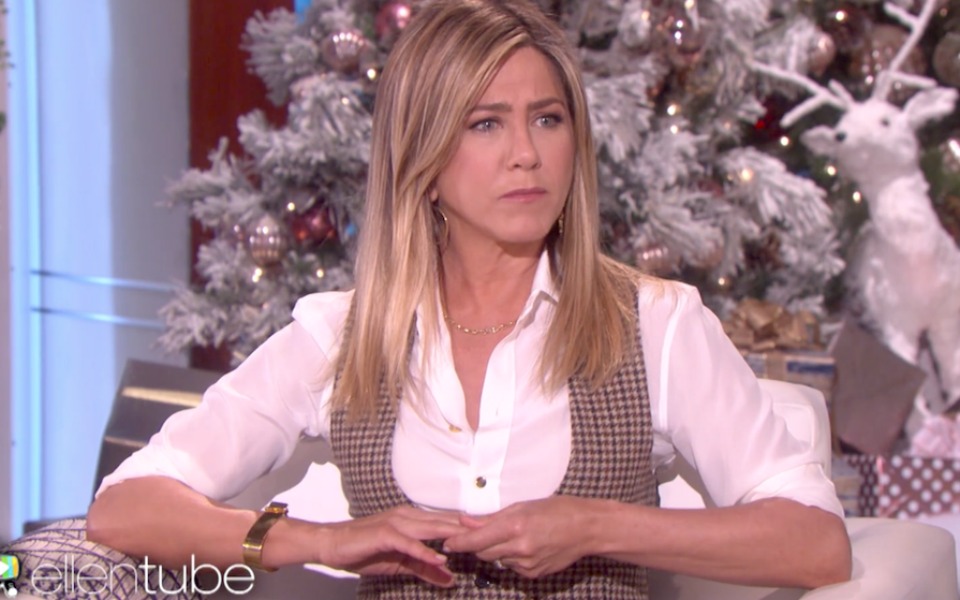 Being a mum is the most amazing title in the world. But it's not the only title women deserve to have. And no one clears this message up better than the always-eloquent-but-often-fed-up Jennifer Aniston.
"It's up to us what makes us happy and fulfilled." 
During Wednesday's Ellen DeGeneres Show, Jennifer opens up about what inspired her to pen her open letter to the tabloids back in July in which she slammed the tabloids for constantly dehumanising females and boxing women into the motherhood category.
Jen explains that she wrote the letter, firstly, for herself, but also during a rather complex time in her life. Her mother has recently passed and she had just returned from a holiday-from-hell which involved a scary mugging.
And thus, the last thing she needed was pregnancy rumour swirling around her, simply because she enjoyed the fine wine and food on her travels (come on, who HASN'T DONE THIS?).
Clearly still quite angry with the tabloids obsession with her belly, Jen calls on the audience to stop buying the tabloids and "to be proud of women, whatever your choice is." 
"We as women do a lot of incredible things in this world other than just procreate," Jen explains to Ellen and a cheering audience.
And she couldn't have said it any better.
"For the record..I am not pregnant."
Her thoughts during the interview echo what she wrote in her letter, published by the Huffington Post. In the essay Jen explains:
"I am not pregnant. What I am is fed up. The objectification and scrutiny we put women through is absurd and disturbing. Sometimes cultural standards just need a different perspective so we can see them for what they really are — a collective acceptance… a subconscious agreement."
Jen continues:
"We are in charge of our agreement. Little girls everywhere are absorbing our agreement, passive or otherwise. The message that girls are not pretty unless they're incredibly thin, that they're not worthy of our attention unless they look like a supermodel or an actress on the cover of a magazine is something we're all willingly buying into."
But, perhaps the most powerful aspect of her open essay is her closing paragraph:
"We are complete with or without a mate, with or without a child. We get to decide for ourselves what is beautiful when it comes to our bodies. That decision is ours and ours alone. Let's make that decision for ourselves and for the young women in this world who look to us as examples. Let's make that decision consciously, outside of the tabloid noise. We don't need to be married or mothers to be complete. We get to determine our own "happily ever after" for ourselves." 
Amen sister.
More than just a mum
Being a mum is amazing, yes, but being a partner, a daughter, a friend, a sister or whatever titles you carry that make you proud, these are worth recognition as well. Jen has effectively helped to instil this important message into today's somewhat media-obsessed society and hopefully into tomorrow's generation of women as well.