Kate Middleton Opens Up On The 'Loneliness' Of Motherhood: 'You Do Feel Quite Isolated'
Just because she's royalty, it doesn't mean Kate Middleton is exempt from having the same feelings that many other mums all across the world experience.
Kate Opens Up About Feeling 'Quite Isolated'
The mum-of-two opened up about her experiences of motherhood while visiting a school in London with her husband Prince William and her brother-in-law Prince Harry.
Kate joined a discussion on the issue of mental health, after two mums – Katie Massie-Taylor and Sarah Hesz, who have launched an app to help mums make friends – discussed how they became friends after bonding through mutual loneliness.
"It is lonely at times and you do feel quite isolated but actually so many other mothers are going through exactly what you are going through," Kate told the group afterwards, reports the Belfast Telegraph.
"It is being brave enough, like you obviously were, to reach out to those around you."
Kate, 35, added that parents should be helped to teach their kids "to start these conversations from a much earlier age but through play, even if their language hasn't yet developed."
After the Duchess of Cambridge's honest admission, Sarah Hez said: "It's not surprising because we do know all mums feel that, and it doesn't matter where you live.
"It is something you go through when you become a mum and it's a challenge for everyone, whether you're royalty or a normal mum."
This comes after Kate recently revealed she's also been affected with feelings of doubt and still lacks confidence after becoming a mum.
The beautiful brunette recently attended the launch of the 'Out of the Blue' educational film series, which was produced by charity Best Beginnings promoting the psychological well-being of parents and their children.
"Personally, becoming a mother has been such a rewarding and wonderful experience. However, at times it has also been a huge challenge – even for me, who has support at home that most mothers do not," Kate said.
"Nothing can really prepare you for the sheer, overwhelming experience of what it means to became a mother. It's full of complex emotions of joy, exhaustion, love, and worry, all mixed together."
'You Just Have To Make It Up And Do The Best You Can'
The Duchess of Cambridge – who is mum to Prince George, three, and Princess Charlotte, one, with her husband Prince William – went on to describe how clueless many new mums feel when their newborn first enters the world.
"There is no rule book, no right or wrong – you just have to make it up and do the very best you can to care for your family," she continued.
"For many mothers, myself included, this can, at times lead to lack of confidence and feelings of ignorance.
"Sadly, for some mothers, this experience can be made so much harder due to challenges with our very mental health."
In her speech, Kate urged mums who were feeling isolated to seek help, and reiterated it is not "a sign of weakness."
"If any of us caught a fever during pregnancy, we would seek advice and support from a doctor," she added.
"Getting help with our mental help is no different. Our children need us to look after ourselves and get the support we need."
We're so glad Kate has addressed the issues surrounding loneliness and maternal mental health, and hopefully it will encourage women to seek the help they need.
Join Our Healthy Mummy Community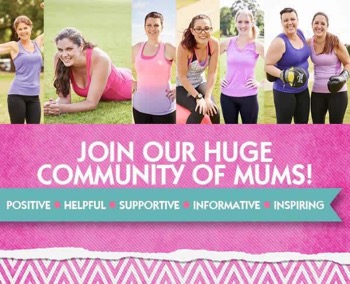 Here at Healthy Mummy H.Q, we totally respect mums like Kate, who remind the rest of us that (not only are they too human) but those feelings of loneliness, isolation, self doubt and lack of sleep are, for the most part, NORMAL… Remember you are not alone and support is always available.
If you feel like you need to interact with other mums, want advice, support or just a chat, our private Facebook communities have over 100,000 mums. And are a safe space for you to vent and share your thoughts.
For more information on how to join the Facebook groups, click here. 
One in seven women in Australia suffers from postpartum depression and one in ten new fathers also experience postnatal depression, says Perinatal Anxiety & Depression Australia (PANDA).
If you or someone you know is struggling, then remember you are not alone. Have a look at our story on what every mum who has experienced PND needs to hear as well as our post natal depression archives for ways to get the help you deserve.
Support
PANDA National Helpline www.panda.org.au – 1300 726 306
Beyond Blue www.beyondblue.org.au 1300 224 636