"A Night Nurse Dropped My Baby And Fractured His Skull"
Eva Amurri Martino, daughter of Susan Sarandon, recently shared the horror of her five-week-old baby being dropped on his head by a night nurse. He ended up with a fractured skull and bleeding on the brain. Eva shares the story of every parent's worst fear and how she has been battling with anxiety and panic attacks since it happened.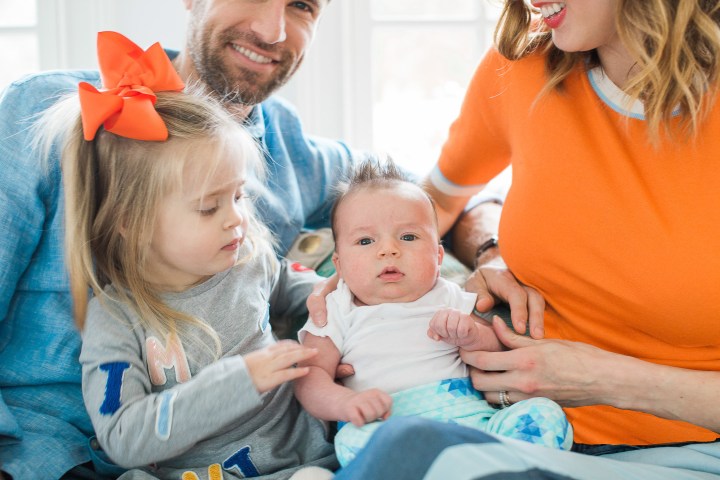 In Her First Post For The New Year, Eva Writes…
"Today is a new year. A new start. Fresh beginnings. I am inspired in the name of that optimism to share something with my readership today: I'm not doing well," she says.
"In fact, I'm really struggling. I've been extremely overwhelmed recently, in a lot of different ways. I think it's time to share that with all of you in the hopes that speaking my truth will allow me to move forward.
"And also in the hopes that anybody else who is trying to hold it all together with similarly emotional results will know it's ok to let go– to accept help, forgive themselves, and to move towards a solution.
"So here it is, I'm in an emotionally bad place, for reasons I will explain. I'm depleted and anxious, and I haven't been giving my anxiety and feelings the attention they deserve for a little while now. I've been hoping that powering through would get me to the other side, but I've finally realized that feelings don't work like that."
Night Nurse Fell Asleep Holding Major, Dropped Him
"A couple of days after Thanksgiving, our Night Nurse fell asleep while holding Major and dropped him, and he cracked his head on the hardwood floor. Kyle and I were sleeping at the time and were awoken by the sound of his head hitting the floor, and then hysterical piercing screams," she says.
"He suffered a fractured skull and bleeding on his brain, and was transported by ambulance to Yale Medical Center where I spent two harrowing days with him to receive emergency care and further testing. To say these were the most traumatic and anxious two days of my life is an understatement.
"If you read my post about choosing homebirth, you know that I have an (irrational) phobia of hospitals. To be in one for two days under such circumstances was nearly unbearable for me, not to mention how scary and emotional those days were for the entirety of our family."
https://www.instagram.com/p/BNHmSV7joUl/?taken-by=thehappilyeva
Eva goes on to reassure everyone that thankfully baby Major is fine. He has no lasting injuries or after effects.
However, she says that she's the one that is seriously struggling to come to terms with what happened. She's admitted she can no longer leave baby Major in the care of anywhere else and that simply hearing him cry induces a panic attack.
Eva Suffering From Anxiety And Guilt
"Hearing Major cry hard immediately triggers my memories of the moments after the accident and instigates an immediate panic attack– my heart races and tears spring to my eyes. Sometimes I get dizzy spells. I feel nauseous and overwhelmed and even small discomforts he has make me anxious," she says.
"My appetite has decreased to nothing, I have a hard time getting to sleep after night time feedings, and my milk supply goes up and down depending on the stresses of the day. Any time we are near an edge or a ledge, I fear that he will fall, somehow, and be hurt again.
"Just last week, we were on the second floor of a Starbucks, and I sat there panicked and frozen as I imagined Major falling from my arms over the edge of the bannister and on to the floor below. My brain played back the sound of his screams that night. I had to close my eyes and clench my teeth as the waves of nausea eventually subsided."
https://www.instagram.com/p/BLyl7AEj42w/?taken-by=thehappilyeva
On Her Fear Of Being Judged
In her post, Eva also reveals why she hasn't spoken of the accident, which took place in November, saying that she felt like she couldn't share it because it would make the accident feel all too real. She also wanted to make sure he had good news before she shared her story with the world.
Most importantly, Eva, like so many other mothers out there, talks about fearing online judgement for leaving her baby with a night nanny in the first place.
"I chose not to share was fear of judgement. The internet can be a peculiar place, where some people forget about humanity and go for the jugular. I know that this news might reach many, and of those many there will always be the people who say that this accident was my fault," she says.
"That if it had been me in there holding him instead of a night nurse, that this never would have happened. That I deserve this for allowing my child to be in the care of somebody other than me. Well, let me tell you– the guilt I bore in the days and weeks after this accident was more intense and more damaging than anything I would wish upon my worst enemy.
"I had all those same thoughts and more. I wept in the hospital, telling anyone who would listen that it should have been me. That I was to blame."
Our heart goes out to Eva and her family.
You can read the full story visit www.happilyevaafter.com