Ryan Reynolds' Kids Make Their Public Debut – ADORABLE!
This story comes with a warning – if you're in ANY way clucky you're about to be tipped right over the edge when you see our favourite Hollywood dad Ryan Reynolds with his gorgeous kids and wife. And just wait until you hear him gush about this beautiful family of four…swoon!
For most Hollywood actors, there are a couple of career-defining moments, and getting a star on the Hollywood Walk of Fame is right up there.
Meet Ryan and Blake's beautiful children!
The eternally hilarious Ryan Reynolds was honoured with his very own star just a few hours ago, and he used the occasion to introduce the world to his genetically-blessed children with stunning wife Blake Lively: two-year-old daughter James, and their baby girl who was born in September (her name is still under wraps!).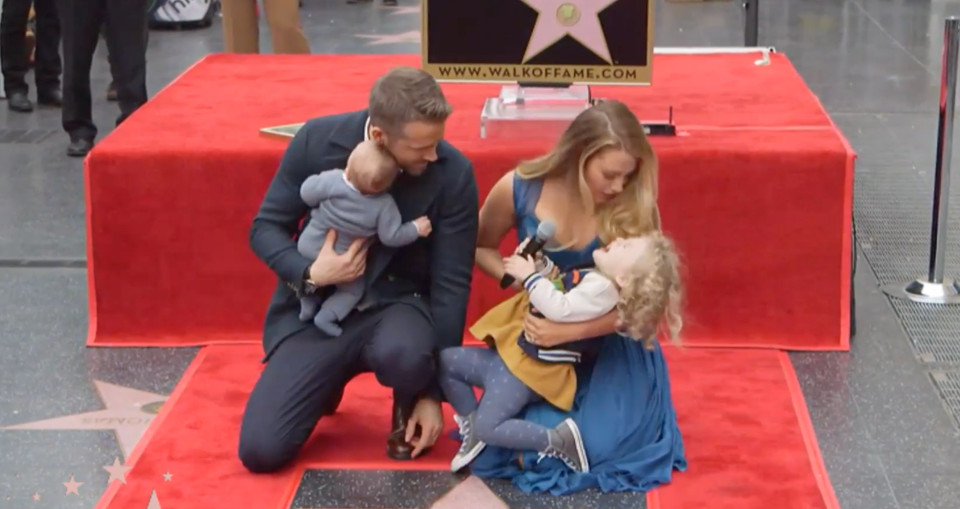 Little James stole the show as her dad kneeled for his star photos, in typical toddler fashion she tried to make a quick getaway and was chased down by mum Blake. But the toddler trouble didn't end there, the curly-haired cutie then threw a tantrum when she didn't want to sit still – sound familiar mums?!
'You are the best thing that ever happened to me'
During his speech, the dad-of-two thanked his partner in crime in typical Ryan fashion, "I want to thank my wife, Blake, who is sitting right there, who is everything to me.
"You are the best thing, the best thing that has ever happened to me – second only to this star. You make everything better, absolutely everything in my life better. You've made me the father of my dreams when I thought I only had fun uncle potential."
He continued: "You make everything better. You make everything in my life better. You've given me two of the most incredible children I've ever hoped to have." Naaww!
Keep up to date with what's happening with our fave celeb families HERE.