One mums habit of wearing a hair band around her wrist has led to long term damage.
The mother-of-four has worn a hair tie around her wrist everyday for the past 30 years but did not know the popular habit could damage her wrist forever.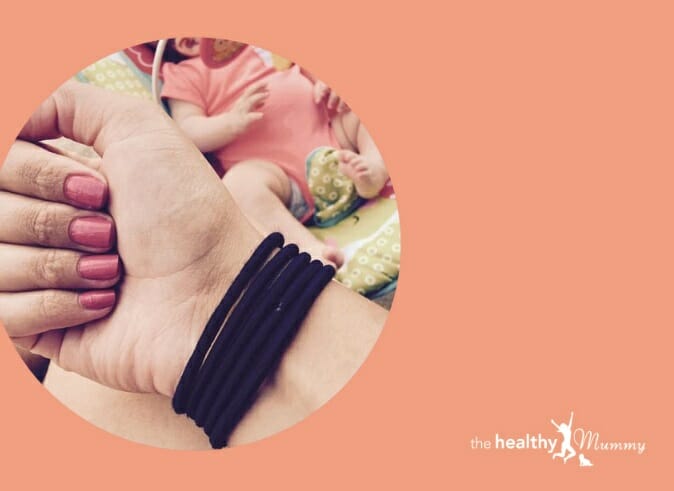 STOP wearing a hairband around your wrist asap!
"It was just a habit, it was always on my wrist whenever it wasn't in my hair.
"I injured the tendon in my thumb and [the doctors] checked me for carpal tunnel syndrome," she said.
"I was in a shop a few days later telling the woman who worked there how my left wrist was more severe than my right and she pointed to my [hair] elastic and said 'stop doing that then'.
"I was like 'pardon me' and she explained that a neurologist had told her not to do it because it can cause issues."
The mum is now left in excruciating pain most days, and has circulation issues, numbness, inflammation and damage to the nerve in her hand.
She warns others, "Don't do it".
"Just don't. Whether it causes issues right now or not, it's an easy fix, an easy, proactive way to save yourself pain later," she added.
What the experts say
"If you have numbness or tingling in your hand, or it becomes cold and pale, your hair tie on your wrist is probably too tight," says Suzanne Steinbaum, a volunteer medical expert for the American Heart Association.
"Elastic is the most concerning when it comes to hair tie materials," she says. "Elastic can dig into the wrist and prevent blood flow," explains Dr. Steinbaum.
Symptoms of carpal tunnel include:
an ache or pain in your fingers, hand or arm
numb hands
tingling or pins and needles
a weak thumb or difficulty gripping
You also risk a nasty infection
As this woman discovered after she noticed a large bump forming on her wrist where she kept her glittery hair tie.
She went to the doctor who gave her an antibiotic, but the bump just continued to grow. Finally she got so worried, she went to the hospital where they discovered she had three separate bacterial infections. From a hair tie.
Doctors suspected that bacteria from a glittery hair tie got through her pores and hair follicles causing three types of infections.
"I didn't believe it at first," she said. "I thought that it was a spider bite, or something else, not from wearing hair ties."
"I want to inform everyone to make sure no one else has to go thru this," the woman wrote in a Facebook post. "The GLITTER tie is the one that caused the issue."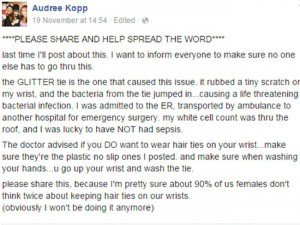 With thousands of delicious (and healthy) recipes, 350 exercises & 24/7 support – the 28 Day Weight Loss Challenge is designed (and proven) to help busy mums like you lose weight!
To find out more on the 28 Day Weight Loss Challenge click here.