WATCH: Jacqui Lambie Gives Passionate Speech About Living On Centrelink
Tasmanian Independent Senator Jacqui Lambie has delivered a passionate speech about her personal experience as a single mum raising two children on welfare in the Senate.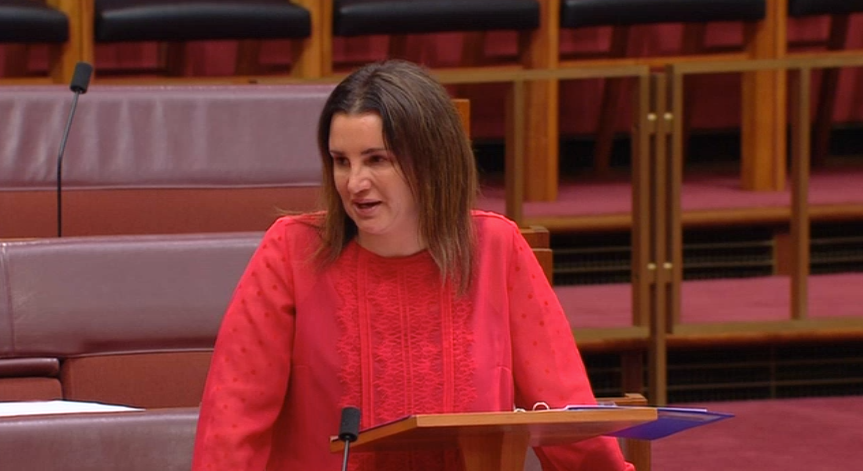 Responding to the government's freeze on the indexation of Family Tax Benefit payments to low-income families, Ms Lambie shared her own experiences of living on Centrelink payments. 
'Being On Welfare Is Tough'
Ms Lambie recounted her financial struggles after she was medically discharged from the army.
She shared how there would be days where she would sit in the corner and cry because she felt so ashamed, how she drove without a license in an unregistered car because she couldn't afford the costs and how she nearly lost her home amongst other experiences.
"This is what it is like. It is not a choice for many of us to be on welfare. It is shameful and it is embarrassing and it is bloody tough."
"But we do it. Not because we want to but when circumstances put us there. For you to take more money off those people, you have no idea how bloody tough it is. Every little cent counts to those people. What you are doing is shameful. And if you really realise the damage you are continually doing to that part of society, you would stop doing it."
Ms Lambie tweeted that her evening had been "long and emotional" following the events of the Senate sitting.
It was a long and emotional evening in Parliament House last night #auspol #politas https://t.co/ahhVdZXkhM

— Jacqui Lambie (@JacquiLambie) March 22, 2017
Ms Lambie retweeted a segment of her speech which you can watch in the video below:
Australian independent senator Jacqui Lambie's speech about living on the disability support pension as a single mother… watch it: pic.twitter.com/NHX1pJtJGm

— Mark Di Stefano ?? (@MarkDiStef) March 23, 2017
Take a look at our guide on the Centrelink family payment changes you need to know about.